Abstract
Purpose
Muscle strength and power are important requirements in many sports. The correlation of jumping performance as manifestation of muscle power and squatting one-repetition maximum (1RM) has been shown in several investigations. Correlations with maximum force in a linear isokinetic leg press are still pending. Since different testing devices produce different relationships and rotational isokinetic measurements show conflicting results, further evidence is needed.
Methods
We investigated the correlation of isokinetic leg press force at 0.1 m/s and 0.7 m/s with squat 1RM and jumping performance in different vertical jumps.
Results
The results show medium to strong, significant correlations for isokinetic force at 0.1 m/s with squat- and countermovement-jump performance, whereas isokinetic force at 0.7 m/s showed strong, significant correlations for both jumping tests. Drop jump performance (dropping heights: 20, 30, 40, and 50 cm, respectively) reveals weak to medium, significant correlations with isokinetic force at 0.1 m/s and weak, significant correlations with isokinetic force at 0.7 m/s. Squat 1RM displays strong relationships to isokinetic force with greater coefficients regarding higher movement speed in the isokinetic condition.
Conclusion
The maximum strength of the leg extensors displays a basic requirement for vertical jumping with great motion in knee- and hip-joints and should be considered in training programs. For vertical jumps that are mainly generated via ankle motion, maximum strength of knee- and hip-extensors plays an indirect role to guarantee for performance-enhancing mechanisms. Additionally, in strength testing, different manifestations of strength performance should carefully be taken into account.
Access options
Buy single article
Instant access to the full article PDF.
USD 39.95
Price excludes VAT (USA)
Tax calculation will be finalised during checkout.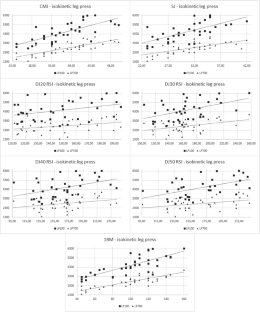 References
Ashley CD, Weiss LW. Vertical jump performance and selected physiological characteristics of women. J Strength Cond Res. 1994;8(1):5–11.

Bawa P. Neural control of motor output: can training change it? Exerc Sport Sci Rev. 2002;30(2):59–63.

Behm DG. Neuromuscular implications and applications of resistance training. J Strength Cond Res. 1995;9(4):264–74.

Behm DG, Sale DG. Intended rather than actual movement velocity determines velocity-specific training response. J Appl Physiol. 1993;74(1):359–359.

Berger RA, Hardage B. Effect of maximum loads for each of ten repetitions on strength improvement. Res Q. 1967;38(4):715–8.

Blazquez IN, Warren BL, O'Hanlon AM, Silvestri LR. An adequate interset rest period for strength recovery during a common isokinetic test. J Strength Cond Res. 2013;27(7):1981–7.

Bobbert MF, Huijing PA, van Ingen Schenau GJ. Drop jumping. II. The influence of dropping height on the biomechanics of drop jumping. Med Sci Sports Exerc. 1987;19(4):339–46.

Carlock JM, Smith SL, Hartman MJ, Morris RT, Ciroslan DA, Pierce KC, Stone MH. The relationship between vertical jump power estimates and weightlifting ability: a field-test approach. J Strength Cond Res. 2004;18(3):534–9.

Comfort P, Stewart A, Bloom L, Clarkson B. Relationships between strength, sprint, and jump performance in well-trained youth soccer players. J Strength Cond Res. 2014;28(1):173–7.

Cronin JB, McNair PJ, Marshall RN. The role of maximal strength and load on initial power production. Med Sci Sports Exerc. 2000;32(10):1763–9.

Dirnberger J, Huber C, Hoop D, Kösters A, Müller E. Reproducibility of concentric and eccentric isokinetic multi-joint leg extension measurements using the IsoMed 2000-system. Isokinet Exerc Sci. 2013;21(3):195–202.

Gentil P, Del Vecchio FB, Paoli A, Schoenfeld BJ, Bottaro M. Isokinetic dynamometry and 1RM tests produce conflicting results for assessing alterations in muscle strength. J Hum Kinet. 2017;56(1):19–27.

Hahn D, Olvermann M, Richtberg J, Seiberl W, Schwirtz A. Knee and ankle joint torque–angle relationships of multi-joint leg extension. J Biomech. 2011;44(11):2059–65.

Hartmann H, Wirth K, Klusemann M, Dalic J, Matuschek C, Schmidtbleicher D. Influence of squatting depth on jumping performance. J Strength Cond Res. 2012;26(12):3243–61.

Hemmling G, Schmidtbleicher D. Training induced alterations of strength parameters using a new strength training method. J Biomech. 1994;27(6):704.

Hori N, Newton RU, Andrews WA, Kawamori N, McGuigan MR, Nosaka K. Comparison of four different methods to measure power output during the hang power clean and the weighted jump squat. J Strength Cond Res. 2007;21(2):314–20.

International Powerlifting Federation. Technical rules book. 2015. http://www.powerlifting-ipf.com/fileadmin/ipf/data/rules/technical-rules/english/2015_V2_IPF_Technical_Rules_Book_2015_classic_rules_in_back_section.pdf. Accessed 15 June 2020.

Iossifidou A, Baltzopoulos V, Giakas G. Isokinetic knee extension and vertical jumping: are they related? J Sports Sci. 2005;23(10):1121–7.

Joyce GC, Rack PMH, Westbury DR. The mechanical properties of cat soleus muscle during controlled lengthening and shortening movements. J Physiol. 1969;204(2):461–74.

Keiner M, Sander A, Wirth K, Hartmann H, Yaghobi D. Correlations between maximal strength tests at different squat depths and sprint performance in adolescent soccer players. Am J Sports Sci. 2014;2(1):1–7.

Knapik JJ, Mawdsley RH, Ramos MU. Angular specificity and test mode specificity of isometric and isokinetic strength training. J Orthop Sports Phys Ther. 1983;2:58–65.

Komi PV, Gollhofer A. Stretch reflexes can have an important role in force enhancement during SSC exercise. J Appl Biomech. 1997;13(4):451–60.

Kompf J, Arandjelović O. The sticking point in the bench press, the squat, and the deadlift: similarities and differences, and their significance for research and practice. Sports Med. 2017;47(4):631–40.

Kraska JM, Ramsey MW, Haff GG, Fethke N, Sands WA, Stone ME, Stone MH. Relationship between strength characteristics and unweighted and weighted vertical jump height. Int J Sports Physiol Perform. 2009;4(4):461–73.

Kues JM, Rothstein JM, Lamb RL. The relationships among knee extensor torques produced during maximal voluntary contractions under various test conditions. Phys Ther. 1994;74(7):674–83.

Lazaridis S, Bassa E, Patikas D, Giakas G, Gollhofer A, Kotzamanidis C. Neuromuscular differences between prepubescents boys and adult men during drop jump. Eur J Appl Physiol. 2010;110(1):67–74.

Lehnert M, Svoboda Z, Cuberek R. The correlation between isokinetic strength of knee extensors and vertical jump performance in adolescent soccer players in an annual training cycle. Acta Gymn. 2013;43(1):7–15.

McMahon JJ, Jones PA, Dos'Santos T, Comfort P. Influence of dynamic strength index on countermovement jump force-, power-, velocity-, and displacement-time curves. Sports. 2017;5(4):72.

Newton RU, Murphy AJ, Humphries BJ, Wilson GJ, Kraemer WJ, Häkkinen K. Influence of load and stretch shortening cycle on the kinematics, kinetics and muscle activation that occurs during explosive upper-body movements. Eur J Appl Physiol Occup Physiol. 1997;75(4):333–42.

Nuzzo JL, McBride JM, Cormie P, McCaulley GO. Relationship between countermovement jump performance and multijoint isometric and dynamic tests of strength. J Strength Cond Res. 2008;22(3):699–707.

Östenberg A, Roos E, Ekdah C, Roos H. Isokinetic knee extensor strength and functional performance in healthy female soccer players. Scand J Med Sci Sports. 1998;8(5):257–64.

Perrin DH. Isokinetic exercise and assessment. Human kinetics. Champaign: Springer; 1993.

Peterson MD, Alvar BA, Rhea MR. The contribution of maximal force production to explosive movement among young collegiate athletes. J Strength Cond Res. 2006;20(4):867–73.

Schmidtbleicher D, Haralambie G. Changes in contractile proper-ties of muscle after strength training in man. Eur J Appl Physiol Occup Physiol. 1981;46(3):221–8.

Silvester LJ, Stiggins C, McGown C, Bryce GR. The effect of variable resistance and free-weight training programs on strength and vertical jump. Strength Cond J. 1981;3(6):30–3.

Tsiokanos A, Kellis E, Jamurtas A, Kellis S. The relationship between jumping performance and isokinetic strength of hip and knee extensors and ankle plantar flexors. Isokinet Exerc Sci. 2002;10(2):107–15.

Wirth K, Hartmann H, Sander A, Mickel C, Szilvas E, Keiner M. The impact of back squat and leg-press exercises on maximal strength and speed-strength parameters. J Strength Cond Res. 2016;30(5):1205–12.

Wirth K, Sander A, Keiner M, Schmidtbleicher D. Stretch-shortening-cycle performance of active and inactive children and adolescents. Ger J Sports Med. 2011;62(11):345–50.

Young WB, Pryor JF, Wilson GJ. Effect of instructions on characteristics of countermovement and drop jump performance. J Strength Cond Res. 1995;9(4):232–6.
Funding
This research did not receive any funding.
Ethics declarations
Conflict of Interest
The authors state no conflict of interest.
About this article
Cite this article
Möck, S., Erlewein, S., Mickel, C. et al. Relationship of Isokinetic Leg Press Force with Jumping Performance and 1RM in the Squat. J. of SCI. IN SPORT AND EXERCISE 4, 180–187 (2022). https://doi.org/10.1007/s42978-021-00115-3
Received:

Accepted:

Published:

Issue Date:

DOI: https://doi.org/10.1007/s42978-021-00115-3
Keywords
Isokinetics

Diagnostics

Performance

Resistance

Training