Abstract
Purpose
Pedometers can be an effective tool to increase step counts in a physically inactive population. In a more active population, pedometers may also be useful for further increasing physical activity and improving cardiovascular disease risk factors. Our purpose was to assess the adherence and determine the health impact of a 100,000 steps/week (14,286 steps/day) goal in a somewhat-active (7500–9999 steps/day) to active (10,000–12,500 steps/day) population.
Methods
Thirty-two apparently healthy subjects, 13 males (age 44 ± 14 years) and 19 females (age 39 ± 13 years) who had a baseline activity level between 7500 and 12,500 steps/day, were studied. Participants were assessed prior to and 16 weeks after completing a 100,000 steps/week intervention. Pre- and post-assessments of health included body composition, resting blood pressure, blood lipid profile, fasting blood glucose, and a 3-min walk test to estimate cardiorespiratory fitness.
Results
Fifty-three percent of participants adhered (≥ 90,000 steps/week) to the 100,000 steps/week physical activity program yet all participants increased their stepping by 23,303 ± 11,480 steps/week. With increased stepping, significant improvements in body composition were observed. Improvements included reduced body mass index (pre: 27.2 ± 3.6 kg/m2; post: 26.9 ± 3.6 kg/m2; P = 0.026), reduced total percent body fat (pre: 35.7 ± 9.9%; post: 34.3 ± 10.4%; P < 0.001), and reduced waist circumference (pre: 83.8 ± 10.2 cm; post: 81.5 ± 10.0 cm; P = 0.001). An unexpected increase was observed for low density lipoprotein cholesterol (pre: 109.7 ± 22.7 mg/dL; post: 117.6 ± 20.4 mg/dL; P < 0.05).
Conclusions
Individuals who were previously somewhat-active or active can gain additional health benefits, particularly improvements in body composition, by increasing to 100,000 steps/week with the use of a pedometer.
Access options
Buy single article
Instant access to the full article PDF.
USD 39.95
Price excludes VAT (USA)
Tax calculation will be finalised during checkout.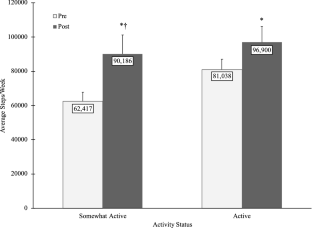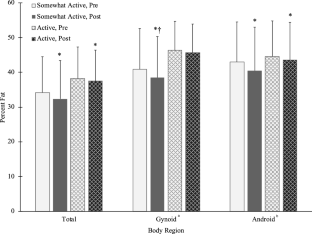 References
American Diabetes Association. Standards of Medical Care n Diabetes-2008. Diabetes Care. 2008;31(suppl 1):S12–49.

Bravata DM, Smith-Spangler C, Sundaram V, Gienger AL, Lin N, Lewis R, Stave CD, Olkin I, Sirard JR. Using pedometers to increase physical activity and improve health: a systematic review. JAMA. 2007;298(19):2296–304.

Brooks GA, Butte NF, Rand WM, Flatt JP, Caballero B. Chronicle of the Institute of Medicine physical activity recommendation: how a physical activity recommendation came to be amoung dietary recommendations. Am J Clin Nutr. 2004;79(5):921S–30S.

Cadmus-Bertram L, Marcus BH, Patterson RE, Parker BA, Morey BL. Use of the Fitbit to measure adherence to a physical activity intervention amoung overweight or obese, postmenopausal women: self-monitoring trajectory during 16 weeks. JMIR Mhealth Uhealth. 2015;3(4):e96.

Chobanian AV, Bakris GL, Black HR, Cushman WC, Green LA, Izzo JL Jr, Jones DW, Materson BJ, Oparil S, Wright JT Jr, Roccella EJ; National Heart, Lung, and Blood Institute Joint National Committee on Prevention, Detection, Evaluation, and Treatment of High Blood Pressure; National High Blood Pressure Education Program Coordinating Committee. The seventh report of the Joint National Committee on Prevention, Detection, Evaluation, and Treatment of High Blood Pressure: the JNC 7 report. JAMA. 2003;289(19):2560–72.

de Vries HJ, Kooiman TJ, van Ittersum MW, van Brussel M, de Groot M. Do activity monitors increase physical activity in adults with overweight or obesity? A systematic review and meta-analysis. Obesity (Silver Spring). 2016;24(10):2078–91.

Donnelly JE, Blair SN, Jakicic JM, Manore MM, Rankin JW, Smith BK; American College of Sports Medicine. American College of Sports Medicine position stand. Appropriate physical activity intervention strategies for weight loss and prevention of weight regain for adults. Med Sci Sports Exerc. 2009;41(2):459–71.

Finkelstein EA, Haaland BA, Bilger M, Sahasranaman A, Sloan RA, Khaing Nang EE, Evenson KR. Effectiveness of activity trackers with and without incentives to increase physical activity (TRIPPA): a randomized controlled trial. Lancet. 2016;4(12):P983–95.

Foulds JH, Bredin SS, Charlesworth SA, Ivey AC, Warburton DE. Exercise volume and intensity: a dose-response relationship with health benefits. Eur J Appl Physiol. 2014;114(8):1563–71.

Garber CE, Blissmer B, Deschenes MR, Franklin BA, Lamonte MJ, Lee IM, Nieman DC, Swain DP; American College of Sports Medicine. American College of Sports Medicine position stand. Quantity and quality of exercise for developing and maintaining cardiorespiratory, musculoskeletal, and neuromotor fitness in apparently healthy adults: guidance for prescribing exercise. Med Sci Sports Exerc. 2011;43(7):1334–59

Jakicic JM, Davis KK, Rogers RJ, King WC, Marcus MD, Helsel D, Rickman AD, Wahed AS, Belle SH. Effect of wearable technology combined with a lifestyle intervention on long-term weight loss: the IDEA randomized clinical trial. JAMA. 2016;316(11):1161–71.

Marin TS, Kourbelis C, Foote J, Newman P, Brown A, Daniel M, Coffee NT, Nicholls SJ, Ganesan A, Versace VL, Beks H, Haedtke CA, Clark RA. Examining adherence to activity monitoring devices to improve physical activity in adults with cardiovascular disease: a systematic review. Eur J Prev Cardiol. 2019;26(4):382–97.

Morss GM, Jordan AN, Skinner JS, Dunn AL, Church TS, Earnest CP, Kampert JB, Jurca R, Blair SN. Dose Response to Exercise in Women aged 45–75 yr (DREW): design and rationale. Med Sci Sports Exerc. 2004;36(2):336–44.

National Cholesterol Education Program (NCEP) Adult Treatment Panel III. Third report of the expert panel on detection, evaluation, and treatment of high blood cholesterol in adults. Circulation. 2002;106(25):3143–421.

Piercy KL, Troiano RP, Ballard RM, Carlson SA, Fulton JE, Galuska DA, George SM, Olson RD. The physical activity guidelines for Americans. JAMA. 2018;320(19):2020–8.

Powell KW, Paluch AE, Blair SN. Physical activity for health: what kind? How much? How intense? On top of what? Annu Rev Public Health. 2011;32:349–65.

Richardson CR, Newton TL, Abraham JJ, Sen A, Jimbo M, Swartz AM. A meta-analysis of pedometer-based walking interventions and weight loss. Ann Fam Med. 2008;6(1):69–77.

Sattelmair J, Pertman J, Ding EL, Kohl HW, Haskell W, Lee Im. Dose-response between physical activity and risk of coronary heart disease: a meta-analysis. Circulation. 2011;124(7):789–95.

Schneider PL, Bassett DR Jr, Thompson DL, Pronk NP, Bielak KM. Effects of a 10,000 steps per day goal in overweight adults. Am J Health Promot. 2006; 21(2):85–9.

Tudor-Locke C, Bassett DR. How many steps/day are enough? Preliminary pedometer indices for public health. Sports Med. 2004;34(1):1–8.

World Health Organization. Global recommendations on physical activity for health. Geneva: World Health Organization; 2010.
Ethics declarations
Conflict of interest
The authors declare that they have no conflicts of interest and thank the participants for volunteering their time.
About this article
Cite this article
Masi, E., Peterman, J.E. & Kaminsky, L.A. The Health Benefits of a Pedometer-Based 100,000 Steps/Week Physical Activity Program. J. of SCI. IN SPORT AND EXERCISE 1, 176–183 (2019). https://doi.org/10.1007/s42978-019-0021-8
Received:

Accepted:

Published:

Issue Date:

DOI: https://doi.org/10.1007/s42978-019-0021-8
Keywords
Physical activity

Pedometer

Body composition

Adherence

Dose–response