Abstract
Dietary polyphenols, such as curcumin, green tea catechins, and pomegranate extract, may have the ability to enhance the effectiveness of long-term training programs by managing training-induced inflammation. Enhanced recovery may translate to increased capacity to train and perform more effectively. The dietary polyphenol curcumin has been reported to block the action of COX-2 and NF-kB signaling and would allow for increased capacity to train leading to heightened adaptations and the potential for ergogenic outcomes. These actions are very similar to the targeted actions of non-steroidal anti-inflammatory drugs (NSAIDs), but without the side-effects of NSAIDs. This review will compare and contrast the known effects of curcumin and identify common design elements between existing studies. Through this critical review of the existing literature it is our goal to establish a set of best practices that could be applied to an athletic population that is interested in using oral curcumin supplementation as a recovery agent.
Access options
Buy single article
Instant access to the full article PDF.
USD 39.95
Price excludes VAT (USA)
Tax calculation will be finalised during checkout.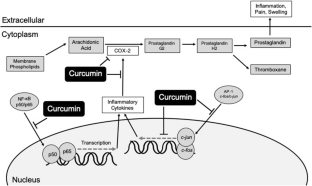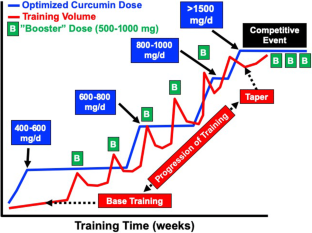 References
Auriel E, Regev K, Korczyn AD. Nonsteroidal anti-inflammatory drugs exposure and the central nervous system. Handb Clin Neurol. 2014;119:577–84.

Avci G, Kadioglu H, Sehirli AO, Bozkurt S, Guclu O, Arslan E, Muratli SK. Curcumin protects against ischemia/reperfusion injury in rat skeletal muscle. J Surg Res. 2012;172(1):e39–46.

Cadegiani FA, Kater CE. Novel causes and consequences of overtraining syndrome: the EROS-DISRUPTORS study. BMC Sports Sci Med Rehabil. 2019;11:21.

Chen JC, Ho FM, Pei-Dawn Lee C, Chen CP, Jeng KC, Hsu HB, Lee ST, Wen Tung W, Lin WW. Inhibition of iNOS gene expression by quercetin is mediated by the inhibition of IkappaB kinase, nuclear factor-kappa B and STAT1, and depends on heme oxygenase-1 induction in mouse BV-2 microglia. Eur J Pharmacol. 2005;521(1–3):9–20.

Chun KS, Keum YS, Han SS, Song YS, Kim SH, Surh YJ. Curcumin inhibits phorbol ester-induced expression of cyclooxygenase-2 in mouse skin through suppression of extracellular signal-regulated kinase activity and NF-kappaB activation. Carcinogenesis. 2003;24(9):1515–24.

Crespo I, Garcia-Mediavilla MV, Gutierrez B, Sanchez-Campos S, Tunon MJ, Gonzalez-Gallego J. A comparison of the effects of kaempferol and quercetin on cytokine-induced pro-inflammatory status of cultured human endothelial cells. Br J Nutr. 2008;100(5):968–76.

Davis JM, Murphy EA, Carmichael MD, Zielinski MR, Groschwitz CM, Brown AS, Gangemi JD, Ghaffar A, Mayer EP. Curcumin effects on inflammation and performance recovery following eccentric exercise-induced muscle damage. Am J Physiol Regul Integr Comp Physiol. 2007;292(6):R2168–73.

Drobnic F, Riera J, Appendino G, Togni S, Franceschi F, Valle X, Pons A, Tur J. Reduction of delayed onset muscle soreness by a novel curcumin delivery system (Meriva(R)): a randomised, placebo-controlled trial. J Int Soc Sports Nutr. 2014;11:31.

Duplanty AA, Levitt DE, Hill DW, McFarlin BK, DiMarco NM, Vingren JL. Resistance training is associated with higher bone mineral density among young adult male distance runners independent of physiological factors. J Strength Cond Res. 2018;32(6):1594–600.

Emerson NM, Zeidan F, Lobanov OV, Hadsel MS, Martucci KT, Quevedo AS, Starr CJ, Nahman-Averbuch H, Weissman-Fogel I, Granovsky Y, Yarnitsky D, Coghill RC. Pain sensitivity is inversely related to regional grey matter density in the brain. Pain. 2014;155(3):566–73.

Gary MA, Tanner EA, Davis AA, McFarlin BK (2018) Combined bead-based multiplex detection of RNA and protein biomarkers: implications for understanding the time course of skeletal muscle injury and repair. Methods.

Gary MA, Tanner EA, Davis AA, McFarlin BK. Combined bead-based multiplex detection of RNA and protein biomarkers: implications for understanding the time course of skeletal muscle injury and repair. Methods. 2019;158:92–6.

Gota VS, Maru GB, Soni TG, Gandhi TR, Kochar N, Agarwal MG. Safety and pharmacokinetics of a solid lipid curcumin particle formulation in osteosarcoma patients and healthy volunteers. J Agric Food Chem. 2010;58(4):2095–9.

Haramizu S, Ota N, Hase T, Murase T. Catechins suppress muscle inflammation and hasten performance recovery after exercise. Med Sci Sports Exerc. 2013;45(9):1694–702.

Hirose L, Nosaka K, Newton M, Laveder A, Kano M, Peake J, Suzuki K. Changes in inflammatory mediators following eccentric exercise of the elbow flexors. Exerc Immunol Rev. 2004;10:75–90.

Hohenauer E, Taeymans J, Baeyens JP, Clarys P, Clijsen R. The effect of post-exercise cryotherapy on recovery characteristics: a systematic review and meta-analysis. PLoS One. 2015;10(9):e0139028.

Huang WC, Chiu WC, Chuang HL, Tang DW, Lee ZM, Wei L, Chen FA, Huang CC. Effect of curcumin supplementation on physiological fatigue and physical performance in mice. Nutrients. 2015;7(2):905–21.

Jager R, Purpura M, Kerksick CM (2019) Eight weeks of a high dose of curcumin supplementation may attenuate performance decrements following muscle-damaging exercise. Nutrients 11(7).

Kang G, Kong PJ, Yuh YJ, Lim SY, Yim SV, Chun W, Kim SS. Curcumin suppresses lipopolysaccharide-induced cyclooxygenase-2 expression by inhibiting activator protein 1 and nuclear factor kappab bindings in BV2 microglial cells. J Pharmacol Sci. 2004;94(3):325–8.

Kawanishi N, Kato K, Takahashi M, Mizokami T, Otsuka Y, Imaizumi A, Shiva D, Yano H, Suzuki K. Curcumin attenuates oxidative stress following downhill running-induced muscle damage. Biochem Biophys Res Commun. 2013;441(3):573–8.

Kerksick CM, Kreider RB, Willoughby DS. Intramuscular adaptations to eccentric exercise and antioxidant supplementation. Amino Acids. 2010;39(1):219–32.

Khoi PN, Park JS, Kim JH, Xia Y, Kim NH, Kim KK, Jung YD. (−)-Epigallocatechin-3-gallate blocks nicotine-induced matrix metalloproteinase-9 expression and invasiveness via suppression of NF-kappaB and AP-1 in endothelial cells. Int J Oncol. 2013;43(3):868–76.

Kim BH, Choi JS, Yi EH, Lee JK, Won C, Ye SK, Kim MH. Relative antioxidant activities of quercetin and its structurally related substances and their effects on NF-kappaB/CRE/AP-1 signaling in murine macrophages. Mol Cells. 2013;35(5):410–20.

Kim HG, Lee JH, Lee SJ, Oh JH, Shin E, Jang YP, Lee YJ. The increased cellular uptake and biliary excretion of curcumin by quercetin: a possible role of albumin binding interaction. Drug Metab Dispos. 2012;40(8):1452–5.

Levitt DE, Luk HY, Duplanty AA, McFarlin BK, Hill DW, Vingren JL. Effect of alcohol after muscle-damaging resistance exercise on muscular performance recovery and inflammatory capacity in women. Eur J Appl Physiol. 2017;117(6):1195–206.

McFarlin BK, Venable AS, Henning AL, Sampson JN, Pennel K, Vingren JL, Hill DW. Reduced inflammatory and muscle damage biomarkers following oral supplementation with bioavailable curcumin. BBA Clin. 2016;5:72–8.

Mohanty C, Das M, Sahoo SK. Emerging role of nanocarriers to increase the solubility and bioavailability of curcumin. Expert Opin Drug Deliv. 2012;9(11):1347–64.

Nicol LM, Rowlands DS, Fazakerly R, Kellett J. Curcumin supplementation likely attenuates delayed onset muscle soreness (DOMS). Eur J Appl Physiol. 2015;115(8):1769–77.

O'Fallon KS, Kaushik D, Michniak-Kohn B, Dunne CP, Zambraski EJ, Clarkson PM. Effects of quercetin supplementation on markers of muscle damage and inflammation after eccentric exercise. Int J Sport Nutr Exerc Metab. 2012;22(6):430–7.

Prasad S, Gupta SC, Tyagi AK, Aggarwal BB (2014) Curcumin, a component of golden spice: from bedside to bench and back. Biotechnol Adv.

Roberts LA, Muthalib M, Stanley J, Lichtwark G, Nosaka K, Coombes JS, Peake JM. Effects of cold water immersion and active recovery on hemodynamics and recovery of muscle strength following resistance exercise. Am J Physiol Regul Integr Comp Physiol. 2015;309(4):R389–98.

Schoenfeld BJ. The use of nonsteroidal anti-inflammatory drugs for exercise-induced muscle damage: implications for skeletal muscle development. Sports Med. 2012;42(12):1017–28.

Sciberras JN, Galloway SD, Fenech A, Grech G, Farrugia C, Duca D, Mifsud J. The effect of turmeric (Curcumin) supplementation on cytokine and inflammatory marker responses following 2 hours of endurance cycling. J Int Soc Sports Nutr. 2015;12(1):5.

Takahashi M, Suzuki K, Kim HK, Otsuka Y, Imaizumi A, Miyashita M, Sakamoto S. Effects of curcumin supplementation on exercise-induced oxidative stress in humans. Int J Sports Med. 2014;35(6):469–75.

Tanner EA, Gary MA, Davis AA, McFarlin BK. Combining single molecule counting with bead-based multiplexing to quantify biological inflammation time course following skeletal muscle injury. Methods. 2019;158:77–80.

Tiidus PM. Alternative treatments for muscle injury: massage, cryotherapy, and hyperbaric oxygen. Curr Rev Musculoskelet Med. 2015;8(2):162–7.

Vane JR, Botting RM. Anti-inflammatory drugs and their mechanism of action. Inflamm Res. 1998;47(Suppl 2):S78–87.

Vyas A, Dandawate P, Padhye S, Ahmad A, Sarkar F. Perspectives on new synthetic curcumin analogs and their potential anticancer properties. Curr Pharm Des. 2013;19(11):2047–69.

Warner DC, Schnepf G, Barrett MS, Dian D, Swigonski NL. Prevalence, attitudes, and behaviors related to the use of nonsteroidal anti-inflammatory drugs (NSAIDs) in student athletes. J Adolesc Health. 2002;30(3):150–3.

Yoon JY, Kwon HH, Min SU, Thiboutot DM, Suh DH. Epigallocatechin-3-gallate improves acne in humans by modulating intracellular molecular targets and inhibiting P. acnes. J Invest Dermatol. 2013;133(2):429–40.
Acknowledgements
Some of the research from UNT cited in this article was conducted via a Research Grant Awarded to UNT from Verdure Sciences Corp (Indianapolis, IN). The research team was not directly compensated for this work and Verdure Sciences was not involved with the writing or review of this manuscript.
About this article
Cite this article
McFarlin, B.K., Tanner, E.A., Gary, M.A. et al. Does Acute Improvement in Muscle Recovery with Curcumin Supplementation Translate to Long-Term Training?. J. of SCI. IN SPORT AND EXERCISE 1, 203–207 (2019). https://doi.org/10.1007/s42978-019-00045-1
Received:

Accepted:

Published:

Issue Date:

DOI: https://doi.org/10.1007/s42978-019-00045-1
Keywords
Exercise-induced muscle injury

Inflammatory cytokines

Inflammation

Soreness

Distance running

Exercise training