Abstract
4-aminopyridine (4-AP) is a widely used drug that induces seizure activity in rodents, especially in rats, although there is no consensus in the literature on the dose to be used in mice. The aim of the present study was to investigate the effect of the intraperitoneal administration of 4-AP in two doses (4 and 10 mg/kg) in vivo. EEG, movement, and video recordings were made simultaneously in male B6 mice to specify the details of the seizures and to determine whether there is a suitable non-lethal dose for seizure induction and for further molecular studies. Seizure behavior in mice differs from that seen in rats, with no characteristic stages of epileptic seizures, but with spiking and seizure activity. Seizure activity, although produced at both doses without being lethal, induced different changes of the EEG pattern. Smaller dose induced a lower amplitude seizure activity, decreased spiking activity and later onset of seizures, while higher dose induced a much more intense brain seizure activity and severe trembling. It is concluded that the intraperitoneal administration of 4-AP at a dose of 10 mg/kg induces explicit seizure activity in mice which is repeatable and can be suitable for further molecular research.
Access options
Buy single article
Instant access to the full article PDF.
USD 39.95
Price includes VAT (USA)
Tax calculation will be finalised during checkout.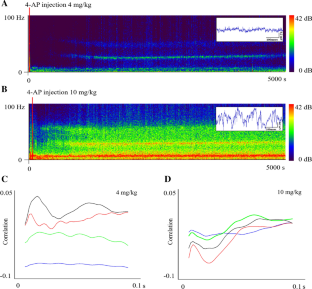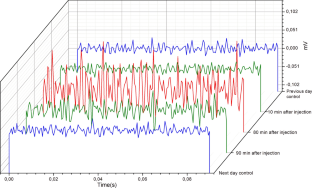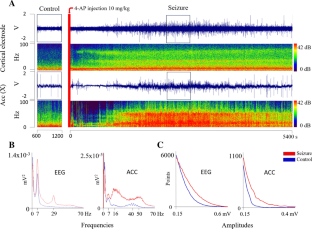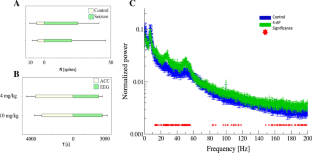 Data availability
The raw generated data are available from the corresponding author (FZF) on request accessibility.
References
Avoli M (1990) Epileptiform discharges and a synchronous GABAergic potential induced by 4-aminopyridine in the rat immature hippocampus. Neurosci Lett 117(1–2):93–98

Ben-Ari Y, Lagowska J (1978) Epileptogenic action of intra-amygdaloid injection of kainic acid Comptes rendus hebdomadaires des seances de l'Academie des sciences. Ser D Sci Nat 287(8):813–816

Blennow G, Brierley JB, Meldrum BS, Siesjö BK (1978) Epileptic brain damage: the role of systemic factors that modify cerebral energy metabolism. Brain J Neurol 101(4):687–700

Cavalheiro EA (1995) The pilocarpine model of epilepsy. Italian J Neurol Sci 16(1–2):33–37

Chung WK, Shin M, Jaramillo TC, Leibel RL, LeDuc CA, Fischer SG et al (2009) Absence epilepsy in apathetic, a spontaneous mutant mouse lacking the h channel subunit, HCN2. Neurobiol Dis 33(3):499–508

Fragoso-Veloz J, Tapia R (1992) NMDA receptor antagonists protect against seizures and wet-dog shakes induced by 4-aminopyridine. Eur J Pharmacol 221(2–3):275–280

Fragoso-Veloz J, Massieu L, Alvarado R, Tapia R (1990) Seizures and wet-dog shakes induced by 4-aminopyridine, and their potentiation by nifedipine. Eur J Pharmacol 178(3):275–284

Gandolfo G, Gottesmann C, Bidard JN, Lazdunski M (1989) Ca2' channel blockers prevent seizures induced by a class of K+ channel inhibitors. Eur J Phamzacol 160:173–177

Gean PW (1990) The epileptiform activity induced by 4-aminopyridine in rat amygdala slices: antagonism by non-N-methyl-d-aspartate receptor anatagonists. Brain Res 530(2):251–256

Hare E, Hare AS (1979) Epileptiform mice, a new neurological mutant. J Hered 70(6):417–420

Humphreys SR, Venditti JM, Ciotti CJ, Kline I, Goldin A, Kaplan NO (1962) Toxicity and antileukemic effectiveness of pyridine derivatives and 1, 3, 4-thiadiazole derivatives in mice relationship to nicotinamide antagonism. Cancer Res 22(5 part 2):483–550

King JT Jr, LaMotte CC (1989) El mouse as a model of focal epilepsy: a review. Epilepsia 30(3):257–265

Klioueva IA, van Luijtelaar ELJM, Chepurnova NE, Chepurnov SA (2001) PTZ-induced seizures in rats: effects of age and strain. Physiol Behav 72(3):421–426

Leonardi M, Ustun TB (2002) The global burden of epilepsy. Epilepsia 43:21–25

Morales-Villagrán A, Urefia-Guerrero ME, Tapia R (1996) Protection by NMDA receptor antagonists against seizures induced by intracerebral administration of 4-aminopyridine. Eur J Pharmacol 305:87–93

Pasantes-Morales H, Arzate ME (1981) Effect of taurine on seizures induced by 4-aminopyridine. J Neurosci Res 6(4):465–474

Pasantes-Morales H, Arzate ME, Quesada O, Huxtable RJ (1987) Higher susceptibility of taurine-deficient rats to seizures induced by 4-aminopyridine. Neuropharmacology 26(12):1721–1725

Rogawski MA, Barker JL (1983) Effects of 4-aminopyridine on calcium action potentials and calcium current under voltage clamp in spinal neurons. Brain Res 280(1):180–185

Rudy B (1988) Diversity and ubiquity of K channels. Neuroscience 25(3):729–749

Schachter SC (2018) Determining when to stop antiepileptic drug treatment. Curr Opin Neurol 31(2):211–215

Schafer EW Jr, Brunton RB, Cunningham DJ (1973) A summary of the acute toxicity of 4-aminopyridine to birds and mammals. Toxicol Appl Pharmacol 26(4):532–538

Seyfried TN, Glaser GH (1985) A review of mouse mutants as genetic models of epilepsy. Epilepsia 26(2):143–150

Spyker DA, Lynch C, Shabanowitz J, Sinn JA (1980) Poisoning with 4-aminopyridine: report of three cases. Clin Toxicol 16(4):487–497

Szente M, Baranyi A (1987) Mechanism of aminopyridine-induced ictal seizure activity in the cat neocortex. Brain Res 413(2):368–373

Szente M, Pongrácz F (1979) Aminopyridine-induced seizure activity. Electroencephalogr Clin Neurophysiol 46(5):605–608

Tapia R (1982) Effect of 4-aminopyridine on transmitter release in synaptosomes. Brain Res 250(2):291–299

Tapia R, Sitges M, Morales E (1985) Mechanism of the calcium-dependent stimulation of transmitter release by 4-aminopyridine in synaptosomes. Brain Res 361(1–2):373–382

Thesleff S (1980) Aminopyridines and synaptic transmission. Neuroscience 5(8):1413–1419

Trancikova A, Ramonet D, Moore DJ (2011) Genetic mouse models of neurodegenerative diseases. In: Progress in molecular biology and translational science, vol 100. Academic Press, pp 419–482

Tsuji S, Meier H (1971) Evidence for allelism of leaner and tottering in the mouse. Genetics Res 17(1):83–88

Van Erum J, Van Dam D, De Deyn PP (2019) PTZ-induced seizures in mice require a revised Racine scale. Epilepsy Behav 95:51–55

Voskuyl RA, Albus H (1985) Spontaneous epileptiform discharges in hippocampal slices induced by 4-aminopyridine. Brain Res 342(1):54–66

White BH (2016) What genetic model organisms offer the study of behavior and neural circuits. J Neurogenet 30(2):54–61

World Health Organization (2019) Epilepsy. https://www.who.int/news-room/fact-sheets/detail/epilepsy.

Yamaguchi SI, Rogawski MA (1992) Effects of anticonvulsant drugs on 4-aminopyridine-induced seizures in mice. Epilepsy Res 11(1):9–16.7
Acknowledgements
The supportive work of the colleagues at ELTE Research Group of Proteomics and Institute of Experimental Medicine is highly appreciated.
Funding
This work was supported by the National Research, Development, and Innovation Office of Hungary Grants (2017-1.2.1-NKP-2017-00002 to F.Z.F., and Z.F.) the National Research, Development and Innovation Office (grants: NKFIH K 120143, K 113147) and FIEK_16-1-2016-0005 Grant to L.R., Zs. B. and G. J. The Bolyai János Scholarship of the Hungarian Academy of Sciences and Scholarship of the New National Excellence Foundation (UNKP-19-4-PPKE-9) granted for Z.F. is also acknowledged.
Ethics declarations
Conflict of interest
The authors declare that they have no conflict of interest.
Ethical statement
In all cases, our experiments were conducted in compliance with EU directive in force (2010/63/EU) and in accordance with the applicable government decree (40/2013. (II. 14.)), making sure that the animals suffer as little as possible.
About this article
Cite this article
Fedor, F.Z., Paraczky, C., Ravasz, L. et al. Electrophysiological and behavioral properties of 4-aminopyridine-induced epileptic activity in mice. BIOLOGIA FUTURA 71, 427–434 (2020). https://doi.org/10.1007/s42977-020-00047-z
Received:

Accepted:

Published:

Issue Date:
Keywords
4-Aminopyridine (4-AP)

Epilepsy model

EEG

B6 mice

In vivo studies

Behavior