Abstract
Exploration of genetic variability in indigenous germplasm is an essential step for future breeding programs. The present study evaluated the genetic variation on panicle traits, proximate compositions and nutraceuticals in 33 traditional finger millet genotypes and five improved varieties from Koraput, Eastern Ghats of India. Significant difference of panicle characteristics: panicle length, panicle number, panicle weight and seed weight were observed among finger millet genotypes under experimental field condition. The yield was varied from 13.2 to 32.4 q ha−1. The proximate compositions such as moisture significantly varied from 9.4 to 18.4 g 100 g−1, ash 1.2–3.5 g 100 g−1, fat 0.9–2.7 g 100 g−1, protein 4.7–14.25 g 100 g−1, carbohydrate 66.6–77.1 g 100 g−1, fiber 4.7–18.3 g 100 g−1 and energy 324–360 kcal 100 g−1. The phenol, flavonoid, vitamin C and antioxidant capacity of studied millets were varied from 5.6 to 25.36 mg 100 g−1, 2.75–39.36 mg 100 g−1, 7.2–76.80 µg g−1 and 1.9–15.75%, respectively. The first two axis of principal component analysis explained 39.7% of total variation, which reflected huge difference between explored genotypes. The highest positive loading was observed for seed weight followed by fiber, panicle weight, energy, protein, antioxidant and fat and are the major determinant for phenotypic variability. The heritability and genetic advance varied from 66.7 to 99.0% and 3.4 to 88.4%, respectively. Indigenous finger millet genotypes: Bhalu, Ladu, Telugu and Bada recorded superior panicle traits and energy content, whereas Mami, Janha and Bada rich in flavonoid and antioxidants. These genotypes can be utilized in future crop improvement program.
Access options
Buy single article
Instant access to the full article PDF.
USD 39.95
Price excludes VAT (USA)
Tax calculation will be finalised during checkout.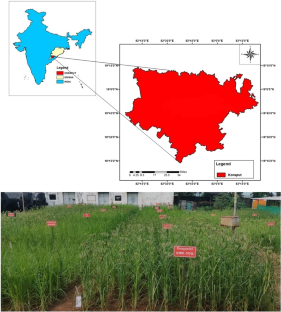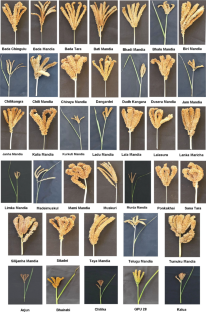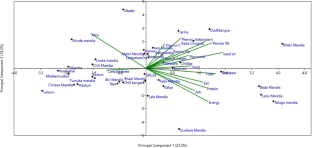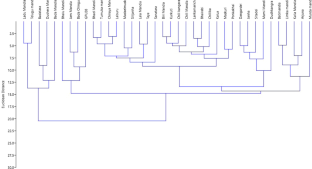 Availability of data and material
References
Amadou I, Gounga ME, Le GW (2013) Millets: nutritional composition, some health benefits and processing—a review. Emir J Food Agric 25(7):501–508

AOAC (2012) AOAC official methods of analysis, 18th edn. AOAC International, Gaithersburg

Babu BK, Dinesh P, Agrawal PK, Sood S, Chandrasekhar C (2014) Comparative genomics and association mapping approaches for blast resistant genes in finger millets using SSRs. PLoS ONE 9(6):e99182

Babu GA, Vinoth A, Ravindhran R (2018) Direct shoot regeneration and genetic fidelity analysis in fingermillet using ISSR markers. Plant Cell Tissue Organ Cult 132:157–164

Badigannavar A, Ganapathi TR (2018) Genetic variability for mineral nutrients in indigenous germplasm lines of finger millet (Eleusine coracana Gaertn.). J Cereal Sci 84:1–6

Benzie IF (2003) Evolution of dietary antioxidants. Comp Biochem Physiol A Mol Integr Physiol 136(1):113–126

Bhat BV, Arunachalam A, Kumar D, Tonapi VA, Mohapatra T (2019) Millets in the Indian Himalaya. Indian Council of Agricultural Research, New Delhi, 84p.

Burton GW, Devane EH (1953) Estimating heritability in tall fescue (Festuca arundinacea) from replicated clonal material. Agron J 45(10):478–481

Ceasar SA, Maharajan T, Krishna TPA, Ramakrishnan M, Roch GV, Satish L, Ignacimuthu S (2018) Finger millet [Eleusine coracana (L.) Gaertn.] improvement: Current status and future interventions of whole genome sequence. Front Plant Sci 9:1054

Chandra D, Chandra S, Pallavi A, Sharma K (2016) Review of finger millet (Eleusine coracana (L.) Gaertn): a power house of health-benefiting nutrients. Food Sci Human Well 5(3):149–155

Chang CC, Yang MH, Wen HM, Chern JC (2002) Estimation of total flavonoid content in propolis by two complementary colorimetric methods. J Food Drug Anal 10:178–182

Dida MM, Wanyera N, Harrison DMLN, Bennetzen JL, Devos KM (2008) Population structure and diversity infinger millet (Eleusine coracana) germplasm. Trop Plant Biol 1:131–141

Falconer DS, Mackay TFC (1996) Introduction to quantitative genetics, 4th edn. Longmans Green, Harlow

Gimode D, Odeny DA, de Villiers EP, Wanyonyi S, Dida MM, Mneney EE, de Villiers SM (2016) Identification of SNP and SSR markers in finger millet using next generation sequencing technologies. PLoS ONE 11(7):e0159437

Gupta V, Jata PK, Verma R, Kothari SL, Kachhwaha S (2017) Nickel accumulation and it's effect on growth, physiological and biochemical parameters in millets and oats. Environ Sci Poll Res 24(30):23915–23925

Huang Y, Bai X, Luo M, Xing Y (2018) Short Panicle 3 controls panicle architecture by upregulating APO2/RFL and increasing cytokinin content in rice. J Integr Plant Biol 61(9):987–999

IBPGR (1985) Descriptors for finger millet (Eleusine Coracana (L.) Gaetn). International Board for Plant Genetic Resources, Rome, Italy

Jayawardana SAS, Samarasekera JKRR, Hettiarachchi GHCM, Gooneratne J, Mazumdar SD, Banerjee R (2019) Dietary fibers, starch fractions and nutritional composition of finger millet varieties cultivated in Sri Lanka. J Food Compost Anal 82:103249

Johnson HW, Robinson HF, Comstock RE (1955) Estimates of genetic and environmental variability in soybeans. Agron J 47(7):314–318

Jukanti AK, Gowda CL, Rai KN, Manga VK, Bhatt RK (2016) Crops that feed the world 11. Pearl Millet (Pennisetum glaucum L.): an important source of food security, nutrition and health in the arid and semi-arid tropics. Food Secur 8(2):307–329

Kumar A, Yadav S, Panwar P, Gaur VS, Sood S (2015) Identification of anchored simple sequence repeat markers associated with calcium content in finger millet (Eleusine coracana). Proc Natl Acad Sci India Sect B Biol Sci 85:311–317

Kumar A, Metwal M, Kaur S, Gupta AK, Puranik S, Singh S, Singh M, Gupta S, Babu BK, Sood S, Yadav R (2016) Nutraceutical value of finger millet [Eleusine coracana (L.) Gaertn.], and their improvement using omics approaches. Front Plant Sci 7:934

Kumari S, Singh SK (2016) Correlation and path coefficient analysis for yield and its yield attributes in promising finger millet (Eleusine coracana (L.) Gaertn) genotypes. Suppl Genet Plant Breed 11(2):1079–1082

Lei Q, Zhou J, Zhang W, Luo J, Wu K, Long C (2018) Morphological diversity of panicle traits in Kam fragrant glutinous rice (Oryza sativa). Genet Resour Crop Evol 65:775–786

Mishra SS, Behera PK, Panda D (2019) Genotypic variability for drought tolerance-related morpho-physiological traits among indigenous rice landraces of Jeypore tract of Odisha, India. J Crop Improv 33:254–278

Mutch DM, Wahli W, Williamson G (2005) Nutrigenomics and nutrigenetics: the emerging faces of nutrition. FASEB J 19:1602–1616

Nithiyanantham S, Kalaiselvi P, Mahomoodally MF, Zengin G, Abirami A, Srinivasan G (2019) Nutritional and functional roles of millets—a review. J Food Biochem 43(7):e12859

Omaye ST, Turnbull TD, Sauberlich HE (1979) Selected method for the determination of ascorbic acid in animal cells, tissues and fluid. In: Mc Cormic DB, Wright DL (eds) Methods in enzymology Vol. 62. Academic press, New York, pp 3–11

Padhan B, Biswas M, Panda D (2020) Nutritional, anti-nutritional and physico-functional properties of wild edible yam (Dioscorea spp.) tubers from Koraput, India. Food Biosci 34:100527. https://doi.org/10.1016/j.fbio.2020.100527

Panda D, Palita SK (2021) Potential of underutilized wild crops in Koraput, Odisha, India for improving nutritional security and promoting climate resilience. Curr Sci 120(6):989–996

Panda D, Sahu N, Behera PK, Lenka K (2020) Genetic variability of panicle architecture in indigenous rice landraces of Koraput region of Eastern Ghats of India for crop improvement. Physiol Mol Biol Plants 26(10):1961–1971

Panda D, Sailaja NH, Behera PK, Lenka K, Sharma SS, Lenka SK (2021) Genetic diversity of under-utilized indigenous finger millet genotypes from Koraput, India for crop improvement. J Plant Biochem Biotechnol 30(1):99–116

Patil SK, Gupta SK, Dang KS, Sashibhusan D, Balaram M, Ramesh T (2018) Panicle traits and plant heights are important selection indices to enhance productivity in pearl millet (Pennisetum glaucum) populations. Int J Curr Microbiol Appl Sci 7(12):306–312

Pradhan A, Panda AK, Bhavani RV (2019) Finger millet in tribal farming systems contribute to increased availability of nutritious food at household level: insight from India. Agric Res 8:540–547

Prieto P, Pineda M, Aguilar M (1999) Spectrophotometric quantitation of antioxidant capacity through the formation of a phosphomolybdenum complex: specific application to the determination of vitamin E. Anal Biochem 269(2):337–341

Rachkeeree A, Kantadoung K, Suksathan R, Puangpradab R, Page PA, Sommano SR (2018) Nutritional compositions and phytochemical properties of the edible flowers from selected Zingiberaceae found in Thailand. Front Nutr 5(3)

Rajendran HAD, Muthusamy R, Stanislaus AC, Krishnaraj T, Kuppusamy S, Ignacimuthu S, Al-Dhabi NA (2016) Analysis of molecular variance and structure in Southern Indian finger millet genotypes using three different molecular markers. J Crop Sci Biotechnol 19(4):275–283

Ramakrishnan M, Ceasar SA, Duraipandiyan V, Al-Dhabi NA, Ignacimuthu S (2016) Using molecular markers to assess the genetic diversity and population structure of finger millet (Eleusine coracana (L.) Gaertn.) from various geographical regions. Genet Resour Crop Evol 63:361–376

Reddy CV, Reddy PVRM, Munirathnam P, Gowda J (2013) Studies of genetic variability in yield and yield attributing traits of finger millet [Eleusine coracana (L.) Gaertn]. Indian J Agric Res 47(6):549–552

Sadasivam S, Manickam A (2007) Biochemical Methods. New Age International Pvt. Limited

Saha D, Gowda MVC, Arya L, Verma M, Bansal KC (2016) Genetic and genomic resources of small millets. Crit Rev Plant Sci 35:56–79

Sahu P, Sharma D, Mondal S, Kumar V, Singh S, Baghel S, Tiwari A, Vishwakarma G, Das BK (2017) Genetic variability for grain quality traits in indigenous rice landraces of Chhattisgarh. India J Exp Biol Agricul Sci 5(4):439–455

Shet RM, Gireesh C, Jagadeesha N, Lokesh GY, Gowda J (2009) Genetic variability in segregating generation of interspecific hybrids of finger millet (Eleusine coracana (L.) Gaertn.). Environ Ecol 27(3):1013–1016

Sood P, Singh RK, Prasad M (2019) Millets genetic engineering: the progress made and prospects for the future. Plant Cell Tissue Organ Cult 137:421–439

Steel RG, Torrie JH, Dickey DA (1997) Principles and procedures of statistics: a biological approach. McGraw-Hill, New York

Ulaganathan V, Nirmalakumari A (2013) Phenotypic selection of elite genotypes based on genetic analysis in finger millet [Eleusine coracana (L.) Gaertn] germplasm. Plant Arch 13(2):1003–1008

Viswanath V, Urooj A, Malleshi NG (2009) Evaluation of antioxidant and antimicrobial properties of finger millet polyphenols (Eleusine coracana). Food Chem 114(1):340–346

Wakista PW, Dasanayaka PN, Illeperuma RJ, Perera SACN (2017) Assessment of genetic diversity of a representative sample of finger millet (Eleusine coracana (L.) Gaertn.) collected from four different district of Sri Lanka using SSR markers. Sri Lankan J Biol 2(1):1–8

Wolie A, Belete K, Dessalegn T (2013) Heritability, variance components and genetic advance of some yield and yield related traits in Ethiopian collections of finger millet (Eleusine coracana (L.) Gaertn.) genotypes. Afr J Biotechnol 12(36):5529–5534

Wu Y, Huang M, Tao X, Guo T, Chen Z, Xiao W (2016) Quantitative trait loci identification and meta analysis for rice panicle-related traits. Mol Genet Genom 291(5):1–14

Zhao M, Sun J, Xiao Z, Cheng F, Xu H, Tang L, Chen W, Xu Z, Xu Q (2016) Variations in Dense and Erect Panicle 1 (DEP1) contribute to the diversity of the panicle trait in high yielding japonica rice varieties in northern China. Breed Sci 66:599–605

Zhou X, Xia Y, Ren X, Chen Y, Huang L, Huang S, Liao B, Lei Y, Yan L, Jiang H (2014) Construction of a SNP based genetic linkage map in cultivated peanut based on large scale market development using next generation double-digit-restriction-site-associated DNA sequencing (ddRADseq). BMC Genomics 15(1):351
Acknowledgements
The authors are thankful to the Head, Department of Biodiversity and Conservation of Natural Resources for Laboratory facility. Authors are also thankful to the Director, Biju Patnaik Agrobiodiversity Center, Jeypore, for providing experimental field.
Funding
This work was supported by Central University of Odisha, Koraput, India.
Ethics declarations
Conflict of interest
Authors declare that they have no conflict of interest.
Ethics approval
NA.
Consent to participate
NA.
Consent for publication
NA.
Additional information
Communicated by Tommaso Martinelli.
Supplementary Information
Below is the link to the electronic supplementary material.
Rights and permissions
Springer Nature or its licensor (e.g. a society or other partner) holds exclusive rights to this article under a publishing agreement with the author(s) or other rightsholder(s); author self-archiving of the accepted manuscript version of this article is solely governed by the terms of such publishing agreement and applicable law.
About this article
Cite this article
Panda, D., Panda, A., Prajapati, H. et al. Genetic variability of panicle architecture and nutritional parameters in indigenous finger millet genotypes from Koraput, Eastern Ghats of India. CEREAL RESEARCH COMMUNICATIONS 51, 1015–1029 (2023). https://doi.org/10.1007/s42976-022-00345-3
Received:

Accepted:

Published:

Issue Date:

DOI: https://doi.org/10.1007/s42976-022-00345-3
Keywords