Abstract
Twenty-three winter wheat (Triticum aestivum L.) varieties were tested in randomized complete blocks for four seasons in two fields (sandy and loamy soil), of the Mendel University in Brno, Czech Republic. Objectives were to find genotypes combining high grain with protein yield and cover the protein content standards. Stability was assessed on the coefficient of variation (CV) of grain yield and plant height (plot-to-plot variability), the level a variety lagged behind the maximum yield attained within a block (yield-gap index), and the GGE biplot analysis. Sandy and loamy fields simulated low- and high-input agroecosystems, respectively. The sandy field averaged 5.47 t/ha grain yield and 15.25% grain protein content, while the respective values for the loamy field were 10.4 t/ha and 13.17%. In the loamy field, nine varieties failed to meet the protein content benchmark of 13% for the breadmaking industry. The CV of plant height rather than of grain yield was a good criterion to show the effects of crop variation on yield and stability. The yield-gap index constituted a good measure of general adaptability to fluctuating conditions. Some varieties showed specific adaptation to sandy or loamy soil. On basis of CV of plant height, yield-gap index and GGE biplot, there were also varieties with general adaptability. Genotypes were found to have high protein content irrespective of grain yield, so selection of varieties with good yielding performance and protein concentration appears to be a sound pursuit.
This is a preview of subscription content, log in to check access.
Access options
Buy single article
Instant access to the full article PDF.
US$ 39.95
Price includes VAT for USA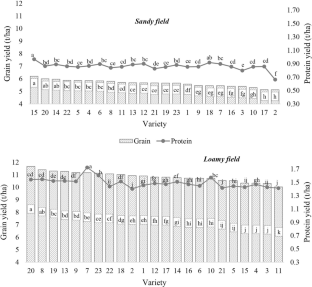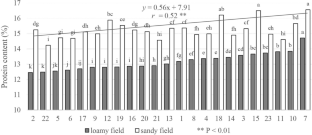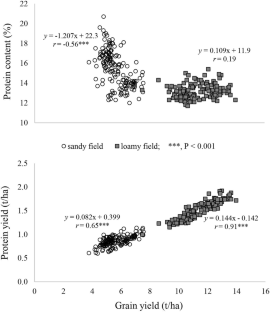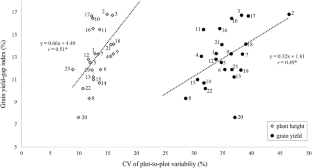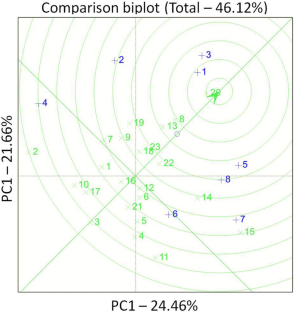 References
Anderson WK, van Burgel AJ, Sharma DL, Shackley BJ, Zaicou-Kunesch CM, Miyan MS, Amjad M (2011) Assessing specific agronomic responses of wheat cultivars in a winter rainfall environment. Crop Pasture Sci 62:115–124

Andrade FH, Abbate PE (2005) Response of maize and soybean to variability in stand uniformity. Agron J 97:1263–1269

Baker RJ (1988) Tests for crossover genotype–environment interactions. Can J Plant Sci 68:405–410

Dewettinck K, van Bockstaele F, Kühne B, van de Walle D, Courtens TM, Gellynck X (2008) Nutritional value of bread: influence of processing, food interaction and consumer perception. J Cereal Sci 48:243–257

Döring TF, Knapp S, Cohen JE (2015) Taylor's power law and the stability of crop yields. Field Crop Res 183:294–302

Dotlačil L, Hermuth J, Stehno Z, Dvořáček V, Bradová J, Leišová L (2010) How can wheat landraces contribute to present breeding? Czech J Genet Plant Breed 46:S70–S74

Evans LT, Fischer RA (1999) Yield potential: its definition, measurement, and significance. Crop Sci 39:1544–1551

Fischer RA, Edmeades GO (2010) Breeding and cereal yield progress. Crop Sci 50:S85–S98

Hegedűs Z, Szentpétery Z, Kassai K, Jolánkai M (2002) Protein and wet gluten contents in winter wheat grain samples. Cereal Res Commun 50:383–387

Hoffmann MP, Haakana M, Asseng S, Höhn JG, Palosuo T, Ruiz-Ramos M, Fronzek S, Ewert F, Gaiser T, Kassie BT, Paff K, Rezaei EE, Rodríguez A, Semenov M, Srivastava AK, Stratonovitch P, Tao F, Chen Y, Rötter RP (2018) How does inter-annual variability of attainable yield affect the magnitude of yield gaps for wheat and maize? An analysis at ten sites. Agric Syst 159:199–208

Krupnik TJ, Ahmed ZU, Timsina J, Yasmina S, Hossain F, Al Mamun A, Mridha AI, McDonald AJ (2015) Untangling crop management and environmental influences on wheat yield variability in Bangladesh: an application of non-parametric approaches. Agric Syst 139:166–179

Lee EA, Singh A, Ash MJ, Good B (2006) Use of sister-lines and the performance of modified single-cross maize hybrids. Crop Sci 46:312–320

Lindeque RC, van Biljon A, Labuschagne MT (2018) Defining associations between grain yield and protein quantity and quality in wheat from the three primary production regions of South Africa. J Cereal Sci 79:294–302

Lobell DB (2013) The use of satellite data for crop yield gap analysis. Field Crops Res 143:56–64

Lobell DB, Cassman KG, Field CB (2009) Crop yield gaps: their importance, magnitudes, and causes. Annu Rev Env Resour 34:179–204

Mądry W, Derejko A, Studnicki M, Paderewski J, Gacek E (2017) Response of winter wheat cultivars to crop management and environment in post-registration trials. Czech J Genet Plant Breed 53:76–82

Mäkinen H, Kaseva J, Trnka M, Balekc J, Kersebaum KC, Nendel C, Gobin A, Olesen JE, Bindi M, Ferrise R, Moriondo M, Rodríguez A, Ruiz-Ramos M, Takáč J, Bezák P, Ventrella D, Ruget F, Capellades G, Kahiluoto H (2018) Sensitivity of European wheat to extreme weather. Field Crop Res 222:209–217

Martin del Molino IM (1991) Relationship between wheat grain protein yield and grain yield, plant growth, and nutrition at anthesis. J Plant Nutr 14:1297–1306

Martin KL, Hodgen PJ, Freeman KW, Melchiori R, Arnall DB, Teal RK, Mullen RW, Desta K, Phillips SB, Solie JB, Stone ML, Caviglia O, Solari F, Bianchini A, Francis DD, Schepers JS, Hatfield JL, Raun WR (2005) Plant-to-plant variability in corn production. Agron J 97:1603–1611

Mesfin A, Frohberg RC, Khan K, Olson TC (2000) Increased grain protein content and its association with agronomic and end-use quality in two hard red spring wheat populations derived from Triticum turgidum L. var. dicoccoides. Euphytica 116:237–242

Mitchell PL, Sheehy JE (2018) Potential yield of wheat in the United Kingdom: how to reach 20 t ha−1. Field Crop Res 224:115–125

Mohammadi R, Amri A (2008) Comparison of parametric and non-parametric methods for selecting stable and adapted durum wheat genotypes in variable environments. Euphytica 159:419–432

Monaghan JM, Snape JW, Chojecki AJS, Kettlewell PS (2001) The use of grain protein deviation for identifying wheat cultivars with high grain protein concentration and yield. Euphytica 122:309–317

Neacşu A (2011) Grain protein concentration and its stability in a set of winter wheat cultivars, grown in diverse environments and management practices. Rom Agric Res 28:29–36

Oury F-X, Godin C (2007) Yield and grain protein concentration in bread wheat: how to use the negative relationship between the two characters to identify favourable genotypes? Euphytica 157:45–57

Patrignani A, Lollato RP, Ochsner TE, Godsey CB, Edwards JT (2014) Yield gap and production gap of rainfed winter wheat in the southern Great Plains. Agron J 106:1329–1339

Payne RW (2009) Genstat. Wiley interdisciplinary reviews: computation. Stat 1:255–258

Punia S, Sandhu KS, Siroha AK (2019) Difference in protein content of wheat (Triticum aestivum L.): effect on functional, pasting, color and antioxidant properties. J Saudi Soc Agric Sci 18:378–384

Ray DK, Mueller ND, West PC, Foley JA (2013) Yield trends are insufficient to double global food production by 2050. PLoS ONE 8:E66428. https://doi.org/10.1371/journal.pone.006642

Reynolds M, Foulkes J, Furbank R, Griffiths S, King J, Murchie E, Parry M, Slafer G (2012) Achieving yield gains in wheat. Plant, Cell Environ 35:1799–1823

Romagosa I, Fox PN (1993) Genotype × environment interaction and adaptation. In: Hayward MD, Bosemark NO, Romagosa I (eds) Plant breeding: principles and prospects. Chapman and Hall, London, pp 373–390

Rusinamhodzi L, Corbeels M, van Wijk MT, Rufino MC, Nyamangara J, Giller KE (2011) A meta-analysis of long-term effects of conservation agriculture on maize grain yield under rain-fed conditions. Agron Sustain Dev 31:657–673

Sabaghnia N, Dehghani H, Alizadeh B, Mohghaddam M (2010) Diallele analysis of oil content and some agronomic traits in rapeseed (Brassica napus L.) based on the additive-dominance genetic model. Aust J Crop Sci 4:609–616

Schauberger B, Ben-Ari T, Makowski D, Kato T, Kato H, Ciais P (2018) Yield trends, variability and stagnation analysis of major crops in France over more than a century. Sci Rep 8:16865. https://doi.org/10.1038/s41598-018-35351-1

Shewry PR, Tatham AS, Fido R, Jones H, Barcelo P, Lazzeri PA (2001) Improving the end use properties of wheat by manipulating the grain protein composition. Euphytica 119:45–48

Tadesse W, Manes Y, Singh RP, Payne T, Braun HJ (2010) Adaptation and performance of CIMMYT spring wheat genotypes targeted to high rainfall areas of the world. Crop Sci 50:2240–2248

Taulemesse F, Le Gouis J, Gouache D, Gibon Y, Allard V (2016) Bread wheat (Triticum aestivum L) grain protein concentration is related to early post-flowering nitrate uptake under putative control of plant satiety level. PLoS ONE 11(2):0149668. https://doi.org/10.1371/journal.pone.0149668

Taylor SL, Payton ME, Raun WR (1999) Relationships between mean yield, coefficient of variation, mean square error, and plot size in wheat field experiments. Commun Soil Sci Plant 30:1439–1447

Tokatlidis IS (2014) Addressing the yield by density interaction is a prerequisite to bridge the yield gap of rainfed wheat. Ann Appl Biol 165:27–42

Tokatlidis IS (2017) Crop adaptation to density to optimise grain yield: breeding implications. Euphytica 213:92. https://doi.org/10.1007/s10681-017-1874-8

Tokatlidis IS, Remountakis E (2020) The Impacts of interplant variation on aboveground biomass, grain yield, and harvest index in maize. Int J Plant Prod 14:57–65

Tokatlidis IS, Tsialtas JT, Xynias IN, Tamoutsidis E, Irakli M (2004) Variation within a bread wheat cultivar for grain yield, protein content, carbon isotope discrimination, and ash content. Field Crop Res 86:33–42

Tollenaar M, Wu J (1999) Yield improvement in temperate maize is attributable to greater stress tolerance. Crop Sci 39:1597–1604

Triboi E, Martre P, Girousse C, Ravel C, Triboi-Blondel A-M (2006) Unravelling environmental and genetic relationships between grain yield and nitrogen concentration for wheat. Eur J Agron 25:108–118

Tsenov N, Atanasova D (2013) Influence of environments on the amount and stability of grain yield in modern winter wheat cultivars. I. Interaction and degree of variability. Agric Sci Technol 5:153–159

Yan W (2002) Singular-value partition in biplot analysis of multi-environment trial data. Agron J 94:990–996

Yan W, Kang MS, Ma B, Woods S, Cornelius PL (2007) GGE biplot vs. AMMI analysis of genotype-by-environment data. Crop Sci 47:641–653

Zhang W, Wang B, Liu B, Pang Z, Wang X, Zhang X, Mei X (2016) Performance of new released winter wheat cultivars in yield: a case study in the north China plain. Agron J 108:1346–1350
Acknowledgements
This research was supported by the National Agency for Agricultural Research, Czech Republic (Project QK1910269).
Electronic supplementary material
Below is the link to the electronic supplementary material.
About this article
Cite this article
Smutná, P., Tokatlidis, I.S. The influence of different soil types on rainfed wheat varieties for grain and protein yield. CEREAL RESEARCH COMMUNICATIONS 48, 391–398 (2020). https://doi.org/10.1007/s42976-020-00042-z
Received:

Accepted:

Published:

Issue Date:
Keywords
Coefficient of variation

GxE interaction

GGE biplot

Environmental diversity

Yield gap