Abstract
The present study aimed to assess the role of homegarden (HG) in safeguarding the tree diversity and carbon (C) density or storage in the Thodupuza urban region of Idukki district in Kerala, India. A stratified random approach was used for selecting the four homegardens (HGs) with a size of 1hectare (ha). The study mainly focused on species richness, diversity, above ground biomass, carbon, correlation and distribution of carbon with various variables, species and group wise carbon storage of the system. A total of 992 trees from 66 species belonging to 31 families were enumerated with representation of 4 endemic, 1 vulnerable, 1 endangered and 23 exotics. The diversity indices obtained were closer to those of the forest ecosystem. Above ground biomass and carbon density were estimated to be 67.06 t/ha (tonne/hectare) and 31.85 6 t/ha respectively. Species Tectona grandis showed dominancy in carbon and Important Value Index. Correlation analysis among species revealed that carbon exhibited a strong positive trend with basal area and tree density, but in the case of plot (HG)-wise examination only basal area had a strong positive relationship. The diametric class analysis showed skewed type of distribution for carbon and tree density while diversity had reverse j-shaped curve. Among the two plant groups, cultivated species had an edge over native in storing carbon. Overall, this assessment shows the potential of using homegardens as a socio-ecological systems for sustainable development particularly in terms of land availability and climate mitigation options in the face of rapid urbanization.
Access options
Buy single article
Instant access to the full article PDF.
USD 39.95
Price includes VAT (USA)
Tax calculation will be finalised during checkout.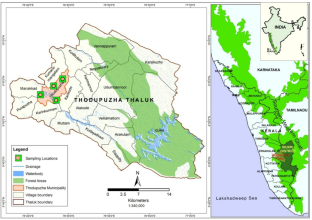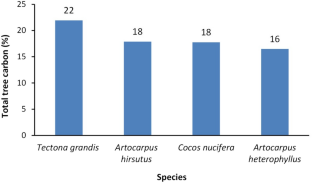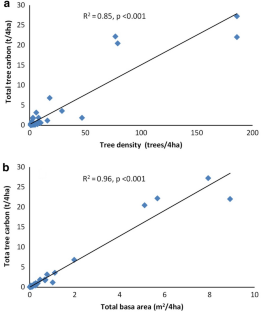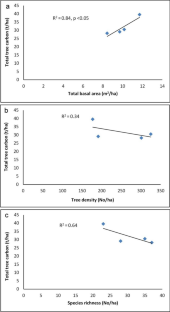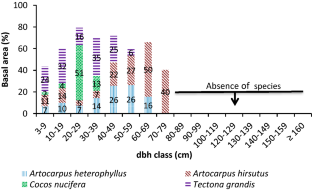 References
Alberti M (2010) Maintaining ecological integrity and sustaining ecosystem function in urban areas. Curr Opin Env Sust 2(3):178–184

Ali A, Ma WJ, Yang XD, Sun BW, Shi QR, Xu MS (2014) Biomass and carbon stocks in Schima superba dominated subtropical forests of eastern China. J For Sci 55060:198–207

Asian Regional Workshop (1998) Asian Regional Workshop (Conservation & Sustainable Management of Trees, Viet Nam, August 1996) Dalbergia latifolia. IUCN Red List Threat Species. https://doi.org/10.2305/IUCN.UK.1998.RLTS.T32098A9675296.en

Baishya R, Barik SK, Upadhaya K (2009) Distribution pattern of aboveground biomass in natural and plantation forests of humid tropics in northeast India. Trop Ecol 50:295–304

Bajigo A, Tadesse M, Moges Y, Anjulo A (2015) Estimation of carbon stored in agroforestry practices in Gununo watershed, Wolayitta Zone, Ethiopia. J Ecosyst Ecograph 5:57

Balooni K, Gangopadhyay K, Kumar BM (2011) Urban sustainability and changing private green spaces: some insights from an Indian City, Asia Research Institute, Working Paper Series No. 169

Bardhan S, Jose S, Biswas S, Kabir K, Rogers W (2012) Homegarden agroforestry systems: an intermediary for biodiversity conservation in Bangladesh. Agrofor Syst 85:29–34

Barik SK, Tripathi RS, Pandey HN, Rao P (1996) Tree regeneration in a subtropical humid forest: Effect of cultural disturbance on seed production, dispersal and germination. J Appl Ecol 33:1551–1560

Blanckaert I, Swennen RL, Paredes-Flores M et al (2004) Floristic composition, plant uses and management practices in Homegardens of San Rafael Coxcatlán, Valley of Tehuacán-Cuicatlán, Mexico. J Arid Environ 57:39–62

Bunker DE, DeClerk F, Bradford JC, Colwell RK, Perfecto Y, Phillips OL, Sankaran M, Naeem S (2005) Species loss and above-ground carbon storage in a tropical forest. Science 310:1029–1031

Burrows WH, Hoffmann MB, Compton JF, Back PV, Tait LJ (2000) Allometric relationships and community biomass estimates for some dominant eucalypts in central Queensland woodlands. Aust J Bot 48:707–714

Cairns MA, Brown S, Helmer EH, Baumgartner GA (1997) Root biomass allocation in the world's upland forests. Oecol 111:1–11

Chaturvedi RK, Raghubanshi AS, Singh JS (2011) Leaf attributes and tree growth in a tropical dry forest. J Veg Sci 22(5):917–931

Climate-data. Org (2018) Climate: Thodupuza. https://en.climatedata.org/asia/india/kerala/thodupuzha-53338/

Dadhwal VK, Singh S, Patil P (2009) Assessment of phytomass carbon pools in forest ecosystems in India. NNRMS Bulletin. Indian Institute of Remote Sensing, Dehradun, pp 41–47

De Clerck FAJ, Negreros-Castillo P (2000) Plant species of traditional Mayan Homegardens of Mexico as analogs for multi strata agro forests. Agrofort Syst 48:303–317

Devagiri GM, Money S, Singh S, Dadhawal VK, Patil P, Khaple AAS, Deva Kumar AS, Hubballi S (2013) Assessment of above ground biomass and carbon pool in different vegetation types of south western part of Karnataka, India using spectral modeling. Trop Ecol 54(2):149–165

Devi NL, Das AK (2012) Diversity and utilization of tree species in Meitei Homegardens of Barak valley, Assam. J Env Biol 34:211–217

DUR (2011) District urbanization report (DUR) of Idukki district, Kerala. Department of Town and Country Planning, Government of Kerala, India

Egerer M, Ossola A, Lin BB (2018) Creating socioecological novelty in urban agroecosystems from the ground up. Bioscience 68(1):25–34

Feldpausch TR, Banin L, Phillips OL et al (2011) Height-diameter allometry of tropical forest trees. Biogeosciences 8:1081–1106

Fernandes ECM, Nair PKR (1986) An evaluation of the structure and function of tropical homegardens. Agrofor Syst 21:279–310

FSI (1996) Volume Equations for Forests of India, Nepal and Bhutan. Forest Survey of India, Dehradun

Gbedomon RC, Salako VK, Fandohan AB, Idohou AFR, Kakaї RG, Assogbadjo AE (2017) Functional diversity of home gardens and their agrobiodiversity conservation benefits in Benin, West Africa. J Ethnobiol Ethnomed 13(1):66

Grove JM, Childers DL, Galvin M, Hines S, Muñoz-Erickson T, Svendsen ES (2016) Linking science and decision making to promote an ecology for the city: practices and opportunities. Ecosyst Health Sustain 2(9):

Government of Kerala (2016) Economic Review 2016. State Planning Board, Government of Kerala, Thiruvananthapuram

Government of Kerala (2018) Economic review 2018. State Planning Board, Government of Kerala, Thiruvananthapuram

Guillaumet JL, Grenand P, Bahri S, Grenand F, Lourd M, dos Santos AA, Gely A (1990) The homegarden orchards of the central Amazon: an example of space utilization. Turrialba 40(1):63–81

Healy C, Gotelli NJ, Potvin C (2008) Partitioning the effects of biodiversity and environmental heterogeneity for productivity and mortality in a tropical tree plantation. J Ecol 96:903–913

Henry M, Tittonell P, Manlay RJ, Bernoux M, Albrecht A, Vanlauwe B (2009) Biodiversity, carbon stocks and sequestration potential in aboveground biomass in smallholder farming systems of western Kenya. Agric Ecosyst Environ 129:238–252

Horn HS (1974) The ecology of secondary succession. Annu Rev Ecol Syst 5:25–37

Hui D, Wang J, Le X, Shen W, Ren H (2012) Influences of biotic and abiotic factors on the relationship between tree productivity and biomass in China. For Ecol Manag 264:72–80

ICFRE (1996–2002). Indian woods: their identification, properties and uses. Volumes I–VI, Revised Edition, Indian Council of Forestry Research and Education, Dehradun, India

Islam M, Dey A, Rahman M (2014) Effect of Tree Diversity on Soil Organic Carbon Content in the homegarden agroforestry System of North-Eastern Bangladesh. Small Scale For 14(1):91–101

Jahantigh M, Efe R (2010) Effect of waste water irrigation on phytosociological characteristics of the vegetation: a case study in Sistan Region. Amer-Euras J Agric Environ Sci 7(4):406–414

Jaman MS, Hossain MF, Islam MS, Helal MGJ, Jamil M (2016) Quantification of carbon stock and tree diversity of homegardens in Rangpur District, Bangladesh. Int J Agric For 6:169–180

Keddy P (2005) Putting the plants back into plant ecology: six pragmatic models for understanding and conserving plant diversity. Ann Bot 96:177–189

Khan ML, Rai JPN, Tripathi RS (1987) Population structure of some tree species in disturbed and protected subtropical forests of North-East India. Acta Oecol 8:247–255

Kumar BM (2006) Carbon sequestration potential of tropical Homegardens. In: Nair PKR, Kumar BM (eds) Tropical Homegardens: a time-tested example of sustainable agroforestry. Springer, Berlin, pp 185–204

Kumar BM, Nair PKR (eds) (2006) Tropical homegardens: A Time-tested example of sustainable agroforestry. Advances in Agroforestry. Springer Science, Dordrecht

Kumar BM (2011) Species richness and aboveground carbon stocks in the homegardens of central Kerala, India. Agric Ecosyst Environ 140:430–440

Kumar BM, Nair PKR (2004) The enigma of tropical homegardens. Agrofor Syst 61:135–152

Kumar BM, Nair PKR (2011) Carbon sequestration potential of agroforestry systems: opportunities and challenges. Springer, Berlin

Kumar BM, George SJ, Chinnamani S (1994) Diversity, structure and standing stock of wood in the homegardens of Kerala in Peninsular India. Agrofor Syst 25:243–262

Kunhamu TK, Ajeesh R, Kumar V (2015) Floristic analysis of peri-urban homegardens of Southern Kerala. Indian J Ecol 42:2

Labata MM, Aranico EC, Tabaranza ACE, Patricio JHP, AmparadoJr RF (2012) Carbon stock assessment of three selected agroforestry systems in Bukidnon, Philippines. Adv Environ Sci 4:5–11

Magurran AE (2004) Measuring biological diversity. Blackwell Science, Oxford

Mandal RA, Dutta IC, Jha PK, Karmacharya SB (2013) Relationship between carbon stock and plant biodiversity in collaborative forests in Tarai, Nepal. ISRN Botany, Article ID 625767

Mattson E, Ostwald M, Nissanka SP, Pushpakumara DKNG (2015) Quantification of carbon stock and tree diversity of home gardens in a dry zone area of Moneragala district, Sri Lanka. Agrofor Syst 89(3):435–445

Mendez VE, Lok R, Sommarriba E (2001) Interdisciplinary analysis of Homegardens in Nicaragua: micro-zonation, plant use and socioeconomic importance. Agrofor Syst 51:85–96

Millat-e-Mustafa MD, Hall JB, Teklehaimanot Z (1996) Structure and floristics of Bangladesh Homegardens. Agrofor Syst 33:263–280

Mohan S (2004) An Assessment of the ecological and socioeconomic benefits provided by the homegardens: a case study from Kerala, India. PhD Dissertation, University of Florida, Gainesville, FL, USA

Mohanraj R, Saravanan J, Dhanakumar S (2011) Carbon stock in Kolli forests, Eastern Ghats (India) with emphasis on aboveground biomass, litter, woody debris and soils. iForest 4:61–65

Muraleedharan PK, Sasidharan N, Kumar BM, Sreenivasan MA, Seethalakshmi KK (2005) Non-wood forest products in the Western Ghats of Kerala, India: floristic attributes extraction, regeneration and prospects for sustainable use. J Trop For Sci 17(2):243–257

Murthy IK, Gupta M, Tomar S, Munsi M, Tiwari R, Hegde GT, Ravindranath NH (2013) Carbon sequestration potential of agroforestry systems in India. J Earth Sci Clim Change 4(1):1–7

Myers N, Mittermeier RA, Mittermeier CG, de Fonseca GAB, Kent J (2000) Biodiversity hotspots for conservation priorities. Nature 403:853–858

Nagendra H (2012) Assessing relatedness and redundancy of forest monitoring and change indicators. J Environ Manag 95(2012):108–113

Nair PKR (2001) Do tropical Homegardens elude science or is it the other way around? Agrofor Syst 53:239–245

Nair PKR, Kumar BM, Nair VD (2009) Agroforestry as a strategy for carbon sequestration. J Plant Nutr Soil Sci 172:10–23

Nair PKR, Nair VD, Kumar BM, Showalter JM (2010) Carbon sequestration in agroforestry systems. Adv Agron 108:237–307

Nayar MP (1996) "Hot Spots" of Endemic Plants of India, Nepal and Bhutan. Tropical Botanic Garden and Research Institute, Palode

Nayar TS, Rasiya BA, Sibi M (2014) Flowering plants of the Western Ghats, India (2 Volumes). Jawaharlal Nehru Tropical Botanic Garden and Research Institute, Palode

Pandey DN (2002) Carbon sequestration in agroforestry systems. Clim Policy 2:367–377

Pandey CB, Rai RB, Singh L, Singh AK (2007) Homegardens of Andaman and Nicobar, India. Agric Syst 92(1–3):1–22

Peyre A, Guidal A, Wiersum KF, Bongers F (2006) Dynamics of homegarden structure and function in Kerala, India. Agrofor Syst 66:101–115

Pielou EC (1975) Ecological Diversity. John Wiley & Sons, New York

Pragasan LA (2020) Tree carbon stock and its relationship to key factors from a tropical hill forest of Tamil Nadu, India. Geol Ecol Landsc. https://doi.org/10.1080/24749508.2020.1742510

Prasad PRC, Reddy CS, Dutt CBS (2007) Phytodiversity assessment of tropical rainforest of North Andaman Islands. India J of For 1(1):27–39

Raghubansi AS, Jha CS, Pandey CB, Singh L, Singh JS (1990) Effects of forest conversion on vegetation and soil carbon and functional trait of resulting vegetation. Impact of Global Climate Change on Photosynthesis and Plant Productivity, pp 723–749

Rajkumar M, Parthasarathy N (2008) Tree diversity and structure of Andaman Giant Evergreen Forests, India. Taiwania 53:356–368

Ravindranath NH, Ostwald M (2008) Carbon Inventory methods handbook for greenhouse gas inventory, carbon mitigation and round wood production projects. Springer, Heidelberg

Redondo-Brenes A (2007) Growth, carbon sequestration and management of native tree plantations in humid regions of Costa Rica. New For 34(3):253–268

Rugalema GH, Okting AA, Johnson FH (1994) The homegarden agro-forestry System of Bukoba District. North West Tanzan Farm Syst 26:53–64

Rutishauser E, Wagner F, Herault B, Nicolini EA, Blanc L (2010) Contrasting above-ground biomass balance in a Neotropical rain forest. J Veg Sci 21(4):672–682

Sahu SC, Dhal NK, Lal B, Mohanty RC (2012) Differences in tree species diversity, distribution and population structure in a tropical dry deciduous forest of Malayagiri hill range, Eastern Ghats, India. J Mount Sci 9:492–500

Saikia P, Khan ML (2013) Population structure and regeneration status of Aquilaria malaccensis L. am in Homegardens of Upper Assam, northeast India. Trop Eco 54(1):1–13

Sanyé-Mengual E, Gasperi D, Michelon N, Orsini F, Ponchia G, Gianquinto G (2018) Eco-efficiency assessment and food security potential of home gardening: a case study in Padua, Italy. Sustainability 10:2124

Sasidharan N (2004) Biodiversity documentation for Kerala. Part 6: flowering plants. Kerala Forest Research Institute, Peechi

Schroth G, da Mota MSS, Hills T, Soto-Pinto L, Wijayanto I, Arief CW, Zepeda Y (2011) Linking carbon, biodiversity and livelihoods near forest margins: the role of agroforestry. In: Kumar BM, Nair PKR (eds) Carbon sequestration potential of agroforestry systems: opportunities and challenges. Springer, Dordrecht, pp 179–200

Seto KC, Güneralp B, Hutyr LR (2012) Global forecasts of urban expansion to 2030 and direct impacts on biodiversity and carbon pools. Proc Natl Acad Sci 109(40):16083–16088

Shannon CE, Wiener W (1949) The mathematical theory of communication. University of Illinois Press, Urbana, IL

Sharma CM, Baduni NP, Gairola S, Ghildiyal SK, Suyal S (2010) Tree diversity and carbon stocks of some major forest types of Garhwal Himalaya, India. Forest Ecol Manag 260(12):2170–2179

Shastri CM, Bhat DM, Nagaraja BC, Murali KS, Ravindranath NH (2002) Tree species diversity in a village ecosystem in Uttara Kannada district in Western Ghats, Karnataka. Curr Sci 82:1080–1084

Shirima DD, Totland Ø, Munishi PK, Moe SR (2015) Relationships between tree species richness, evenness and aboveground carbon storage in montane forests and miombo woodlands of Tanzania. Basic Appl Ecol 16(3):239–249

Slik JWF, Aiba SI, Brearley Q, Cannon CH, Forshed O, Kitayama K, Nagamasu H, Nilus R, Payne J, Paoli G, Poulsen AD, Raes N, Sheil D, Sidiyasa KE, Suzuki E, Van Valkenburg JLCH (2010) Environmental correlates of tree biomass, basal area, wood specific gravity and stem density gradients in Borneo's tropical forests. Global Ecol Biogeogr 19:50–60

Slik JF, Paoli G, McGuire K, Amaral I et al (2013) Large trees drive forest aboveground biomass variation in moist lowland forests across the tropics. Glob Ecol Biogeogr 12:1261–1271

Soto-Pinto L, Anzueto M, Mendoza J, Ferrer G, de Jong B (2010) Carbon sequestration through agroforestry in indigenous communities of Chiapas, Mexico. Agrofor Syst 78:39–51

Swift MJ, Anderson JM (1993) Biodiversity and ecosystem function in agroecosystems. In: Schultze E, Mooney HA (eds) Biodiversity and ecosystem function. Spinger, New York, pp 57–83

Tripathi RS, Khan KL (2007) Regeneration dynamics of natural forests: a review. Proc Indian Natl Sci 73:167–195

Tripathi KP, Tripathi S, Selvan T, Kumar K, Singh KK, Mehrotra S, Pushegadan P (2004) Community structure and species diversity of Saddle Peak forest in Andaman Island. Trop Ecol 45:241–250

Tynsong H, Tiwari BK (2010) Plant diversity in the homegardens and their significance in the livelihoods of War Khasi community of Meghalaya, North-East. India J Biodivers 1(1):1–11

Unnithan SR, Kunhamu TK, Sunanda C, Anoop EV, Jamaludheen V, Santhoshkumar AV (2017) Floristic diversity and standing stock of timber in homegardens of Thrissur district, Kerala. Indian J Agrofor 19(2):8–12

Varghese A, Krishnamurthy V, Garnesan R, Manu K (2010) Cycas circinalis. IUCN Red List Threat Species. https://doi.org/10.2305/IUCN.UK.2010-3.RLTS.T42089A10627275.en

Visalakshi N (1995) Vegetation analysis of two tropical dry evergreen forests in southern India. Trop Ecol 36(1):117–127

Whittaker RH (1970) Communities and ecosystems. McMillan, New York

Zhang Y, Duan B, Xian J, Korpelainen H, Li C (2011) Links between plant diversity, carbon stocks and factors along a successional gradient in a subalpine coniferous forest in Southwest China. Forest Ecol Manag 262:361–369
Acknowledgements
We gratefully acknowledge the funding from the Indian Institute of Remote Sensing (IIRS), Dehradun, Indian Space Research Organisation (ISRO), Department of Space and Government of India. Authors acknowledge Directorate of Environment and Climate Change, Government of Kerala for the support extended for this work. We are grateful to members of the School of Environmental Sciences for assisting us during data collection. Authors also thank Forest Department, Government of Kerala for their service in connection with the work. We are also thankful to Dr Sarnam Singh for his invaluable contributions to the work.
Ethics declarations
Conflict of interest
On behalf of all authors, the corresponding author states that there is no conflict of interest.
About this article
Cite this article
Padmakumar, B., Sreekanth, N.P., Shanthiprabha, V. et al. Unveiling tree diversity and carbon density of homegarden in the Thodupuzha urban region of Kerala, India: a contribution towards urban sustainability. Trop Ecol 62, 508–524 (2021). https://doi.org/10.1007/s42965-021-00149-2
Received:

Revised:

Accepted:

Published:

Issue Date:
Keywords
Above ground biomass

Basal area

Endemism

Exotics

Important Value Index

Sequestration