Abstract
Deforestation is the replacement of forest by other land-use. Land-use patterns are changing fast in worldwide in relation to the human population growth and agricultural land expansion. The study deals with the status and trends of land-use and land-cover (LULC) dynamics and identification of deforestation risk zones Ankasha Guagusa, northwestern, Ethiopia following in the recent advancement in geospatial approach. The temporal Landsat satellite data from 1985 to 2018 was used for the analysis. Supervised classification approach with maximum likelihood algorithm was adopted for the classification and generation of land-use and land-cover maps for the chosen time periods. Results reveal that there have been substantial changes in the LULC during the selected periods. During the period 1985–1996 showed increased the cropland, bare-land and built-up with 835 ha (1.78%), 186.54 ha (0.4%) and 112. ha (0.24%), respectively. In the second period (1996–2006) forest land, built-up and cropland increased with 1094 ha (2.33%), 346.78 ha (0.74%) and 2185.7 ha (4.65%), respectively. This implies that the forest cover change had decreased by 1119.78 ha (2.38) in the first period and increased in the second and third period with 1094.04 ha (2.33%) and 772.91 ha (1.64%), respectively. It was raveled that forest cover though remained relatively stable around western part of the study area. Identification of deforestation risk zone to examine five factors criteria was selected such as infrastructure, topographic and socio-economic behavior of the area. These are slope, proximity to road, population density, proximity to river and proximity to town. Each criterion was evaluated with the aid of AHP and mapped by GIS. The degree of deforestation risk was categorized as extreme, high, moderate and low suitability areas, which represented 2%, 40.27%, 56.65% and 1.04%, of the study area, respectively. Therefore, sustainable forest management system is necessity to protect, conserve and rehabilitate the remaining forest.
Access options
Buy single article
Instant access to the full article PDF.
USD 39.95
Price includes VAT (USA)
Tax calculation will be finalised during checkout.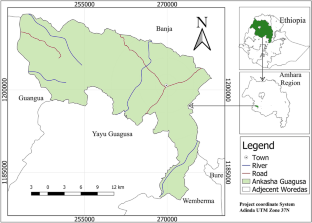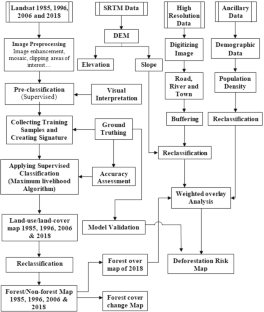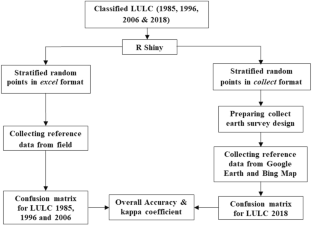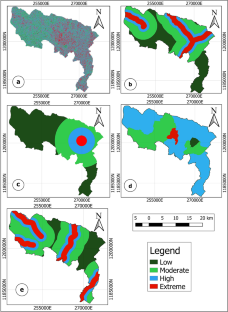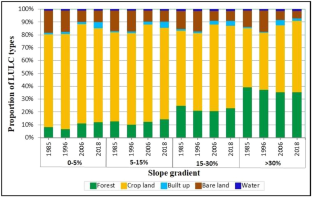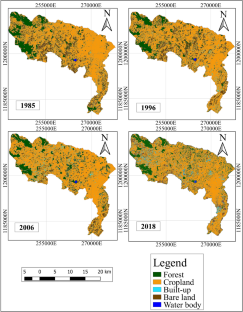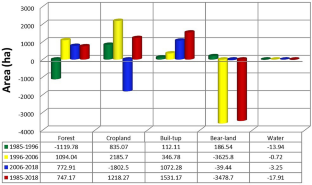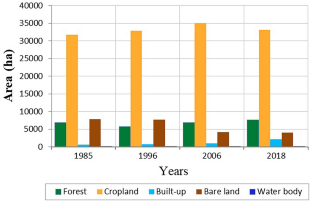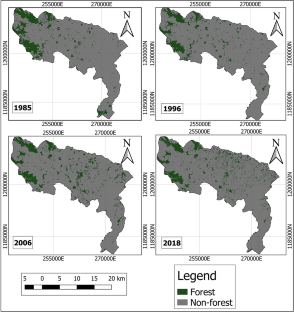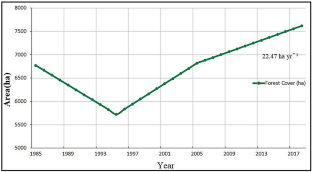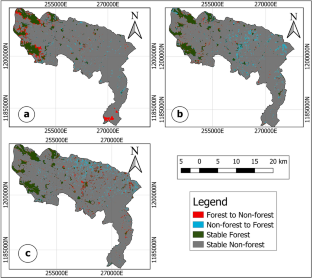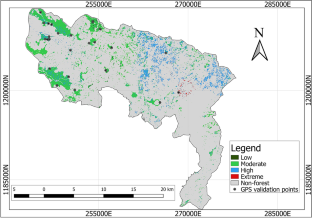 References
Abyot Y, Gedif B, Addisu S, Zewudu F (2014) Forest cover change detection using remote sensing and GIS in Banja District, Amhara Region, Ethiopia. Int J Environ Monit Anal 2:354–360

Alves DS (2002) Space-time dynamics of deforestation in Brazilian Amazonia. Int J Remote Sens 23:2903–2908

Anderson JR (1976) A land use and land cover classification system for use with remote sensor data, vol 964. US Government Printing Office, Washington, DC

Asmamaw AG (2013) Assessing the impact of land-use land-cover change on hydrology of watershed: a case study on Gilgel–Abbay Watershed, Lake Tana Basin, Ethiopia. M.Sc. Thesis. Jaume University. Spain

Ayele KF, Suryabhagavan KV, Sathishkumar B (2014) Assessment of habitat changes in Holeta Watershed, Central Oromiya, Ethiopia. Int J Earth Sci Eng 7:1370–1375

Belete T, Suryabhagavan KV (2019) Systematic modeling of impacts of land-use and land-cover changes on land surface temperature in Adama Zuria District, Ethiopia. Model Earth Syst Environ 5:805–817

Berhanu K, Suryabhagavan KV (2014) Multitemporal remote sensing of landscape dynamics and pattern change in Dire District, Southern Ethiopia. J Geomat 8:189–194

Bhushan N, Rai K (2004) The analytic hierarchy process Strategic decision making: applying the analytic hierarchy process. Springer, London, pp 11–21

Bottero M, Comino E, Duriavig M, Ferretti V, Pomarico S (2013) The application of a multicriteria spatial decision support system (MCSDSS) for the assessment of biodiversity conservation in the province of varese (Italy). Land Use Pol 30:730–738

Broothaerts N, Kissi E, Poesen J, Van Rompaey A, Getahun K, Van Ranst E, Diels J (2012) Spatial patterns, causes and consequences of landslides in the Gilgel Gibe catchment, South-west Ethiopia. CATENA 92:127–136

Brown DG, Walker R, Manson S, Seto K (2014) Modeling land use and land cover change. In: Gutman G et al (eds) Land change science. Remote sensing and digital image processing, vol 6. Springer, Dordrecht. https://doi.org/10.1007/978-1-4020-2562-4_23

Christopher B, Mark C, Souza J, Laurance W (2014) Road, deforestation, and the mitigating effect of protected areas in the Amazone. Biol Cons 177:203–209

Cohen J (1960) A coefficient of agreement for nominal scales. Educ Psychol Meas 20:37–46

Congedo L (2016) Semi-automatic classification plugin documentation. Release. https://doi.org/10.13140/RG.2.2.29474.02242/1

Demeke D, Afework B (2014) Habitat association and distribution of rodents and insectivores in Chebera Churchura National Park, Ethiopia. Trop Ecol 55:221–229

Dinku S, Suryabhagavan KV (2019) Forest degradation monitoring and assessment of biomass in Harenna Buluk District, Bale Zone, Ethiopia: a geospatial perspective. Trop Ecol 60:94–104

Duc TT (2006) Using GIS and AHP technique for land-use suitability analysis. In International symposium on geoinformatics for spatial infrastructure development in earth and allied sciences, pp 1–6

Ellis E (2015) Ecology in an anthropogenic biosphere. Department of Geography and Environmental Systems. Ecol Monogr 85:287–331

FAO (2010) Global forest resources assessment 2010; food and agriculture organization of the United Nations. FAO, Rome

FAO (2011) The state of the world's land and water resources for food and agriculture (SOLAW) e Managing systems at risk. Food and Agriculture Organization of the United Nations, Rome and Earthscan

FAO (2016) Food and Agriculture Organization. Map accuracy assessment and area estimation, a practical guide, Rome, Italy. National forest monitoring assessment working paper. No. 46/E

Foody GM (2002) Status of land cover classification accuracy assessment. Remote Sens Environ 80:185–201

Forson K, Gavu K (2016) Using multi criteria evaluation in forest resource conservation in ghana: spatially identifying vulnerable areas. Life Nat Sci Ser D 1:15

Gao Y, Zhang W (2009) LULC classification and topographic correction of Landsat-7 ETM? imagery in the Yangjia River Watershed: the influence of DEM resolution. Sensors 9:1980–1995

Geist HJ, Lambin EF (2001) What drives tropical deforestation? A metaanalysis of proximate and underlying causes of deforestation based on sub-national case study evidence. LUCC International Project Office, LUCC Report Series no, Louvain-la-Neuve (Belgium), p 4

Getahun K, Rompaey V, Turnhout V, Poesen J (2013) MFactors controlling patterns of deforestation in moist evergreen afromontains of southwest ethiopia. For Ecol Manage 304:171–181

GFOI (2016) Global Forest Observations Initiative (GFOI), Integrating remote-sensing and ground-based observations for estimation of emissions and removals of greenhouse gases in forests. Methods and guidance from the global forest observations initiative. Edition 2.0, Food and Agriculture Organization, Rome

Giulio DL, Philip M, Sheila ZL, Marco M, Michael K (2017) REDD+: quick assessment of deforestation risk based on available data. Forests 8, 29:1–16. https://doi.org/10.3390/f8010029

Gumma MK, Thenkabail PS, Hideto F, Nelson A, Dheeravath V, Busia D et al (2011) Mapping irrigated areas of Ghana using fusion of 30 m and 250 m resolution remote-sensing data. Remote Sens 3:816–835

Habboub M (2013) Spatio-temporal analysis of the dead sea area using remote sensing and GIS based model: Markov-cellular automata. Islamic University of Gaza, Gaza

Hansen MC, Stehman SV, Potapov PV, Arunarwati B, Stolle F, Pittman K (2009) Quantifying changes in the rates of forest clearing in Indonesia from 1990 to 2005 using remotely sensed data sets. Environ Res Lett 4:034001

Hashim M, Pour AB, Wei CK (2014) Comparison of ETM + and MODIS data for tropical forest degradation monitoring in the peninsular Malaysia. J Indian Soc Remote Sens 42:383. https://doi.org/10.1007/s12524-013-0314-z

Hegazy IR, Kaloop MR (2015) Monitoring urban growth and land use change detection with GIS and remote sensing techniques in Daqahlia governorate Egypt. Int J Sustain Built Environ 4:117–124

Helmer EH, Brown S, Cohen WB (2000) Mapping montane tropical forest successional stage and land use with multi-date Landsat imagery. J Indian Soc Remote Sens 21:2163–2183

Helmut JG, Eric FL (2001) What drives tropical deforestation? A meta-analysis of proximate and underlying causes of deforestation based on sub-national case study evidence. LUCC International Project Office, Louvain-la-Neuve

Jia K, Wei X, Gu X, Yao Y, Xie X, Li B (2014) Land cover classification using Landsat 8 Operational Land Imager data in Beijing, China. Geocarto Int 29:941–951

Joseph B (2005) Environmental studies. The McGraw Hill Companies. Core engineering series. Tata McGraw-Hill, New Delhi

Kubler S, Robert J, Derigent W, Voisin A, Le Y (2016) A state-of the-art survey & test bed of fuzzy AHP (FAHP) applications. Expert Syst Appl 65:398–422

Le Quéré C, Raupach MR, Canadell JG, Marland G, Bopp L, Ciais P, Conway TJ et al (2009) Trends in the sources and sinks of carbon dioxide. Nat Geosci 2:831–836

Leblois A, Damette O, Wolfersberger J (2016) What has driven deforestation in developing countries since the 2000s? Evidence from new remote sensing data. Sci Direct 92:82–102

Lo CP (1986) Applied remote sensing. Longman Inc., New York, p 227

Lu D, Weng Q (2007) A survey of image classification methods and techniques for improving classification performance. Int J Remote Sens 28:823–870

Lu D, Hetrick S, Moran E, Li G (2012) Application of time series landsat images to examining land-use/landcover dynamic change. Photogramm Eng Remote Sens 78:747–755

Malczewski J (1999) GIS and multicriteria decision analysis. Wiley, Oxford

Mannan A, Liu J, Zhongke F, Khan TU, Saeed S, Mukete B, ChaoYong S, Yongxianga F, Ahmad A, Amir M, Ahmad S, Shah S (2019) Application of land-use/land cover changes in monitoring and projecting forest biomass carbon loss in Pakistan. Glob Ecol Conserv 17:e00535

Mas J, Puig H, Palacio JL, Sosa-López A (2004) Modelling deforestation using GIS and artificial neural networks. Environ Model Softw 19:461–471

Megersa T (2016) Forest fire risk zine modeleing and mapping in bale mountains national park (BMNP), Oromia, Ethiopia. M.Sc. Thesis. Addis Ababa University. Addis Ababa

Melakneh G, Suryabhagavan KV, Balakrishnan M (2010) Land-use and landscape pattern changes in Holeta-Berga Watershed, Ethiopia. Int J Ecol Environ Sci 36:117–132

Mengistie K, Thomas S, Demel T, Thomas K (2013) Land-use/land-cover change analysis using Object-Based Classification Approach in Munessa-Shashemene Landscape of the Ethiopian Highlands. Remote Sens 5:2411–2435

Miettinen J, Stibig HJ, Achard F (2014) Remote sensing of forest degradation in Southeast Asia-Aiming for a regional view through 5–30 m satellite data. Glob Ecol Conserv 2:24–36

Miriam SW, Taylor VS (2009) Modeling social and land-use/land-cover change data to assess drivers of smallholder deforestation in Belize. Appl Geogr 30:329–342

Misrak A, Suryabhagavan KV, Balakrishnan M (2012) Assessment of cover change in the Harenna Habitats in Bale Mountains, Ethiopia, using GIS and remote sensing. Int J Ecol Environ Sci 38:39–45

Miura S, Amacher M, Hofer T, San-Miguel-Ayanz J, Ernawati TR, Ernawati TR (2015) Protectivefunctions and ecosystem services of global forests in thepast quarter-century. For Ecol Manage 352:35–46

Mussa A, Suryabhagavan KV (2019) Solid waste dumping site selection using GIS-based multi-criteria spatial modeling: a case study in Logia town, Afar region, Ethiopia. Geol Ecol Landsc. https://doi.org/10.1080/24749508.2019.1703311

Mustajoki J, Marttunen M (2017) Comparison of multi-criteria decision analytical software for supporting environmental planning processes. Environ Model Softw 93:78–91

Myint AA (2018) Analysis of drivers of deforestaton and forest degradation in Shan State and strategic options to address them. ICIMOD, Kathmandu

Olofsson P, Foody GM, Stehman SV, Woodcock CE (2013) Making better use of accuracy data in land change studies: estimating accuracy and area and quantifyinguncertainty using stratified estimation. Remote Sens Environ 129:122–131

Othow OO, Gebre SL, Gemeda DO (2017) Analyzing the rate of land-use and land-cover change and determining the causes of forest cover change in Gog District, Gambella Regional State, Ethiopia. J Remote Sens GIS 6:219

Pucha-cofrep F, Franz A, Canovas-Garcia F, Onate-Valdivieso F, Gonzalez-Jaramillo V, Pucha-Cofre D (2018) Fundamentals of GIS: applications with ArcGIS. Franz Pucha Cofrep

Qamer FM, Shehzad K, Abbas S, Murthy M, Xi C, Gilani H, Bajracharya B (2016) Mapping deforestation and forest degradation patterns in Western Himalaya, Pakistan. Remote Sens 8:385. https://doi.org/10.3390/rs8050385

REDD + Ethiopia (2015) The Context of REDD + in Ethiopia Drivers, Agents and Institutions (2015). Ministry of Environment, Forest, Federal Democratic Republic of Ethiopia, Addis Ababa

Robert AS (2007) Remote sensing: models and methods for image processing. Department of Electrical and Computer Engineering, College of Optical Sciences, and Office of Arid Lands Studies University of Arizona, Arizona

Saaty TL (1980) The analytic hierarchy process: planning, priority setting, resource allocation. McGraw-Hill, New York

Saaty TL (2012) Decision making for leaders. RWS Publications, Pittsburgh

Sanchayeeta A, Timothy F, Puneet D (2017) Proximate causes of land-use and land-cover change in Bannerghatta National Park: a spatial statistical model. Forests 8:342

Sasaki N, Putz FE (2009) Critical Need For New Definitions Of Forest And Forest Degradation In Global Climate Change Agreements. Conserv Lett 2:226–232

Sekertekin A, Marangoz AM, Akcin H (2017) Pixel based classification analysis of land use land cover using sentinel-2 and landsat-8 data. Int Arch Photogramm Remote Sens Spatial Inf Sci XLII-4/W6:91–93

Srivastava PK, Han D, Rico-Ramirez MA, Bray M, Islam T (2012) Selection of classification techniques for land use/land cover change investigation. Adv Sp Res 50:1250–1265

Srivastava PK, Petropoulos GP, Gupta M, Singh SK, Islam T, Loka D (2019) Deriving forest fire probability maps from the fusion of visible/infrared satellite data and geospatial data mining. Model Earth Syst Environ 5:627–643

Stehman VS (1996) Estimating the kappa coefficient and its variance under stratified random sampling. Photogramm Eng Remote Sens 62:401–407

Steiguer JE, Liberti L, Schuler A, Hansen B (2003) Multi-criteria decision models for forestry and natural resources management: an annotated bibliography. Newtown Square: USDA Forest Service, 8:16–23. General Technical. Report NE-307. https://doi.org/10.2737/NE-GTR-307

Suleiman MS, Wasonga OV, Mbau JS, Elhadi YA (2017) Spatial and temporal analysis of forest cover change in Falgore Game Reserve in Kano. Nigeria. Ecol Proc 6:11. https://doi.org/10.1186/s13717-017-0078-4

Suryabhagavan KV, Misrak A, Balakrishnan M (2016) GIS-based multicriteria decision analysis approach for forest fire susceptibility mapping: a case study in Harenna Forest, South Western Ethiopia. Trop Ecol 57:31–43

Temesgen G, Fikirte A, Damena E (2015) Forest degradation in Ethiopia: extent and conservation efforts. Pj Palgo J Agric 2:49–56

Thapa RB, Shimada M, Watanabe M, Motohka T (2013) The tropical forest in south east Asia: monitoring and scenario modeling using synthetic aperture radar data. Appl Geogr 41:168–178

Tripathi DK, Kumar M (2012) Remote sensing based analysis of land use/land cover dynamics in Takula Block, Almora District (Uttarakhand). J Hum Ecol 38(3):207–212

Turner BL, William B, Meyer S, David L (2009) Global land-use/change: global integrated study. Allen Press, Royal Swedish Academy of Sciences, Kansas

UNECA (2011) United Nations Economic Commission for Afric, 2011. Issues paper prepared for the Eighth African Development Forum (ADF-VIII). Land and Africa's development future: governing the risks and opportunities of large-scale land-based investments

Verma P, Raghubanshi A, Srivastava PK, Raghubanshi AS (2020) Appraisal of kappa-based metrics and disagreement indices of accuracy assessment for parametric and nonparametric techniques used in LULC classification and change detection. Model Earth Syst Environ 6:1045–1059

Wang C, Myint SW (2016) Environmental concerns of deforestation in Myanmar 2001–2010. Remote Sens 8:1–15

Woods K (2015) Commercial agriculture expansion in Myanmar: links to deforestation, conversion timber, and land conflicts. In: Forest trade and finance report series, Forest Trends

Wu T, Luo J, Fang J, Ma J, Song X (2018) Unsupervised object-based change detection via a Weibull mixturemodel-based binarization for high-resolution remote sensing images. IEEE Geosci Remote Sens Lett 15:63–67
Acknowledgements
We are thankful to the Wondo Genet Natural Resource and Forestry College, Hawassa University, Ethiopia and national MRV project, Ethiopia for support, facilities and funds. We are also grateful to the Ankasha Gugusa administration officers for providing necessary data to support this study. We are also indebted to the editor Tropical Ecology and two anonymous reviewers for their constructive review that helped to improve the structure and quality of this paper.
Electronic supplementary material
Below is the link to the electronic supplementary material.
About this article
Cite this article
Mekasha, S.T., Suryabhagavan, K.V. & Gebrehiwot, M. Geo-spatial approach for land-use and land-cover changes and deforestation mapping: a case study of Ankasha Guagusa, Northwestern, Ethiopia. Trop Ecol 61, 550–569 (2020). https://doi.org/10.1007/s42965-020-00113-6
Received:

Revised:

Accepted:

Published:

Issue Date:
Keywords
Landsat

Land-use change

Modeling deforestation

Remote sensing

Supervised classification