Abstract
Climate change poses significant challenges to distribution of plant species. Rhododendron arboreum is considered as a keystone species between subalpine and the alpine regions. In the present study, we predict its future distribution in the Indian part of Western Himalaya by employing two species distribution modelling techniques. We used five least correlated climate variables: mean diurnal temperature range, annual mean temperature, annual precipitation, precipitation of driest quarter and precipitation seasonality to predict the potential distribution of R. arboreum for the current condition. We subtracted the current distribution from projected maps of the Representative Concentration Pathways (RCP) 4.5 and RCP 6.0 scenarios for the year 2070 to quantify the magnitude and direction of range shift of the species in the future environment. Rhododendron arboreum is predicted to shift its distribution towards higher elevations more prominently in case of RCP 6.0. The species is likely to be influenced by annual precipitation for its distribution during current to future climate change scenarios. The study predicts upslope movement of R. arboreum in response to climate change impacts, where topography could play a significant role. Prediction of distribution pattern of R. arboreum highlights the need to take up future works focussing on development of a robust approach towards integrating genomic, environmental, climate and conservation information for predictive modelling of R. arboreum in its home range in the entire Indian Himalayas.
Access options
Buy single article
Instant access to the full article PDF.
USD 39.95
Price excludes VAT (USA)
Tax calculation will be finalised during checkout.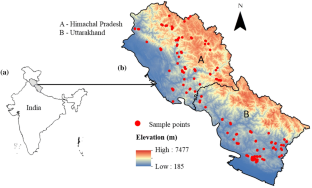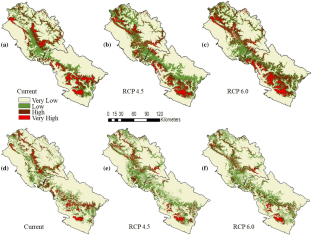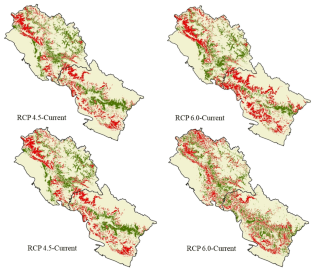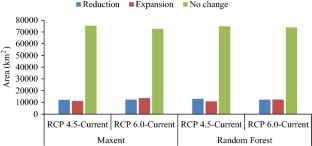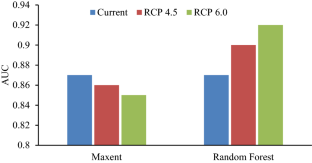 References
Bhattacharya D (2011) Rhododendron species and their uses with special reference to Himalayas—a review. Assam Univ J Sci Technol 7(1):161–167

Breiman L (2001) Random forests. Mach Learn 45(1):5–32

Chitale VS, Behera MD (2019) How will forest fires impact the distribution of endemic plants in the Himalayan biodiversity hotspot? Biodivers Conserv 28(8–9):2259–2273

Dutra Silva L, Brito de Azevedo E, Vieira Reis F, Bento Elias R, Silva L (2019) Limitations of species distribution models based on available climate change data: a case study in the Azorean forest. Forests 10(7):575

Elith J, Graham HC, Anderson PR, Dudík M, Ferrier S, Guisan A, Hijmans JR, Huettmann F, Leathwick RJ, Lehmann A, Li J (2006) Novel methods improve prediction of species' distributions from occurrence data. Ecography 29(2):129–151

Fitzpatrick MC, Keller SR (2015) Ecological genomics meets community-level modelling of biodiversity: mapping the genomic landscape of current and future environmental adaptation. Ecol Lett 18(1):1–16

Giorgi F, Hurrell J, Marinucci M, Beniston M (1997) Elevational dependency of the surface climate change signal: a model study. J Clim 10:288–296

Guisan A, Tingley R, Baumgartner JB, Naujokaitis-Lewis I, Sutcliffe PR, Tulloch AIT, Regan TJ, Brotons L, Mcdonald-Madden E, Mantyka-Pringle C (2013) Predicting species distributions for conservation decisions. Ecol Lett 16(12):1424–1435

Jay F, Manel S, Alvarez N, Durand EY, Thuiller W, Holderegger R, Taberlet P, François O (2012) Forecasting changes in population genetic structure of alpine plants in response to global warming. Mol Ecol 21(10):2354–2368

Kelly AE, Goulden ML (2008) Rapid shifts in plant distribution with recent climate change. PNAS USA 105(33):11823–11826

Kumar P (2012) Assessment of impact of climate change on Rhododendrons in Sikkim Himalayas using Maxent modelling: limitations and challenges. Biodivers Conserv 21(5):1251–1266

Lynch M, Lande R (1993) Evolution and extinction in response to environmental change. In: Kareiva PM, Kingsolver JG, Huey RB (eds) Biotic interactions and global change. Sinauer, Sunderland, Mass, pp 234–250

Panda RM, Behera MD, Roy PS (2018) Assessing distributions of two invasive species of contrasting habits in future climate. J Environ Manag 213:478–488

Parmesan C, Yohe G (2003) A globally coherent fingerprint of climate change impacts across natural systems. Nature 421(6918):37–42

Parry ML, Canziani OF, Palutikof JP, Van Der Linden PJ, Hanson CE (2007) Climate change 2007: impacts, adaptation and vulnerability. Contribution of working group II to the fourth assessment report of the intergovernmental panel on climate change. Cambridge University Press, Cambridge

Phillips SJ, Anderson RP, Schapire RE (2006) Maximum entropy modelling of species geographic distributions. Ecol Model 190:231–259

Qin Z, Zhang JE, DiTommaso A, Wang RL, Liang KM (2016) Predicting the potential distribution of Lantana camara L. under RCP scenarios using ISI-MIP models. Clim Change 134(1–2):193–208

R Core Team (2016) R: a language and environment for statistical computing. R foundation for statistical computing, Vienna. https://www.R-project.org/

Ranjitkar S, Kindt R, Sujakhu NM, Hart R, GuoW Yang X, Krishna KS, Jianchu X, Luedeling E (2014) Separation of the bioclimatic spaces of Himalayan tree rhododendron species predicted by ensemble suitability models. Glob Ecol Conserv 1:2–12

Roy P, Kushwaha S, Murthy M, Roy A, Kushwaha D, Reddy C et al (2012) Biodiversity characterisation at landscape level: national assessment. Indian Institute of Remote Sensing, Dehradun

Singh KK, Rai LK, Gurung B (2009) Conservation of Rhododendrons in Sikkim Himalaya: an overview. World J Agric Sci 5(3):284–296

Srivastava P (2012) Rhododendron arboreum: an overview. J Appl Pharm Sci 2(1):158–162

Stocker TF, Qin D, Plattner GK, Tignor M, Allen SK, Boschung J, Nauels A, Xia Y, Bex V, Midgley PM (2013) Climate change 2013: the physical science basis. Cambridge University Press, Cambridge

Thompson EO (2014) A review on climate change effects on vegetation–past and future. Int J Ecol Sci Environ Eng 1(2):27–42
Acknowledgements
The plant species data utilised in the study acquired from a National level project on 'Biodiversity characterisation at landscape level' is thankfully acknowledged. We thank Department of Biotechnology (DBT), New Delhi for providing financial support in form of a Research grant to carry out the study.
About this article
Cite this article
Veera, S.N.S., Panda, R.M., Behera, M.D. et al. Prediction of upslope movement of Rhododendron arboreum in Western Himalaya. Trop Ecol 60, 518–524 (2019). https://doi.org/10.1007/s42965-020-00057-x
Received:

Revised:

Accepted:

Published:

Issue Date:

DOI: https://doi.org/10.1007/s42965-020-00057-x
Keywords
Climate change

High mountain species

Maximum entropy

Random forest