Abstract
The last decade has been witnessing overwhelming efforts to achieve social sustainability from mitigating the health and environmental effects to innovative new strategies for sustainable energy production. Those efforts have been devoted to exploiting sustainable materials for handling energy shortage and environmental deterioration to fulfill the Sustainable Development Goals (SDGs). In this article, we engage in those efforts and shed new light on sustainable models applicable to water, air, and solid management from the practical standpoint of SDGs. The first sustainable model is a combination between renewable resources and sustainable materials for the fabrication of biomass/photocatalysts hybrid composites. The green hybrid photocatalysts can be synthesized by electrospinning or 3D techniques. These geometric bio-hybrid photocatalysts are the backbone of the next photocatalytic house model. These houses can significantly participate in the mitigation of climate change via CO2 capture and conversion to renewable energy and fuels. Furthermore, it anticipates that these photocatalytic houses are capable of participating in the alleviation of acid rain through converting toxic gasses such as nitrogen oxide (NOx) and sulfur oxide (SOx) into sustainable products. On the other hand, some suggestions have been raised to face and control microplastic pollution and one of these suggestions is introducing artificial intelligence such as tracer-based sorting as a sustainable strategy solution to enhance the plastic circular economy. The last model relies on optimizing the utilization of Jatropha in the landfill post-closure area toward integrated solid waste management and alternative biofuel production. These models will pave new ways of realizing sustainability.
Access options
Buy single article
Instant access to the full article PDF.
USD 39.95
Price excludes VAT (USA)
Tax calculation will be finalised during checkout.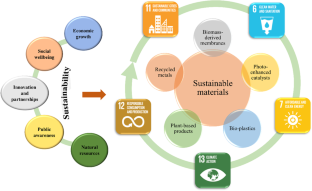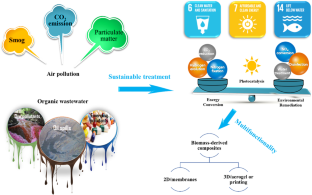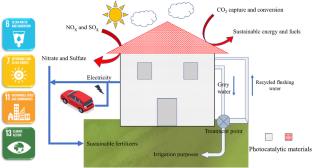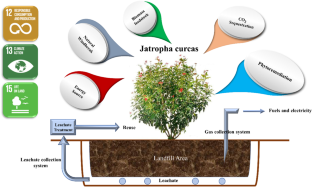 Similar content being viewed by others
Data Availability
All data generated or analyzed during this study are included in this published article.
References
Abdelhafeez IA, Yao Q, Wang C et al (2019) Green synthesis of ultrathin edge-activated foam-like carbon nitride nanosheets for enhanced photocatalytic performance under visible light irradiation. Sustain Energy Fuels 3:1764–1775. https://doi.org/10.1039/C9SE00263D

Alherbawi M, AlNouss A, McKay G, Al-Ansari T (2021) Optimum sustainable utilisation of the whole fruit of Jatropha curcas: an energy, water and food nexus approach. Renew Sustain Energy Rev 137:110605. https://doi.org/10.1016/j.rser.2020.110605

Baghali M, Jayathilaka W, Ramakrishna S (2021) The role of electrospun nanomaterials in the future of energy and environment. Materials (basel) 14:558. https://doi.org/10.3390/ma14030558

Chel A, Kaushik G (2018) Renewable energy technologies for sustainable development of energy efficient building. Alexandria Eng J 57:655–669. https://doi.org/10.1016/j.aej.2017.02.027

Chen GF, Yuan Y, Jiang H et al (2020a) Electrochemical reduction of nitrate to ammonia via direct eight-electron transfer using a copper–molecular solid catalyst. Nat Energy 5:605–613. https://doi.org/10.1038/s41560-020-0654-1

Chen J, Poon C-s (2009) Photocatalytic construction and building materials: from fundamentals to applications. Build Environ 44:1899–1906. https://doi.org/10.1016/j.buildenv.2009.01.002

Chen Q, Tan X, Liu Y et al (2020b) Biomass-derived porous graphitic carbon materials for energy and environmental applications. J Mater Chem A 8:5773–5811. https://doi.org/10.1039/c9ta11618d

Dahiya S, Katakojwala R, Ramakrishna S, Mohan SV (2020) Biobased products and life cycle assessment in the context of circular economy and sustainability. Mater Circ Econ 2:7. https://doi.org/10.1007/s42824-020-00007-x

Ewunie GA, Morken J, Lekang OI, Yigezu ZD (2021) Factors affecting the potential of Jatropha curcas for sustainable biodiesel production: a critical review. Renew Sustain Energy Rev 137:110500. https://doi.org/10.1016/j.rser.2020.110500

Focus on Catalysts (2020) Photocatalyst market size is projected to reach $1.5 bn by 2026. Focus Catal 2020:2. https://doi.org/10.1016/j.focat.2020.10.005

Galloway TS, Cole M, Lewis C (2017) Interactions of microplastic debris throughout the marine ecosystem. Nat Ecol Evol 1:1–8. https://doi.org/10.1038/s41559-017-0116

Ganie AS, Bano S, Khan N et al (2021) Nanoremediation technologies for sustainable remediation of contaminated environments: recent advances and challenges. Chemosphere 275:130065. https://doi.org/10.1016/j.chemosphere.2021.130065

Gasde J, Woidasky J, Moesslein J, Lang-Koetz C (2021) Plastics recycling with tracer-based-sorting: challenges of a potential radical technology. Sustain 13:1–16. https://doi.org/10.3390/su13010258

Guerra FD, Attia MF, Whitehead DC, Alexis F (2018) Nanotechnology for environmental remediation: materials and applications. Molecules 23:1–23. https://doi.org/10.3390/molecules23071760

Han GF, Li F, Chen ZW et al (2021) Mechanochemistry for ammonia synthesis under mild conditions. Nat Nanotechnol 16:325–330. https://doi.org/10.1038/s41565-020-00809-9

Hirakawa H, Hashimoto M, Shiraishi Y, Hirai T (2017) Selective nitrate-to-ammonia transformation on surface defects of titanium dioxide photocatalysts. ACS Catal 7:3713–3720. https://doi.org/10.1021/acscatal.7b00611

Hu C, Lin YR, Yang HC (2019) Recent developments in graphitic carbon nitride based hydrogels as photocatalysts. Chemsuschem 12:1794–1806. https://doi.org/10.1002/cssc.201802257

Huang XH, Hu T, Bu H et al (2021) Transparent floatable magnetic alginate sphere used as photocatalysts carrier for improving photocatalytic efficiency and recycling convenience. Carbohydr Polym 254:117281. https://doi.org/10.1016/j.carbpol.2020.117281

Ikhlayel M (2018) An integrated approach to establish e-waste management systems for developing countries. J Clean Prod 170:119–130. https://doi.org/10.1016/j.jclepro.2017.09.137

IRENA (2020) Renewable Energy Statistics 2020

Jackson CT, Jeong S, Dorlhiac GF, Landry MP (2021) Advances in engineering near-infrared luminescent materials. iScience 24(3):102156. https://doi.org/10.1016/j.isci.2021.102156

Ji A, Zhang S, Bhagia S et al (2020) 3D printing of biomass-derived composites: application and characterization approaches. RSC Adv 10:21698–21723. https://doi.org/10.1039/d0ra03620j

Jia C, Li L, Song J et al (2021) Mass production of ultrafine fibers by a versatile solution blow spinning method. Accounts Mater Res 2:432–446. https://doi.org/10.1021/accountsmr.1c00040

Jiang Y, Lawan I, Zhou W et al (2020) Synthesis, properties and photocatalytic activity of a semiconductor/cellulose composite for dye degradation-a review. Cellulose 27:595–609. https://doi.org/10.1007/s10570-019-02851-w

Jose R, Panigrahi SK, Patil RA et al (2020) Artificial intelligence-driven circular economy as a key enabler for sustainable energy management. Mater Circ Econ 2:2–8. https://doi.org/10.1007/s42824-020-00009-9

Jose R, Ramakrishna S (2021) Comprehensiveness in the research on sustainability. Mater Circ Econ 3:1–2. https://doi.org/10.1007/s42824-020-00015-x

Kandy MM (2020) Carbon-based photocatalysts for enhanced photocatalytic reduction of CO2 to solar fuels. Sustain Energy Fuels 4:469–484. https://doi.org/10.1039/c9se00827f

Katheresan V, Kansedo J, Lau SY (2018) Efficiency of various recent wastewater dye removal methods: a review. J Environ Chem Eng 6:4676–4697. https://doi.org/10.1016/j.jece.2018.06.060

Kibria MG, Edwards JP, Gabardo CM et al (2019) Electrochemical CO2 reduction into chemical feedstocks: from mechanistic electrocatalysis models to system design. Adv Mater 31:1–24. https://doi.org/10.1002/adma.201807166

Kusch A, Gasde J, Deregowski C et al (2021) Sorting and recycling of lightweight packaging in Germany — climate impacts and options for increasing circularity using tracer-based-sorting. Mater Circ Econ 3:1–15. https://doi.org/10.1007/s42824-021-00022-6

Lawson S, Li X, Thakkar H et al (2021) Recent advances in 3D printing of structured materials for adsorption and catalysis applications. Chem Rev 121:6246–6291. https://doi.org/10.1021/acs.chemrev.1c00060

Li J, Zhan G, Yang J et al (2020) Efficient ammonia electrosynthesis from nitrate on strained ruthenium nanoclusters. J Am Chem Soc 142:7036–7046. https://doi.org/10.1021/jacs.0c00418

Meereboer KW, Misra M, Mohanty AK (2020) Review of recent advances in the biodegradability of polyhydroxyalkanoate (PHA) bioplastics and their composites. Green Chem 22:5519–5558. https://doi.org/10.1039/d0gc01647k

Montes JM, Melchinger AE (2016) Domestication and breeding of Jatropha curcas L. Trends Plant Sci 21:1045–1057. https://doi.org/10.1016/j.tplants.2016.08.008

Nguyen VH, Nguyen BS, Huang CW et al (2020) Photocatalytic NOx abatement: recent advances and emerging trends in the development of photocatalysts. J Clean Prod 270:121912. https://doi.org/10.1016/j.jclepro.2020.121912

Ragaert K, Delva L, Van Geem K (2017) Mechanical and chemical recycling of solid plastic waste. Waste Manag 69:24–58

Shahsavari A, Akbari M (2018) Potential of solar energy in developing countries for reducing energy-related emissions. Renew Sustain Energy Rev 90:275–291. https://doi.org/10.1016/j.rser.2018.03.065

Sovacool BBK, Ali SH, Bazilian M et al (2020) Sustainable minerals and metals for a low-carbon future. Science 80(367):30–33. https://doi.org/10.1126/science.aaz6003

Sun J, Alam D, Daiyan R et al (2021) A hybrid plasma electrocatalytic process for sustainable ammonia production. Energy Environ Sci 14:865–872. https://doi.org/10.1039/d0ee03769a

U.S., 2014 EPA. (2014) Municipal solid waste landfills: economic impact analysis for the proposed new subpart to the new source performance standards. 1–62

United Nation Environment Programme (2018) Plastics: a roadmap for sustainability

United Nations (2016) The Sustainable Development Goals Report 2016

United Nations (2020) The Sustainable Development Goals Report 2020

United Nations (2019) The Sustainable Development Goals report 2019. United Nations Publ issued by Dep Econ Soc Aff 64

Wang M, Khan MA, Mohsin I et al (2021) Can sustainable ammonia synthesis pathways compete with fossil-fuel based Haber-Bosch processes? Energy Environ Sci 14:2535–2548. https://doi.org/10.1039/d0ee03808c

Wilts H, Garcia BR, Garlito RG et al (2021) Artificial intelligence in the sorting of municipal waste as an enabler of the circular economy. Resources 10:1–9. https://doi.org/10.3390/resources10040028

Woidasky J, Sander I, Schau A et al (2020) Inorganic fluorescent marker materials for identification of post-consumer plastic packaging. Resour Conserv Recycl 161:104976. https://doi.org/10.1016/j.resconrec.2020.104976

Xie W, Li T, Tiraferri A et al (2021) Toward the next generation of sustainable membranes from green chemistry principles. ACS Sustain Chem Eng 9:50–75. https://doi.org/10.1021/acssuschemeng.0c07119

Xiong M, Tao Y, Zhao Z et al (2021) Porous g-C 3 N 4 /TiO 2 foam photocatalytic filter for treating NO indoor gas. Environ Sci Nano. https://doi.org/10.1039/d1en00318f

Xue J, Wu T, Dai Y, Xia Y (2019) Electrospinning and electrospun nanofibers: methods, materials, and applications. Chem Rev 119:5298–5415. https://doi.org/10.1021/acs.chemrev.8b00593

Yang DP, Li Z, Liu M et al (2019) Biomass-derived carbonaceous materials: recent progress in synthetic approaches, advantages, and applications. ACS Sustain Chem Eng 7:4564–4585. https://doi.org/10.1021/acssuschemeng.8b06030

Yang MQ, Xu YJ (2016) Photocatalytic conversion of CO2 over graphene-based composites: current status and future perspective. Nanoscale Horizons 1:185–200. https://doi.org/10.1039/c5nh00113g

Zakria HS, Othman MHD, Kamaludin R et al (2021) Immobilization techniques of a photocatalyst into and onto a polymer membrane for photocatalytic activity. RSC Adv 11:6985–7014. https://doi.org/10.1039/d0ra10964a

Zhang H, Wan Y, Luo J, Darling SB (2021a) Drawing on membrane photocatalysis for fouling mitigation. ACS Appl Mater Interfaces 13:14844–14865

Zhang J, Qin Q, Li G, Tseng CH (2021b) Sustainable municipal waste management strategies through life cycle assessment method: a review. J Environ Manage 287:112238. https://doi.org/10.1016/j.jenvman.2021.112238

Zhang T, Fang L, Lin N et al (2019) Highly transparent, healable, and durable anti-fogging coating by combining hydrophilic pectin and tannic acid with poly(ethylene terephthalate). Green Chem 21:5405–5413. https://doi.org/10.1039/c9gc02454a

Zheng Q, Aiello A, Sil Y et al (2020) 3D printed photoreactor with immobilized graphitic carbon nitride : a sustainable platform for solar water purification. J Hazard Mater 399:123097. https://doi.org/10.1016/j.jhazmat.2020.123097

Zhou D, Zhou R, Zhou R et al (2021) Sustainable ammonia production by non-thermal plasmas: status, mechanisms, and opportunities. Chem Eng J 421:129544. https://doi.org/10.1016/j.cej.2021.129544
Ethics declarations
Competing Interests
The second author, Seeram Ramakrishna, is the Editor-in-Chief of Materials Circular Economy.
Additional information
Publisher's note
Springer Nature remains neutral with regard to jurisdictional claims in published maps and institutional affiliations.
About this article
Cite this article
Abdelhafeez, I.A., Ramakrishna, S. Promising Sustainable Models Toward Water, Air, and Solid Sustainable Management in the View of SDGs. Mater Circ Econ 3, 21 (2021). https://doi.org/10.1007/s42824-021-00039-x
Received:

Revised:

Accepted:

Published:

DOI: https://doi.org/10.1007/s42824-021-00039-x
Keywords