Abstract
At present, not only Bangladesh but also the entire world is so conscious about women's health and environmental protection. In our country, a large number of women, especially those from low socio-economic groups, do not use sanitary napkins since the available pads in the market are costly. They make use of old rags instead which are not comfortable or hygienic, leading to illnesses which constantly cause absence from work. On the contrary, export income of Bangladesh heavily depends on its textile industry which produces almost 500,000 tons of clothing waste annually. Moreover, clothes are generally thrown away after use. Both these incidents cause serious problems to the environment. For instance, waste clothes take plenty of time to mix with soil, causing landfill problems. Besides, some people burn these thrown away clothing materials in order to reduce solid waste, which instead causes carbon emission. Burning these wastes is not a solution. To solve these problems we have made sanitary pads from recycled cotton collected from waste clothes and thrown away clothing materials, particularly the knitwear which are more sustainable, lightweight, and affordable.
Access options
Buy single article
Instant access to the full article PDF.
USD 39.95
Price excludes VAT (USA)
Tax calculation will be finalised during checkout.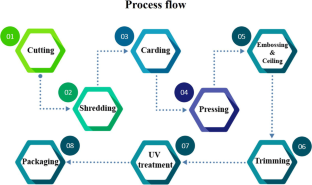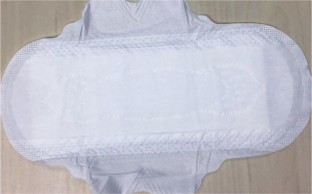 References
Abdullah S (2019) Apparel waste: annual export earnings jump to $5 million. Textile News, Apparel News, RMG News, Fashion Trends. https://www.textiletoday.com.bd/apparel-waste-annual-export-earnings-jump-5-million/

Ahmed R, Yesmin K (2008) Menstrual hygiene: breaking the silence. Beyond construction: use by all. A collection of case studies from sanitation and hygiene promotion practitioners in South Asia London: WaterAid, 283–287

Alam MU, Luby SP, Halder AK, Islam K, Opel A, Shoab AK, Ghosh PK, Rahman M, Mahon T, Unicomb L (2017) Menstrual hygiene management among Bangladeshi adolescent schoolgirls and risk factors affecting school absence: results from a cross-sectional survey. BMJ Open 7(7):e015508

Anand E, Singh J, Unisa S (2015) Menstrual hygiene practices and its association with reproductive tract infections and abnormal vaginal discharge among women in India. Sexual & Reproductive Healthcare 6(4):249–254

Bharadwaj S, Patkar A (2004) Menstrual hygiene and management in developing countries: taking stock. Junction Social

Cadieux S, Levesque Y (1995) U.S. Patent No. 5,466,232. Washington, DC: U.S. Patent and Trademark Office

Chandra-Mouli V, Patel SV (2020) Mapping the knowledge and understanding ofmenarche, menstrual hygiene and menstrual health among adolescent girls in low-andmiddle-income countries. The Palgrave Handbook of Critical Menstruation Studies:609–636

Dasgupta A, Sarkar M (2008) Menstrual hygiene: how hygienic is the adolescent girl? Indian journal of community medicine: official publication of Indian Association ofPreventive & Social Medicine 33(2):77–80

Gupta A (2014) Design of an absorbent and comfortable sanitary napkin for applications in developing countries (Doctoral dissertation, Massachusetts Institute of Technology)

IANS (2020) Majority of Bangladeshi women still don't use sanitary napkins. KalingaTV. https://kalingatv.com/world/majority-of-bangladeshi-women-still-dont-use-sanitary-napkins//

Kaur R, Kaur K (2018) Menstrual hygiene, management, and waste disposal: practices and challenges faced by girls/women of developing countries. J Environ Public Health. https://www.hindawi.com/journals/jeph/2018/1730964////

Ministry of health, labour & welfare (2015) The standards for marketing approval of sanitary napkins. Google. https://www.google.com/url?sa=t&source=web&rct=j&url=https://www.mhlw.go.jp/file/06-Seisakujouhou-11120000-Iyakushokuhinkyoku/seiri_kijyun_e.pdf&ved=2ahUKEwiP-vTI15jrAhVLb30KHeL6D4cQFjABegQIDhAH&usg=AOvVaw2um Z_irvF8ZuqIdrrh6vYx

Muhit IB, Chowdhury ST (2013) Menstrual hygiene condition of adolescentschoolgirls at Chittagong division in Bangladesh. Int J Sci Technol Res 2(6):58–62

Phillips-Howard PA, Nyothach E, ter Kuile FO, Omoto J, Wang D, Zeh C et al (2016) Menstrual cups and sanitary pads to reduce school attrition, and sexually transmitted and reproductive tract infections: a cluster randomised controlled feasibility study in rural western Kenya. BMJ Open 6(11):e013229

Scope of recycled manufacturing in Bangladesh garment industry (2017) CPD RMG Study. https://rmg-study.cpd.org.bd/scope-recycled-manufacturing-bangladesh-garment-industry

Square toiletries (2018) BCtA. Retrieved July 1, 2020, from https://www.businesscalltoaction.org/member/square-toiletries-limited

Tabassum F, Bari QH, Rahman MM, Mahmud SMM, Raj AR (2017) Garments waste recycling in dhaka: a case study of Mirpur area

Thekdi KP, Patel NK, Patel KG, Thekdi PI (2013) Health seeking attitude of women regarding reproductive tract infections in a rural area of Surendranagar district. International Journal of Research in Medical Sciences 1(4):552–556

Treetampinich C, Suwannarurk K, Chanthasenanont A (2017) Blood absorption capacity of various sanitary pads available in Thailand. Siriraj Medical Journal 59(6):303–306

Uddin M (2019) Clothes that don't stain the environment. Dhaka Tribune. https://www.dhakatribune.com/opinion/op-ed/2019/04/08/clothes-that-don-t-stain-the-environment

Vostral SL (2008) Under wraps: a history of menstrual hygiene technology. Lexington Books, Lanham

Yakupitiyage T (2019) Safe menstrual practices important for progress. Inter press service | news and views from the global south. https://www.ipsnews.net/2019/03/safe-menstrual-practices-important-progress///

Zohuriaan-Mehr MJ, Omidian H, Doroudiani S, Kabiri K (2010) Advances in non-hygienic applications of superabsorbent hydrogel materials. J Mater Sci 45(21):5711–5735. https://doi.org/10.1007/s10853-010-4780-1
Acknowledgments
We are thankful to our respected teachers from Bangladesh University of Textiles who provided insight and expertise that greatly assisted the research, although they may not agree with all of the interpretations or conclusions of this paper. We are also immensely grateful to Roushney Fatima Mukti, Senior lecturer, East West University, for her comments on an earlier version of the manuscript. However, any errors are our own and should not tarnish the reputation of this esteemed person.
About this article
Cite this article
Uddin, M., Tushar, S.I. & Sakib, S. Producing Sanitary Pads from Knitwear Waste in Bangladesh. Mater Circ Econ 2, 6 (2020). https://doi.org/10.1007/s42824-020-00008-w
Received:

Revised:

Accepted:

Published:

DOI: https://doi.org/10.1007/s42824-020-00008-w
Keywords
Menstrual hygiene

Textile waste management

Recycled cotton

Sanitary pad