Abstract
Purpose
The purpose of this case series is to explore the correlation between intestinal malrotation and gastric volvulus.
Methods
A retrospective case series with 2 cases is presented. Case 1: The patient is a 5-year-old female with Rett syndrome and multiple comorbidities, and previous Ladd's procedure for intestinal malrotation. She presented with recurrent episodes of post-feed vomiting and abdominal distension. Her barium swallow revealed an intestinal stricture and gastric volvulus. Six weeks after initial presentation, she underwent strictureplasty, adhesiolysis, gastropexy and Nissen fundoplication. Case 2: The patient is a 9-year-old male, who had a thoracoscopic congenital diaphragmatic hernia repair as a neonate. He presented with severe intermittent upper abdominal pain over 8 months. His upper GI contrast study revealed an abnormal lie of the stomach and intermittent gastric volvulus. He was found to have a very mobile stomach, caecum, right colon and lesser omentum on laparoscopy for which gastropexy and Ladd's procedure were performed.
Results
Two clear cases of gastric volvulus with a history of either congenital diaphragmatic hernia or intestinal malrotation only are presented. Both patients had resolution of their symptoms.
Conclusions
These two cases illustrate the association between gastric volvulus and intestinal malrotation. The lack of development or incomplete formation of intraperitoneal suspensory ligaments which occurs with the intestinal malrotation is the proposed aetiology.
This is a preview of subscription content,
to check access.
Access this article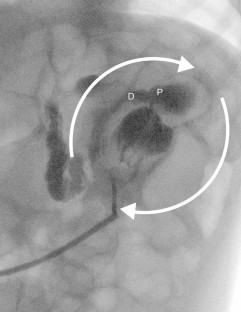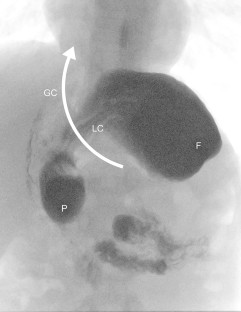 References
Trecroci I, Morabito G, Romano C, Salamone I (2016) Gastric volvulus in children–a diagnostic problem: two case reports. J Med Case Rep 10:138. https://doi.org/10.1186/s13256-016-0934-3

Porcaro F, Mattioli G, Romano C (2013) Pediatric gastric volvulus: diagnostic and clinical approach. Case Rep Gastroenterol 7:63–68. https://doi.org/10.1159/000348758

Spector J, Chappell J (2000) Gastric volvulus associated with wandering spleen in a child. J Pediatr Surg 35:641–642. https://doi.org/10.1053/jpsu.2000.0350641

Kayastha K, Sheikh A (2011) Acute gastric volvulus secondary to malrotation of gut in a child with cerebral palsy. APSP J Case Rep 2:12

Rescorla FJ, Shedd FJ, Grosfeld JL, Vane DW, West KW (1990) Anomalies of intestinal rotation in childhood: analysis of 447 cases. Surgery 108:710–5
Ethics declarations
Conflict of interest
There are no declarations for this paper.
Financial disclosure
none.
About this article
Cite this article
Esack, H., Singh, M. Two paediatric cases of chronic gastric volvulus associated with intestinal malrotation. J Ped Endosc Surg 4, 21–23 (2022). https://doi.org/10.1007/s42804-021-00129-2
Received:

Revised:

Accepted:

Published:

Issue Date:

DOI: https://doi.org/10.1007/s42804-021-00129-2
Keywords