Abstract
Soil harbors a huge diversity of microorganisms and serves as the ecological and social foundation of human civilization. Hence, soil health management is of utmost and consistent importance, aligning with the United Nations Sustainable Development Goals. One of the most hazardous contaminants in soil matrix is potentially toxic elements (PTEs), which can cause stress in soil indigenous microorganisms and severely jeopardize soil health. Biochar technology has emerged as a promising means to alleviate PTE toxicity and benefit soil health management. Current literature has broadly integrated knowledge about the potential consequences of biochar-amended soil but has focused more on the physical and chemical responses of the soil system than microbiological attributes. In consideration of the indispensable roles of soil microbials, this paper first introduces PTE-induced stresses on soil microbials and then proposes the mechanisms of biochar's effects on soil microbials. Finally, microbial responses including variations in abundance, interspecific relationships, community composition and biological functions in biochar-amended soil are critically reviewed. This review thus aims to provide a comprehensive scientific view on the effect of biochar on soil microbiological health and its management.
Graphical Abstract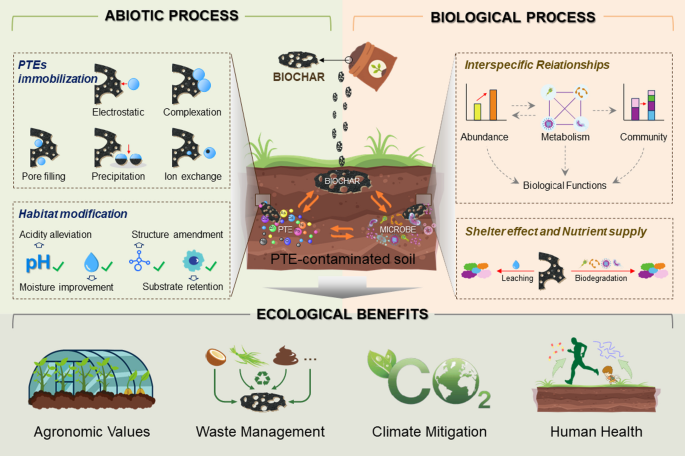 Highlights
Sketched a mechanistic overview of PTE-induced stress towards soil microorganisms.

Demonstrated a synopsis of biochar impacts on soil microbiota from both direct and indirect pathways.

Discussed the development prospects of biochar technology aiming for a healthier agro-ecosystem.
1

Introduction

Soil quality is the historic origin of the current term "soil health", whose scope extends beyond human health and highlights a broader sustainable goal on the planetary scale (Lehmann et al. 2020). Excessively accumulated potentially toxic elements (PTE, metals/metalloids show toxic or ecotoxic properties such as Cd, Pb, As etc.) severely jeopardize the soil health by aggravating soil structure destruction (Lwin et al. 2018), soil acidification (Dai et al. 2017), and fertility loss (Mansoor et al. 2021). The indiscriminate use of chemical pesticides and fertilizers (Sharma et al. 2021) and sewage irrigation (Murtaza et al. 2022)  result in soil PTE pollution and menace the food security, thereby bringing a burden to the human health and ecosystem. Soil microbiological health substantially contributes to the soil health because microbials participate in various biogeochemical cycles and correlate with soil nutrient transformations (Mann et al. 2019). PTEs cause risks to soil microbials by altering their habitats and causing intracellular oxidative stress, resulting in a decrease in microbial population and diversity, community composition variation, and functional deficiency (Tang et al. 2019), ultimately impairing the soil system's ecological functions and social benefits (Lin et al. 2019).

Currently, a certain amount of PTE-contaminated soils is still used for crop cultivation due to the dearth of arable land, especially in Asia (Wang et al. 2021a, b), and such situation would presumably continue for a long period. In 2014, a joint report issued by the Chinese Ministry of Environmental Protection and the Ministry of Land and Resources showed that 15.6% of agricultural fields in China were contaminated by PTE (Zhao et al. 2015). In 2018, the Chinese Ministry of Ecological Environment implemented the standard of risk control for soil contamination, aiming to achieve the safe use of farmland mainly through periodic application of soil amendments (Wang et al. 2022). Many researchers have investigated effects of soil amendments on mobility and toxicity of soil PTEs (Mehmood et al. 2019), but broader understanding of the impacts and consequences (e.g., microbial responses and soil enzymatic activities) in the amended soil is essential but still remains to be explored (Yu et al. 2022).

Biochar, referring to a carbon-rich product originating from pyrolyzed biowaste, is widely recognized as a sustainable and potent soil amendment for PTE immobilization and de-toxification (Zhang et al. 2019; Allende et al. 2023). Biochar can ameliorate soil conditions (e.g., water and nutrient retention, pH, soil texture) (Razzaghi et al. 2020) and revive soil microbial activity and soil functions (Palansooriya et al. 2019). Meier et al. (2017) demonstrated that biochar reduces Cu mobility through increasing soil pH, adsorption, and surface precipitation, which improved microbial abundance and soil basal respiration. Moreover, microbial metabolic activities and functions, including carbon use efficacy and fixation, were substantially rejuvenated due to the de-toxification of PTEs by biochar (Wang et al. 2020). Besides, biochar was evidenced to physically harbor soil microbials (Han et al. 2016), and simultaneously enhanced microbial resistance to combat PTE stress (Zhu et al. 2017), which was beneficial to soil microbiological health (He et al. 2021).

However, the current scientific understanding on the interaction of biochar and soil microbiological health in presence of PTEs is fragmented even non-consistent in some cases, which is neither systematic nor comprehensive. Lehmann et al. (2011) specifically reviewed the effect of biochar on soil biota, elucidating the potential interaction in the "soil-soil biota-biochar" system. Zhu et al. (2017) linked the microbial-induced enzymatic activities with biochar-induced changes of soil properties and summarized the biochar-microbial interaction on soil improvement and PTE mitigation. Moreover, Palansooriya et al. (2019) discussed the potential role of biochar on microbial activities (e.g., soil carbon mineralization, nutrient and enzyme activities) and proposed the key factors (e.g., chemical properties especially pH and soil organic matter (SOM), and physical properties such as pore size, pore volume, and specific surface area) determining the efficacy of biochar on microbial performance. While their priorities and disciplines differ, there is still room to comprehensively revisiting the effects of biochar application on soil microbiota. Notably our review is based on the "soil-biochar-PTE-soil microbials" system, summarizing the positive, negative, and controversial roles of biochar on soil microbials. We also underlined the direct, indirect, and potential effects and mechanisms by which biochar affects microbiological quality of the soil. Through a cross-sectional summary of the existed investigations, this review aims to promote follow-up studies to shed lights on potential mechanisms of biochar-induced microbial resilience in PTE-contaminated soils, especially from the perspective of soil health and sustainability after biochar application. Therefore, we discuss that: (1) the consequences and mechanisms of PTE-induced stress on soil microbials; (2) the effect of biochar on PTE toxicity mitigation and soil microbial restoration; and (3) microbial responses to biochar application in PTE-contaminated soils. This work attempts to establish a theoretical basis and practical guidance to comprehensively understand how biochar acts on soil microbiological health management.
2

PTE-induced stress on soil microbials

The bioavailability and toxicity of  PTEs are species-dependent (Lemire et al. 2013). Generally, organisms   absorbing PTEs is a three-stage stepwise process, including (1) bio-accessibility, referring to the amount of PTEs that may be mobilized in soil matrix, (2) environmental bioavailability, denoting the amount of PTEs that may be accessible by soil organisms, and (3) toxic bioavailability, representing the amount of PTEs that cause adverse effects to targeted organs. Due to their non-degradable property, PTE contamination would take decades to have an effect. This sentence is confusing.

PTE contamination can lead to changes in soil physical and chemical conditions, in the dynamically irreversible and/or chronic manner. PTE-induced stress on soil microbials includes the deterioration of microbial habitat as well as intracellular oxidative stress. Table 1 summarizes the target sites, toxic mechanisms, consequences, and microbial resistance mechanisms towards PTEs. In this section, we focus on the inhibiting and lethal mechanisms of PTEs towards soil microbials.
2.1

Habitat deterioration

Due to the high sensitivity of soil microbials towards ambient habitat, effects of PTEs on soil microbials may be magnified. PTEs, such as Cr, Cu, Cd, and Pb, with strong hydrolysis capacity and high ionic charge, may cause soil acidification, especially in soil with limited buffering capacity (Bakshi et al. 2018; Liu et al. 2022a, b). PTE-induced inhibition of SOM mineralization and nutrient cycling may further cause substrate depletion and detrimental substance accumulation (Aponte et al. 2020). Nevertheless, the bioavailability of some plant essential elements (e.g., Fe, Zn, Ca, Mg) may decrease in PTE-contaminated soils (Kasowska et al. 2018).

Microbial habitats and environmental changes are closely associated with indigenous microbial characteristics, such as morphology, colonization, metabolism, activity, community composition and structure (Gourmelon et al. 2016). Jiang et al. (2019) analyzed the microbial characteristics of an e-waste site severely contaminated by Cu, Pb and Zn. The multivariate regression tree (MRT, 63%) results revealed that, rather than metals, soil texture (31%) and organic carbon (OC,14%) were the main variables influencing bacterial taxonomic composition; however, soil pH (23%) and soil texture (14%) were the main variables influencing microbial diversity (Jiang et al. 2019). Variations in soil properties in turn would influence PTE mobility and speciation transformation, as previous researches have suggested (Tang et al. 2019). The substitution of predominant microbial species, and evolution of microbial community driven by PTE-induced changes in nutrient availability have been used to explain the adverse effects of PTEs on microbials (Wu et al. 2018).
2.2

Cell injury

Bioavailable PTEs can penetrate the cytoplasm and access intracellular target sites such as DNA and proteins, causing molecular toxicity including membrane integrity damage, intracellular enzyme abolishment, antioxidant substance depletion, and intracellular component (e.g., lipid, DNA) oxidation and destruction (Abdu et al. 2017; Robins et al. 2022) (Fig. 1). Generally, the above effect can be interpreted as the intense affinity between certain metal species and biological macromolecules such as mercapto protein, nucleic acid bases and phosphate (Chu 2018).
Literature has demonstrated that PTEs such as Fe and Cu may promote electron transfer, which favors the formation of reactive oxygen species (e.g., ROS, including ·OH, H2O2, O22−) via Fenton and Fenton-like reactions (Huang et al. 2020). Wu et al. (2020) reported that the bio-oxidation activity of acidophilic bacteria was inhibited by high levels of Co2+, resulting in intracellular antioxidant substance depletion, homeostasis imbalance and dysfunction. PTEs may substitute or react with surface functional groups of enzymes. For example, As can severely inhibit the P-dependent process. As(III) can substitute for phosphate due to their structural similarities, while As(V) can react with sulfhydryl groups (Huang et al. 2020). Combination of PTEs and signal receptors on cell membrane can disrupt intracellular information transmission (Abdu et al. 2017). In addition, PTEs, especially Ag, can damage the bacterial electron transfer chain and pose genotoxicity towards microbial cells by the metal-mediated Fenton chemistry, resulting in DNA damage and mutation (Chu 2018). Moreover, oxidation of the amino acid chains may trigger protein degradation and enzyme defunction, hampering the intracellular homeostasis (Li et al. 2021). PTE-induced intracellular toxicity can sometimes be acute. Sumner et al. (2005) proposed that the protein carbonyl levels of S. cerevisiae were sharply increased within several minutes when exposed to 0.5 mM Cr(VI) liquid. PTE-induced cell injury may worsen cell apoptosis and reduce microbial biomass, jeopardizing soil microbiota.
2.3

Metabolic inhibition

Intracellular dysfunction as well as gene expression abnormities may possibly suppress microbial activity of PTE-contaminated soils at a relatively low level (Al-Wabel et al. 2019). Microorganisms may distribute more energy to basic function maintenance rather than cell proliferation under oxidative stress, resulting in starvation-caused growth retardation (Zhao et al. 2022). The inferior microbial activity may lead to the loss of C storage of topsoil, and hence increase soil C emission (Zahorec et al. 2022). Some researchers believed that microbial growth would occur only when bioavailable PTEs were reduced to a threshold concentration (Yao et al. 2020). Microbial enzyme deletion may affect soil fertility due to the repression of SOM turnover. A meta-analysis indicated that PTEs led to changes of soil total nitrogen (TN) and OC by −17.9% and −4.95% (Zhou et al. 2016). Meanwhile, the newly formed SOM in PTE-contaminated soil could be allocated to the labile fraction due to the absence of soil microorganisms (Zahorec et al. 2022).

However, soil microorganisms have developed a variety of resistance mechanisms towards PTEs due to the long-term exposure. Microbial resistance towards PTEs may be discrepantly subject to biochemical and morphological characteristics of specific microbial species, distribution of metals in cellular fractions (e.g., membrane, cytoplasm, nucleus and nucleoid), and stress reactions of soil microorganisms (Prabhakaran et al. 2016). Some soil microorganisms could temporarily evade PTE-induced stress through dormancy, whereas metal-tolerant species increase their population when exposed to PTEs (Mann et al. 2019).
3

Benefits of biochar application for soil microbials

Biochar (1) immobilizes, and hence reduces toxicity of PTEs (O'Connor et al. 2018), (2) modifies soil microhabitat, (3) maintains overall soil nutrient level and availability, and (4) potentially serves as shelter for soil microbials by ameliorating PTE-induced stress and conserving soil microbials (Blanco-Canqui 2021; Hagemann et al. 2017). The effect of biochar on soil microbial in PTE-contaminated soils is summarized in Fig. 2.
3.1

Minimizing PTE toxicity
3.1.1

Immobilization

PTE immobilization refers to the redistribution of metal speciation, namely transformation from bioavailable forms into non-bioavailable forms (Guo et al. 2017). Generally, biochar can immobilize PTEs through electrostatic attraction, cation exchange, complexation, and precipitation. Specific immobilization mechanism varies with variables such as biochar properties (e.g., micropores proportion and distribution, surface chemistry), metal species, and soil conditions (e.g., pH, SOM, minerals) (Wang et al. 2021a, b).

Biochar interacts with PTEs through (1) complexation (e.g., Hg2+), (2) surface precipitation (e.g., Cu2+) or reduction-precipitation (e.g., Cr6+), (3) pore filling, (4) ion exchange (e.g., Cd2+, Pb2+) and (5) electrostatic attraction (e.g., As3+) (Bandara et al. 2020). The diffuse outer-sphere of biochar-PTE compound is mainly composed of hydrated metal ions, which is highly leachable (Chauhan et al. 2023; Lian and Xing 2017). However, biochar's electronegative surface to some extent facilitates the formation of the inner-sphere bound (Liang et al. 2021). Dehydrated PTEs can react with surface functional groups of biochar (e.g., hydroxyl, carboxyl, phosphoryl), physically adsorbed through ion exchange or pore filling, or chemically adsorbed through complexation (Qiu et al. 2022). The generation of binary, ternary, or annular chelates through poly-coordination reduces environmental bioavailability of PTEs, due to the abundant coordinating groups and three-dimensional porous structure of biochar. PTEs may react with inorganic minerals (e.g., carbonate, sulphate, phosphate and hydroxide) and thus precipitate on biochar surfaces (Wu et al. 2021). Furthermore, as PTEs enter surface micropores, biochar matrix swells to accommodate more sorbates, enlarging pore volumes and potentially causing biochar matrix collapse (Lian and Xing 2017). This explains the desorption hysteresis and low durability when immobilizes PTEs.

Soil As is primarily found in the form of arsenite and arsenate, which may escape from biochar immobilization and be mobilized due to pH rise (Huang et al. 2020). Several modification methods, such as surface modification and composites with other functional materials, have alleviated the dilemma and exhibited superior performance in As decontamination (Vithanage et al. 2017). In general, total immobilization capacity of biochar is predominantly driven by surface chemistry rather than non-specific adsorption (Arabyarmohammadi et al. 2017). Given the significant role of biochar's surface functionalities (El-Naggar et al. 2021), we need to recognize the effects of micropore porosity and distribution on PTE immobilization, and more investigations should be carried out in the field of micro-precise regulation of biochar surface functionalities.
3.1.2

Sequestration

The term "immobilization" emphasizes the effect of soil amendment, whereas "soil sequestration" refers to combination of diffusion limitation, adsorption, and partitioning of PTEs in soil matrix (Shuai et al. 2021). Except for surface functionalities and chemistry, biochar-induced changes in the abundance of soil critical ingredients involving minerals, SOM and microbial secretions are closely associated with the fractionation, distribution, mobility of PTEs (El-Naggar et al. 2021). Biochar application can affect a series of soil physical, chemical, and biochemical processes, resulting in changes in soil properties, and accelerating the transformation of PTEs to non-bioavailable phases. Four main mechanisms are discussed as follow.

Firstly, the alkaline nature of biochar expedites the transformation of metals from soluble, exchangeable, non-specific adsorbed forms into hydroxyl-complexed phases ascribed to the liming effect (Wang et al. 2019a, b). The formed metal hydroxyl complexes further facilitate surface adsorption of soil particles due to the decreased ion-solvation interaction. In a 7-year field experiment, Wang et al. (2021a, b) found that bioavailable Cd, Pb, Zn, and Mn were significantly reduced by increased soil pH by biochar. Secondly, soil aggregates, which refer to the complex compound of soil minerals, SOM, microorganisms, and their extracellular polymeric substances, are considered as natural adsorbents for PTEs. Therefore, biochar-induced co-fluctuation of soil colloids (e.g., microaggregates, SOM), which primarily occur in the saturated zone, can restrain the toxicity of water-soluble metals (Liu et al. 2022a, b). Variables such as the frequency of turnover and soil leaching, are directly associated with soil aggregate stability and PTE bioavailability. Thirdly, biochar increases soil OC that such fraction contains amounts of low molecular weight organics with strong affinity towards PTEs and thus indirectly influences mobility of PTE (Andreas et al. 2016). However, biochar itself may also serve as a source of PTEs due to its feedstock and pyrogenic conditions (Hameed et al. 2019). The endogenous release of PTE from biochar is an intricate process, which is associated with the volatile matter content and acid functional group density of biochar, pH and ionic strength of soil solution (Hameed et al. 2019). Finally, biochar-induced changes in soil trace elements involving S, Al, Fe and Mn may relate to PTE immobilization. El-Naggar et al. (2021) demonstrated the positive correlation between soil V and both S and Al, which was explained as the S chemistry and degradation of Al-containing complexes.
3.2

Promoting the microhabitat

The term 'biochar' was proposed by the inspiration of Terra Preta, a highly fertile anthropogenic soil in the pre-Columbian Amazon (Bezerra et al. 2019). In the context of ecological modernization, biochar is thought to offer various improvements to agricultural soil (Yuan et al. 2019). Consequently, the modified soil conditions may in turn serve as a favorable microhabitat for indigenous microorganisms.
3.2.1

Soil environment quality

Application of biochar induced changes in soil pH, electrical conductivity (EC), texture, and moisture content that may conjointly modify soil environment quality, which is critical for the diversity and abundance of soil bacteria (Nguyen et al. 2018). The presence of negatively charged functional groups in biochar surface (e.g., hydroxyl, carboxyl, and phenolic groups), and minerals (e.g., carbonates, bicarbonates, silicates) can bind with H+ in soil solutions, contributing principally e to the increase of soil pH to the increase of soil pH (Gul et al. 2015). The elevated soil pH may lead to increase of microbial biomass due to the stimulatory effect. Chen et al. (2017) investigated the short-term microbial responses to fine particle biochar addition. They found that the concentrations of total microbial phospholipid fatty acids (PLFAs, indicator of microbial biomass) were increased due to the modified soil texture, increase of soil pH and EC. Liu et al. (2017) illustrated enhanced N2 emissions when biochar increased soil moisture to 70% of full capacity, which was explained as the reactivation of anaerobic denitrifying bacteria. Domene et al. (2014) certified the strong positive correlation between soil moisture and microbial biomass in biochar-amended soils. Accordingly, beneficial effect of biochar is more obvious in drought regions (Paetsch et al. 2018). Biochar-induced benefits in soil microbiota can mainly be ascribed to component composition and physicochemical structures. Influencing factors are comprehensively summarized in Fig. 3.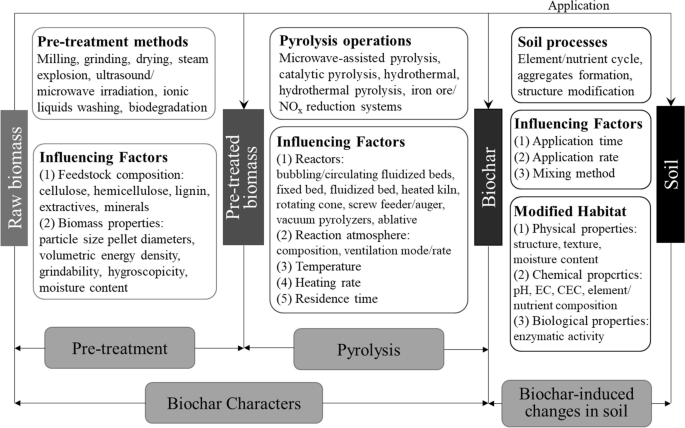 Current investigations indicated soil bacteria and fungi played a critical role in determining soil stability and resistance towards PTE contamination (Khan et al. 2019; Njoku et al. 2020). Soil bacteria and fungi activity is highly sensitive to environmental changes; therefore, increases in soil pH and mineral elements, inorganic and organic compounds may benefit soil fungi (Nie et al. 2018). As for the arbuscular mycorrhizal fungal (AMF)-plant symbiont, addition of biochar could result in a higher colonization rate of the host plant roots due to the modification of soil texture (Rummel et al. 2017). Meanwhile, enhanced soil resistance against PTEs leads to augmented dehydrogenase and urease activities and improved microorganism colonization (Ji et al. 2022). The porous structure of biochar improved both air permeability and water retention, therefore boosting physiological activity and benefiting hyphal growth. In addition, the augmentation of soil bacteria in biochar-amended soil is beneficial for reducing the PTE bioavailability by accelerating extracellular electron transfer (Zheng et al. 2021).
3.2.2

Physical isolation

Biochar can serve as a potential habitat for soil microorganisms mainly due to its large surface area, porous structure and adsorption capacity, physically isolating the colonizing microorganisms from PTEs and predators (Ennis et al. 2012). In addition, water molecules and essential substrates (e.g., alcohols, aldehydes, ketone and carbon sources) may be preserved in mesopores and micropores (Johannes et al. 2015), providing essential substrates for soil microorganisms.

Pietikäinen et al. (2000) creatively prepared a 'microcosms' to evaluate the effect of biochar on the capture of organic compounds and metabolic activity of microorganisms. The result showed that biochar harbored a small fraction of microbial biomass but nearly possessed more than an order of magnitude in reproduction rate when compared to the control experiment. Micropore distribution, size, and the surface roughness, topography, surface charge and hydrophobicity of biochar conjointly influence microbial attachment and colonization (Rummel et al. 2017). Recently, the possibility of long-term microbial colonization has been researched. Several strains colonized in poplar wood biochar were observed to form biofilms on plants roots (Bertola et al. 2019). Furthermore, biochar could serve as proper carrier for engineering strains for alleviating their sensibility against the PTE stresses (Siddeeg et al. 2019; Ma et al. 2020). It remains to be seen whether biochar can serve as ecological niches for soil microbials, which is primarily dependent on the growing conditions of microbial species and habitats.
3.2.3

Nutrient supply

Domene et al. (2014) proposed that most impacts of biochar on soil microorganisms were attributed to the changes of nutrient availability. As an organic amendment, biochar improves soil nutrient availability and retention by supplementing the soil with P, K, S, and other trace minerals. Soil microorganisms can utilize the soluble nutrients contained in biochar, and liable fraction through bio-fragmentation, bio-assimilation and bio-mineralization based on co-metabolism (Karim et al. 2020).

Biochar can alter elemental composition of the microhabitat and influence microbial metabolic activity (Song et al. 2018). The improved proportion of C substrate may promote microbial catabolism and thus accelerate SOM mineralization (Wei et al. 2020). The following variations in SOC cycling may result in changes in bioavailability and transformation of other nutrients, which were considered as the priming effect of biochar (Karimi et al. 2020). Besides, content and bioavailability of the biochar-released C, N, P and K may be distinct due to the heterogeneity of various biochar products (Al-Wabel et al. 2019). In calcareous soils with low nutrient availability, Karimi et al. (2020) reported that application of corn residue biochar enhanced the bioavailability of soil inorganic N and some trace elements (e.g., Fe, Zn, Cu), therefore promoting the microbiological processes. Notably, this may be a long-term effect because of the slow-release property of biochar product, which maintained nutrient availability on long-time scale (Jiang et al. 2019). Additionally, the fungal colonization rate was significantly increased due to the biochar-induced increase on soil N/P ratio.

Biochar may also immobilize exogenous bioavailable nutrients in some cases. Taghizadeh et al. (2012) claimed that biochar-immobilized ammonia was relatively bioavailable in soil through isotopic analysis. Moreover, biochar exhibited better microbiological value rather than certain nutrients for bio-stimulation. Xu et al. (2018) pointed out that total microbial metabolic activity in biochar-amended soil was as 1.25 times as glucose-amended groups. This showed the potential of biochar on the improvement of microbial activity in nutrient-limited soil matrix.

Biochar-induced changes in element and nutrient availability were considered as a dynamic equilibrium between adsorption and release, which was feedstock dependent and thus remains controversial. Biochar induced reduction in element and nutrient availability was also reported (Muhammad et al. 2016). Previous studies focused on the links between biochar characteristics and adsorption capacities, and investigating the specific sorption capacity of biochar is conductive for diminishing the uncertainty of biochar application.
4

Microbial responses in biochar-amended soil

Periodic biochar application, as the impulsive influence towards soil microbials, may change both the rate and direction of microbial evolution during a long period. Rather than the short-lived abiotic changes, biochar-initiated changes to soil microbiota may be amplified over time (Hol et al. 2017). Based on the highly sensitive nature of soil microbiota, the responses primarily comprise changes in microbial abundance, interspecific relationships, community composition and structure, and biological functions. Table 2 summarizes the microbial responses towards biochar application in PTE-contaminated soils.
4.1

Microbial abundance

Generally, biochar addition stimulates microbial activity and thus increases microbial abundance in PTE-contaminated soils. Alleviation of PTE toxicity, modification of microbial habitat, sheltering effect, and the improvement of soil nutrient availability (Fig. 3) collectively contribute to the changes in microbial reproduction rate and abundance. With respect to the ignorable interspecific difference (e.g., optimum growth conditions, resistance, and resilience towards environmental changes), any of the biochar-induced changes may differ and even lead to controversial consequences.

Reduction of PTE toxicity is of vital significance to sustain soil microbiological health. Moore et al. (2018) demonstrated that adding chicken manure biochar (5% w/w) enhanced microbial abundance and soil basial respiration due to the reduction of exchangeable Cu. Besides, physically isolated by biochar, the colonized microorganisms were endowed with superior metabolic and reproduction rate. Moreover, the positive effect of biochar on early growth stage of soil microorganisms has been often found. For instance, biochar derived from beet root chips significantly improved spore germination of AMF with 10 vol% addition (Rillig et al. 2010). It further facilitated the root colonization and fungal inoculum formation, and hence enhanced nutrient delivery of AMF to plant, which in turn stimulated the activity of the plant-AMF symbiosis. Recently, Xu et al. (2021) conducted a global meta-analysis using structural equation modeling and found that the fungal abundance was an important factor influencing bacterial abundance in biochar-amended soils, indicating the limiting effect of interspecific relationships.

However, biochar may pose hazards to soil microbiota. Biochar itself may be a source of organic and inorganic contaminants, such as PTEs, polycyclic aromatic hydrocarbons (PAHs), volatile organic compounds (VOCs) and dioxins (Godlewska et al. 2021). This is highly feedstock dependent, and may also results from improper pyrolysis (Hilber et al. 2017). Both anthropogenic and manipulative factors are organized in Fig. 4. As seen, the misuse of biochar would cause negative consequences for soil microbials. A comprehensive consideration is essential before the practical application of biochar. However, Hol et al. (2017) hypothesized biochar addition may suppress specific species or increase the abundance of pathogens, leading to microbial abundance and species loss.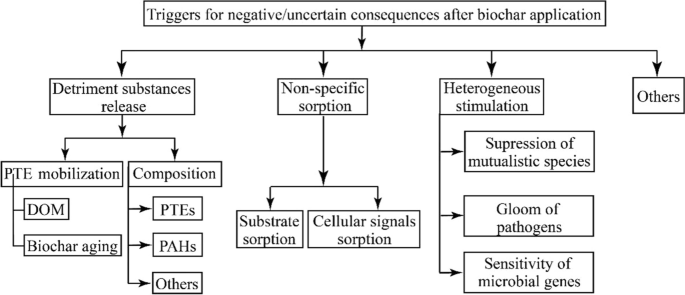 4.2

Interspecific microbial relationships

Stimulation and activation effect of biochar can drive the substitution of dominant species and evolution of indigenous soil microbial community, which can influence intrinsic interspecific relationships of soil microbials. Besides, sorption of signal molecules and extracellular metabolites may disrupt interspecific behaviors.

Masiello et al. (2013) investigated the impact of biochar on interspecific communication of soil microbials. The inhibition on microbial gene expression due to the biochar-induced adsorption of N-3-oxo-dodecanoyl-l-homoserine lactone (intercellular signaling molecule of AHL expression) between sender and receiver cells was quantified via the difference in green fluorescence protein (GFP) expression level. In the biochar-mixed agar, GFP detected within the receiver cells was only 24.1 ± 2.1% of control. Notably, the negative correlation between GFP expression level and content of surface functional groups suggested the inhibiting effect of biochar adsorption. Most recently, an electrochemical test observed that woody biochar can directly transfer electrons through carbon matrix in a relatively slow manner (e.g., charging and discharging circles of surface functional groups) (Sun et al. 2017). Therefore, the presence of additional electron acceptor or donor may disrupt interspecific metabolic cooperation (Masiello et al. 2013).

Since soil microorganisms live by interacting with each other (e.g., syntrophic co-metabolism, competition, production of inhibitors or activators, and predation), biochar-induced changes in microbial interspecific relationships could be basis in various microbial responses (Haruta et al. 2009). However, it remains unclear about the effect of biochar towards microbial communication (e.g., communication mode, microbial signaling, gene expression) on both short and long-time scale.
4.3

Microbial community composition and structure

Microbial community is one of the most important indexes for soil microbiological health (e.g., structural and functional diversity), where the composition is subject to soil temperature, moisture, texture, nutrient availability, pH, and seasonality (Haruta et al. 2009). Microbial diversity indicates microbial resilience and adaptability towards environmental changes to some extent. The soil microbial community is highly sensitive, and from this perspective, biochar-induced microbial community evolution can be sorted as activation, expansion, substitution and adaption of several indigenous microbial species.

O'Neill et al. (2009) stated that k-strategists such as actinomycetes were presented as chief proportions of microbial community in biochar-rich soils. Similar result was observed in a biochar-amended paddy soil for the fact that actinomycetes and fungi increased by 38.5% and 930% owing to soil pH variation, respectively (Cui et al. 2013; Xu et al. 2021). Besides, microbial community composition in the "soil-PTE-biochar" system was synchronously subject to biochar properties, application rate and mixing process. Ahmad et al. (2016) stated that feedstock of biochar plays a chief role in determining its outcomes of bacterial community and diversity, whereas pyrolysis temperature is considered as the second most important. Xu et al. (2017) revealed that wine-lees biochar improved microbial diversity while reduced the overall abundance in a multi metal-contaminated paddy soil, especially in the maturity stage.

Biochar-induced changes in the microbial community were uncertain, however, factors such as feedstock type, production parameters and application time can be decisive. The term "disturbance" referred to a biotic or abiotic cause which resulted in either a "perturbation" or a "stress". Therefore, a series of changes induced by biochar application  (discussed in 3.1 and 3.2) can result in changes of specific species, which triggered the subsequent microbial evolution and hence changes in ecological functions (discussed in 4.4). Moreover, according to the theory of "critical slowing down" (i.e., weaker resilience occurred at the tipping point between one stable state to another), the uncertainty in biochar-induced microbial community changes can be interpreted by the application time. For example, soil microorganisms may undergo the transitional stage in adaption of soils contaminated by PTEs. However, the survived or recovered species ultimately adapted to the new habitat with stable growth rates (Griffiths and Philippot 2013), which can be traced in genomic testing reports.
4.4

Microbial ecological functions

Enzymatic activity is considered as measurement of soil health (Acosta-Martinez et al. 2018), which is closely associated with microbial ecological functions. In general, biochar-mediated soil microbiological processes are mainly associated with soil nutrient turnover, agronomic values, as well as climate change mitigation (Tian et al. 2016).

Jain et al. (2016) found that biochar addition enhanced the resilience of soil enzymes associated with the nutrient cycle (e.g., acid/alkaline phosphatase, urease, arylsulphatase, dehydrogenase, phenol oxidases, cellulase and β-glucosidase), emphasizing the significant role of biochar-Fe complex due to its strong binding affinity. It was reported that 1% addition of wine-lees biochar dramatically stimulated the activity of urease in multi metal-contaminated paddy soil (Xu et al. 2017), which boosted the soil C cycle. Notably, moderate application of biochar may be cardinal to enzymatic activity maintenance due to their vulnerability and sensitivity (Jain et al. 2016; Tian et al. 2016). Mierzwa-Hersztek et al. (2016) proposed biochar-reinforced enzymatic activity may arise from the improvement of both substrates and moisture content, and besides, microbial activity and easily metabolizable root exudates were also essential. Yet paradoxically, SOM stabilization was observed due to the limited microbial biomass and weak microbial metabolic quotient of soil microorganisms enclosed within biochar-induced aggregates (Wu et al. 2016).

With respect to agronomic benefits, biochar may enhance cohesion of soil particles and maintain the stability of soil aggregates and hence modify soil texture (Zheng et al. 2018). Furthermore, Matsubara et al. (2002) demonstrated when coconut biochar was incorporated in soil, both the incidence and severity of fusarium infection in asparagus plants were significantly reduced, which benefited AMF-asparagus symbiont colonization. Similarly, biochar-induced limitation on Fe accessibility, especially towards phytopathogenic fungi, contributed to corresponding disease control to a large degree (Gorovtsov et al. 2020). This effect would be further promoted when assisted with siderophores synthesis (Harindintwali et al. 2020). In PTE-contaminated fields, the presence of biochar presumably mediated expression of metal-immobilization related genes (Chen et al. 2018). Wang et al. (2019a, b) testified that microorganisms can alter surface structure of biochar, serving as the permeable coating which absorbed PTEs, where the PTEs pumped out from the cytoplasm can be feasibly immobilized by biochar.

PTE-induced inhibition of microbial metabolism may further consume SOM and result in greenhouse gas emission (discussed in 2.2.1). Therefore, the benefited soil microbiota may contribute to carbon sequestration. Firstly, biochar was widely acknowledged as a "carbon neutrality" approach. The condensed and amorphous polymeric carbon endow biochar with the recalcitrant nature, which favors soil carbon sequestration. Liu et al. (2020) verified the preferable carbon sequestration potential of biochar than traditional agronomic measures in upland soil and paddy soil (Liu et al. 2020). Moreover, biochar may affect native SOM mineralization rates through priming effects (Rasul et al. 2022). Masiello et al. (2013) insisted that biochar-resulted influence on soil carbon storage was subject to the sorption of cellular signals. Based on the origin of the released CO2, priming effects can be divided into apparent (e.g., originated from microbial compound turnover) and real (e.g., originated from SOM decomposition) types, and both positive and negative priming effects may occur in the two phases (Rasul et al. 2022). Biochar-induced positive priming effects can be translated as different responses, and hence equilibrium of both r-strategist (i.e., microbes that rapidly response towards carbon substrate and re-mineralize SOM through co-metabolism) and K-strategist microbes (i.e., microbes that continually consume SOM) (Aponte et al. 2020), ascribed to the release of liable OC. As for the negative priming effects, mechanisms such as the accumulation of recalcitrant carbon (Pei et al. 2020), improvement of organo-mineral interactions (Van Zwieten et al. 2017), and aggregate formation are involved. Moreover, the deleterious substances released from biochar may severely abolish microbial activities (Ghidotti et al. 2017). From the temporal perspective (Fig. 5), biochar addition may enhance SOC mineralization for a short period, while shows the negative priming effects due to the lack of SOC for long terms (Zhao et al. 2014). Besides, outcomes of priming effects are associated with incubation properties, soil conditions, biochar properties (e.g., C/O ratio, surface functional groups), and dominant microbial species (Budai et al. 2016).
However, most of the biological effects of biochar on soil carbon sequestration remain unknown. Current studies have focused more on the links between biochar-induced changes of microbial community and soil carbon dynamics (Bi et al. 2020). Many studies have verified the beneficial role of biochar-microbes interaction in soil carbon sequestration (Khadem et al. 2021). Biochar may enhance carbon utilization capacity of soil fungi that serve as a special substrate and thus promote community evolution, leading to increased carbon utilization efficiency along with attenuated SOM mineralization rates in upland soil and paddy soil, respectively. Besides, biochar can intensify nitrogen fixation ascribed to the release of B and Mo (Lehmann et al. 2011). Moogi et al. (2021) demonstrated that biological nitrogen fixation was increased by 1.44 times in biochar-modified soils with 30% atmosphere-derived N. They found that biochar has the potential to increase N input into agroecosystems as well as reduce NOx emissions. In a four-year field study, biochar addition decreased the ratios of abundance of methanogens to methanotrophs by 11–31% and thus decreased CH4 emission by 20–51% annually (Wang et al. 2019a, b). However, the soil carbon sequestration potential may be reduced. In acid soils, biochar addition may increase the proportion of gram-positive bacteria that are responsible for the decomposition of biochar and SOC through co-metabolism and simultaneously lower the substrate limitation, causing more CO2 release (Sheng et al. 2016). Overall, there is an urgent need for investigations on the potential mechanisms of biochar-microbes interaction to accurately evaluate the soil carbon sequestration potential of biochar.
5

Current challenges and perspectives

This paper reviewed the PTE-induced stress on soil microbials and the benefits of biochar application towards microbials. The complex mechanisms of interaction of biochar and soil microbials in presence of PTEs has been systematically summarized. Different microbial responses (e.g. positive, negative, and controversial) towards biochar application in PTE contaminated soil have been comprehensively discussed. Here, challenges and perspectives for future research development are also provided.
5.1

Challenges

Microcosm system, which is considered to be the closest system to a natural ecosystem, has been proposed to reflect the interactions between species and their habitats in recent years (Xu et al. 2021). It allows for deepening the mechanisms among interrelationships of "soil-biochar-PTE-soil microbiota" system, and hence links soil ecologic and social functions with microbial diversity and the expression of functional genes (Harter et al. 2014). Based on this, adopting the high-resolution technology such as PCR, DGGE, TGGE on the long-term in situ experiments may visualize overall microbial evolution by monitoring the changes in genera and even species levels. Regarding to changes in specific species or functional genes, cutting-edge analytical technologies such as the fluorescence in situ hybridization (FISH), DNA fingerprinting techniques and gene chips are urgently needed.

Except for state-of-the-art analytical technologies, advancing data analysis methods are also of pivotal importance. Traditional kinetic models can portray the dynamics of specific microbial indicators/characteristics over the experimental cycle. Nevertheless, it is a non-quantitative method due to the test intervals, which probably result in suspectable and ambiguous results. Mechanisms embedded in high-dimensional, redundant, and sequential in situ experimental data could be revealed using more appropriate approaches in the context of revising existing domain knowledge and theories. Advances in computational and system biology approaches such as metagenomics, metproteomics, and metabonomics provide comprehensive insights into the evaluation of microbial communities and biological functions. Recently, structural equation modeling analysis has exhibited superior performance for discriminating the effect of biochar properties and dose, soil properties on the microbial community (Xu et al. 2021). Besides, machine learning (ML) approaches can capture the complex nonlinear patterns in high-throughput data and hence extract the potential quantitative relationships between features (e.g., biochar-induced changes) and targets (e.g., microbial responses). However, the efficacy of ML approaches is highly dependent on the validity and volume of data, and trade-off between empirical utility and theoretical interpretability should also be taken into consideration.

Biochar application inevitably impacts soil microbials in PTE-contaminated soils, variably stimulates or inhibits microspecies, and thus drives the evolution of microbial community. Therefore, the degree and direction of microbial evolution could be determined from the equilibrium of microbial species in PTE-contaminated soils. The development of genomic techniques shifted the research hotspot on biochar-soil interactions into the relationship between biochar-induced changes with species-level variations.
5.2

Perspectives

Understanding on factors that cause above species-level variations is still lacking, and hence more efforts should be made to deepen the understanding of biochar's effects on soil microbials in the presence of PTEs . For this purpose, three general issues in the perspective of fundamental research are needed to be given.

Fit-for-purpose biochar Only qualitative and semi-quantitative recognition between biochar properties and manufacturing parameters (e.g., feedstock type, pyrolysis temperature, resistance time, heating rate) was established in existing research works (He et al . 2021). However, fit-for-purpose biochar production is critical for harnessing the commercial and environmental benefits of biochar. Advances in ML increased the possibility of accurate prediction of biochar properties, and minimized the experimental workload, demonstrating a bright future in the field. Relationships among biochar feedstock type and production conditions, biochar properties, biochar-induced changes in soils under different conditions and microbial composition, and microbial responses may be clarified and even regulated artificially. Undoubtedly, this is the foundation of the targeted application of biochar towards various agrotypes to manage soil microbiological health and promote sustainable agriculture and climate change.

Total analysis and statistics Current knowledge on the effect of biochar on soil microbials in PTE-contaminated soils is mostly empirical (Palansooriya et al. 2019). Given the intertwined nexus among soil parameters, we should strive to take various factors (e.g., constituent, and subsystem etc.) into consideration simultaneously. Based on this, we need to investigate the response of soil matrix (e.g., metagenomics, ion omics) during experiments at different scales. Besides, appropriate statistical methods should be introduced to explain the consequences in biochar-amended soils, and potential mechanisms. Furthermore, mechanisms concluded from total analysis and statistics may be combined with results from ML/DL models for further improvement of model performance and practical guidance.

One health approach The imperative goals of modern agriculture are to improve crop quality and reduce malnutrition. Albeit fertilization has supported the agronomic system worldwide, and appropriate alternatives are still required with respect to cost-effective and green chemistry in the future. Biochar is considered as a satisfying alternative for attaining environmental, ecological, and economic sustainability (Jia et al. 2022). Therefore, governments should vigorously promote the sustainable land utilization awareness of farmers, as well as establish a sound system for biochar application through corresponding knowledge popularization, standards, preferential policies, and laws. For this goal, more efforts should be made with the cooperation among politicians, scientists, engineers, technicians, and agronomists.
Availability of data and materials
All data generated or analyzed during this study are included in this published article and its supplementary information files.
References
Abdu N, Abdullahi AA, Abdulkadir A (2017) Heavy metals and soil microbes. Environ Chem Lett 15(1):65–84

Ahmad M, Ok YS, Kim B-Y, Ahn J-H, Lee YH, Zhang M, Moon DH, Al-Wabel MI, Lee SS (2016) Impact of soybean stover-and pine needle-derived biochars on Pb and As mobility, microbial community, and carbon stability in a contaminated agricultural soil. J Environ Manag 166:131–139

Allende S, Liu Y, Zafar MA, Jacob MV (2023) Nitrite sensor using activated biochar synthesised by microwave-assisted pyrolysis. Waste Dispos Sustain Energy 5:1–11

Al-Wabel MI, Usman ARA, Al-Farraj AS, Ok YS, Abduljabbar A, Al-Faraj AI, Sallam AS (2019) Date palm waste biochars alter a soil respiration, microbial biomass carbon, and heavy metal mobility in contaminated mined soil. Environ Geochem Heal 41(4):1705–1722

Andreas S, Vanja A, Vogt RD, Gadmar TC, Jan M, Gerard C, Hale SE (2016) Biochar amendment to soil changes dissolved organic matter content and composition. Chemosphere 142:100–105

Aponte H, Meli P, Butler B, Paolini J, Matus F, Merino C, Cornejo P, Kuzyakov Y (2020) Meta-analysis of heavy metal effects on soil enzyme activities. Sci Total Environ 737:139744

Arabyarmohammadi H, Darban AK, Abdollahy M, Yong R, Ayati B, Zirakjou A, van der Zee SEATM (2017) Utilization of a novel chitosan/clay/biochar nanobiocomposite for immobilization of heavy metals in acid soil environment. J Polym Environ 26(5):2107–2119

Asatiani N, Abuladze M, Kartvelishvili T, Osepashvili M, Shengelaya A, Daraselia D, Japaridze D, Khatisashvili G, Varazi T, Holman H-Y, Sapojnikova N (2021) Copper (II) ion action on soil bacteria. Water Air Soil Pollut 232(9):1–13

Azadi N, Raiesi F (2021) Sugarcane bagasse biochar modulates metal and salinity stresses on microbial functions and enzyme activities in saline co-contaminated soils. Appl Soil Ecol 167:104043

Bakshi S, Banik C, He Z (2018) The impact of heavy metal contamination on soil health. In: Reicosky D (ed) Managing soil health for sustainable agriculture, vol 2. Burleigh Dodds Science Publishing, pp 63–95

Bandara T, Franks A, Xu J, Bolan N, Wang H, Tang C (2020) Chemical and biological immobilization mechanisms of potentially toxic elements in biochar-amended soils. Crit Rev Environ Sci Technol 50(9):903–978

Bandara T, Franks A, Xu J, Chathurika J, Tang C (2021) Biochar aging alters the bioavailability of cadmium and microbial activity in acid contaminated soils. J Hazard Mater 420:126666

Bertola M, Mattarozzi M, Sanangelantoni AM, Careri M, Visioli G (2019) PGPB Colonizing three-year biochar-amended soil: towards biochar-mediated biofertilization. J Soil Sci Plant Nut 19(4):841–850

Bezerra J, Turnhout E, Vasquez IM, Rittl TF, Arts B, Kuyper TW (2019) The promises of the Amazonian soil: Shifts in discourses of Terra Preta and biochar. J Environ Pol Plan 21(5):623–635

Bi Y, Cai S, Wang Y, Zhao X, Wang S, Xing G, Zhu Z (2020) Structural and microbial evidence for different soil carbon sequestration after four-year successive biochar application in two different paddy soils. Chemosphere 254:126881

Blanco-Canqui H (2021) Does biochar application alleviate soil compaction? Review and data synthesis. Geoderma 404:115317

Budai A, Rasse DP, Lagomarsino A, Lerch TZ, Paruch L (2016) Biochar persistence, priming and microbial responses to pyrolysis temperature series. Biol Fertil Soils 52(6):749–761

Chauhan S, Shafi T, Dubey BK, Chowdhury S (2023) Biochar-mediated removal of pharmaceutical compounds from aqueous matrices via adsorption. Waste Dispos Sustain Energy 5:37–62

Chen J, Li S, Liang C, Xu Q, Li Y, Qin H, Fuhrmann JJ (2017) Response of microbial community structure and function to short-term biochar amendment in an intensively managed bamboo (Phyllostachys praecox) plantation soil: effect of particle size and addition rate. Sci Total Environ 574:24–33

Chen J, Dong J, Chang J, Guo T, Yang Q, Jia W, Shen S (2018) Characterization of an Hg(II)-volatilizing Pseudomonas sp. strain, DC-B1, and its potential for soil remediation when combined with biochar amendment. Ecotox Environ Safe 163:172–179

Chu D (2018) Effects of heavy metals on soil microbial community. In: IOP Conference Series: Earth and Environmental Science, 3rd International Conference on Advances in Energy Resources and Environment Engineering, Vol. 113, No. 1, pp. 012009

Cui L, Yan J, Yang Y, Li L, Quan G, Ding C, Chen T, Fu Q, Chang A (2013) Influence of biochar on microbial activities of heavy metals contaminated paddy fields. BioResources 8(4):5536–5548

Dai Z, Zhang X, Tang C, Muhammad N, Wu J, Brookes PC, Xu J (2017) Potential role of biochars in decreasing soil acidification-a critical review. Sci Total Environ 581:601–611

Domene X, Mattana S, Hanley K, Enders A, Lehmann J (2014) Medium-term effects of corn biochar addition on soil biota activities and functions in a temperate soil cropped to corn. Soil Biol Biochem 72:152–162

Ducey TF, Novak JM, Sigua GC, Ippolito JA, Rushmiller HC, Watts DW, Trippe KM, Spokas KA, Stone KC, Johnson MG (2021) Microbial response to designer biochar and compost treatments for mining impacted soils. Biochar 3(3):299–314

El-Naggar A, Shaheen SM, Chang SX, Hou D, Ok YS, Rinklebe J (2021) Biochar surface functionality plays a vital role in (im)mobilization and phytoavailability of soil vanadium. ACS Sustain Chem Eng 9(19):6864–6874

Ennis CJ, Evans AG, Islam M, Senior TKR, Senior E (2012) Biochar: carbon sequestration, land remediation, and impacts on soil microbiology. Crit Rev Environ Sci Technol 42(22):2311–2364

Ghidotti M, Fabbri D, Hornung A (2017) Profiles of volatile organic compounds in biochar: insights into process conditions and quality assessment. ACS Sustain Chem Eng 5(1):510–517

Godlewska P, Ok YS, Oleszczuk P (2021) The dark side of black gold: ecotoxicological aspects of biochar and biochar-amended soils. J Hazard Mater 403:123833

Gorovtsov AV, Minkina TM, Mandzhieva SS, Perelomov LV, Soja G, Zamulina IV, Rajput VD, Sushkova SN, Mohan D, Yao J (2020) The mechanisms of biochar interactions with microorganisms in soil. Environ Geochem Health 42(8):2495–2518

Gourmelon VR, Maggia L, Powell JR, Gigante S, Hortal S, Gueunier C, Letellier K, Carriconde F (2016) Environmental and geographical factors structure soil microbial diversity in New Caledonian ultramafic substrates: a metagenomic approach. PLoS ONE 11(12):e0167405

Griffiths BS, Philippot L (2013) Insights into the resistance and resilience of the soil microbial community. FEMS Microbiol Rev 37(2):112–129

Gul S, Whalen JK, Thomas BW, Sachdeva V, Deng H (2015) Physico-chemical properties and microbial responses in biochar-amended soils: mechanisms and future directions. Agr Ecosyst Environ 206(1):46–59

Guo B, Liu B, Yang J, Zhang S (2017) The mechanisms of heavy metal immobilization by cementitious material treatments and thermal treatments: a review. J Environ Manag 193(15):410–422

Hagemann N, Joseph S, Schmidt H-P, Kammann CI, Harter J, Borch T, Young RB, Varga K, Taherymoosavi S, Elliott KW, McKenna A, Albu M, Mayrhofer C, Obst M, Conte P, Dieguez-Alonso A, Orsetti S, Subdiaga E, Behrens S, Kappler A (2017) Organic coating on biochar explains its nutrient retention and stimulation of soil fertility. Nat Commun 8(1):1–11

Hameed R, Cheng L, Yang K, Fang J, Lin D (2019) Endogenous release of metals with dissolved organic carbon from biochar: effects of pyrolysis temperature, particle size, and solution chemistry. Environ Pollut 255:113253

Han Y, Douds J, David D, Boateng AA (2016) Effect of biochar soil-amendments on Allium porrum growth and arbuscular mycorrhizal fungus colonization. J Plant Nutr 39(11):1654–1662

Harindintwali JD, Zhou J, Yang W, Gu Q, Yu X (2020) Biochar-bacteria-plant partnerships: eco-solutions for tackling heavy metal pollution. Ecotoxicol Environ Saf 204:111020

Harter J, Krause HM, Schuettler S, Ruser R, Fromme M, Scholten T, Kappler A, Behrens S (2014). Linking N2O emissions from biochar-amended soil to the structure and function of the N-cycling microbial community. ISME J 8(3):660–674

Haruta S, Kato S, Yamamoto K, Igarashi Y (2009) Intertwined interspecies relationships: approaches to untangle the microbial network. Environ Microbiol 11(12):2963–2969

He M, Xu Z, Sun Y, Chan PS, Lui I, Tsang DCW (2021) Critical impacts of pyrolysis conditions and activation methods on application-oriented production of wood waste-derived biochar. Bioresour Technol 341:125811

Hilber I, Bastos AC, Loureiro S, Soja G, Marsz A, Cornelissen G, Bucheli TD (2017) The different faces of biochar: Contamination risk versus remediation tool. J Environ Eng Landsc 25(2):86–104

Hol WG, Vestergård M, ten Hooven F, Duyts H, van de Voorde TF, Bezemer TM (2017) Transient negative biochar effects on plant growth are strongest after microbial species loss. Soil Biol Biochem 115:442–451

Huang D, Liu L, Zeng G, Xu P, Huang C, Deng L, Wang R, Wan J (2017) The effects of rice straw biochar on indigenous microbial community and enzymes activity in heavy metal-contaminated sediment. Chemosphere 174:545–553

Huang Y, Gao M, Deng Y, Khan ZH, Liu X, Song Z, Qiu W (2020) Efficient oxidation and adsorption of As (III) and As (V) in water using a Fenton-like reagent, (ferrihydrite)-loaded biochar. Sci Total Environ 715:136957

Jain S, Mishra D, Khare P, Yadav V, Deshmukh Y, Meena A (2016) Impact of biochar amendment on enzymatic resilience properties of mine spoils. Sci Total Environ 544:410–421

Jaiswal SK, Naamala J, Dakora FD (2018) Nature and mechanisms of aluminium toxicity, tolerance and amelioration in symbiotic legumes and rhizobia. Biol Fertil Soils 54(3):309–318

Ji X, Wan J, Wang X, Peng C, Wang G, Liang W, Zhang W (2022) Mixed bacteria-loaded biochar for the immobilization of arsenic, lead, and cadmium in a polluted soil system: effects and mechanisms. Sci Total Environ 811:152112

Jia Q, Zhuge Y, Duan W, Liu Y, Yang J, Youssf O, Lu J (2022) Valorisation of alum sludge to produce green and durable mortar. Waste Dispos Sustain Energy 4:283–295

Jiang B, Adebayo A, Jia J, Xing Y, Deng S, Guo L, Liang Y, Zhang D (2019) Impacts of heavy metals and soil properties at a Nigerian e-waste site on soil microbial community. J Hazard Mater 362:187–195

Johannes L, Yakov K, Genxing P, Sik OY (2015) Biochars and the plant-soil interface. Plant Soil 395(1):1–5

Karim MR, Halim MA, Gale NV, Thomas SC (2020) Biochar effects on soil physiochemical properties in degraded managed ecosystems in northeastern Bangladesh. Soil Syst 4:69

Karimi A, Moezzi A, Chorom M, Enayatizamir N (2020) Application of biochar changed the status of nutrients and biological activity in a calcareous soil. J Soil Sci Plant Nut 20(2):450–459

Kasowska D, Gediga K, Spiak Z (2018) Heavy metal and nutrient uptake in plants colonizing post-flotation copper tailings. Environ Sci Pollut Res 25(1):824–835

Khadem A, Raiesi F, Besharati H, Khalaj MA (2021) The effects of biochar on soil nutrients status, microbial activity and carbon sequestration potential in two calcareous soils. Biochar 3(1):105–116

Khan I, Aftab M, Shakir S, Ali M, Qayyum S, Rehman MU, Haleem KS, Touseef I (2019) Mycoremediation of heavy metal (Cd and Cr)-polluted soil through indigenous metallotolerant fungal isolates. Environ Monit Assess 191(9):1–11

Kushwaha A, Hans N, Kumar S, Rani R (2018) A critical review on speciation, mobilization and toxicity of lead in soil-microbe-plant system and bioremediation strategies. Ecotox Environ Safe 147:1035–1045

Lan J, Zhang S, Dong Y, Li J, Li S, Feng L, Hou H (2021) Stabilization and passivation of multiple heavy metals in soil facilitating by pinecone-based biochar: mechanisms and microbial community evolution. J Hazard Mater 420:126588

Lehmann J, Rillig MC, Thies J, Masiello CA, Hockaday WC, Crowley D (2011) Biochar effects on soil biota—a review. Soil Biol Biochem 43(9):1812–1836

Lehmann J, Bossio DA, Kögel-Knabner I, Rillig MC (2020) The concept and future prospects of soil health. Nat Rev Earth Environ 1(10):544–553

Lemire JA, Harrison JJ, Turner RJ (2013) Antimicrobial activity of metals: mechanisms, molecular targets and applications. Nat Rev Microbiol 11(6):371–384

Li J, Zheng T, Liu C (2021) Soil acidification enhancing the growth and metabolism inhibition of PFOS and Cr (VI) to bacteria involving oxidative stress and cell permeability. Environ Pollut 275:116650

Li S, Harris S, Anandhi A, Chen G (2019) Predicting biochar properties and functions based on feedstock and pyrolysis temperature: a review and data syntheses. J Clean Prod 215:890–902

Lian F, Xing B (2017) Black carbon (biochar) in water/soil environments: molecular structure, sorption, stability, and potential risk. Environ Sci Technol 51(23):13517–13532

Liang L, Xi F, Tan W, Meng X, Hu B, Wang X (2021) Review of organic and inorganic pollutants removal by biochar and biochar-based composites. Biochar 3:255–281

Lin Y, Ye Y, Hu Y, Shi H (2019) The variation in microbial community structure under different heavy metal contamination levels in paddy soils. Ecotox Environ Safe 180:557–564

Liu Q, Liu B, Zhang Y, Lin Z, Zhu T, Sun R, Wang X, Ma J, Bei Q, Liu G, Lin X, Xie Z (2017) Can biochar alleviate soil compaction stress on wheat growth and mitigate soil N2O emissions? Soil Biol Biochem 104:8–17

Liu Z, Wu X, Liu W, Bian R, Ge T, Zhang W, Zheng J, Drosos M, Liu X, Zhang X (2020) Greater microbial carbon use efficiency and carbon sequestration in soils: amendment of biochar versus crop straws. GCB Bioenergy 12(12):1092–1103

Liu F, Hua S, Wang C, Hu B (2022a) Insight into the performance and mechanism of persimmon tannin functionalized waste paper for U (VI) and Cr (VI) removal. Chemosphere 287:132199

Liu M, Hou R, Fu Q, Li T, Zhang S, Su A (2022b) Long-term immobilization of cadmium and lead with biochar in frozen-thawed soils of farmland in China. Environ Pollut 313:120143

Lwin CS, Seo B-H, Kim H-U, Owens G, Kim K-R (2018) Application of soil amendments to contaminated soils for heavy metal immobilization and improved soil quality-a critical review. Soil Sci Plant Nurt 64(2):156–167

Ma H, Wei M, Wang Z, Hou S, Li X, Xu H (2020) Bioremediation of cadmium polluted soil using a novel cadmium immobilizing plant growth promotion strain Bacillus sp. TZ5 loaded on biochar. J Hazard Mater 388:122065

Macomber L, Hausinger RP (2011) Mechanisms of nickel toxicity in microorganisms. Metallomics 3(11):1153–1162

Mann C, Lynch D, Fillmore S, Mills A (2019) Relationships between field management, soil health, and microbial community composition. Appl Soil Ecol 144:12–21

Mansoor S, Kour N, Manhas S, Zahid S, Wani OA, Sharma V, Wijaya L, Alyemeni MN, Alsahli AA, El-Serehy HA (2021) Biochar as a tool for effective management of drought and heavy metal toxicity. Chemosphere 271:129458

Martinez VA, Cano A, Johnson CJ (2018) Simultaneous determination of multiple soil enzyme activities for soil health-biogeochemical indices. Appl Soil Ecol 126:121–128

Masiello CA, Chen Y, Gao X, Liu S, Cheng H-Y, Bennett MR, Rudgers JA, Wagner DS, Zygourakis K, Silberg JJ (2013) Biochar and microbial signaling: production conditions determine effects on microbial communication. Environ Sci Technol 47(20):11496–11503

Matsubara Y, Hasegawa N, Fukui H (2002) Incidence of fusarium root rot in asparagus seedlings infected with arbuscular mycorrhizal fungus as affected by several soil amendment. J Jpn Soc Hortic Sci 71(3):370–374

Mehmood S, Imtiaz M, Bashir S, Rizwan M, Irshad S, Yuvaraja G, Ikram M, Aziz O, Ditta A, Rehman SU (2019) Leaching behavior of Pb and Cd and transformation of their speciation in co-contaminated soil receiving different passivators. Environ Eng Sci 36(6):749–759

Meier S, Curaqueo G, Khan N, Bolan N, Rilling JN, Vidal C, Fernandez N, Acuna J, González M-E, Cornejo P (2017) Effects of biochar on copper immobilization and soil microbial communities in a metal-contaminated soil. J Soils Sediments 17(5):1237–1250

Meier S, Moore F, González M-E, Medina J, Campos P, Khan N, Cumming J, Sanhueza M, Mejías J, Morales A, Hirzel J, Seguel A (2021) Effects of three biochars on copper immobilization and soil microbial communities in a metal-contaminated soil using a metallophyte and two agricultural plants. Environ Geochem Health 43(4):1441–1456

Mierzwa-Hersztek M, Gondek K, Baran A (2016) Effect of poultry litter biochar on soil enzymatic activity, ecotoxicity and plant growth. Appl Soil Ecol 105:144–150

Moogi S, Lee J, Jae J, Sonne C, Rinklebe J, Kim DH, Park YK (2021) Valorization of rice husk to aromatics via thermocatalytic conversion in the presence of decomposed methane. Chem Eng J 417:129264

Moore F, González M-E, Khan N, Curaqueo G, Sanchez-Monedero M, Rilling JN, Morales E, Panichini M, Mutis A, Jorquera M, Mejias J, Hirzel J, Meier S (2018) Copper immobilization by biochar and microbial community abundance in metal-contaminated soils. Sci Total Environ 616:960–969

Muhammad N, Brookes P, Wu J (2016) Addition impact of biochar from different feedstocks on microbial community and available concentrations of elements in a Psammaquent and a Plinthudult. J Soil Sci Plant Nut 16(1):137–153

Murtaza G, Shehzad MT, Kanwal S, Farooqi ZUR, Owens G (2022) Biomagnification of potentially toxic elements in animals consuming fodder irrigated with sewage water. Environ Geochem Hlth 44(12):4523–4538

Nguyen TTN, Wallace HM, Xu C-Y, Zwieten LV, Weng ZH, Xu Z, Che R, Tahmasbian I, Hu H-W, Bai SH (2018) The effects of short term, long term and reapplication of biochar on soil bacteria. Sci Total Environ 636:142–151

Nie C, Yang X, Niazi NK, Xu X, Wen Y, Rinklebe JR, Ok YS, Xu S, Wang H (2018) Impact of sugarcane bagasse-derived biochar on heavy metal availability and microbial activity: a field study. Chemosphere 200:274–282

Njoku KL, Asunmo MO, Ude EO, Adesuyi AA, Oyelami AO (2020) The molecular study of microbial and functional diversity of resistant microbes in heavy metal contaminated soil. Environ Technol Innov 17:100606

O'Neill B, Grossman J, Tsai MT, Gomes JE, Lehmann J, Peterson J, Neves E, Thies JE (2009) Bacterial community composition in brazilian anthrosols and adjacent soils characterized using culturing and molecular identification. Microb Ecol 58(1):23–35

O'Connor D, Peng T, Zhang J, Tsang DC, Alessi DS, Shen Z, Bolan NS, Hou D (2018) Biochar application for the remediation of heavy metal polluted land: a review of in situ field trials. Sci Total Environ 619:815–826

Paetsch L, Mueller CW, Kögel-Knabner I, von Lützow M, Girardin C, Rumpel C (2018) Effect of in-situ aged and fresh biochar on soil hydraulic conditions and microbial C use under drought conditions. Sci Rep 8(1):1–11

Palansooriya KN, Wong JTF, Hashimoto Y, Huang L, Rinklebe J, Chang SX, Bolan N, Wang H, Ok YS (2019) Response of microbial communities to biochar-amended soils: a critical review. Biochar 1(1):3–22

Pandey S, Rai R, Rai LC (2015) Biochemical and molecular basis of arsenic toxicity and tolerance in microbes and plants. In: Flora SJS (ed) Handbook of arsenic toxicology. Academic Press, pp. 627–674

Pei J, Dijkstra FA, Li J, Fang C, Su J, Zhao J, Nie M, Wu J (2020) Biochar-induced reductions in the rhizosphere priming effect are weaker under elevated CO2. Soil Biol Biochem 142:107700

Pietikäinen J, Kiikkilä O, Fritze H (2000) Charcoal as a habitat for microbes and its effect on the microbial community of the underlying humus. Oikos 89(2):231–242

Prabhakaran P, Ashraf MA, Aqma WS (2016) Microbial stress response to heavy metals in the environment. Rsc Adv 6(111):109862–109877

Qiao JT, Li XM, Li FB (2018) Roles of different active metal-reducing bacteria in arsenic release from arsenic-contaminated paddy soil amended with biochar. J Hazard Mater 344:958–967

Qiu M, Liu L, Ling Q, Cai Y, Yu S, Wang S, Fu D, Hu B, Wang X (2022) Biochar for the removal of contaminants from soil and water: a review. Biochar 4(1):19

Rasul M, Cho J, Shin H-S, Hur J (2022) Biochar-induced priming effects in soil via modifying the status of soil organic matter and microflora: a review. Sci Total Environ 805:150304

Razzaghi F, Obour PB, Arthur E (2020) Does biochar improve soil water retention? A systematic review and meta-analysis. Geoderma 361:114055

Rillig MC, Wagner M, Salem M, Antunes PM, George C, Ramke H-GN, Titirici M-M, Antonietti M (2010) Material derived from hydrothermal carbonization: effects on plant growth and arbuscular mycorrhiza. Appl Soil Ecol 45(3):238–242

Roane TM, Pepper IL, Gentry TJ (2015) Microorganisms and metal pollutants. Environ Microb 415–439

Robins K, McCann CM, Zhou XY, Su JQ, Cooke M, Knapp CW, Graham DW (2022) Bioavailability of potentially toxic elements influences antibiotic resistance gene and mobile genetic element abundances in urban and rural soils. Sci Total Environ 847:157512

Rummel CD, Jahnke A, Gorokhova E, Kühnel D, Schmitt-Jansen M (2017) Impacts of biofilm formation on the fate and potential effects of microplastic in the aquatic environment. Environ Sci Technol Lett 4(7):258–267

Schalk IJ, Hannauer ML, Braud A (2011) New roles for bacterial siderophores in metal transport and tolerance. Environ Microb 13(11):2844–2854

Sharma S, Kaur I, Nagpal AK (2021) Contamination of rice crop with potentially toxic elements and associated human health risks-a review. Environ Sci Pollut Res 28:12282–12299

Sheng Y, Zhan Y, Zhu L (2016) Reduced carbon sequestration potential of biochar in acidic soil. Sci Total Environ 572:129–137

Shuai W, Bo L, Hanhua Z, Jianlin S, Qihong Z, Daoyou H, Chao X, Quan Z, Zebo F (2021) Long-term effects of biochar on trace metals accumulation in rice grain: a 7-year field experiment. Agr Ecosyst Environ 315:107446

Siddeeg MS, Tahoon AM, Rebah BF (2019) Simultaneous removal of calconcarboxylic acid, NH4+ and PO43- from pharmaceutical effluent using iron oxide-biochar nanocomposite loaded with Pseudomonas putida. Processes 7(11):800

Song D, Tang J, Xi X, Zhang S, Liang G, Zhou W, Wang X (2018) Responses of soil nutrients and microbial activities to additions of maize straw biochar and chemical fertilization in a calcareous soil. Eur J Soil Biol 84:1–10

Sumner ER, Shanmuganathan A, Sideri TC, Willetts SA, Houghton JE, Avery SV (2005) Oxidative protein damage causes chromium toxicity in yeast. Microbiology 151(6):1939–1948

Sun T, Levin BDA, Guzman JLG, Enders A, Muller DA, Angenent LT, Lehmann J (2017) Rapid electron transfer by the carbon matrix in natural pyrogenic carbon. Nat Commun 8:14873

Taghizadeh TA, Clough TJ, Sherlock RR, Condron LM (2012) Biochar adsorbed ammonia is bioavailable. Plant Soil 350(1):57–69

Tang J, Zhang J, Ren L, Zhou Y, Gao J, Luo L, Yang Y, Peng Q, Huang H, Chen A (2019) Diagnosis of soil contamination using microbiological indices: a review on heavy metal pollution. J Environ Manag 242:121–130

Tang J, Zhang L, Zhang J, Ren L, Zhou Y, Zheng Y, Luo L, Yang Y, Huang H, Chen A (2020) Physicochemical features, metal availability and enzyme activity in heavy metal-polluted soil remediated by biochar and compost. Sci Total Environ 701:134751

Tian J, Wang J, Dippold M, Gao Y, Blagodatskaya E, Kuzyakov Y (2016) Biochar affects soil organic matter cycling and microbial functions but does not alter microbial community structure in a paddy soil. Sci Total Environ 556:89–97

Van Zwieten L, Singh BP, Tavakkoli E, Joseph S, Macdonald LM, Rose TJ, Rose MT, Kimber SW, Morris S, Cozzolino D, Araujo JR, Archanjo BS, Cowie A (2017) Biochar built soil carbon over a decade by stabilizing rhizodeposits. Nature Clim 7(5):371–376

Vithanage M, Herath I, Joseph S, Bundschuh J, Bolan N, Ok YS, Kirkham MB, Rinklebe J (2017) Interaction of arsenic with biochar in soil and water: a critical review. Carbon 113:219–230

Wang C, Shen J, Liu J, Qin H, Yuan Q, Fan F, Hu Y, Wang J, Wei W, Li Y (2019a) Microbial mechanisms in the reduction of CH4 emission from double rice cropping system amended by biochar: a four-year study. Soil Biol Biochem 135:251–263

Wang Y, Wang H-S, Tang C-S, Gu K, Shi B (2019b) Remediation of heavy-metal-contaminated soils by biochar: a review. Environ Geotech 40:1–14

Wang Y, Liu Y, Zhan W, Zheng K, Wang J, Zhang C, Chen R (2020) Stabilization of heavy metal-contaminated soils by biochar: challenges and recommendations. Sci Total Environ 729:139060

Wang J, Shi L, Zhai L, Zhang H, Wang S, Zou J, Shen Z, Lian C, Chen Y (2021a) Analysis of the long-term effectiveness of biochar immobilization remediation on heavy metal contaminated soil and the potential environmental factors weakening the remediation effect: a review. Ecotox Environ Safe 207:111261

Wang Y, Sarkar A, Ma L, Wu Q, Wei F (2021b) Measurement of investment potential and spatial distribution of arable land among countries within the "Belt and Road Initiative." Agriculture 11(9):848

Wang Y, Xing W, Liang X, Xu Y, Wang Y, Huang Q, Li L (2022) Effects of exogenous additives on wheat Cd accumulation, soil Cd availability and physicochemical properties in Cd-contaminated agricultural soils: a meta-analysis. Sci Total Environ 808:152090

Wei X, Zhu Z, Liu Y, Luo Y, Deng Y, Xu X, Liu S, Richter A, Shibistova O, Guggenberger G, Wu J, Ge T (2020) C:N: P stoichiometry regulates soil organic carbon mineralization and concomitant shifts in microbial community composition in paddy soil. Biol Fertil Soils 56:1093–1107

Wu B, Cheng G, Jiao K, Shi W, Wang C, Xu H (2016) Mycoextraction by clitocybe maxima combined with metal immobilization by biochar and activated carbon in an aged soil. Sci Total Environ 562:732–739

Wu B, Hou S, Peng D, Wang Y, Wang C, Xu F, Xu H (2018) Response of soil micro-ecology to different levels of cadmium in alkaline soil. Ecotox Environ Safe 166:116–122

Wu W, Li X, Zhang X, Gu T, Qiu Y, Zhu M, Tan W (2020) Characteristics of oxidative stress and antioxidant defenses by a mixed culture of acidophilic bacteria in response to Co2+ exposure. Extremophiles 24(4):485–499

Wu J, Wang T, Wang J, Zhang Y, Pan W-P (2021) A novel modified method for the efficient removal of Pb and Cd from wastewater by biochar: enhanced the ion exchange and precipitation capacity. Sci Total Environ 754:142150

Xu FF, Imlay JA (2012) Silver (I), mercury (II), cadmium (II), and zinc (II) target exposed enzymic iron-sulfur clusters when they toxify Escherichia coli. Appl Environ Microb 78(10):3614–3621

Xu M, Xia H, Wu J, Yang G, Zhang X, Peng H, Yu X, Li L, Xiao H, Qi H (2017) Shifts in the relative abundance of bacteria after wine-lees-derived biochar intervention in multi metal-contaminated paddy soil. Sci Total Environ 599:1297–1307

Xu Y, Seshadri B, Sarkar B, Wang H, Rumpel C, Sparks D, Farrell M, Hall T, Yang X, Bolan N (2018) Biochar modulates heavy metal toxicity and improves microbial carbon use efficiency in soil. Sci Total Environ 621:148–159

Xu W, Whitman WB, Gundale MJ, Chien CC, Chiu CY (2021) Functional response of the soil microbial community to biochar applications. GCB Bioenergy 13(1):269–281

Yaganza E-S, Rioux D, Simard M, Arul J, Tweddell RJ (2004) Ultrastructural alterations of Erwinia carotovora subsp. atroseptica caused by treatment with aluminum chloride and sodium metabisulfite. Appl Environ Microb 70(11):6800–6808

Yao B, Hu Q, Zhang G, Yi Y, Xiao M, Wen D (2020) Effects of Elevated CO2 concentration and nitrogen addition on soil respiration in a Cd-contaminated experimental forest microcosm. Forests 11(3):260

Yu H, Ma J, Chen F, Zhang Q, Wang Y, Bian Z (2022) Effective remediation of electronic waste contaminated soil by the combination of metal immobilization and phytoremediation. J Environ Chem Eng 10(3):107410

Yuan P, Wang J, Pan Y, Shen B, Wu C (2019) Review of biochar for the management of contaminated soil: preparation, application and prospect. Sci Total Environ 659:473–490

Zahorec A, Reid ML, Tiemann LK, Landis DA (2022) Perennial grass bioenergy cropping systems: impacts on soil fauna and implications for soil carbon accrual. GCB Bioenergy 14(1):4–23

Zhang J, Zhang J, Wang M, Wu S, Wang H, Niazi NK, Man YB, Christie P, Shan S, Wong MH (2019) Effect of tobacco stem-derived biochar on soil metal immobilization and the cultivation of tobacco plant. J Soils Sediments 19(5):2313–2321

Zhang M, Zhang L, Riaz M, Xia H, Jiang C (2021) Biochar amendment improved fruit quality and soil properties and microbial communities at different depths in citrus production. J Clean Prod 292:126062

Zhang Y, Zhao C, Chen G, Zhou J, Chen Z, Li Z, Zhu J, Feng T, Chen Y (2020) Response of soil microbial communities to additions of straw biochar, iron oxide, and iron oxide-modified straw biochar in an arsenic-contaminated soil. Environ Sci Pollut Res 27(19):23761–23768

Zhao X, Wang J, Wang S, Xing G (2014) Successive straw biochar application as a strategy to sequester carbon and improve fertility: a pot experiment with two rice/wheat rotations in paddy soil. Plant Soil 378(1):279–294

Zhao FJ, Ma Y, Zhu YG, Tang Z, McGrath SP (2015) Soil contamination in China: current status and mitigation strategies. Environ Sci Technol 49(2):750–759

Zhao Y, Gao J, Zhang W, Wang Z, Cui Y, Dai H, Li D, Zhang Y (2022) Robustness of the partial nitrification-anammox system exposing to triclosan wastewater: stress relieved by extracellular polymeric substances and resistance genes. Environ Res 206:112606

Zheng H, Wang X, Luo X, Wang Z, Xing B (2018) Biochar-induced negative carbon mineralization priming effects in a coastal wetland soil: roles of soil aggregation and microbial modulation. Sci Total Environ 610:951–960

Zheng C, Yang Z, Si M, Zhu F, Yang W, Zhao F, Shi Y (2021) Application of biochars in the remediation of chromium contamination: fabrication, mechanisms, and interfering species. J Hazard Mater 407:124376

Zhou T, Li L, Zhang X, Zheng J, Zheng J, Joseph S, Pan G (2016) Changes in organic carbon and nitrogen in soil with metal pollution by Cd, Cu, Pb and Zn: a meta-analysis. Eur J Soil Biol 67(2):237–246

Zhou H, Wang P, Chen D, Shi G, Cheng K, Bian R, Liu X, Zhang X, Zheng J, Crowley DE (2018) Short-term biochar manipulation of microbial nitrogen transformation in wheat rhizosphere of a metal contaminated Inceptisol from North China plain. Sci Total Environ 640:1287–1296

Zhu X, Chen B, Zhu L, Xing B (2017) Effects and mechanisms of biochar-microbe interactions in soil improvement and pollution remediation: a review. Environ Pollut 227:98–115
Acknowledgements
The authors gratefully acknowledge the financial support provided by the National Natural Science Foundation of China (Grant No U21A2023, 42207456) and the Scientific Research Foundation of the Institute of Geographic Sciences and Natural Resources Research, CAS (No. E0V00107YZ)
Funding
This study was funded by the National Natural Science Foundation of China (Grant No. U21A2023, 42207456), and the Scientific Research Foundation of the Institute of Geographic Sciences and Natural Resources Research, CAS (No. E0V00107YZ).
Ethics declarations
Competing interests
The authors declare that they have no known competing financial interests or personal relationships that could have appeared to influence the work reported in this paper.
Additional information
Handling editor: Xiangke Wang
Rights and permissions
Open Access This article is licensed under a Creative Commons Attribution 4.0 International License, which permits use, sharing, adaptation, distribution and reproduction in any medium or format, as long as you give appropriate credit to the original author(s) and the source, provide a link to the Creative Commons licence, and indicate if changes were made. The images or other third party material in this article are included in the article's Creative Commons licence, unless indicated otherwise in a credit line to the material. If material is not included in the article's Creative Commons licence and your intended use is not permitted by statutory regulation or exceeds the permitted use, you will need to obtain permission directly from the copyright holder. To view a copy of this licence, visit http://creativecommons.org/licenses/by/4.0/.
About this article
Cite this article
Yang, X., You, M., Liu, S. et al. Microbial responses towards biochar application in potentially toxic element (PTE) contaminated soil: a critical review on effects and potential mechanisms. Biochar 5, 57 (2023). https://doi.org/10.1007/s42773-023-00255-5
Received:

Revised:

Accepted:

Published:

DOI: https://doi.org/10.1007/s42773-023-00255-5
Keywords