Abstract
There is little understanding as to whether the addition of biochar requires less fertilizer to obtain the potential yield. Furthermore, the additional yield ascribed to the non-nutrient effects of biochar is ambiguously quantified. Therefore, this study is aimed to elucidate the influence of biochar application rate and production temperature on (i) marginal agronomic efficiency (AELN), (ii) potential yield (Yopt), (iii) the amount of mineral fertilizer required to obtain the potential yield (Fopt); and (iv) nutrient use efficiency. AELN, Yopt and Fopt were calculated after fitting the yield response at different levels of mineral fertilizer with a second-degree polynomial. Application of biochar reduced marginal agronomic efficiency, implying that the plant utilized the applied nutrient more efficiently without biochar at a low dose of mineral fertilizer. Biochar increased potential yield but required more mineral fertilizer to obtain the optimum yield. The non-nutrient associated effect of biochar reached to 39% and is mainly attributed to its liming effect. The effect of biochar on AELN, Yopt, Fopt, fertilizer use efficiency and soil pH were more pronounced at the higher application rate. Addition of biochar, however, increased soil Mehlich-P and carbon content, irrespective of production temperature and application rate. This study demonstrated that the short-term effect of biochar application on fertilizer utilization should be examined with caution in low-input cropping systems because the biochar effects were dependent on fertilizer level, biochar application rate, production temperature and their interactions. Further manipulative experiments are recommended to identify the mechanisms that explain the non-nutrient effect of biochar on yield.
Access options
Buy single article
Instant access to the full article PDF.
USD 39.95
Price excludes VAT (USA)
Tax calculation will be finalised during checkout.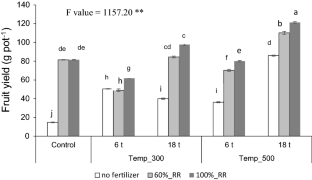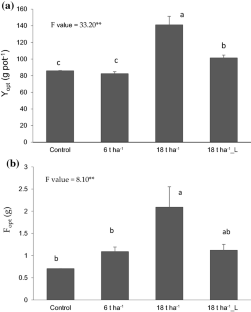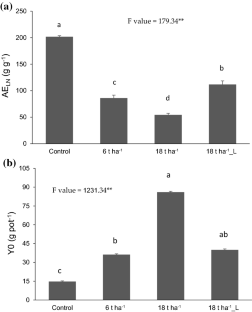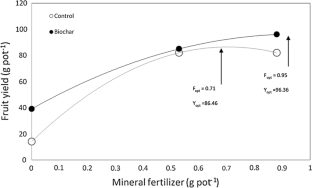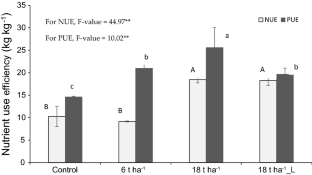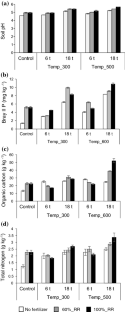 References
Alburquerque JA, Salazar P, Barrón V, Torrent J, del Campillo MC, Gallardo A, Villar R (2013) Enhanced wheat yield by biochar addition under different mineral fertilization levels. Agron Sustain Dev 33:475–484. https://doi.org/10.1007/s13593-012-0128-3

Ameloot N, Sleutel S, Das KC, Kanagaratnam J, De Neve S (2015) Biochar amendment to soils with contrasting organic matter level: effects on N mineralization and biological soil properties. GCB Bioenergy 7:135–144. https://doi.org/10.1111/gcbb.12119

Blanco-Canqui H (2017) Biochar and soil physical properties. Soil Sci Soc Am J 81:687–711. https://doi.org/10.2136/sssaj2017.01.0017

Cornelissen G, Jubaedah NNL, Hale SE, Martinsen V, Silvani L, Mulder J (2018) Fading positive effect of biochar on crop yield and soil acidity during five growth seasons in an Indonesian Ultisol. Sci total environ 634:561–568. https://doi.org/10.1016/j.scitotenv.2018.03.380

Ethiopia Institute of Agricultural Research (EIAR) (2007) Technology guideline for different crops. Addis Ababa, Ethiopia

Fang Y, Singh BP, Nazaries L, Keith A, Tavakkoli E, Wilson N, Singh B (2019) Interactive carbon priming, microbial response and biochar persistence in a Vertisol with varied inputs of biochar and labile organic matter. Eur J Soil sci. https://doi.org/10.1111/ejss.12808

Frank S, Havlík P, Stehfest E, van Meijl H, Witzke P et al (2019) Agricultural non-CO2 emission reduction potential in the context of the 1.5 °C target. Nat Clim Change 9:66–72. https://doi.org/10.1038/s41558-018-0358-8

Gao J, Zhao Y, Zhang W, Sui Y, Jin D, Xin W, Yi J, He D (2019) Biochar prepared at different pyrolysis temperatures affects urea-nitrogen immobilization and N2O emissions in paddy fields. Peer J 7:e7027. https://doi.org/10.7717/peerj.7027

Güereña DT, Kimetu J, Riha S, Neufeldt H, Lehmann J (2015) Maize productivity dynamics in response to mineral nutrient additions and legacy organic soil inputs of contrasting quality. Field Crops Res 188:113–120. https://doi.org/10.1016/j.fcr.2015.12.017

Hijbeek R, van Ittersum MK, ten Berge HFM, Gort G, Spiegel H, Whitmore AP (2017) Do organic inputs matter—a meta-analysis of additional yield effects for arable crops in Europe. Plant Soil 411:293–303. https://doi.org/10.1007/s11104-016-3031-x

Hood-Nowotny R, Watzinger A, Wawra A, Soja G (2018) The impact of biochar incorporation on inorganic nitrogen fertilizer plant uptake: an opportunity for carbon sequestration in temperate agriculture. Geosciences 8:420. https://doi.org/10.3390/geosciences8110420

Huang M, Fan L, Chen J, Jiang L, Zou Y (2018) Continuous applications of biochar to rice: effects on nitrogen uptake and utilization. Sci Rep 8:11461. https://doi.org/10.1038/s41598-018-29877-7

Jeffery S, Verheijen FJA, van der Velde M, Bastos AC (2011) A quantitative review of the effects of biochar application to soils on crop productivity using meta-analysis. Agr Ecosyst Environ 144:175–187. https://doi.org/10.1016/j.agee.2011.08.015

Jeffery S, Verheijen FGA, Kammann C, Abalos D (2016) Biochar effects on methane emissions from soils: a meta-analysis. Soil Biol Biochem 101:251–258. https://doi.org/10.1016/j.soilbio.2016.07.021

Jeffery S, Abalos D, Prodana M, Bastos AC, van Groenigen JW, Hungate BA et al (2017) Biochar boosts tropical but not temperate crop yields. Environ Res Lett 12:053001. https://doi.org/10.1088/1748-9326/aa67bd

Kätterer T, Roobroeck D, Andrén O, Kimutai G, Karltun E, Kirchmann H, Nyberg G, Vanlauwe B, de Nowina KR (2019) Biochar addition persistently increased soil fertility and yields in maize soybean rotations over 10 years in sub-humid regions of Kenya. Field Crops Res 235:18–26. https://doi.org/10.1016/j.fcr.2019.02.015

Lehmann J, Rillig MC, Thies J, Masiello CA, Hockaday WC, Crowley D (2011) Biochar effects on soil biota—a review. Soil Biol Biochem 43(9):1812–1836. https://doi.org/10.1016/j.soilbio.2011.04.022

Lehmann J, Kleber M (2015) The continuous nature of soil organic matter. Nat 528:60–68. https://doi.org/10.1038/nature16069

Oelofse M, Markussen B, Knudsen L, Schelde K, Olesen JE, Jensen LS, Bruun S (2015) Do soil organic carbon levels affect potential yields and nitrogen use efficiency? An analysis of winter wheat and spring barley field trials. Europ J Agronomy 66:62–73. https://doi.org/10.1016/j.eja.2015.02.009

Sarfraz R, Shakoor A, Abdullah M, Arooj A, Hussain A, Xing S (2017) Impact of integrated application of biochar and nitrogen fertilizers on maize growth and nitrogen recovery in alkaline calcareous soil. Soil Sci Plant Nutr 63(5):488–498. https://doi.org/10.1080/00380768.2017.1376225

Schjønning P, Jensen JL, Bruun S, Jensen LS et al (2018) The role of soil organic matter for maintaining crop yields: evidence for a renewed conceptual basis. Adv Agron 150:35–79. https://doi.org/10.1016/bs.agron.2018.03.001

Standard ASTM (2009) Standard test method for chemical analysis of wood charcoal. American Society for Testing and Materials, Conshohocken

Van Reeuwijk LP (1992) Procedures for soil analysis, 3rd Ed, International Soil Reference and Information Center (ISRIC), Wageningen

Wisnubroto EI, Hedley M, Hina K, Camps-Arbestain M (2010). The use of biochar from biosolids on waste treatment sandy soils: effect on the growth of rye grass. New Zealand Biochar Research Centre workshop, Massey University, Palmerston North, New Zealand

Woolf D, Amonette JE, Street-Perrott FA, Lehmann J, Joseph S (2010) Sustainable biochar to mitigate global climate change. Nat Commun 1:56

Zhelezova A, Cederlund H, Stenström J (2017) Effect of biochar amendment and ageing on adsorption and degradation of two herbicides. Water Air Soil Poll 228:216. https://doi.org/10.1007/s11270-017-3392-7
Acknowledgements
We gratefully acknowledge the United Nations Environment program for its funding of the "Biochar for sustainable soil" project (GEF-5824-GFL-5060-2770-4F17), for which this research work was one of the working packages. We acknowledge Mr. Abraham for his help during data collection. We greatly appreciate Mr. Bayu Dume, Mr. Zeleke Wondimu and Mr. Abiyot Hunde for their considerable help during laboratory work.
Ethics declarations
Conflicts of interest
The authors declare that they have no conflict of interest.
About this article
Cite this article
Melaku, T., Ambaw, G., Nigussie, A. et al. Short-term application of biochar increases the amount of fertilizer required to obtain potential yield and reduces marginal agronomic efficiency in high phosphorus-fixing soils. Biochar 2, 503–511 (2020). https://doi.org/10.1007/s42773-020-00059-x
Received:

Accepted:

Published:

Issue Date:

DOI: https://doi.org/10.1007/s42773-020-00059-x
Keywords