Abstract
Various materials have been extensively investigated to mimic the structures and functions of natural enzymes. We describe the discovery of a new catalytic property in the group of biochar-based carbonaceous materials, which are usually produced during biowaste thermal processing under specific conditions. The tested biochars exhibited peroxidase-like catalytic activity. Biomaterial feedstock, pyrolysis temperature, size of resulting biochar particles or biochar modification (e.g., magnetic particles deposition) influenced the peroxidase-like activity. Catalytic activity was measured with the chromogenic organic substrates N,N-diethyl-p-phenylenediamine (DPD) or 3,3′,5,5′-tetramethylbenzidine (TMB), in the presence of hydrogen peroxide. Magnetic biochar composite was studied as a complementary material, in which the presence of iron oxide particles enhances catalytic activity and enables smart magnetic separation of catalyst even from complex mixtures. The activity of the selected biochar had an optimum at pH 4 and temperature 32 °C; biochar catalyst can be reused ten times without the loss of activity. Using DPD as a substrate, Km values for native wood chip biochar and its magnetic derivative were 220 ± 5 μmol L−1 and 690 ± 80 μmol L−1, respectively, while Vmax values were 10.1 ± 0.3 μmol L−1 min−1 and 16.1 ± 0.4 μmol L−1 min−1, respectively. Biochar catalytic activity enabled the decolorization of crystal violet both in the model solution and the fish pond water containing suspended solids and dissolved organic matter. The observed biochar enzyme mimetic activity can thus find interesting applications in environmental technology for the degradation of selected xenobiotics. In general, this property predestines the low-cost biochar to be a perspective supplement or even substitution of common peroxidases in practical applications.
Access options
Buy single article
Instant access to the full article PDF.
USD 39.95
Price excludes VAT (USA)
Tax calculation will be finalised during checkout.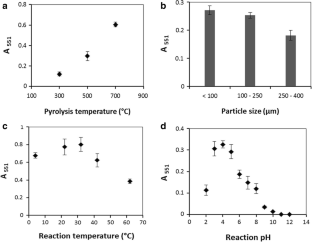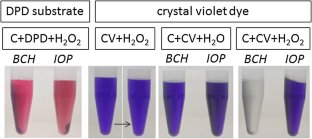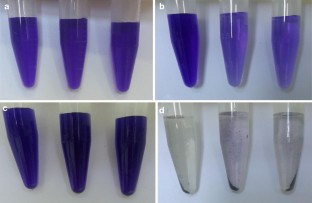 Abbreviations
A551 :

Absorbance values at wavelength 551 nm

AA:

Ascorbic acid

BCH:

Biochar

(M)BC1-3, LIM1-3, OL1-8, MC, IND:

various types of biochars (detailed info. in Table 1)

Table 1 Overview of biochar samples used for experiments

C:

Catalyst (BCH or IOP)

COD:

Chemical oxygen demand

CNTs:

Carbon nanotubes (SW—single walled)

CS:

Chromogenic substrate (DPD or TMB)

CV:

Crystal violet

CVM:

Cyclic voltammetry measurement

DPD:

N,N-diethyl-p-phenylenediamine

GCE:

Glassy carbon electrode

GO:

Graphene oxide (r—reduced)

GQDs:

Graphene quantum dots

HRP:

Horseradish peroxidase

IOP:

Magnetic iron oxide particles prepared by microwave-assisted synthesis

K m :

Michaelis constant

NPs:

Nanoparticles

NRs:

Nanorods

TMB:

3,3′,5,5′-tetramethylbenzidine

V max :

Maximal reaction velocity

WK, IM:

biochar suppliers (detailed info. in Table 1)
References
Asada T, Oikawa K, Kawata K, Ishihara S, Iyobe T, Yamada A (2004) Study of removal effect of bisphenol A and beta-estradiol by porous carbon. J Health Sci 50(6):588–593

Astruc D, Lu F, Aranzaes JR (2005) Nanoparticles as recyclable catalysts: the frontier between homogeneous and heterogeneous catalysis. Angew Chem-Int Ed 44:7852–7872

Bachmann HJ, Bucheli TD, Dieguez-Alonso A, Fabbri D, Knicker H, Schmidt HP, Ulbricht A, Becker R, Buscaroli A, Buerge D, Cross A, Dickinson D, Enders A, Esteves VI, Evangelou MWH, Fellet G, Friedrich K, Guerrero GG, Glaser B, Hanke UM, Hanley K, Hilber I, Kalderis D, Leifeld J, Masek O, Mumme J, Carmona MP, Pereira RC, Rees F, Rombola AG, de la Rosa JM, Sakrabani R, Sohi S, Soja G, Valagussa M, Verheijen F, Zehetner F (2016) Toward the standardization of biochar analysis: the COST Action TD1107 interlaboratory comparison. J Agric Food Chem 64(2):513–527

Bader H, Sturzenegger V, Hoigne J (1988) Photometric method for the determination of low concentrations of hydrogen peroxide by the peroxidase catalyzed oxidation of N,N-diethyl-p-phenylenediamine (DPD). Water Res 22(9):1109–1115

Bansal N, Kanwar SS (2013) Peroxidase(s) in environment protection. Sci World J 2013:9 (Article ID 714639)

Bhunia A, Durani S, Wangikar PP (2001) Horseradish peroxidase catalyzed degradation of industrially important dyes. Biotechnol Bioeng 72(5):562–567

Bilal M, Asgher M, Parra-Saldivar R, Hu H, Wang W, Zhang X, Iqbal HMN (2017) Immobilized ligninolytic enzymes: an innovative and environmental responsive technology to tackle dye-based industrial pollutants—a review. Sci Total Environ 576:646–659

Cai X, Tanner EEL, Lin C, Ngamchuea K, Foord JS, Compton RG (2018) The mechanism of electrochemical reduction of hydrogen peroxide on silver nanoparticles. Phys Chem Chem Phys 20:1608–1614

Chang Q, Deng K, Zhu L, Jiang G, Yu C, Tang H (2009) Determination of hydrogen peroxide with the aid of peroxidase-like Fe3O4 magnetic nanoparticles as the catalyst. Microchim Acta 165(3):299

Chen W, Chen J, Feng Y-B, Hong L, Chen Q-Y, Wu L-F, Lin X-H, Xia X-H (2012) Peroxidase-like activity of water-soluble cupric oxide nanoparticles and its analytical application for detection of hydrogen peroxide and glucose. Analyst 137(7):1706–1712

Chen X, Zhai N, Snyder JH, Chen QS, Liu PP, Jin LF, Zheng QX, Lin FC, Hu JM, Zhou HN (2015) Colorimetric detection of Hg2+ and Pb2+ based on peroxidase-like activity of graphene oxide-gold nanohybrids. Anal Methods 7(5):1951–1957

Chuah LF, Klemeš JJ, Yusup S, Bokhari A, Akbar MM (2017) A review of cleaner intensification technologies in biodiesel production. J Clean Product 146:181–193

Cui R, Han Z, Zhu J-J (2011) Helical carbon nanotubes: intrinsic peroxidase catalytic activity and its application for biocatalysis and biosensing. Chem Eur J 17(34):9377–9384

Deng HH, Hong GL, Lin FL, Liu AL, Xia XH, Chen W (2016) Colorimetric detection of urea, urease, and urease inhibitor based on the peroxidase-like activity of gold nanoparticles. Anal Chim Acta 915:74–80

Ding CP, Yan YH, Xiang DS, Zhang CL, Xian YZ (2016) Magnetic Fe3S4 nanoparticles with peroxidase-like activity, and their use in a photometric enzymatic glucose assay. Microchim Acta 183(2):625–631

Dixon M, Webb EC (1964) Enzymes, 2nd edn. Academic Press, New York

Dong W, Zhuang Y, Li S, Zhang X, Chai H, Huang Y (2018) High peroxidase-like activity of metallic cobalt nanoparticles encapsulated in metal–organic frameworks derived carbon for biosensing. Sens Actuator B Chem 255:2050–2057

EBC (2019) EBC European biochar certificate—Guidelines for a sustainable production of biochar. Version 8.3E of 1st September 2019. http://www.european-biochar.org/en/download

El-Naggar A, El-Naggar AH, Shaheen SM, Sarkar B, Chang SX, Tsang DCW, Rinklebe J, Ok YS (2019a) Biochar composition-dependent impacts on soil nutrient release, carbon mineralization, and potential environmental risk: a review. J Environ Manag 241:458–467

El-Naggar A, Lee SS, Rinklebe J, Farooq M, Song H, Sarmah AK, Zimmerman AR, Ahmad M, Shaheen SM, Ok YS (2019b) Biochar application to low fertility soils: a review of current status, and future prospects. Geoderma 337:536–554

Fang GD, Gao J, Liu C, Dionysiou DD, Wang Y, Zhou DM (2014) Key role of persistent free radicals in hydrogen peroxide activation by biochar: implications to organic contaminant degradation. Environ Sci Technol 48(3):1902–1910

Gao LZ, Zhuang J, Nie L, Zhang JB, Zhang Y, Gu N, Wang TH, Feng J, Yang DL, Perrett S, Yan X (2007) Intrinsic peroxidase-like activity of ferromagnetic nanoparticles. Nature Nanotechnol 2(9):577–583

Gao LZ, Giglio KM, Nelson JL, Sondermann H, Travis AJ (2014) Ferromagnetic nanoparticles with peroxidase-like activity enhance the cleavage of biological macromolecules for biofilm elimination. Nanoscale 6(5):2588–2593

Garg B, Bisht T, Ling YC (2015) Graphene-based nanomaterials as efficient peroxidase mimetic catalysts for biosensing applications: an overview. Molecules 20(8):14155–14190

Golchin J, Golchin K, Alidadian N, Ghaderi S, Eslamkhah S, Eslamkhah M, Akbarzadeh A (2017) Nanozyme applications in biology and medicine: an overview. Artif Cells Nanomed Biotechnol 45(6):1–8

Guo YL, Liu XY, Yang CD, Wang XD, Wang D, Iqbal A, Liu WS, Qin WW (2015) Synthesis and peroxidase-like activity of cobalt@carbon-dots hybrid material. ChemCatChem 7(16):2467–2474

Haider W, Hayat A, Raza Y, Chaudhry AA, Ihtesham Ur R, Marty JL (2015) Gold nanoparticle decorated single walled carbon nanotube nanocomposite with synergistic peroxidase like activity for d-alanine detection. RSC Adv 5(32):24853–24858

Han L, Zeng LX, Wei MD, Li CM, Liu AH (2015) A V2O3-ordered mesoporous carbon composite with novel peroxidase-like activity towards the glucose colorimetric assay. Nanoscale 7(27):11678–11685

Hayat A, Haider W, Raza Y, Marty JL (2015) Colorimetric cholesterol sensor based on peroxidase like activity of zinc oxide nanoparticles incorporated carbon nanotubes. Talanta 143:157–161

Huang M, Gu JL, Elangovan SP, Li YS, Zhao WR, Iijima T, Yamazaki Y, Shi JL (2013) Intrinsic peroxidase-like catalytic activity of hydrophilic mesoporous carbons. Chem Lett 42(8):785–787

Huang Y, Ren J, Qu X (2019) Nanozymes: classification, catalytic mechanisms, activity regulation, and applications. Chem Rev 119(6):4357–4412

Jiang T, Song Y, Wei TX, Li H, Du D, Zhu MJ, Lin YH (2016) Sensitive detection of Escherichia coli O157:H7 using Pt–Au bimetal nanoparticles with peroxidase-like amplification. Biosens Bioelectron 77:687–694

Jiao X, Song HJ, Zhao HH, Bai W, Zhang LC, Lv Y (2012) Well-redispersed ceria nanoparticles: promising peroxidase mimetics for H2O2 and glucose detection. Anal Methods 4(10):3261–3267

Jv Y, Li BX, Cao R (2010) Positively-charged gold nanoparticles as peroxidase mimic and their application in hydrogen peroxide and glucose detection. Chem Commun 46(42):8017–8019

Lee J, Kim K-H, Kwon EE (2017) Biochar as a catalyst. Renew Sust Energ Rev 77:70–79

Li RM, Zhen MM, Guan MR, Chen DQ, Zhang GQ, Ge JC, Gong P, Wang CR, Shu CY (2013a) A novel glucose colorimetric sensor based on intrinsic peroxidase-like activity of C-60-carboxyfullerenes. Biosens Bioelectron 47:502–507

Li X, Shen Q, Zhang D, Mei X, Ran W, Xu Y, Yu G (2013b) Functional groups determine biochar properties (pH and EC) as studied by two-dimensional 13C NMR correlation spectroscopy. PLoS One 8(6):e65949

Li R, Huang H, Wang JJ, Liang W, Gao P, Zhang Z, Xiao R, Zhou B, Zhang X (2019) Conversion of Cu(II)-polluted biomass into an environmentally benign Cu nanoparticles-embedded biochar composite and its potential use on cyanobacteria inhibition. J Clean Prod 216:25–32

Liu J-Z, Wang T-L, Ji L-N (2006) Enhanced dye decolorization efficiency by citraconic anhydride-modified horseradish peroxidase. J Mol Catal B Enzym 41(3–4):81–86

Melnikova L, Pospiskova K, Mitroova Z, Kopcansky P, Safarik I (2014) Peroxidase-like activity of magnetoferritin. Microchim Acta 181(3–4):295–301

Mu JS, Li J, Zhao X, Yang EC, Zhao XJ (2016) Cobalt-doped graphitic carbon nitride with enhanced peroxidase-like activity for wastewater treatment. RSC Adv 6(42):35568–35576

Oliveira FR, Patel AK, Jaisi DP, Adhikari S, Lu H, Khanal SK (2017) Environmental application of biochar: current status and perspectives. Bioresour Technol 246:110–122

Park JY, Jeong HY, Kim MI, Park TJ (2015) Colorimetric detection system for Salmonella typhimurium based on peroxidase-like activity of magnetic nanoparticles with DNA aptamers. J Nanomater 2015:2 (Article ID 527126)

Peng FF, Zhang Y, Gu N (2008) Size-dependent peroxidase-like catalytic activity of Fe3O4 nanoparticles. Chin Chem Lett 19(6):730–733

Peng YH, Wang ZY, Liu WS, Zhang HL, Zuo W, Tang HA, Chen FJ, Wang BD (2015) Size- and shape-dependent peroxidase-like catalytic activity of MnFe2O4 nanoparticles and their applications in highly efficient colorimetric detection of target cancer cells. Dalton Trans 44(28):12871–12877

Qambrani NA, Rahman MM, Won S, Shim S, Ra C (2017) Biochar properties and eco-friendly applications for climate change mitigation, waste management, and wastewater treatment: a review. Renew Sust Energ Rev 79:255–273

Qiao FM, Chen LJ, Li XN, Li LF, Ai SY (2014) Peroxidase-like activity of manganese selenide nanoparticles and its analytical application for visual detection of hydrogen peroxide and glucose. Sens Actuator B Chem 193:255–262

Safarik I, Safarikova M (2014) One-step magnetic modification of non-magnetic solid materials. Int J Mater Res 105(1):104–107

Safarik I, Maderova Z, Pospiskova K, Schmidt HP, Baldikova E, Filip J, Krizek M, Malina O, Safarikova M (2016) Magnetically modified biochar for organic xenobiotics removal. Water Sci Technol 74(7):1706–1715

Safavi A, Sedaghati F, Shahbaazi H, Farjami E (2012) Facile approach to the synthesis of carbon nanodots and their peroxidase mimetic function in azo dyes degradation. RSC Adv 2(19):7367–7370

Sewu DD, Boakye P, Woo SH (2017) Highly efficient adsorption of cationic dye by biochar produced with Korean cabbage waste. Bioresour Technol 224:206–213

Sharma B, Dangi AK, Shukla P (2018) Contemporary enzyme based technologies for bioremediation: a review. J Environ Manag 210:10–22

Singh B, Fang Y, Cowie BCC, Thomsen L (2014) NEXAFS and XPS characterisation of carbon functional groups of fresh and aged biochars. Org Geochem 77:1–10

Song Y, Qu K, Zhao C, Ren J, Qu X (2010) Graphene oxide: intrinsic peroxidase catalytic activity and its application to glucose detection. Adv Mater 22(19):2206–2210

Sun HY, Jiao XL, Han YY, Jiang Z, Chen DR (2013) Synthesis of Fe3O4–Au nanocomposites with enhanced peroxidase-like activity. Eur J Inorg Chem 1:109–114

Sun HJ, Zhao AD, Gao N, Li K, Ren JS, Qu XG (2015) Deciphering a nanocarbon-based artificial peroxidase: chemical identification of the catalytically active and substrate-binding sites on graphene quantum dots. Angew Chem Int Edit 54(24):7176–7180

Sun H, Zhou Y, Ren J, Qu X (2018) Carbon nanozymes: enzymatic properties, catalytic mechanism, and applications. Angew Chem Int Edit 57(30):9224–9237

Tian ZM, Li J, Zhang ZY, Gao W, Zhou XM, Qu YQ (2015) Highly sensitive and robust peroxidase-like activity of porous nanorods of ceria and their application for breast cancer detection. Biomaterials 59:116–124

Trazzi PA, Leahy JJ, Hayes MHB, Kwapinski W (2016) Adsorption and desorption of phosphate on biochars. J Environ Chem Eng 4(1):37–46

Ulson de Souza SMAG, Forgiarini E, Ulson de Souza AA (2007) Toxicity of textile dyes and their degradation by the enzyme horseradish peroxidase (HRP). J Hazard Mater 147(3):1073–1078

Varma RS (2016) Greener and sustainable trends in synthesis of organics and nanomaterials. ACS Sustain Chem Eng 4:5866–5878

Wan D, Li WB, Wang GH, Wei XB (2016) Shape-controllable synthesis of peroxidase-like Fe3O4 nanoparticles for catalytic removal of organic pollutants. J Mater Eng Perform 25(10):4333–4340

Wang S, Chen W, Liu AL, Hong L, Deng HH, Lin XH (2012a) Comparison of the peroxidase-like activity of unmodified, amino-modified, and citrate-capped gold nanoparticles. ChemPhysChem 13(5):1199–1204

Wang W, Jiang XP, Chen KZ (2012b) Iron phosphate microflowers as peroxidase mimic and superoxide dismutase mimic for biocatalysis and biosensing. Chem Commun 48(58):7289–7291

Wang RZ, Huang DL, Liu YG, Zhang C, Lai C, Wang X, Zeng GM, Gong XM, Duan A, Zhang Q, Xu P (2019) Recent advances in biochar-based catalysts: properties, applications and mechanisms for pollution remediation. Chem Eng J 371:380–403

Wei H, Wang EK (2013) Nanomaterials with enzyme-like characteristics (nanozymes): next-generation artificial enzymes. Chem Soc Rev 42(14):6060–6093

Wu XC, Zhang Y, Han T, Wu HX, Guo SW, Zhang JY (2014) Composite of graphene quantum dots and Fe3O4 nanoparticles: peroxidase activity and application in phenolic compound removal. RSC Adv 4(7):3299–3305

Wu J, Wang X, Wang Q, Lou Z, Li S, Zhu Y, Qin L, Wei H (2019) Nanomaterials with enzyme-like characteristics (nanozymes): next-generation artificial enzymes (II). Chem Soc Rev 48:1004–1076

Xie JX, Cao HY, Jiang H, Chen YJ, Shi WB, Zheng HZ, Huang YM (2013) Co3O4-reduced graphene oxide nanocomposite as an effective peroxidase mimetic and its application in visual biosensing of glucose. Anal Chim Acta 796:92–100

Yu YZ, Ju P, Zhang D, Han XX, Yin XF, Zheng L, Sun CJ (2016) Peroxidase-like activity of FeVO4 nanobelts and its analytical application for optical detection of hydrogen peroxide. Sens Actuator B Chem 233:162–172

Zhang Y, Xu C, Li B (2013) Self-assembly of hemin on carbon nanotube as highly active peroxidase mimetic and its application for biosensing. RSC Adv 3(17):6044–6050

Zhang K, Zuo W, Wang ZY, Liu J, Li TR, Wang BD, Yang ZY (2015) A simple route to CoFe2O4 nanoparticles with shape and size control and their tunable peroxidase-like activity. RSC Adv 5(14):10632–10640

Zheng AX, Zhang XL, Gao J, Liu XL, Liu JF (2016) Peroxidase-like catalytic activity of copper ions and its application for highly sensitive detection of glypican-3. Anal Chim Acta 941:87–93

Zhu WF, Zhang J, Jiang ZC, Wang WW, Liu XH (2014) High-quality carbon dots: synthesis, peroxidase-like activity and their application in the detection of H2O2, Ag+ and Fe3+. RSC Adv 4(33):17387–17392
Acknowledgements
This research was supported by the Ministry of the Interior of the Czech Republic (Project No. VI20162019017) and by the ERDF projects "New Composite Materials for Environmental Applications" (No. CZ.02.1.01/0.0/0.0/17_048/0007399) and "Development of pre-applied research in nanotechnology and biotechnology" (No. CZ.02.1.01/0.0/0.0/17_048/0007323).
Ethics declarations
Conflict of interest
There are no conflicts to declare.
Electronic supplementary material
Below is the link to the electronic supplementary material.
About this article
Cite this article
Safarik, I., Prochazkova, J., Baldikova, E. et al. Biochars and their magnetic derivatives as enzyme-like catalysts mimicking peroxidases. Biochar 2, 121–134 (2020). https://doi.org/10.1007/s42773-020-00035-5
Received:

Accepted:

Published:

Issue Date:

DOI: https://doi.org/10.1007/s42773-020-00035-5
Keywords
Peroxidase-like activity

Biochar

Magnetic iron oxides

Microwave synthesis