Abstract
Fungal infections are responsible for high morbidity and mortality in neonatal patients, especially in premature newborns. Infections in neonates caused by Cryptococcus spp. are rare, but it has occurred in an immunocompromised population. This study aims to describe the isolation of Cryptococcus liquefaciens from the hands of a health professional in a neonatal intensive care unit, and to evaluate the production of biofilm and virulence factors and susceptibility to antifungals. Antifungal susceptibility tests were performed according to Clinical and Laboratory Standard Institute document M27-A3. Thermotolerance virulence factors and DNase, phospholipase, proteinase, and hemolytic activities were verified through phenotypic tests; biofilm was evaluated by determining the metabolic activity and biomass. The isolate did not produce any of the tested enzymes and was susceptible to all antifungals (amphotericin B, fluconazole, and micafungin). The growth at 37 °C was very weak; however, the isolate showed a strong biomass production and low metabolic activity. This is the first report of C. liquefaciens isolated from the hands of a health professional. The isolate did not express any of the studied virulence factors in vitro, except for the low growth at 37 °C in the first 48 h, and the strong production of biofilm biomass. Cryptococcus liquefaciens can remain in the environment for a long time and is a human pathogen because it tolerates temperature variations. This report draws attention to the circulation of rare species in critical locations, information that may help in a fast and correct diagnosis and, consequently, implementation of an appropriate treatment.
Access options
Buy single article
Instant access to the full article PDF.
US$ 39.95
Tax calculation will be finalised during checkout.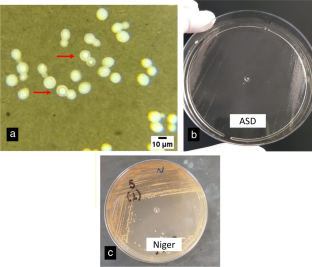 Data availability
All data generated or analyzed during this study are included in this published article.
References
1.

King J, Pana ZD, Lehrnbecher T, Steinbach WJ, Warris A (2017) Recognition and clinical presentation of invasive fungal disease in neonates and children. J Pediatric Infect Dis Soc 6(S1):S12-21. https://doi.org/10.1093/jpids/pix053

2.

Gupta M, Mishra AK, Singh SK (2018) Cryptococcus laurentii fungemia in a low birth weight pretermneonate: India. J Infect Public Health 11:896–897. https://doi.org/10.1016/j.jiph.2018.04.012

3.

Gaona-Flores VA, Campos-Navarro LA, Cervantes-Tovar RM, Alcalá-Martínez E (2016) The epidemiology of fungemia in an infectious diseases hospital in Mexico city: a 10-year retrospective review. Med Mycol 54(6):600–604. https://doi.org/10.1093/mmy/myw017

4.

Nakwan N, Ngerncham S, Srisuparp P, Lapphra K, Chokephaibulkit K (2008) Cryptococcus neoformans septicemia in an immunocompetent neonate: first case report in Thailand. Southeast Asian J Trop Med Public Health 39(4):697–700

5.

Gyimesi A, Bátor A, Görög P, Telegdy E, Szepes É, Kappéter Á, Gyulai R et al (2017) Cutaneous Cryptococcus albidus infection. Int J Dermatol 56(4):452–454. https://doi.org/10.1111/ijd.13576

6.

Takemura H, Ohno H, Miura I, Takagi T, Ohyanagi T, Kunishima H et al (2015) The first reported case of central venous catheter-related fungemia caused by Cryptococcus liquefaciens. J Infect Chemother 21(5):392–4. https://doi.org/10.1016/j.jiac.2014.11.007

7.

Conde-Pereira C, Rodas-Rodríguez L, Díaz-Paz M, Palacios-Rivera H, Firacative C, Meyer W, Alcázar-Castillo M (2015) Fatal case of polymicrobial meningitis caused by Cryptococcus liquefaciens and Mycobacterium tuberculosis complex in a human immunodeficiency virus-infected patient. J Clin Microbiol 53(8):2753–2755. https://doi.org/10.1128/JCM.00840-15

8.

Riceto ÉBM, Menezes RP, Penatti MPA, Pedroso RS (2015) Enzymatic and hemolytic activity in different Candida species. Rev Iberoam Micol. 32(2):79–82. https://doi.org/10.1016/j.riam.2013.11.003

9.

American Society for Testing and Materials International (2006) ASTM E 1174–06: standard test method for evaluation of the effectiveness of healthcare personnel handwash formulations. American Society for Testing and Materials, West Conshohocken

10

Oplustil CP, Zoccoli CM, Tobouti NR, Sinto SI (2000) Procedimentos básicos em microbiologia clínica. Sarvier, São Paulo

11.

Campos FL, Baroni FA (2010) Isolados de Cryptococcus neoformans, C. gattii e C. laurentii produtores de protease e fosfolipase. Rev Patol Trop 39(2):83–9. https://doi.org/10.5216/rpt.v39i2.10724

12.

Rorig KCO, Colacite J, Abegg MA (2009) Production of virulence factors in vitro by pathogenic species of the genus Candida. Rev Soc Bras Med Trop 42(2):225–227. https://doi.org/10.1590/S0037-86822009000200029

13.

Costa-Orlandi CB, Sardi JCO, Santos CT, Fusco-Almeida AM, Mendes-Giannini MJS (2014) In vitro characterization of Trichophyton rubrum and T. mentagrophytes biofilms. Biofouling 30(6):719–27. https://doi.org/10.1080/08927014.2014.919282

14.

Pierce CG, Uppuluri P, Tristan AR, Wormley FL Jr, Mowat E, Ramage G, Lopez-Ribot JL (2008) A simple and reproducible 96- well plate-based method for the formation of fungal biofilms and its application to antifungal susceptibility testing. Nat Protoc 3(9):1494–1500. https://doi.org/10.1038/nport.2008.141

15.

Marcos-Zambrano LJ, Escribano P, Bouza E, Guiné J (2014) Production of biofilm by Candida and non-Candida spp. isolates causing fungemia: comparison of biomass production and metabolic activity and development of cut-off points. Int J Med Microbiol 304(8):1192–98. https://doi.org/10.1016/j.ijmm.2014.08.012

16.

Clinical and Laboratory Standards Institute (CLSI) (2008) Reference method for broth dilution antifungal susceptibility testing of yeasts. Approved standard-M27-A3-S3, 3rd ed. Clinical and Laboratory Standards Institute, Wayne, PA.

17.

Khawcharoenporn T, Apisarnthanarak A, Mundy LM (2007) Non-neoformans cryptococcal infections. Infection 35(2):51–58. https://doi.org/10.1007/s15010-007-6142-8

18.

Brito MO, Bessa MAS, Menezes RP, Röder DVDB, Penatti MPA, Pimenta JP, Aguiar PADF et al (2019) Isolation of Cryptococcus species from the external environments of hospital and academic areas. J Infect Dev Ctries 13(6):545–53. https://doi.org/10.3855/jidc.10849

19.

Sugita T, Saito M, Ito T, Kato Y, Tsuboi R, Takeuchi S, Nishikawa A (2003) The basidiomycetous yeasts Cryptococcus diffluens and C. liquefaciens colonize the skin of patients with atopic dermatitis. Microbiol Immunol 47(12):945–50. https://doi.org/10.1111/j.1348-0421.2003.tb03468.x

20.

Araújo GRS, Souza W, Frases S (2017) The hidden pathogenic potential of environmental fungi. Future Microbiol 12(16):1533–40. https://doi.org/10.2217/fmb-2017-0124

21.

O'Reilly DA (2016) A rare case of neonatal cryptococcal meningitis in an HIV-unexposed 2-day-old infant: the youngest to date? Paediatr Int Child Health 36(2):154–156. https://doi.org/10.1179/2046905515Y.0000000018

22

Cheng MF, Chiou CC, Liu YC, Wang HZ, Hsieh KS (2001) Cryptococcus laurentii fungemia in a premature neonate. J Clin Microbiol 39(4):1608–11. https://doi.org/10.1128/JCM.39.4.1608-1611.2001

23.

Almirante B, Rodríguez D (2007) Antifungal agents in neonates: issues and recommendations. Pediatr Drugs 9(5):311–321. https://doi.org/10.2165/00148581-200709050-00004

24.

Guidelines in Cryptococcosis – 2008 (2008) Os desafios da criptococose em nosso país. Rev Soc Bras Med Trop 41(5):524–544

25.

Pedroso RS, Ferreira JC, Candido RC (2009) The isolation and characterization of virulence factors of Cryptococcus spp. from saprophytic sources in the city of Ribeirão Preto, São Paulo Brazil. Microbiol Res 164(2):221–27. https://doi.org/10.1016/j.micres.2007.01.002

26.

Santi L, Silva WOB, Berger M, Calzolari D, Guimarães JA, Moresco JJ, Yates JR (2014) Proteomic profile of Cryptococcus neoformans biofilm reveals changes in metabolic processes. J Proteome Res 13:1545–1559. https://doi.org/10.1021/pr401075f

27.

Mooney JA, Pridgen EM, Manasherob R, Suh G, Blackwell HE, Barron AE, Bollyky PL et al (2018) Periprosthetic bacterial biofilm and quorum sensing. J Orthop Res 36(9):2331–2339. https://doi.org/10.1002/jor.24019

28.

Menezes RP, Silva FF, Melo SGO, Alves PGV, Brito MO, Bessa MAS, Penatti MPA et al (2018) Characterization of Candida species isolated from the hands of the healthcare workers in the neonatal intensive care unit. Med Mycol 57(5):588–594. https://doi.org/10.1093/mmy/myy101

29.

Tartari E, Abbas M, Pires D, Kraker MEA, Pittet D (2017) World Health Organization SAVE LIVES: clean your hands global campaignd - 'fight antibiotic resistance – it's in your hands.' Clin Microbiol Infect 23(9):596–598. https://doi.org/10.1016/j.cmi.2017.04.021

30.

Loftusa MJ, Guitartb C, Tartarib E, Stewardsona AJ, Amer F, Bellissimo-Rodrigues F, Lee YF et al (2019) Hand hygiene in low- and middle-income countries. Int J Infect Dis 86:25–30. https://doi.org/10.1016/j.ijid.2019.06.002
Acknowledgements
The authors are grateful to the neonatal intensive care unit of the University Hospital of Uberlândia, the Technical Course in Clinical Analysis, and the Technical School of Health of the Federal University of Uberlândia (ESTES-UFU) for the research space. We thank Meliza Arantes de Souza Bessa for her collaboration in the registration of the photos and we also thank Rodrigo Augusto Machado de Moraes for helping in translating the article into English.
Funding
This study was funded by the Research Support Foundation of the State of Minas Gerais (FAPEMIG) (grant number APQ-00965–18). Priscila Guerino Vilela Alves and Nagela Bernadelli Souza e Silva received research grants from the Coordination for the Improvement of Higher Education Personnel (CAPES), and Renner Soares Cruvinel received a research grant from the National Council for Scientific and Technological Development (CNPQ). This study was financed in part by the Coordination for the Improvement of Higher Education Personnel - Brazil (CAPES) - Finance Code 001.
Ethics declarations
Ethics approval
This study was approved by the Research Ethics Committee of the Federal University of Uberlândia, under no. 2.645.323/2018.
Informed consent
The professional was informed about the research, and the collection was only carried out after he/she signed the informed consent form.
Conflict of interest
The authors declare no competing interests.
Additional information
Publisher's note
Springer Nature remains neutral with regard to jurisdictional claims in published maps and institutional affiliations.
Responsible Editor: Sandro Rogerio de Almeida
About this article
Cite this article
Alves, P.G.V., de Paula Menezes, R., de Oliveira Brito, M. et al. Cryptococcus liquefaciens isolated from the hand of a healthcare professional in a neonatal intensive care unit. Braz J Microbiol (2021). https://doi.org/10.1007/s42770-021-00601-4
Received:

Accepted:

Published:
Keywords
Cryptococcus liquefaciens

Hands

Neonates

Biofilm

Fungal infections

Virulence factors