Abstract
Salmonella is one of the most important foodborne zoonotic pathogens, and becoming multidrug-resistant (MDR), which represents a serious public health concern worldwide. This study aimed to identify the circulating MDR strains of Salmonella through cutting edge molecular techniques including gene specific PCR, RAPD-PCR, ribosomal gene sequencing, and multilocus sequence types (MLST) in the poultry industry of Bangladesh. Two hundred Salmonella isolates were retrieved from 154 samples comprising droppings (n = 60), cloacal swabs (n = 60), feeds (n = 14), feeding water (n = 14), and handler's swab (n = 6) from 14 commercial layer farms of Bangladesh. The isolates were confirmed as Salmonella through invA gene specific PCR, and further genotyping was done by RAPD-PCR, and 16S rRNA sequencing. The isolates were distributed into 18 different genotypes according to RAPD typing. The phylogenetic analysis identified three diverging phylogroups such as S. enterica Litchfield, S. enterica Enteritidis and S. enterica Kentucky with 11, 8, and 6 strains, respectively. The in vitro antibiogram profiling the Salmonella isolates through disc diffusion method using 13 commercially available antibiotics revealed highest resistance against doxycycline (91.5%) followed by tetracycline and ampicillin (86.0%, in each), and 72.0% isolates as MDR, being resistant to ≥ 5 antibiotics. The MLST typing was carried out based on the PCR amplification of seven housekeeping genes (aroC, hisD, hemD, purE, secA, thrA, and dnaN). MLST typing also revealed three sequence types (STs) such as ST11, ST198, and ST214 in these isolates, and eBURST analysis showed ST11 as the founder genotype. The three STs were highly resistant to tetracyclines and quinolone group of antibiotics, and all of the isolates harboring S. enterica Litchfield showed the highest resistance. Circulating common MLSTs with MDR properties in different farms confirmed the possibility of a common route of intra-farm transmission. We report for the first time of the association serovar Litchfield (ST11) in avian salmonellosis with MDR properties which is an urgent public health concern in Bangladesh.
Access options
Buy single article
Instant access to the full article PDF.
US$ 39.95
Tax calculation will be finalised during checkout.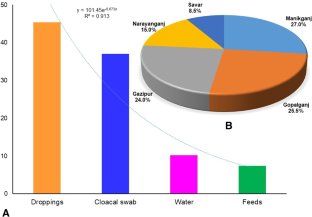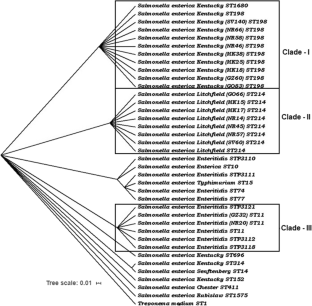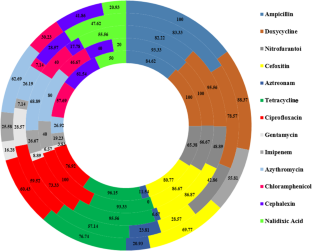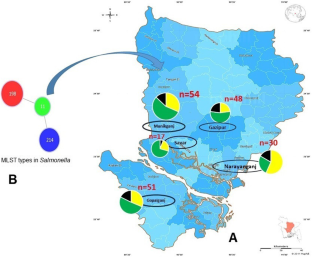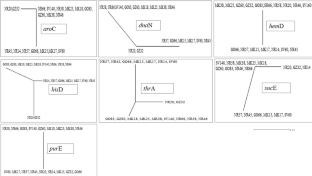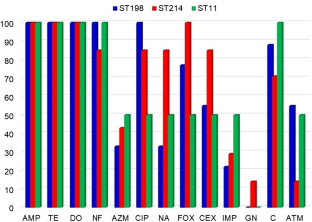 References
1.

Chattaway MA, Langridge GC, Wain J (2021) Salmonella nomenclature in the genomic era: a time for change. Sci Rep 11:7494

2.

Sedeik ME, Nahed A, Awad AM, Elfeky SM, Abd El-Hack ME, Hussein EO, Alowaimer AN, Swelum AA (2019) Isolation, conventional and molecular characterization of Salmonella spp. from newly hatched broiler chicks. AMB Express 9(1):136

3.

Soultose N, Koidis P, Madden RH (2003) Prevalence of Listeria and Salmonellae in retail chicken in Northern Ireland. Letter in Applied Microbiology 37(5):421–423

4.

Helms M, Vastrup P, Gerner-Smidt P, Mølbak K (2002) Excess mortality associated with antimicrobial drug-resistant Salmonella Typhimurium. Emerg Infect Dis 8(5):490

5.

Li R, Lai J, Wang Y, Liu S, Li Y, Liu K, Wu C (2013) Prevalence and characterization of Salmonella species isolated from pigs, ducks and chickens in Sichuan Province. China International Journal of Food Microbiology 163(1):14–18

6.

Nair VT, D., Venkitanarayanan, K. and Kollanoor Johny, A. (2018) Antibiotic-resistant Salmonella in the food supply and the potential role of antibiotic alternatives for control. Foods 7(10):167

7.

Baratto CM, Gelinski JMLN, Bernardi AZ, Marafon A, Braun F (2012) Potential use of molecular-typing methods for the identification and characterization of Salmonella enterica serotypes isolated in the poultry production chain. Braz J Poultry Sci 14(3):173–179

8.

Kotetishvili M, Stine OC, Kreger A, Morris JJG, Sulakvelidze A (2002) Multilocus sequence typing for characterization of clinical and environmental Salmonella strains. J Clin Microbiol 40(5):1626–1635

9.

Achtman M, Wain J, Weill FX, Nair S, Zhou Z, Sangal V, Dougan G (2012) Multilocus sequence typing as a replacement for serotyping in Salmonella enterica. PLoS Pathog 8(6):e1002776

10.

Prabakaran R (2003) Good practices in planning and management of integrated commercial poultry production in South Asia Food and Agricultural Organization of the United Nations. Rome 159, 71–82 

11.

Antunes P, Mourão J, Campos J, Peixe L (2016) Salmonellosis: the role of poultry meat. Clin Microbiol Infect 22(2):110–121

12.

Foley SL, Johnson TJ, Ricke SC, Nayak R, Danzeisen J (2013) Salmonella pathogenicity and host adaptation in chicken-associated serovars. Microbiol Mol Biol Rev 77(4):582–607

13.

Mendonça EP, de Melo RT, Nalevaiko PC, Monteiro GP, Fonseca BB, Galvão NN, Giombelli A, Rossi DA (2019) Spread of the serotypes and antimicrobial resistance in strains of Salmonella spp. isolated from broiler. Braz J Microbiol: [publication of the Brazilian Society for Microbiology] 50(2):515–522. https://doi.org/10.1007/s42770-019-00054-w

14.

Barua H, Biswas PK, Talukder KA, Olsen KE, Christensen JP (2014) Poultry as a possible source of non-typhoidal Salmonella enterica serovars in humans in Bangladesh. Vet Microbiol 168(2–4):372–380

15.

Le Hello S, Hendriksen RS, Doublet B, Fisher I, Nielsen EM, Whichard JM et al (2011) International spread of an epidemic population of Salmonella enterica serotype Kentucky ST198 resistant to ciprofloxacin. J Infect Dis 204(5):675–684

16.

Andrews WH Jacobson A Hammack (2014) BAM Chapter 5: Salmonella, p.5.01–05.020. In: Food and Drug Administration (ed) Bacteriological analytical manual, 8th ed. AOAC International, Gaithersburg

17.

Buchanan RE, Gibbons NE (1949) Bergey's manual of determinative bacteriology. Williams & Wilkins

18.

Guibourdenche M, Roggentin P, Mikoleit M, Fields PI, Bockemühl J, Grimont PA et al (2010) Supplement 2003–2007 (No. 47) to the White-Kauffmann-Le Minor scheme . Res Microbiol 161(1):26–29

19.

Saha O, Hoque MN, Islam OK, Rahaman M, Sultana M, Hossain MA (2020) Multidrug-Resistant avian pathogenic Escherichia coli strains and association of their virulence genes in Bangladesh. Microorganisms 8(8):1135

20.

Hoque MN, Istiaq A, Clement RA, Sultana M, Crandall KA, Siddiki AZ, Hossain MA (2019) Metagenomic deep sequencing reveals association of microbiome signature with functional biases in bovine mastitis. Sci Rep 9(1):1–14

21.

Nandi SP, Sultana M, Hossain MA (2013) Prevalence and characterization of multidrug-resistant zoonotic Enterobacterspp. in poultry of Bangladesh. Foodborne Pathog Dis 10(5):420–427

22.

Rahn K, De Grandis SA, Clarke RC, McEwen SA, Galan JE, Ginocchio C, Curtiss R, Gyles CL (1992) Amplification of an invA gene sequence of Salmonella typhimurium by polymerase chain reaction as a specific method of detection of Salmonella. Mol Cell Probes 6(4):271–279

23.

Hejazi A, Keane CT, Falkiner FR (1997) The use of RAPD-PCR as a typing method for Serratia marcescens. J Med Microbiol 46(11):913–919

24.

Kumar S, Stecher G, Tamura K (2016) MEGA7: Molecular Evolutionary Genetics Analysis version 7.0 for bigger datasets. Mol Biol Evol 33(7):1870–1874

25.

CLSI (2020) Performance Standards for Antimicrobial Susceptibility Testing. 30th Ed CLSI Supplement M100. Wayne, PA: Clinical and laboratory Standards Institute 2020 (https://clsi.org/media/3481/m100ed30_sample.pdf)

26.

Hoque MN, Das ZC, Rahman ANMA, Haider MG, Islam MA (2018) Molecular characterization of Staphylococcus aureus strains in bovine mastitis milk in Bangladesh. Int J Vet Sci Med 6(1):53–60

27.

Turner KM, Hanage WP, Fraser C, Connor TR, Spratt BG (2007) Assessing the reliability of eBURST using simulated populations with known ancestry. BMC Microbiol 7(1):1–14

28.

Francisco AP, Bugalho M, Ramirez M, Carriço JA (2009) Global optimal eBURST analysis of multilocus typing data using a graphic matroid approach. BMC Bioinformatics 10(1):152

29.

Huson DH, Bryant D (2005) Application of phylogenetic networks in evolutionary studies. Mol Biol Evol 23(2):254–267

30.

Hoque MN, Istiaq A, Clement RA, Gibson KM, Saha O, Islam OK, Hossain MA (2020) Insights into the resistome of bovine clinical mastitis microbiome, a key factor in disease complication. Front Microbiol 11:860

31.

Magiorakos AP, Srinivasan A, Carey RB, Carmeliy F, M.E., Giske, C.G., and Paterson, D.L. (2012) Multidrug-resistant, extensively drug-resistant and pandrug-resistant bacteria: an international expert proposal for interim standard definitions for acquired resistance. Clin Microbiol Infect 18(3):268–281

32.

World Organization for Animal Health (O.I.E.) (2015) World Animal Health Information System. Available from: <Available from: http://www.oie.int/wahis_2/public/wahid.php/Diseaseinformation/Diseasetimelines >. Accessed: Jan. 15, 2015

33.

Threlfall EJ, Wain J, Peters T, Lane C, de Pinna E, Little CL, Davies RH (2014) Egg-borne infections of humans with Salmonella: not only an S Enteritidis Problem. Worlds Poult Sci J 70(1):15–26

34.

Borges KA, Furian TQ, Souza SND, Salle CTP, Moraes HLDS, Nascimento VPD (2019) Antimicrobial resistance and molecular characterization of Salmonella enterica serotypes isolated from poultry sources in Brazil. Braz J Poult Sci 21(1):1–6

35.

Suresh T, Hatha AAM, Sreenivasan D, Sangeetha N, Lashamanaperumalsamy P (2006) Prevalence and antimicrobial resistance of Salmonella enteritidis and other Salmonellas in the eggs and egg-storing trays from retails markets of Coimbatore. South India Food Microbiol 23(3):294–299

36.

Petrovic R, Chai LC, Usha MR, Lee HY, Fatimah AB, Farinazleen MG, Son R (2011) Characterization of Salmonella enterica isolated from street food and clinical samples in Malaysia. Asian Food J 14(3):161–173

37.

Alam SB, Mahmud M, Akter R, Hasan M, Sobur A, Nazir KHM, Noreddin A, Rahman T, El Zowalaty ME, Rahman M (2020) Molecular detection of multidrug resistant Salmonella Species isolated from broiler farm in Bangladesh. Pathogens 9(3):201

38.

Islam MM, Islam MN, Sharifuzzaman FM, Rahman MA, Sharifuzzaman JU, Sarker EH, Shahiduzzaman M, Mostofa M, Sharifuzzaman MM (2014) Isolation and identification of Escherichia coli and Salmonella from poultry litter and feed. Int J Nat Soc Sci 1(1):1–7

39.

Shanmugasamy M, Velayutham T, Rajeswar J (2011) Inv A gene specific PCR for detection of Salmonella from broilers. Vet World 4(12):562

40.

Henton MM, Eagar HA, Swan GE, Van Vuuren M (2011) Antibiotic management and resistance in livestock production. SAMJ: South Afr Med J 101(8):583–586

41.

Parvej MS, Nazir KNH, Rahman MB, Jahan M, Khan MFR, Rahman M (2016) Prevalence and characterization of multi-drug resistant Salmonella Enterica serovar Gallinarum biovar Pullorum and Gallinarum from chicken. Veterinary World 9(1):65

42.

Aditya A (2015) Drug resistant Salmonella in broiler chicken sold at local market in Bangladesh and its public health significance. Afr J Biotech 14(43):2995–3000

43.

Samanta I, Joardar SN, Das PK, Sar TK, Bandyopadhyay S, Dutta TK, Sarkar U (2014) Prevalence and antibiotic resistance profiles of Salmonella serotypes isolated from backyard poultry flocks in West Bengal. India Journal of Applied Poultry Research 23(3):536–545

44.

Patel SR, Bharti S, Pratap CB, Nath G (2017) Drug Resistance Pattern in the Recent Isolates of Salmonella Typhi with Special Reference to Cephalosporins and Azithromycin in the Gangetic Plain. J Clin Diagn Res 11:DM01–DM03

45.

Hooda Y Sajib MS Rahman H Luby SP Bondy-Denomy J Santosham M, ... Saha S (2019) Molecular mechanism of azithromycin resistance among typhoidal Salmonella strains in Bangladesh identified through passive pediatric surveillance. PLoS Neglected Tropical Diseases, 13(11), e0007868

46.

Sabat AJ, Budimir A, Nashev D, Sá-Leão R, van Dijl JM, Laurent F et al (2013) Overview of molecular typing methods for outbreak detection and epidemiological surveillance. Euro Surveill 18(4):20380

47.

Campioni F, Pitondo-Silva A, Bergamini AM, Falcão JP (2015) Comparison of four molecular methods to type Salmonella Enteritidis strains. APMIS 123(5):422–426

48.

Torpdahl M, Skov MN, Sandvang D, Baggesen DL (2005) Genotypic characterization of Salmonella by multilocus sequence typing, pulsed-field gel electrophoresis and amplified fragment length polymorphism. J Microbiol Methods 63(2):173–184

49.

Howe K, Salehi S, Hartford Bailey R, Brooks JP, Wills R, Lawrence ML, Karsi A (2017) Supplemental invasion of Salmonella from the perspective of Salmonella enterica serovars Kentucky and Typhimurium. BMC Microbiol 17(1):88

50.

Xu Q, Yin Y, Liu D, Zhang J, Wu Q, Tian P, Shi X, Wang D (2018) Prevalence and characterization of Salmonella serovars isolated from farm products in Shanhai. Food Control 85:269–275

51.

Noda T, Murakami K, Asai T, Etoh Y, Ishihara T, Kuroki T et al (2011) Multi-locus sequence typing of Salmonella enterica subsp. enterica serovar Enteritidis strains in Japan between 1973 and 2004. Acta Vet Scand 53(1):38

52.

Doublet B, Praud K, Bertrand S, Collard JM, Weill FX, Cloeckaert A (2008) Novel insertion sequence- and transposon-mediated genetic rearrangements in genomic island SGI1 of Salmonella enterica serovar Kentucky. Antimicrob Agents Chemother 52(10):3745–3754

53.

Sultana M, Bilkis R, Diba F, Hossain MA (2014) Predominance of Multidrug Resistant Zoonotic Salmonella Enteritidis Genotypes in Poultry of Bangladesh. J Poult Sci 51(4):424–434

54.

Orji MU, Onuigbo HC, Mbata TI (2005) Isolation of Salmonella from poultry droppings and other environmental sources in Awka. Nigeria International Journal of Infectious Diseases 9(2):86–89

55.

Hoque MN, Istiaq A, Rahman MS, Islam MR, Anwar A, Siddiki AZ, Sultana M, Crandall KA, Hossain MA (2020) Microbiome dynamics and genomic determinants of bovine mastitis. Genomics 112(6):5188–5203
Acknowledgements
The authors would like to acknowledge Bangladesh Academy of Science–United States Department of Agriculture (BAS–USDA) (Grant no: BAS -USDA PALS DU LSc-34) for supporting the project and a PhD student. We would like to further acknowledge University Grants Commission (UGC), Ministry of Science and Technology, Bangladesh, for supporting reagents and equipment.
Ethics declarations
Ethics approval and consent to participate
Ethical approval was granted from the Ethics Committee of the Faculty of Biological Sciences, University of Dhaka, Bangladesh who has approved the procedure under the Reference 71/Biol.Scs./2018-2019.
Competing interests
The authors declare that they have no competing interests.
Additional information
Publisher's Note
Springer Nature remains neutral with regard to jurisdictional claims in published maps and institutional affiliations.
Supplementary Information
Below is the link to the electronic supplementary material.
About this article
Cite this article
Sultana, K.F., Saha, O., Hoque, M.N. et al. Multilocus sequence typing of multidrug-resistant Salmonella strains circulating in poultry farms of Bangladesh. Braz J Microbiol (2021). https://doi.org/10.1007/s42770-021-00577-1
Received:

Accepted:

Published:
Keywords
Salmonella

MLST

MDR

Poultry farms

Bangladesh

Khandokar Fahmida Sultana

OtunSaha

And M. Nazmul Hoque contributed equally