Abstract
Given the need to understand the virulence profile of Proteus mirabilis isolates from cellulitis in broiler chickens and their ability to cause lesions, the present study aimed to characterize genotypically and phenotypically the virulence profiles of two strains of P. mirabilis isolated from cellulitis in broilers, as well as to evaluate their ability to experimentally reproduce the lesions in vivo. The strain with the highest virulence potential (LBUEL-A33) possessed mrpA, pmfA, ucaA, atfA (fimbriae), zapA, ptA (proteases), hpmA (hemolysin), and ireA (siderophore) genes, formed a very strong biofilm, and expressed the pattern of aggregative adhesion and cytotoxicity in Vero cells. The strain with the lowest virulence potential (LBUEL-A34) did not present the pmfA and ucaA genes, but expressed the pattern of aggregative adhesion, formed a strong biofilm, and did not show cytotoxicity. Both strains developed cellulitis in an animal model within 24 h post-inoculation (PI), and the degree of lesions was not significantly altered up to 120 h PI. The LBUEL-A33 strain was also inoculated in combination with an avian pathogenic Escherichia coli (APEC 046), and the lesions showed no significant changes from the individual inoculation of these two strains. Histological analysis showed that the LBUEL-A33 strain developed characteristic cellulitis lesions. Thus, both strains of P. mirabilis isolated in our study have several virulence factors and the ability to develop cellulitis in broilers.
Access options
Buy single article
Instant access to the full article PDF.
USD 39.95
Price excludes VAT (USA)
Tax calculation will be finalised during checkout.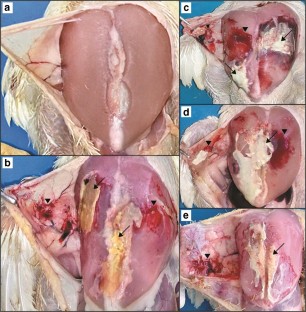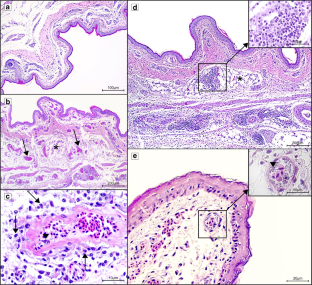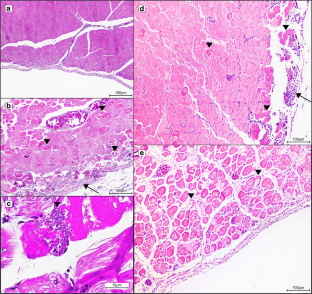 References
Fallavena LC, Moraes HL, Salle CT, Silva AB, Vargas RS, Nascimento VP, Canal CW (2000) Diagnosis of skin lesions in condemned or downgraded broiler carcasses – a microscopic and macroscopic study. Avian Pathol 29:557–562

Bianco C, Balanescu B, Cieslicka U, Balanescu P, Stefanov K, Lopez P, Hristova N (2016) The shades of avian cellulitis in meat-type chicken. Res Rev J Vet Sci 2:49–52

Macklin KS, Norton RA, McMurtrey BL (1999) Scratches as a component in the pathogenesis of avian cellulitis in broiler chickens exposed to cellulitis origin Escherichia coli isolates collected from different regions of the US. Avian Pathol 28:573–578

Nolan LK, Barnes HJ, Abdul-Aziz TA, Logue CM, Vaillancourt JP (2015) Colibacillosis. In: Brugère-Picoux J, Vaillancourt JP (eds) Manual of poultry diseases. AFAS, Paris, pp 301–315

Poulsen LL, Bisgaard M, Jorgensen SL, Dideriksen T, Pedersen JR, Christensen H (2018) Characterization of Escherichia coli causing cellulitis in broilers. Vet Microbiol 225:72–78

Gomis SM, Riddell C, Potter AA, Allan BJ (2001) Phenotypic and genotypic characterization of virulence factors of Escherichia coli isolated from broiler chickens with simultaneous occurrence of cellulitis and other colibacillosis lesions. Can J Vet Res 65:1–6

Santos MM, Alcântara ACM, Perecmanis S, Campos A, Santana AP (2014) Antimicrobial resistance of bacterial strains isolated from avian cellulitis. Braz J Poult Sci 16:13–18

Drzewiecka D (2016) Significance and roles of Proteus spp. Bacteria in natural environments. Microb Ecol 72:741–758

Armbruster CE, Mobley HLT, Pearson MM (2018) Pathogenesis of Proteus mirabilis infection. EcoSal Plus 8:1–123

Marques C, Belas A, Aboim C, Trigueiro G, Cavaco-Silva P, Gama LT, Pomba C (2018) Clonal relatedness of Proteus mirabilis strains causing urinary tract infections in companion animals and humans. Vet Microbiol 228:77–82

Pattanayak S, Kumar PR, Sahoo MK, Paul A, Sahoo PK (2018) First field-based evidence of association of Proteus mirabilis causing large scale mortality in Indian major carp farming. Aquac 495:435–442

Schaffer JN, Pearson MM (2015) Proteus mirabilis and urinary tract infections. Microbiol Spectr 3:1–39

Pearson MM, Sebaihia M, Churcher C, Quail MA, Seshasayee AS, Luscombe NM, Abdellah Z, Arrosmith C, Atkin B, Chillingworth T, Hauser H, Jagels K, Moule S, Mungall K, Norbertczak H, Rabbinowitsch E, Walker D, Whithead S, Thomson NR, Rather PN, Parkhill J, Mobley HLT (2008) Complete genome sequence of uropathogenic Proteus mirabilis, a master of both adherence and motility. J Bacteriol 190:4027–4037

Sanches MS, Baptista AAS, Souza M, Menck-Costa MF, Koga VL, Kobayashi RKT, Rocha SPD (2019) Genotypic and phenotypic profiles of virulence factors and antimicrobial resistance of Proteus mirabilis isolated from chicken carcasses: potential zoonotic risk. Braz J Microbiol 50:685–694

Johnson TJ, Wannemuehler Y, Doetkott C, Johnson SJ, Rosenberger SC, Nolan LK (2008) Identification of minimal predictors of avian pathogenic Escherichia coli (APEC) virulence for use as a rapid diagnostic tool. J Clin Microbiol 46:3987–3996

Rocha SP, Elias WP, Cianciarullo AM, Menezes MA, Nara JM, Piazza RM, Silva MR, Moreira CG, Pelayo JS (2007) Aggregative adherence of uropathogenic Proteus mirabilis to cultured epithelial cells. FEMS Immunol Med Microbiol 51:319–326

Zunino P, Geymonat L, Allen AG, Legnani-Fajardo C, Maskell DJ (2000) Virulence of a Proteus mirabilis ATF isogenic mutant is not impaired in a mouse model of ascending urinary tract infection. FEMS Immunol Med Microbiol 29:137–143

Cestari SE, Ludovico MS, Martins FH, Rocha SP, Elias WP, Pelayo JS (2013) Molecular detection of HpmA and HlyA Hemolysin of Uropathogenic Proteus mirabilis. Curr Microbiol 67:703–707

Cravioto A, Gross RJ, Scotland SM, Rowe B (1979) An adhesive factor found in strains of Escherichia coli belonging to the traditional infantile enteropathogenic serotypes. Curr Microbiol 3:95–99

Nataro JP, Deng Y, Cookson S, Cravioto A, Savarino SJ, Guers LD, Levine MM, Tacket CO (1995) Heterogeneity of Enteroaggregative Escherichia coli virulence demonstrated in volunteers. J Infect Dis 171:465–468

Kwiecinska-Piróg J, Bogiel T, Skowron K, Wieckowska E, Gospodarek E (2014) Proteus mirabilis biofilm - qualitative and quantitative colorimetric methods-based evaluation. Braz J Microbiol 45:1423–1431

Konowalchuk J, Speirs JL, Stavric S (1977) Vero response to a cytotoxin of Escherichia coli. Infect Immun 18:775–779

Murakami J, Kishi K, Hirai K, Hiramatsu K, Yamasaki T, Nasu M (2000) Macrolides and clindamycin suppress the release of Shiga-like toxins from Escherichia coli O157:H7 in vitro. Int J Antimicrob Agents 15:103–109

Yu J, Kaper JB (1992) Cloning and characterization of the eae gene of enterohaemorrhagic Escherichia coli O157:H7. Mol Microbiol 6:411–417

Norton RA, Bilgili SF, McMurtrey BC (1997) A reproducible model for the induction of avian cellulitis in broiler chickens. Avian Dis 41:422–428

Peighambari SM, Julian RJ, Vaillancourt JP, Gyles CL (1995) Escherichia coli cellulitis: experimental infections in broiler chickens. Avian Dis 39:125–134

Zunino P, Sosa V, Schlapp G, Allen AG, Preston A, Maskell DJ (2007) Mannose-resistant Proteus-like and P. mirabilis fimbriae have specific and additive roles in P. mirabilis urinary tract infections. FEMS Immunol Med Microbiol 51:125–133

Pellegrino R, Scavoane P, Umpiérrez A, Maskell DJ, Zunino P (2013) Proteus mirabilis uroepithelial cell adhesin (UCA) fimbria plays a role in the colonization of the urinary tract. Pathog Dis 67:104–107

Scavone P, Iribarnegaray V, Caetano AL, Schlapp G, Härtel S, Zunino P (2016) Fimbriae have distinguishable roles in Proteus mirabilis biofilm formation. Pathog Dis 74:1–9

Belas R, Manos J, Suvanasuthi R (2004) Proteus mirabilis ZapA metalloprotease degrades a broad Spectrum of substrates, including antimicrobial peptides. Infect Immun 72:5159–5167

Alamuri P, Mobley HL (2008) A novel autotransporter of uropathogenic Proteus mirabilis is both a cytotoxin and an agglutinin. Mol Microbiol 68:997–1017

Wang S, Xia Y, Dai J, Shi Z, Kou Y, Li H, Bao Y, Lu C (2011) Novel roles for autotransporter adhesin AatA of avian pathogenic Escherichia coli: colonization during infection and cell aggregation. FEMS Immunol Med Microbiol 63:328–338

Kostakioti M, Hadjifrangiskou M, Hultgren SJ (2013) Bacterial biofilms: development, dispersal, and therapeutic strategies in the dawn of the postantibiotic era. Cold Spring Harb Perspect Med 3:1–23

Mobley HL, Chippendale GR, Swihart KG, Welch RA (1991) Cytotoxicity of the HpmA hemolysin and urease of Proteus mirabilis and Proteus vulgaris against cultured human renal proximal tubular epithelial cells. Infect Immun 59:2036–2042

Messier S, Quessy S, Robinson Y, Devriese LA, Hommez J, Fairbrother JM (1993) Focal dermatitis and cellulitis in broiler chickens: bacteriological and pathological findings. Avian Dis 37:839–844

Onderka DK, Hanson JA, McMillan KR, Allan B (1997) Escherichia coli associated cellulitis in broilers: correlation with systemic infection and microscopic visceral lesions, and evaluation for skin trimming. Avian Dis 41:935–940

Quel NG, Aragão AZ, Salvadori MR, Farias AS, Joazeiro PP, Santos LM, Sá LR, Ferreira AJ, Yano T (2013) Cellulitis lesions in broiler chickens are induced by Escherichia coli vacuolating factor (ECVF). Vet Microbiol 162:866–872
Acknowledgments
We thank the State University of Londrina and the Laboratory of Virology of the State University of Londrina for the supply of the cell lines used in this study.
Funding
This study was financed by the Coordenação de Aperfeiçoamento de Pessoal de Nível Superior - Brasil (CAPES) - Finance Code 001.
Ethics declarations
All procedures reported here are in accordance with the ethical principles of animal experimentation adopted by the Ethics Committee on Animal Use (CEUA) of the State University of Londrina (CEUA/ UEL—protocol 25523.2017.93).
Conflict of interest
The authors declare that they have no conflict of interest.
Additional information
Responsible Editor: Beatriz Ernestina Cabilio Guth
Publisher's note
Springer Nature remains neutral with regard to jurisdictional claims in published maps and institutional affiliations.
About this article
Cite this article
Sanches, M.S., Baptista, A.A.S., de Souza, M. et al. Proteus mirabilis causing cellulitis in broiler chickens. Braz J Microbiol 51, 1353–1362 (2020). https://doi.org/10.1007/s42770-020-00240-1
Received:

Accepted:

Published:

Issue Date:

DOI: https://doi.org/10.1007/s42770-020-00240-1
Keywords