Abstract
Food Microbiology is included in majors such as Food Engineering, Food Science and Technology, Nutrition, Veterinary Medicine, Gastronomy, Pharmaceutical Sciences, among others. Food safety and hygiene are usually the focus, but the technological applications of microbes through fermentations are also covered. During an education symposium at the Brazilian Congress of Microbiology in 2017, a group of professors expressed their difficulties associated with teaching to new generations, the use of technology in the classroom, and the application of new learning tools. The objective of this study was to gather information about the educational practices among Brazilian professors who teach Food Microbiology throughout the country. The results indeed confirmed the diversity of careers in which food microbiology is taught. We verified that professors mixed traditional teaching strategies with modern active learning methods, even though some difficulties associated with lack of time, pedagogical training, and low adherence of students for adopting these modern methods were commonly highlighted. The preferred teaching approaches were dialogued or discussed lectures, seminars, homework, case studies, and field visits. It is noteworthy that most professors still use traditional teaching methods. It is crucial that awareness concerning the educational needs in different careers and the challenges and dilemmas facing education for the new generations should be dealt with by using effective teaching approaches in food microbiology education. We suggest that a more permanent discussion forum among faculty members dealing with food microbiology in the country should be launched and this work is a step towards this goal.
Access options
Buy single article
Instant access to the full article PDF.
US$ 39.95
Tax calculation will be finalised during checkout.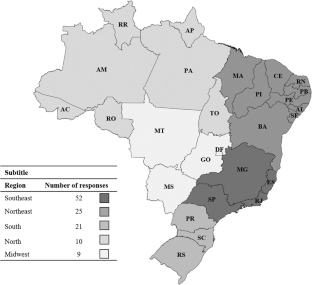 References
1.

Franco BDGM, Landgraf M (2008) Microbiologia de Alimentos. Editora Atheneu, São Paulo

2.

Martinez R, Bedani R, Saad S (2015) Scientific evidence for health effects attributed to the consumption of probiotics and prebiotics: an update for current perspectives and future challenges. Br J Nutr 114(12):1993–2015. https://doi.org/10.1017/S0007114515003864

3.

Gartaula G, Adhikari BM (2014) Challenges and prospects of food science and technology education: Nepal's perspective. Food Sci Nutr 2(6):623–627. https://doi.org/10.1002/fsn3.173

4.

Lerner H, Berg C (2015) The concept of health in One Health and some practical implications for research and education: what is One Health? Infect Ecol Epidemiol 5:25300. https://doi.org/10.3402/iee.v5.25300

5.

Inep (2017) Instituto Nacional de Estudos e Pesquisas Educacionais Anísio Teixeira. Sinopse Estatística da Educação Superior, 2016. [online]. Brasília: Inep, 2017. Available at: http://portal.inep.gov.br/basica-censo-escolar-sinopse-sinopse. Accessed 4 Aug 2018

6.

Brasil (2018a) Conselho Nacional de Educação. Diretrizes Curriculares – Cursos de Graduação. Available at: http://portal.mec.gov.br/component/content/article?id=12991. Accessed 4 Aug 2018

7.

Zeichner KM (2008) Uma análise crítica sobre a "reflexão" como conceito estruturante na formação docente. Educ Soc 29:535–554. https://doi.org/10.1590/S0101-73302008000200012

8.

Medeiros LP, Scandorieiro S, Kimura AH, Marques LA, Gonçalves GD, Aranome AMF, Nakazato G, Morey AT, Kobayashi RKT (2018) Reconhecendo a Microbiologia no nosso dia a dia pelo método PBL por estudantes do ensino médio. Luminária 19(01)

9.

Ovca A, Jevšnik M, Raspor P (2014) Food safety awareness, knowledge and practices among students in Slovenia. Food Control 42:144–151. https://doi.org/10.1016/j.foodcont.2014.01.036

10.

Ovca A, Jevšnik M, Raspor P (2018a) Food safety practices of future food handlers and their teachers, observed during practical lessons. Br Food J 120(3):531–548. https://doi.org/10.1108/BFJ-05-2017-0292

11.

Ovca A, Jevšnik M, Kavčič M, Raspor P (2018b) Food safety knowledge and attitudes among future professional food handlers. Food Control 84:345–353. https://doi.org/10.1016/j.foodcont.2017.08.011

12.

Fernandes CMB (2001) Docência universitária e os desafios da formação pedagógica. Interface (Botucatu) 5:177–188

13.

Mello GN (2000) Formação inicial de professores para a educação básica: uma (re) visão radical. Sao Paulo Perspec 14(1):98–110

14.

Saviani D, Almeida JS, Souza RF, Valdemarin VT (2017) O legado educacional do século XX no Brasil. Autores Associados, Brasil

15.

Schmidt SJ (2018) What do you teach? J Food Sci Educ 17:74–75. https://doi.org/10.1111/1541-4329.12146

16.

Libâneo JC (2015) Formação de Professores e Didática para Desenvolvimento Humano. Educ Real 40:629–650

17.

Ruiz-Corbella M, Aguilar-Feijoo RM (2017) Competencias del profesor universitario: elaboración y validación de un cuestionario de autoevaluación. Rev Iberoam Edu Sup 8:37–65

18.

Cotta RMM, Costa GDD, Mendonça ÉT (2013) Portfólio reflexivo: uma proposta de ensino e aprendizagem orientada por competências. Cien Saude Colet 18:1847–1856

19.

Ferreira JL, Carpim L, Behrens MA (2013) O professor universitário construindo conhecimentos inovadores para uma prática complexa, colaborativa e dialógica. Rev Dial Edu 13:69–84

20.

Knight JK, Wood WB (2005) Teaching more by lecturing less. Cell Biol Educ 4:298–310. https://doi.org/10.1187/05-06-0082

21.

Griffin CP, Howard S (2017) Restructuring the college classroom: a critical reflection on the use of collaborative strategies to target student engagement in higher education. Psychol Learn Teach 16:375–392. https://doi.org/10.1177/1475725717692681

22.

O'Flaherty J, Phillips C (2015) The use of flipped classrooms in higher education: a scoping review. Internet High Educ 25:85–95. https://doi.org/10.1016/j.iheduc.2015.02.002

23.

Junges KS, Behrens MA (2015) Prática docente no Ensino Superior: a formação pedagógica como mobilizadora de mudança. Perspectiva 33:285–317. https://doi.org/10.5007/2175-795X.2014v33n1p285

24.

Bardin L (1977) Análise de Conteúdo. Edições 70, LDA. Lisboa, Portugal

25.

Brasil (2016) Conselho Nacional de Saúde. Resolução n° 510/2016 – Dispõe sobre a pesquisa em Ciências Humanas e Sociais. Brasil: Ministério da Saúde, Brasília, DF. Available at: http://conselho.saude.gov.br/resolucoes/2016/reso510.pdf. Accessed 20 Feb 2019

26.

Francesconi M, Parey M (2018) Early gender gaps among university graduates. Eur Econ Rev 109:63–82. https://doi.org/10.1016/j.euroecorev.2018.02.004

27.

Inep (2016) Instituto Nacional de Estudos e Pesquisas Educacionais Anísio Teixeira. Resumo Técnico Censo da Educação Superior, 2ª edição, 2015. [online]. Brasília: Inep, 2016. Available at: http://download.inep.gov.br/educacao_superior/censo_superior/resumo_tecnico/resumo_tecnico_censo_da_educacao_superior_2015.pdf. Accessed 2 Sept 2018

28.

Brasil (2018b) Conselho Nacional de Educação. Programa de Apoio a Planos de Reestruturação e Expansão das Universidades Federais (REUNI). Available at: http://reuni.mec.gov.br/. Accessed 2 Sept 2018

29.

Brasil (1996) Lei de diretrizes e bases da educação brasileira. Brasília: Presidência da República. Available at: http://www2.camara.leg.br/legin/fed/lei/1996/lei-9394-20-dezembro-1996-362578-publicacaooriginal-1-pl.html. Accessed 13 Aug 2018

30.

Nóvoa A (2000) Universidade e formação docente. Interface (Botucatu) 4:129–138

31.

Veiga IPA (2006) Docência universitária na educação superior. In: Ristoff D, Savegnani P (Orgs) Docência na educação superior. Brasília: Instituto Nacional de Estudos e Pesquisas Educacionais Anísio Teixeira, pp 85–96

32.

Costa NMSC (2010) Pedagogical training of medicine professors. Rev Lat Am Enferm 18:102–108. https://doi.org/10.1590/S0104-11692010000100016

33.

Abreu Neto IP, Silva LEC, Costa NMSC, Lima Filho OS (2006) Percepção dos professores sobre o novo currículo de graduação da Faculdade de Medicina da UFG implantado em 2003. Rev Bras Educ Med 30:154–160. https://doi.org/10.1590/S0100-55022006000300006

34.

Lima GZ, Almeida HGG, Ferreira Filho OI, Linhares REC, Oberdiek HI, Colus IMS (2003) Aprendizagem baseada em problemas (ABP): construindo a capacitação em Londrina. Rev Bras Educ Med 27:5–11

35.

Bidabadi NS, Isfahani AN, Rouhollahi A, Khalili R (2016) Effective teaching methods in higher education: requirements and barriers. J Adv Med Educ Prof 4:170–178

36.

Silva LL (2017) Policies for training university professors in Sao Paulo, Brazil and Catalonia, Spain: trends and challenges. Educ Pesqui 43:113–126. https://doi.org/10.1590/s1517-9702201701158662

37.

Fernandes CMB (2003) Formação de professor universitário: tarefa de quem? In: Massetto M (ed) Docência na universidade. Papirus, Campinas

38.

Cirani CBS, Campanário MA, Silva HHM (2015) A evolução do ensino da pós-graduação senso estrito no Brasil: análise exploratória e proposições para pesquisa. Avaliação 20:163–187

39.

Zabalza MA (2004) O ensino universitário: seu cenário e seus protagonistas. Artmed, Porto Alegre

40.

Beatrix F (2017) Keeping education fresh—not just in microbiology. FEMS Microbiol Lett 364:21. https://doi.org/10.1093/femsle/fnx209

41.

James J (2017) The PERFORM project: using performing arts to increase engagement and understanding of science. FEMS Microbiol Lett 364:8. https://doi.org/10.1093/femsle/fnx076

42.

Masetto M (2004) Inovação na educação superior [Innovation in higher education]. Interface Comun Saúde Educ 8:197–202

43.

Freeman S, Eddy SL, McDonough M, Smith MK, Okoroafor N, Jordt H, Wenderoth MP (2014) Active learning increases student performance in science, engineering, and mathematics. Proc Natl Acad Sci 111:8410–8415. https://doi.org/10.1073/pnas.1319030111

44.

Sanceverino AR (2016) Pedagogical mediation in youth and adult education: existential needs and the dialogue as a foundation of education practice. Rev Bras Edu 21:455–475. https://doi.org/10.1590/S1413-24782016216524

45.

Anastasiou LGC, Alves LP (2006) Estratégias de Ensinagem. In: Anastasiou LGC, Alves LP (eds) Processos de Ensinagem na Universidade. Univille, Joinville

46.

Farias PAM, Martin ALAR, Cristo CS (2015) Aprendizagem ativa na Educação em Saúde: percurso histórico e aplicações. Rev Bras Educ Med 39:143–158

47.

Moran JM (2006) Ensino e aprendizagem inovadores com tecnologias audiovisuais e telemáticas. In: Moran JM, Masetto MT, Behrens MA (eds) Novas tecnologias e mediação pedagógica, 12. Ed., Campinas

48.

Valente JA (2002) Uso da internet em sala de aula. Educ rev 19:131–146. https://doi.org/10.1590/0104-4060.251

49.

Soares IO (2014) Educomunicação e educação midiática: vertentes históricas de aproximação entre comunicação e educação. Comunicação & educação 19:15–26. https://doi.org/10.11606/issn.2316-9125.v20i2p15-26

50.

Merkel SM (2016) American Society for Microbiology resources in support of an evidence-based approach to teaching microbiology. FEMS Microbiol Lett 363:16. https://doi.org/10.1093/femsle/fnw172

51.

Merkel SM, ASM Task Force on Curriculum Guidelines for Undergraduate Microbiology (2012) The development of curricular guidelines for introductory microbiology that focus on understanding. J Microbiol Biol Educ 13(1):32–38. https://doi.org/10.1128/jmbe.v13i1.363

52.

Bradforth SE, Miller ER, Dichtel WR, Leibovich AK, Fieg AL, Marin JD, Bjorkman KS, Zachary DS, Smith TL (2015) University learning: improve undergraduate science education. Nature 523(7560):282–284. https://doi.org/10.1038/523282a

53.

Hadar LL, Brody DL (2018) Individual growth and institutional advancement: the in-house model for teacher educators' professional learning. Teach Teach Educ 75:105–115. https://doi.org/10.1016/j.tate.2018.06.007
Acknowledgments
We would like to thank every professor who took the time to respond to our questionnaire. J.A.F.F. Finger acknowledges a scholarship provided by CNPq-Brasil.
Funding
The authors thank Sao Paulo Research Foundation (FAPESP) for financial support (2013/07914-8) to the Food Research Center.
Ethics declarations
Conflict of interest
The authors declare that they have no conflict of interest.
Ethical aspects of this research
According to Resolution 510 of April 07, 2016, from the Brazilian Health National Council (Conselho Nacional de Saúde), and considering the ethics, history, social, and cultural aspects related to research in the Social and Human Sciences, registration or evaluation of this research with the ethics committee of the University is not required. The first paragraph of the Resolution 510 states that "research of public opinion in which the participants are not identified" does not need to be registered nor evaluated by the ethics committee. Additionally, the informed consent from participants was obtained in the first step of the online questionnaire (please see supplemental material—online questionnaire). We start by explaining the terms of the research and emphasizing that the participant's information will remain anonymous and the system will not register the names of the respondents. Then, we formally ask the participants if they are willing to partake in the study.
Additional information
Publisher's note
Springer Nature remains neutral with regard to jurisdictional claims in published maps and institutional affiliations.
Responsible Editor: Marina Baquerizo Martinez
Electronic supplementary material
About this article
Cite this article
de A. F. F. Finger, J., de Menezes, J.B.F., de Melo Franco, B.D.G. et al. Challenges of teaching food microbiology in Brazil. Braz J Microbiol 51, 279–288 (2020). https://doi.org/10.1007/s42770-019-00107-0
Received:

Accepted:

Published:

Issue Date:
Keywords
Education

Food hygiene

Teaching

Food safety

Higher education