Abstract
Purpose
Determine the response of soil respiration and microbial biomass in planted and unplanted soil to drying and rewetting stress.
Methods
Barley was grown at high density in a loamy sand at 75% of water holding capacity to obtain planted soil. For unplanted soil, pots without plants were kept in the same conditions. After 4 weeks, soil from planted (brushed off the roots) and unplanted pots were used for the subsequent incubation experiment. For drying and rewetting (DRW), the soil was dried for 7 days immediately after collection of the soil. On day 8, the soil was rewet quickly to 75% of water holding capacity and kept moist until day 14. For the constantly moist treatment (CM), the soil was kept at 75% of WHC for 2 weeks.
Results
In CM, respiration rates were higher in planted than unplanted soil, but microbial biomass C (MBC) did not differ between planting treatments. In DRW, respiration rates rapidly decreased in the dry period, irrespective of planting treatment. The flush of respiration after rewetting was 50% greater in planted than unplanted soil. Only in planted soil, MBC doubled after rewetting (from day 7 to 9), but then halved again to day 14.
Conclusion
Previous planting increases organic C supply to microbes which increases the respiration flush after rewetting and microbial growth.
Access options
Buy single article
Instant access to the full article PDF.
USD 39.95
Price excludes VAT (USA)
Tax calculation will be finalised during checkout.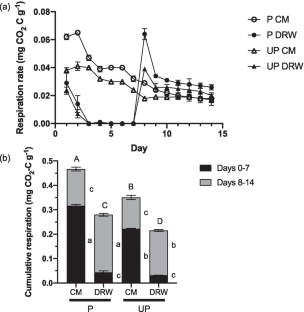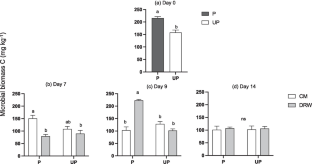 References
Anderson JM, Ingram JSI (1993) Tropical soil biology and fertility: a handbook of methods. CAB International, Wallingford, UK

Butterly CR, Buenemann EK, McNeill A, Baldock JA, Marschner P (2009) Carbon pulses but not phosphorus pulses are related to decreases in microbial biomass during repeated drying and rewetting of soils. Soil Biol Biochem 41:1409–1416. https://doi.org/10.1016/j.soilbio.2009.03.018

Butterly CR, Marschner P, McNeill AM, Baldock JA (2010) Rewetting CO2 pulses in Australian agricultural soils and the influence of soil properties. Biol Fert Soils 46:739–753. https://doi.org/10.1007/s00374-010-0481-9

De Nobili M, Contin M, Mondini C, Brookes PC (2001) Soil microbial biomass is triggered into activity by trace amounts of substrate. Soil Biol Biochem 33:1163–1170. https://doi.org/10.1016/s0038-0717(01)00020-7

Demoling F, Figueroa D, Bååth E (2007) Comparison of factors limiting bacterial growth in different soils. Soil Biol Biochem 39:2485–2495. https://doi.org/10.1016/j.soilbio.2007.05.002

Dennis PG, Miller AJ, Hirsch PR (2010) Are root exudates more important than other sources of rhizodeposits in structuring rhizosphere bacterial communities? FEMS Microbio Ecol 72:313–327. https://doi.org/10.1111/j.1574-6941.2010.00860.x

Elmajdoub B, Barnett S, Marschner P (2014) Response of microbial activity and biomass in rhizosphere and bulk soils to increasing salinity. Plant Soil 381:297–306. https://doi.org/10.1007/s11104-014-2127-4

Fierer N, Schimel JP (2003) A proposed mechanism for the pulse in carbon dioxide production commonly abserved following the rapid rewetting of a dry soil. Soil Sci Soc Am J 67:798–805. https://doi.org/10.2136/sssaj2003.0798

Fierer N, Schimel JP, Holden PA (2003) Influence of drying-rewetting frequency on soil bacterial community structure. Microb Ecol 45:63–71. https://doi.org/10.1007/s00248-002-1007-2

Gordon H, Haygarth PM, Bardgett RD (2008) Drying and rewetting effects on soil microbial community composition and nutrient leaching. Soil Biol Biochem 40:302–311. https://doi.org/10.1016/j.soilbio.2007.08.008

Grayston SJ, Vaughan D, Jones D (1997) Rhizosphere carbon flow in trees, in comparison with annual plants: the importance of root exudation and its impact on microbial activity and nutrient availability. Appl Soil Ecol 5:29–56. https://doi.org/10.1016/s0929-1393(96)00126-6

Harrison-Kirk T, Beare MH, Meenken ED, Condron LM (2014) Soil organic matter and texture affect responses to dry/wet cycles: changes in soil organic matter fractions and relationships with C and N mineralisation. Soil Biol Biochem 74:50–60. https://doi.org/10.1016/j.soilbio.2014.02.021

Marschner P (2012) Marschner's Mineral Nutrition of Higher Plants. Elsevier, London

Mikha MM, Rice CW, Milliken GA (2005) Carbon and nitrogen mineralization as affected by drying and wetting cycles. Soil Biol Biochem 37:339–347. https://doi.org/10.1016/j.soilbio.2004.08.003

Schimel JP (2018) Life in dry soils: effects of drought on soil microbial communities and processes. In:  Futuyma DJ (ed) Annual review of ecology, evolution, and systematics, vol 49. https://doi.org/10.1146/annurev-ecolsys-110617-062614

Schimel JP, Balser TC, Wallenstein M (2007) Microbial stress response physiology and its implications for ecosystem function. Ecology 88:1386–1394. https://doi.org/10.1890/06-0219

Seneviratne M, Alamgir M, Marschner P (2020) Impact of heating and rewetting on soil respiration and nutrient availability is enhanced by prior growth of plants. J Soil Sci Plant Nutr 20:925–932. https://doi.org/10.1007/s42729-020-00179-0

Setia R, Marschner P, Baldock JA, Chittleborough D, Smith P, Smith J (2011) Salinity effects on carbon mineralization in soils of varying texture. Soil Biol Biochem 43:1908–1916. https://doi.org/10.1016/j.soilbio.2011.05.013

Stark JM, Firestone MK (1995) Mechanisms for soil-moisture effects on activity of nitrifying bacteria. Appl Environ Microbiol 61:218–221. https://doi.org/10.1128/AEM.61.1.218-221.1995

Vance CP, Brookes PC, Jenkinson DS (1987) An extraction method for measuring soil microbial biomass C. Soil Biol Biochem 19:703–707. https://doi.org/10.1016/0038-0717(87)90052-6
Ethics declarations
Conflict of Interest
The authors declare no conflict of interest.
Additional information
Publisher's note
Springer Nature remains neutral with regard to jurisdictional claims in published maps and institutional affiliations.
About this article
Cite this article
Elmajdoub, B., Marschner, P. Response of Soil Respiration and Microbial Biomass to Drying and Rewetting Is Greater in Planted than in Unplanted Soil. J Soil Sci Plant Nutr 21, 2765–2769 (2021). https://doi.org/10.1007/s42729-021-00563-4
Received:

Accepted:

Published:

Issue Date:

DOI: https://doi.org/10.1007/s42729-021-00563-4
Keywords