Abstract
Soil fertility can be potentially improved and degradation can be retarded by replacing some of the chemical fertilizer with bio-fertilizer (BF). To optimize such change, BF was applied at substitution ratios of 0% (BF0), 30% (BF30), 50% (BF50), 70% (BF70), and 100% (BF100) in a field experiment in 2018 and 2019. Soil organic carbon (C) contents, stability, and organic C contents of aggregate fractions were determined in 0–20 cm layer. Soil organic C (SOC) increased with the increase in BF application rates, and the increases reached to 71.2% and 68.2% in 2018 and 2019 in BF100 treatment. Water-soluble organic C (WSOC) was highest in BF50 both years. Microbial biomass C (MBC) and KMnO4-oxidizable C contents were significantly increased by BF application. The decrease of basal respiration in BF100 was largest and reached to 26.06% in 2018 and 26.09% in 2019. Significant increases of mean weight diameter (3.16 mm in 2018 and 3.39 mm in 2019) were observed in BF50 compared with BF0. Organic C contents in aggregate fractions were highest in BF50 and more organic C accumulated in 0.053–0.25 mm aggregates in BF-amended soils. Bio-fertilizer combined with chemical fertilizer had stronger effects on stability and organic C content of aggregates in both years in comparison with control and bio-fertilizer treatments alone. This study provided insights into appropriate application of bio-fertilizer; BF50 was better for increasing soil C and improving soil aggregate stability in the given soil.
Access options
Buy single article
Instant access to the full article PDF.
US$ 39.95
Tax calculation will be finalised during checkout.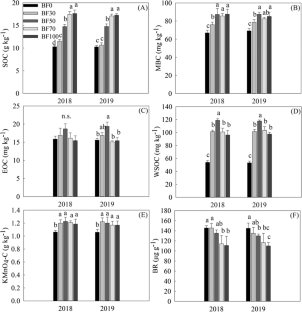 Funding
This research was financially supported by the National Key Research and Development Program of China (2018YFD0300704) and Foundation of He'nan Educational Committee (20B210025).
Ethics declarations
Competing Interests
The authors declare no competing interests.
Additional information
Publisher's Note
Springer Nature remains neutral with regard to jurisdictional claims in published maps and institutional affiliations.
About this article
Cite this article
Zhu, L., Zhang, F., Li, L. et al. Soil C and Aggregate Stability Were Promoted by Bio-fertilizer on the North China Plain. J Soil Sci Plant Nutr (2021). https://doi.org/10.1007/s42729-021-00527-8
Received:

Accepted:

Published:
Keywords
Anthrosols

Soil organic carbon

Carbon fractions

Bio-fertilizer

Soil aggregate