Abstract
We explored the membrane lipid and fatty acid composition and plant growth–promoting (PGP) mechanisms of two bacterial endophytes, Bacillus sp. E25 and Bacillus sp. CR71, under saline stress, that is known to be a major detriment to crop yield. Effect of single and co-inoculation of the strains on root and shoot lengths, relative chlorophyll content, and plant biomass in tomato plants (Lycopersicon esculentum cv Saladette) grown in greenhouses was also evaluated. Our results show that single and co-inoculated tomato plants with bacilli strains E25 and CR71, growing under normal or saline stress conditions (100 and 200 mM NaCl), exhibited an increase in root and shoot lengths, chlorophyll content, and biomass parameters, compared with control plants (uninoculated). Additionally, these bacilli strains were antagonistic toward fungal pathogens Fusarium oxysporum and (to a greater extent) Botrytis cinerea in the presence or absence of NaCl. Interestingly, both endophytes maintained good PGP activities, producing compounds like indole-3-acetic acid (IAA), proteases, siderophores, and biofilm. Saline conditions led to changes in membrane phospholipid and fatty acid levels in both. Phosphatidylethanolamine biosynthesis and branched (16:1∆9; 17:0i) and unsaturated fatty acids increased in E25; CR71 showed increase in relative amounts of the same fatty acids and accumulated an unidentified lipid. Bacillus strains E25 and CR71 differentially modify their membrane phospholipid composition as a protective mechanism, potentially for maintaining PGP activities, under saline stress.
Access options
Buy single article
Instant access to the full article PDF.
US$ 39.95
Tax calculation will be finalised during checkout.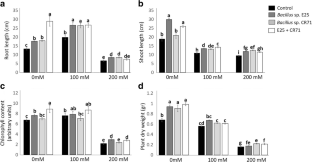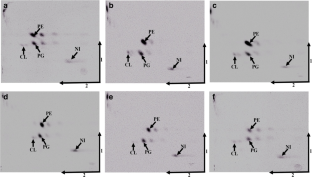 References
Aricha B, Fishov I, Cohen Z, Sikron N, Pesakhov S, Khozin-Goldberg I, Dagan R, Porat N (2004) Differences in membrane fluidity and fatty acid composition between phenotypic variants of Streptococcus pneumoniae. J Bacteriol 186:4638–4644. https://doi.org/10.1128/JB.186.14.4638-4644.2004

Bais H, Fall P, Vivanco M (2004) Biocontrol of Bacillus subtilis against infection of Arabidopsis roots by Pseudomonas syringae is facilitated by biofilm formation and surfactin production. Plant Physiol 134:307–319. https://doi.org/10.1104/pp.103.028712

Bakholdina S, Sanina N, Krasikova I, Popova O, Solov'eva T (2004) The impact of abiotic factors (temperature and glucose) on physicochemical properties of lipids from Yersinia pseudotuberculosis. Biochimie 86:875–881. https://doi.org/10.1016/j.biochi.2004.10.011

Bui N, Henderson L (2003) Vegetation indicators of soil salinity in north Queensland. Austral Ecol 28:539–552. https://doi.org/10.1046/j.1442-9993.2003.01311.x

Chen L, Liu Y, Wu G, Niger K, Shen Q, Zhang N, Zhang R (2016) Induced maize salt tolerance by rhizosphere inoculation of Bacillus amyloliquefaciens SQR9. Physiol Plant 158:34–44. https://doi.org/10.1111/ppl.12441

Chihib N, Tierny Y, Mary P, Hornez J (2005) Adaptational changes in cellular fatty acid branching and unsaturation of Aeromonas species as a response to growth temperature and salinity. Int J Food Microbiol 102:113–119. https://doi.org/10.1016/j.ijfoodmicro.2004.12.005

De los Santos-Villalobos S, Barrera-Galicia GC, Miranda-Salcedo MA, Peña-Cabriales J (2012) Burkholderia cepacia XXVI siderophore with biocontrol capacity against Colletotrichum gloeosporioides. World J Microbiol Biotech 28:2615–2623. https://doi.org/10.1007/s11274-012-1071-9

Dimkpa C, Weinand T, Ash F (2009) Plant-rhizobacteria interactions alleviate abiotic stress conditions. Plant Cell Environ 32:1682–1694. https://doi.org/10.1111/j.1365-3040.2009.02028.x

Donato M, Jurado A, Antunes-Madeira M, Madeira V (2000) Membrane lipid composition of Bacillus stearothermophilus as affected by lipophilic environmental pollutants: an approach to membrane toxicity assessment. Arch Environ Contam Toxicol 39:145–153. https://doi.org/10.1007/s002440010090

Dowhan W, Bogdanov M, Mileykovskaya E (2008) Functional roles of lipids in membranes in biochemistry of lipids, lipoproteins and membranes, D. E. Vance and J. E. Vance, Eds., Elsevier, Amsterdam, Te Netherlands

Glick B (2014) Bacteria with ACC deaminase can promote plant growth and help to feed the world. Microbiol Res 169:30–39. https://doi.org/10.1016/j.micres.2013.09.009

Härtig C, Loffhagen N, Harms H (2005) Formation of trans fatty acids is not involved in growth-linked membrane adaptation of Pseudomonas putida. Appl Environ Microbiol 71:1915–1922. https://doi.org/10.1128/AEM.71.4.1915-1922.2005

Hernández-León R, Rojas-Solis D, Contreras-Pérez M, Orozco-Mosqueda M, Macías-Rodríguez I, Reyes-de la Cruz H et al (2015) Characterization of the antifungal and plant growth-promoting effects of diffusible and volatile organic compounds produced by Pseudomonas fluorescens strains. Biol Control 81:83–92. https://doi.org/10.1016/j.biocontrol.2014.11.011

Jamil A, Riaz S, Ashraf M, Foolad M (2011) Gene expression profiling of plants under salt stress. Crit Rev Plant Sci 30:435–458. https://doi.org/10.1080/07352689.2011.605739

Kasim A, Gaafar R, Abou-Ali M, Omar N, Hewait M (2016) Effect of biofilm forming plant growth promoting rhizobacteria on salinity tolerance in barley. Ann Agric Sci 61:217–227. https://doi.org/10.1016/j.aoas.2016.07.003

Martínez OA, Encina C, Tomckowiack C, Droppelmann F, Jara R, Maldonado C, Muñoz O, García-Fraile P, Rivas R (2018) Serratia strains isolated from the rhizosphere of raulí (Nothofagus alpina) in volcanic soils harbour PGPR mechanisms and promote raulí plantlet growth. J Soil Sci Plant Nutr 18:804–819. https://doi.org/10.4067/S0718-95162018005002302

Mendis C, Thomas P, Schwientek P, Salamzade R, Chien J et al (2018) Strain-specific quantification of root colonization by plant growth promoting rhizobacteria Bacillus firmus I-1582 and Bacillus amyloliquefaciens QST713 in non-sterile soil and field conditions. PLoS One 13:0193119. https://doi.org/10.1371/journal.pone.0193119

Mohamed I, Gomaa E (2012) Effect of plant growth promoting Bacillus subtilis and Pseudomonas fluorescens on growth and pigment composition of radish plants (Raphanus sativus) under NaCl stress. Photosynthetica 50:263–272. https://doi.org/10.1007/s11099-012-0032-8

Morrison W, Smith L (1964) Preparation of fatty acid methyl esters and dimethylacetals from lipids with boron fluoride. J Lipid Res 5:600–608 http://www.jlr.org/content/5/4/600.full.pdf+html

Munns R (2005) Genes and salt tolerance: bringing them together. New Phytol 167:645–663. https://doi.org/10.1111/j.1469-8137.2005.01487.x

Murínová S, Dercová K (2014) Response mechanisms of bacterial degraders to environmental contaminants on the level of cell walls and cytoplasmic membrane. Int J Microbiol 2014:16. https://doi.org/10.1155/2014/873081

Orcutt M, Nilsen E (2000) The physiology of plants under stress: soil and biotic factors, 2da edn. John Wiley and Sons

Orozco-Mosqueda M, Duan J, Di Bernardo M, Zetter E, Campos-García J, Glick B, Santoyo G (2019) The production of ACC deaminase and trehalose by the plant growth promoting bacterium Pseudomonas sp. UW4 synergistically protect tomato plants against salt stress. Front Microbiol 10:1392. https://doi.org/10.3389/fmicb.2019.01392

Patten C, Glick B (2002) Role of Pseudomonas putida indole acetic acid in development of the host plant root system. Appl Environ Microb 68:3795–3801. https://doi.org/10.1128/aem.68.8.3795-3801.2002

Paulucci N, Gallarato A, Reguera B, Vicario C, Cesari B, García B, Dardanelli S (2015) Arachis hypogaea PGPR isolated from Argentina soil modifies its lipids components in response to temperature and salinity. Microbiol Res 173:0944–5013. https://doi.org/10.1016/j.micres.2014.12.012

Pierzynski G, Sims T, Vance F (2005) Soils and environmental quality, 3th edn. CRC Press Taylor & Francis Group, Florida

Qadir M, Oster D (2004) Crop and irrigation management strategies for saline-sodic soils and waters aimed at environmentally sustainable agriculture. Sci Total Environ 323:1–19. https://doi.org/10.1016/j.scitotenv.2003.10.012

Ramos J, Duques E, Rodriguez-Herva J, Godoy P, Haidour A, Reyes F et al (1997) Mechanisms for solvent tolerance in bacteria. J Biol Chem 272:3887–3890. https://doi.org/10.1074/jbc.272.7.3887

Rojas-Solis D, Zetter-Salmón E, Contreras-Pérez M, Rocha-Granados M, Macías-Rodriguez L, Santoyo G (2018) Pseudomonas stutzeri E25 and Stenotrophomonas maltophilia CR71 endophytes produce antifungal volatile organic compounds and exhibit additive plant growth-promoting effects. Biocat Agric Biotechnol 13:46–52. https://doi.org/10.1016/j.bcab.2017.11.007

Rojas-Solis D, Vences-Guzmán MA, Sohlenkamp C, Santoyo G (2020) Bacillus toyonensis COPE52 modifies lipid and fatty acid composition, exhibits antifungal activity, and stimulates growth of tomato plants under saline conditions. Curr Microbiol In press

Saghafi D, Ghorbanpour M, Lajayer BA (2018) Efficiency of Rhizobium strains as plant growth promoting rhizobacteria on morpho-physiological properties of Brassica napus L. under salinity stress. J Soil Sci Plant Nutr 18:253–268. https://doi.org/10.4067/S0718-95162018005000903

Santoyo G, Ma O-M, Govindappa M (2012) Mechanisms of biocontrol and plant growth-promoting activity in soil bacterial species of Bacillus and Pseudomonas: a review. Biocon Sci Technol 22:855–872. https://doi.org/10.1080/09583157.2012.694413

Santoyo G, Hernández-Pacheco C, Hernández-Salmerón J, Hernández-León C (2017) The role of abiotic factors modulating the plant-microbe-soil interactions: toward sustainable agriculture. A review. Span J Agric Res 15:15. https://doi.org/10.5424/sjar/2017151-9990

Santoyo G, Sánchez-Yáñez J, de los Santos-Villalobos S (2019) Methods for detecting biocontrol and plant growth-promoting traits in Rhizobacteria. In: Reinhardt D, Sharma A (eds) Methods in Rhizosphere Biology Research. Rhizosphere Biology. Springer, Singapore

Shrivastava P, Kumar R (2016) Soil salinity: a serious environmental issue and plant growth promoting bacteria as one of the tools for its alleviation. Saudi J Biol Sci 22:123–131. https://doi.org/10.1016/j.sjbs.2014.12.001

Sohlenkamp C, Geiger O (2016) Bacterial membrane lipids: diversity in structures and pathways. FEMS Microbiol Rev 40:133–159. https://doi.org/10.1093/femsre/fuv008

Ti-Yu L, Douglas W (2016) Organization and function of anionic phospholipids in bacteria. Appl Microbiol Biotechnol 100:4255–4267. https://doi.org/10.1007/s00253-016-7468-x

Vences-Guzmán MA, Guan Z, Ormeño-Orrillo E, González-Silva N, López-Lara I, Martínez-Romero E, Geiger O, Sohlenkamp C (2011) Hidroxylated ornithine lipids increase stress tolerance in Rhizobium tropici CIAT899. Mol Microbiol 79:1496–1514. https://doi.org/10.1111/j.1365-2958.2011.07535.x

Wei H, Zhang L (2006) Quorum-sensing system influences root colonization and biological control ability in Pseudomonas fluorescens 2P24. Anton Van Leeuw 89:267–280. https://doi.org/10.1007/s10482-005-9028-8

Yensen P (2008) Halophyte uses for the twenty-first century. In: Khan MA, Weber DJ (eds) Ecophysiology of high salinity tolerant plants. Springer, Dordrecht, pp 367–396
Acknowledgments
DR-S thanks a Ph.D. scholarship from Consejo Nacional de Ciencia y Tecnología, México.
Funding
This study was funded by Consejo Nacional de Ciencia y Tecnología, México (Grant number: A1-S-15956) and CIC-UMSNH (2019–2020).
Ethics declarations
Conflict of Interest
The authors declare that they have no conflict of interest.
Additional information
Publisher's Note
Springer Nature remains neutral with regard to jurisdictional claims in published maps and institutional affiliations.
Electronic Supplementary Material
About this article
Cite this article
Rojas-Solis, D., Vences-Guzmán, M.Á., Sohlenkamp, C. et al. Antifungal and Plant Growth–Promoting Bacillus under Saline Stress Modify their Membrane Composition. J Soil Sci Plant Nutr 20, 1549–1559 (2020). https://doi.org/10.1007/s42729-020-00246-6
Received:

Accepted:

Published:

Issue Date:
Keywords
Plant growth–promoting bacteria

Soil salinity

Fatty acids

Phospholipids

Tomato plants

Antifungal action