Abstract
Intercropping is an agricultural system that facilitates mutualistic and commensalist interactions among crops. The objective of this research was to test the hypothesis that intercropping with greater plant richness produces more roots that improves microbial activity, which in turn, contributes to soil physical structure that improves soil chemistry parameters, crop yield, and land use. We performed a field experiment in a randomized block design, utilizing beans (Phaseolus vulgaris), maize (Zea mays), and eggplant (Solanum melongena), under monoculture or intercropping systems. Root and soil biological, physical and chemical parameters, crop yield and land equivalent ratios were analyzed. Increased plant richness as a function of the intercropping system did not affect root and soil parameters. However, principal component analysis indicated that intercropping affected root density, mass, and length, which, in turn, contributed to the formation of soil aggregates, increased microbial activity and to the improvement of soil chemical parameters. Furthermore, as consequence of increased plant richness, the maize-beans-eggplant intercropping facilitated the positive interactions among the species and led to a Land Equivalent Ratio (LER) 60% higher than the monoculture systems. The production of roots in the crop systems, regardless of species richness, stimulates soil biological activity and affects the quality of physical structure and fertility indicators of the soil. Crop systems with higher richness of plant species promote positive interactions between plants and soil and results in a better land use ratio.
Access options
Buy single article
Instant access to the full article PDF.
US$ 39.95
Tax calculation will be finalised during checkout.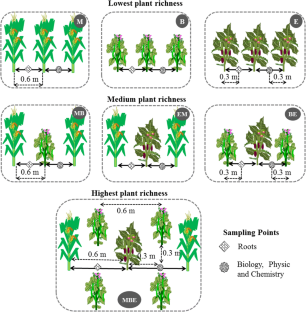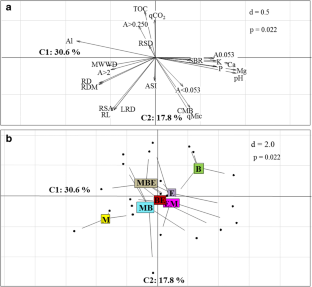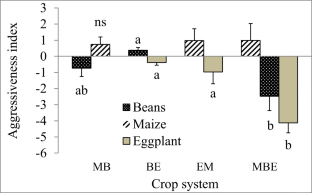 References
Alvares CA, Stape JL, Sentelhas PC et al (2013) Köppen's climate classification map for Brazil. Meteorol Z 22:711–728. https://doi.org/10.1127/0941-2948/2013/0507

Anderson JPE, Domsch KH (1978) A physiological method for the quantitative measurement of microbial biomass in soils. Soil Biol Biochem 10:215–221. https://doi.org/10.1016/0038-0717(78)90099-8

Bargaz A, Noyce GL, Fulthorpe R et al (2017) Species interactions enhance root allocation, microbial diversity and P acquisition in intercropped wheat and soybean under P deficiency. Appl Soil Ecol 120:179–188. https://doi.org/10.1016/j.apsoil.2017.08.011

Böhm W (1979) Methods of studying root systems. Springer-Verlag, Berlin Heidelberg

Brooker RW, Bennett AE, Cong WF, Daniell TJ, George TS, Hallett PD, Hawes C, Iannetta PP, Jones HG, Karley AJ, Li L, McKenzie B, Pakeman RJ, Paterson E, Schöb C, Shen J, Squire G, Watson CA, Zhang C, Zhang F, Zhang J, White PJ (2015) Improving intercropping: a synthesis of research in agronomy, plant physiology and ecology. New Phytol 206:107–117. https://doi.org/10.1111/nph.13132

Brouwer C, Heibloem M (1985) Irrigation water needs. Irrigation water management training manual, 1a edn. FAO, Roma

Brumme R, Borken W, Prenzel J (2009) Soil respiration. In: Alef K, Nannipieri P (eds) Methods in applied soil microbiology and biochemistry. Academic P, London, pp 337–351

Chaparro JM, Sheflin AM, Manter DK, Vivanco JM (2012) Manipulating the soil microbiome to increase soil health and plant fertility. Biol Fertil Soils 48:489–499. https://doi.org/10.1007/s00374-012-0691-4

Cong WF, van Ruijven J, Mommer L et al (2014) Plant species richness promotes soil carbon and nitrogen stocks in grasslands without legumes. J Ecol 102:1163–1170. https://doi.org/10.1111/1365-2745.12280

Cong WF, Hoffland E, Li L, Janssen BH, Werf W (2015) Intercropping affects the rate of decomposition of soil organic matter and root litter. Plant Soil 391:399–411. https://doi.org/10.1007/s11104-015-2433-5

De Wit CT, Van den Bergh JP (1965) Competition between herbage plants. Nether J Agric Sc 13:212–221

Duchene O, Vian J-F, Celette F (2017) Intercropping with legume for agroecological cropping systems: complementarity and facilitation processes and the importance of soil microorganisms. A review. Agric Ecosyst Environ 240:148–161. https://doi.org/10.1016/J.AGEE.2017.02.019

Fageria NK, Moreira A (2011) The role of mineral nutrition on root growth of crop plants. In: Sparks DL (ed) Advances in agronomy. Academic Press, Burlington, pp 251–331

Freschet T, Roumet C (2017) Sampling roots to capture plant and soil functions. Funct Ecol. https://doi.org/10.1111/1365-2435.12883

Gaba S, Lescourret F, Boudsocq S et al (2015) Multiple cropping systems as drivers for providing multiple ecosystem services: from concepts to design. Agron Sustain Dev 35:607–623. https://doi.org/10.1007/s13593-014-0272-z

Gajri PR, Arora VK, Kumar K (1994) A procedure for determining average root length density in row crops by single-site augering. Plant Soil 160:41–47. https://doi.org/10.1007/BF00150344

Hauggaard-Nielsen H, Jensen ES (2005) Facilitative root interactions in intercrops. Plant Soil 274:237–250. https://doi.org/10.1007/s11104-004-1305-1

IUSS FAO Working Group WRB (2015) World Reference Base for soil resources 2014, update 2015 international soil classification system for naming soils and creating for soil maps, world soil. FAO, Roma

Kahane R, Hodgkin T, Jaenicke H et al (2013) Agrobiodiversity for food security, health and income. Agron Sustain Dev 33:671–693. https://doi.org/10.1007/s13593-013-0147-8

Karlen DL, Veum KS, Sudduth KA et al (2019) Soil health assessment: past accomplishments, current activities, and future opportunities. Soil Tillage Res 195:104365. https://doi.org/10.1016/j.still.2019.104365

Keiluweit M, Bougoure JJ, Nico PS et al (2015) Mineral protection of soil carbon counteracted by root exudates. Nature Clim Change 5:588–595. https://doi.org/10.1038/nclimate2580

Kemper WD, Rosenau RC (1986) Aggregate stability and size distribution. In: Klute A (ed) Methods of soil analysis: part 1—physical and mineralogical methods, 2nd edn. American Society of Agronomy- Soil Science Society of America, Madison, pp 425–442 

Keyes SD, Gillard F, Soper N, Mavrogordato MN, Sinclair I, Roose T (2016) Mapping soil deformation around plant roots using in vivo 4D X-ray computed tomography and digital volume correlation. J Biomech 49:1802–1811. https://doi.org/10.1016/j.jbiomech.2016.04.023

Kuzyakov Y (2010) Priming effects: interactions between living and dead organic matter. Soil Biol Biochem 42:1363–1371. https://doi.org/10.1016/j.soilbio.2010.04.003

Latati M, Bargaz A, Belarbi B et al (2016) The intercropping common bean with maize improves the rhizobial efficiency, resource use and grain yield under low phosphorus availability. Eur J Agron 72:80–90. https://doi.org/10.1016/j.eja.2015.09.015

Layek J, Das A, Mitran T et al (2018) Cereal+legume intercropping: an option for improving productivity and sustaining soil health. In: Meena R, Das A, Yadav G, Lal R (eds) Legumes for soil health and sustainable management. Springer, Singapore

Liu X, Rahman T, Song C et al (2018) Relationships among light distribution, radiation use efficiency and land equivalent ratio in maize-soybean strip intercropping. Field Crop Res 224:91–101. https://doi.org/10.1016/j.fcr.2018.05.010

Loreau M, Hector A (2001) Partitioning selection and complementarity in biodiversity experiments. Nature 412:72–76. https://doi.org/10.1038/35083573

Lü L-H, Zou Y-N, Wu Q-S (2018) Relationship between Arbuscular Mycorrhizas and plant growth: improvement or depression? In: Giri B, Prasad R, Varma A (eds) Root biology. Soil biology, 52nd edn. Springer, Cham, pp 451–464

Michel L, Beyá-Marshall V, Rombolà AD, Pastenes C, Covarrubias JI (2019) Evaluation of FE-heme applications or intercropping for preventing Iron deficiency in blueberry. J Soil Sci Plant Nutr 19:117–126. https://doi.org/10.1007/s42729-019-0017-9

Peret B, Desnos T, Jost R et al (2014) Root architecture responses: in search of phosphate. Plant Physiol 166:1713–1723. https://doi.org/10.1104/pp.114.244541

Postma JA, Lynch JP (2012) Complementarity in root architecture for nutrient uptake in ancient maize/bean and maize/bean/squash polycultures. Ann Bot 110:521–534. https://doi.org/10.1093/aob/mcs082

Rapsomanikis G (2015) The economic lives of smallholder farmers. An analysis based on household data from nine countries, 1st edn. FAO, Roma 

Ren YY, Wang XL, Zhang SQ, Palta JA, Chen YL (2017) Influence of spatial arrangement in maize-soybean intercropping on root growth and water use efficiency. Plant Soil 415:131–144. https://doi.org/10.1007/s11104-016-3143-3

Sakamoto K, Oba Y (1994) Effect of fungal to bacterial biomass ratio on the relationship between CO2 evolution and total soil microbial biomass. Biol Fertil Soils 17:39–44

Sasse J, Martinoia E, Northen T (2018) Feed your friends: do Plant exudates shape the root microbiome? Trends Plant Sci 23:25–41. https://doi.org/10.1016/j.tplants.2017.09.003

Schenk HJ (2006) Root competition: beyond resource depletion. J Ecol 94:725–739. https://doi.org/10.1111/j.1365-2745.2006.01124.x

Sharma RC, Banik P (2013) Baby corn-legumes intercropping system: II weed dynamics and community structure. NJAS - Wageningen Journal of Life Sciences 67:11–18. https://doi.org/10.1016/j.njas.2013.08.001

Silverio M, Vezzani FM, Dieckow J, Silva JCBV (2014) Dynamics of soil aggregation in mono- and poly-cultivating organic systems with maize, black bean, and pumpkin crops. / Dinâmica de agregação do solo em sistemas orgânicos mono e policultivados com culturas de milho, feijão e abóbora. Revista de Ciências Agrárias / Amazonian Journal of Agricultural and Environmental Sciences 57:80–84

Sinoquet H, Caldwell RM (1995) Estimation of light capture and partitioning in intercropping systems. In: Sinoquet H, Cruz P (eds) Ecophysiology of tropical intercropping. INRA, Paris, pp 79–97

Sparks DL (2003) Environmental soil chemistry, 2nd edn. Academic Press, San Diego

Stirling CM, Rodrigo VHL, Sinclair FL et al (2002) Incorporating local and scientific knowledge in the adaptation of intercropping practice for smallholder rubber lands. Wales, United Kingdom

Tisdall JM, Oades JM (1982) Organic matter and water-stable aggregates in soils. J Soil Sci 33:141–163. https://doi.org/10.1111/j.1365-2389.1982.tb01755.x

USDA-NRCS (1996) Soil Survey Laboratory Methods Manual. Soil Survey Investigation Report 42, Version 3. United States Department of Agriculture, Washington, DC

Vezzani FM, Mielniczuk J (2009) Uma visão sobre qualidade do solo. Revista Brasileira de Ciencia do Solo 33:743–755. https://doi.org/10.1590/S0100-06832009000400001

Vezzani FM, Anderson C, Meenken E et al (2018) The importance of plants to development and maintenance of soil structure, microbial communities and ecosystem functions. Soil Tillage Res 175:139–149. https://doi.org/10.1016/j.still.2017.09.002

Walkley A, Black IA (1934) An examination of the degtjareff method for determining soil organic matter, and a proposed modification of the chromic acid titration method. Soil Science Society American Journal 37:29–38

Wendling B, Jucksch I, Mendonça ES, Neves JCL (2005) Carbono orgânico e estabilidade de agregados de um Latossolo Vermelho sob diferentes manejos. Pesquisa Agropecuaria 40:487–494

Willey WR (1979) Intercropping – its importance and research needs. Part 1. Competition and yield advantages. Field Crop Abstr 32:1–10

Wu Q, Pagès L, Wu J (2016) Relationships between root diameter, root length and root branching along lateral roots in adult, field-grown maize. Ann Bot 117:379–390. https://doi.org/10.1093/aob/mcv185

Xia HY, Zhao JH, Sun JH et al (2013) Dynamics of root length and distribution and shoot biomass of maize as affected by intercropping with different companion crops and phosphorus application rates. Field Crop Res 150:52–62. https://doi.org/10.1016/j.fcr.2013.05.027

Yoder RE (1936) A direct method of aggregate analysis of soil and a study of the physical nature of erosion losses. Journal of America Society of Agronomy 28:337–357

Zhang D, Zhang C, Tang X, Li H, Zhang F, Rengel Z, Whalley WR, Davies WJ, Shen J (2016) Increased soil phosphorus availability induced by faba bean root exudation stimulates root growth and phosphorus uptake in neighbouring maize. New Phytol 209:823–831. https://doi.org/10.1111/nph.13613

Zonta E, da CF B, Rocha JF et al (2018) O sistema radicular e suas interações com o ambiente edáfico. In: Fernandez MS, Sousa RS, Santos L (eds) Nutrição mineral de plantas, 2nd edn. Sociedad Brasileira de Ciência do solo, Viçosa, pp 48–108
Acknowledgments
The authors would like to thank the staff of the Department of Soil and Agricultural Engineering and Canguiri Experimental Farm of the Federal University of Paraná (UFPR - Universidade Federal do Paraná) and the student Valdeci Antônio dos Santos for their support in the accomplishment of this work. This research was supported by funding from the Post-Graduate Program in Soil Science of UFPR. The authors Cristhian Hernandez Gamboa, Jeidi Yasmin Galeano Cobos and Guilherme Alex da Costa acknowledge scholarships from the National Council for Scientific and Technological Development (CNPq) of Brazil.
Funding
This study was funded by the National Council for Scientific and Technological Development (CNPq) of Brazil (grant number 131406/2014–0).
Ethics declarations
Conflict of Interest
We wish to confirm that there are no known conflicts of interest associated with this publication and there has been no significant financial support for this work that could have influenced its outcome.
We confirm that the manuscript has been read and approved by all named authors and that no other persons have met the authorship criteria but are not listed. We further confirm that the order of authors listed in the manuscript has been approved by all of the named authors.
We confirm that we have given due consideration to the protection of intellectual property associated with this work and that there are no impediments to publication, including publication timing, with respect to intellectual property. In so doing, we confirm that we have followed the regulations of our institutions concerning intellectual property.
Additional information
Publisher's Note
Springer Nature remains neutral with regard to jurisdictional claims in published maps and institutional affiliations.
About this article
Cite this article
Gamboa, C.H., Vezzani, F.M., Kaschuk, G. et al. Soil-Root Dynamics in Maize-Beans-Eggplant Intercropping System under Organic Management in a Subtropical Region. J Soil Sci Plant Nutr 20, 1480–1490 (2020). https://doi.org/10.1007/s42729-020-00227-9
Received:

Accepted:

Published:

Issue Date:
Keywords
Crop consortium

Roots

Soil aggregation

Soil organic carbon

Land equivalent ratio