Abstract
Availability of water for food production is a global concern; thus, increasing water productivity has been become a necessary. Deficit irrigation is a good strategy to increase water use efficiency, but it may affect negatively on plant physiology and crop productivity. Little is known about the effect of marine algae extracts on water stress resistance and yield of onion grown on semiarid regions. Therefore, field experiments were conducted in 2018 and 2019 growing seasons to study the effect of foliar application of marine alga (Amphora ovalis) extracts (at rate of 0, 3, 6 or 9%) on onion grown under normal irrigation (80% of available soil water) or water stress (50% of available soil water). The field experiments were laid out in a split-plot design with four replicates. The highest dose of algal extract sprayed on onion grown under water stress significantly (P < 0.05) increased N, P, and K uptake by 116, 113, and 93% compared to the unsprayed plants. The application of 9% algal extract for onion grown under water stress significantly (P < 0.05) increased the bulb yield by 67 and 102%, respectively, in 2018 and 2019 growing seasons. Water stress reduced the chlorophyll production as a result of directing most of plant's energy to produce water-resistant materials such as proline and phenols. Algal extract reduced the negative effects of water stress and caused significant increases in onion growth and yield.
Access options
Buy single article
Instant access to the full article PDF.
US$ 39.95
Tax calculation will be finalised during checkout.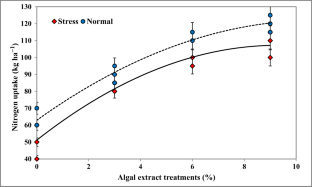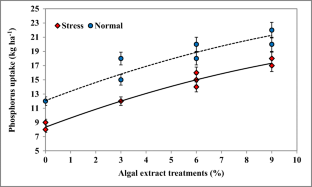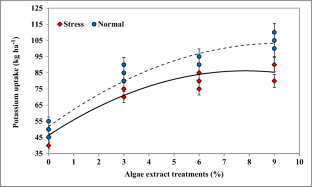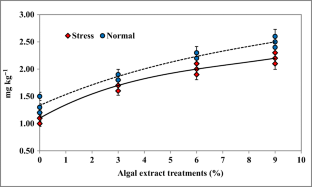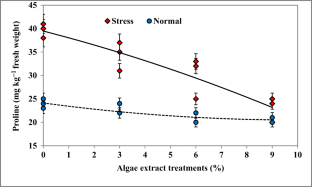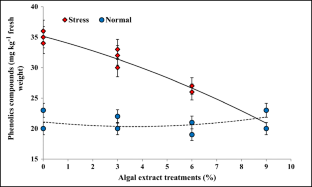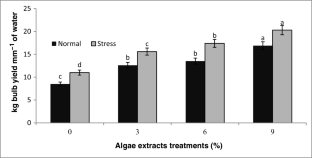 References
Abd El-Rahman G (2009) Water use efficiency of wheat under drip irrigation systems at Al-Maghara area, North Sinai, Egypt. American-Eurasian J Agric Environ Sci 5(5):664–670

Abou-Zaid EA, Eissa MA (2019) Thompson seedless grapevines growth and quality as affected by glutamic acid, vitamin B, and algae. J Soil Sci Plant Nutr 19:725–733. https://doi.org/10.1007/s42729-019-00072-5

Arnon DI (1949) Copper enzymes in isolated chloroplasts. Polyphenol oxidase in beta vulgaris. Plant Physiol 24:1–15

Aujla MS, Thind HS, Buttar GS (2007) Fruit yield and water use efficiency of eggplant (Solanummelongema L.) as influenced by different quantities of nitrogen and water applied through drip and furrow irrigation. ScientiaHorticulturae 112(2):142–148

Badr MA, El-Tohamy WA, Zaghloul AM (2012) Yield and water use efficiency of potato grown under different irrigation and nitrogen levels in an arid region. Agric Water Manag 110:9–15

Bar-Yosef B (1999) Advances in fertigation. Adv Agron 65:1–79

Bates LS, WaldenRP TID (1973) Rapid determination of free proline for water stress studies. Plant Soil 39(1):205–207

Battacharyya D, Babgohari MZ, Rathor P, Prithiviraj B (2015) Seaweed extracts as biostimulants in horticulture. ScientiaHorticulturae 196:39–48

Bhatti S, Sharma JC, Kaka R (2019) Effect of irrigation and nitrogen levels on nutrient uptake, water use efficiency and productivity of onion (Allium cepa L.) in Himachal Pradesh. Int J Curr Microbiol App Sci 2:398–408

Bloem J, Ruiter PC, Koopman GP, Brussaard P (1992) Microbial numbers and activity in dried and rewatered arable soil under integrated and conventional management. Soil Biol Biochem 24:655–665

Blunden G, Jenkins T, Liu YW (1997) Enhanced leaf chlorophyll levels in plants treated with seaweed extract. J Appl Phycol 8:535–543

Briceño-Domínguez D, Hernández-Carmona G, Moyo M, Stirk W, van Staden J (2014) Plant growth promoting activity of seaweed liquid extracts produced from Macrocystis pyrifera under different pH and temperature conditions. J Appl Phycol 26:2203–2210

Burt R (2004) Soil survey laboratory methods manual. Soil Survey Investigations Report No. 42, Version 4.0, Natural Resources Conservation Service, United States Department of Agriculture

Döring J, Frisch M, Tittmann S, Stoll M, Kauer R (2015) Growth, yield and fruit quality of grapevines under organic and biodynamic management. PLoS One 10(10):e0138445. https://doi.org/10.1371/journal.pone.0138445

Eissa MA (2014) Performance of river saltbush (Atriplex amnicola) grown on contaminated soils as affected by organic fertilization. World Appl Sci J 30(12):1877–1881

Eissa MA (2016a) Nutrition of drip irrigated corn by phosphorus under sandy calcareous soils. J Plant Nutr 39(11):1620–1626

Eissa MA (2016b) Phosphate and organic amendments for safe production of okra from metal-contaminated soils. Agron J 108(2):540–547

Eissa MA (2019) Effect of cow manure biochar on heavy metals uptake and translocation by zucchini (Cucurbita pepo L). Arab J Geosci 12:48

Eissa MA, Roshdy N (2018) Nitrogen fertilization: effect on Cd-phytoextraction by the halophytic plant quail bush [Atriplex lentiformis (Torr.) S.Wats]. S Afr J Bot 115:126–131

FAO (2018) FAOSTAT. Food and Agriculture Organization of the United Nations. http://www.fao.org/giews/english/cpfs/index.htm#2015. Accessed 1 Jan 2019

Fayez KA, Bazaid SA (2014) Improving drought and salinity tolerance in barley by application of salicylic acid and potassium nitrate. J Saudi Soc Agric Sci 13:45–55

Folin O, Denis W (1915) A calorimetric method for the determination of phenols and phenol derivatives in urine. J Biol Chem 22:305–308

Garg BK (2003) Nutrient uptake and management under drought: nutrient-moisture interaction. Curr Agric 27:1–8

Ghassemi S, Farhangi-Abriz S, Faegi-Analou R, Ghorbanpour M, Lajayer BA (2018) Monitoring cell energy, physiological functions and grain yield in field-grown mung bean exposed to exogenously applied polyamines under drought stress. J Soil Sci Plant Nutr 18(4):1108–1125

Ghodke PH, Andhale PS, Gijare UM, Thangasamy A, Khade YP, Mahajan V, Singh M (2018) Physiological and biochemical responses in onion crop to drought stress. Int J Curr Microbiol App Sci 7(1):2054–2062

Hanci F, Cebeci E (2019) Improvement of abiotic stress tolerance in onion: selection studies under salinity conditions. Int J Eng Sci 7(9):54–58

Kandil AA, Attia ANE, Sharief AE, Leilh AA (2011) Response of onion (Allium cepa L.) yield to water stress and mineral biofertilization. Acta Agronomica Hungarica 59(4):361–370

Kolahchi Z, Jalali M (2013) Phosphorus movement and retention by two calcareous soils. Soil Sediment Contam Int J 22(1):21–38. https://doi.org/10.1080/15320383.2012.697939

Laxman K (2010) Studies on effect of different sources of nitrogen and potassium on productivity and shelf life of onion (Allium cepa L.) var. Arka Kalyan, M. Sc. Thesis, Univ. Agric. Sci., Dharwad, Karnataka (India)

Liang X, Gao Y, Zhang X, Tian Y, Zhang Z (2014) Effect of optimal daily fertigation on migration of water and salt in soil, root growth and fruit yield of cucumber (Cucumis sativus L.) in solar-greenhouse. PLoS One 9(1):e86975. https://doi.org/10.1371/journal.pone.0086975

Mackay AD, Barber SA (1985) Soil moisture effects on root growth and phosphorus uptake by corn. Agron J 77:519–523

Mahadeen AY, Mohawesh OE, Al-Absi K, Al-Shareef W (2011) Effect of irrigation regimes on water use efficiency and tomato yield (Lycopersicon esculentum Mill.) grown in an arid environment. Arch Agron Soil Sci 57(1):105–114. https://doi.org/10.1080/03650340903225024

Mancuso S, Azzarello E, Mugnai S, Briand X (2006) Marine bioactive substances (IPA extract) improve foliar ion uptake and water tolerance in potted Vitis vinifera plants. Adv Hortic Sci 20:156–161

Mansori M, Chernane H, Latique S, Benaliat A, Hsissou D, El Kaoua M (2015) Seaweed extract effect on water deficit and antioxidative mechanisms in bean plants (Phaseolus vulgaris L.). J Appl Phycol 27:1689–1698

Marrez DA, Naguib M, Sultan Y, Daw ZY, Higazy AH (2014) Evaluation of chemical composition for Spirulina platensis in different culture media. Res J Pharm, Biol Chem Sci 5(4):1161–1171

Martynenko A, Shotton K, Astatkie T, Petrash G, Fowler C, Neily W, Critchley AT (2016) Thermal imaging of soybean response to drought stress: the effect of Ascophyllum nodosum seaweed extract. SpringerPlus 5:1393

McWilliams D (2003) Drought strategies for cotton, cooperative extension service circular 582, College of Agriculture and Home Economics, New Mexico State University, USA

Metting W, Zimmerman J, Crouch IJ, Van Staden J (1990) Agronomic uses of seaweed and micro-algae. In: Akatsuka I (ed) Introduction to applied phycology. SPB Academic Publishers, Netherland, pp 269–307

Mohan VR, Venkataraman Kumar V, Murugeswari R, Muthuswam S (1994) Effect of crude and commercial seaweed extract on seed germination and seedling growth in Cajanus cajan L. Phykos 33:47–51

Nawar DS, Ibraheim SA (2014) Effect of algae extract and nitrogen fertilizer rates on growth and productivity of peas. Middle East J Agric Res 3(4):1232–1241

Parkinson JA, Allen SE (1975) A wet oxidation procedure suitable for the determination of nitrogen and mineral nutrients in biological materials. Commun Soil Sci Plant Anal 6:1–11

Petridis A, Therios I, Samouris G, Tananaki C (2012) Salinityinduced changes in phenolic compounds in leaves and roots of four olive cultivars (Olea europaea L.) and their relationship to antioxidant activity. Environ Exp Bot 79:37–43

Ramya SS, Vijayan N, Rathinavel S (2015) Foliar application of liquid biofertilizer of brown alga Stoechospermum marginatum on growth, biochemical and yield of Solanum melongena L. Int J Recycl Org Waste Agric 4:167–173

Rathore SS, Chaudhary DR, Boricha GN, Ghosh A, Bhatt BP, Zodape ST, Patolia JS (2009) Effect of seaweed extract on the growth, yield and nutrient uptake of soybean (Glycine max) under rainfed conditions. S Afr J Bot 75:351–355

Saha M, Goecke F, Bhadury P (2018) Minireview: algal natural compounds and extracts as antifoulants. J Appl Phycol 30:1859–1874

Seiffert S, Kaselowsky J, Jungkang A, Claassen N (1995) Observed and calculated potassium uptake by maize as affected by soil water content and bulk density. Agron J 87:1070–1077

Shukla PS, Shotton K, Norman E, Neily W, Critchley AT, Prithiviraj B (2018) Seaweed extract improve drought tolerance of soybean by regulating stress-response genes. AoB Palnts 10:plx051. https://doi.org/10.1093/aobpla/plx051

Sivasankari S, Venkatesalu V, Anantharaj M, Chandrasekaran M (2006) Effect of seaweed extracts on the growth and biochemical constituents of Vigna sinensis. Bioresour Technol 97:1745–1751

Subramanian S, Sangha JS, Gray BA, Singh RP, Hiltz D, Critchley AT, Prithiviraj B (2011) Extracts of the marine brown macroalga, Ascophyllum nodosum, induce jasmonic acid dependent systemic resistance in Arabidopsis thaliana against Pseudomonas syringae pv. tomato DC3000 and Sclerotinia sclerotiorum. Eur J Plant Pathol 131:237–248

Tandon S, Dubey A (2015) Effects of Biozyme (Ascophyllum nodosum) biostimulant on growth and development of soybean [Glycine max (L.)Merill]. Commun Soil Sci Plant Anal 46:845–858

Wally OSD, Critchley AT, Hiltz D, Craigie JS, Han X, Zaharia LI, Abrams SR, Prithiviraj B (2013) Regulation of phytohormone biosynthesis and accumulation in Arabidopsis following treatment with commercial extract from the marine macro alga Ascophyllum nodosum. J Plant Growth Regul 32:324–339

Walworth JL (1992) Soil drying and rewetting, or freezing and thawing, affects soil solution composition. Soil Sci Soc Am J 56:433–437

Wang Q, Li F, Zhang E, Li G, Vance M (2012) The effects of irrigation and nitrogen application rates on yield of spring wheat (longfu-920), and water use efficiency and nitrate nitrogen accumulation in soil. Am J Cult Sociol 6(4):662–672

Warraich EA, Ahmad R, Ashraf MY, Saifullah A, Ahmad M (2011) Improving agricultural water use efficiency by nutrient management in crop plants. Acta Agric Scand Sect B Soil Plant Sci 64:291–304

Yaso IA, Abdel-razzak HS, Wahballah MA (2007) Influence of biofertilizer and mineral nitrogen on onion growth, yield and quality under calcareous soil conditions. J Agric Environ Sci Alex Univ Egypt 6(1):245–263

Youssef M, Eissa MA (2017) Comparison between organic and inorganic nutrition for tomato. J Plant Nutr 40(13):1900–1907

Zhang QQ, Xu HL, Fan ZL, Ye M, Yu PJ, Fu JY (2013) Impact of implementation of large-scale drip irrigation in arid and semi-arid areas: case study of Manas River valley. Commun Soil Sci Plant Anal 44(13):2064–2075
Ethics declarations
Conflict of Interest
The authors declare that they have no conflict of interest.
Additional information
Publisher's Note
Springer Nature remains neutral with regard to jurisdictional claims in published maps and institutional affiliations.
About this article
Cite this article
Almaroai, Y.A., Eissa, M.A. Role of Marine Algae Extracts in Water Stress Resistance of Onion Under Semiarid Conditions. J Soil Sci Plant Nutr 20, 1092–1101 (2020). https://doi.org/10.1007/s42729-020-00195-0
Received:

Accepted:

Published:

Issue Date:
Keywords
Algal extract

Biochemical changes

Drought

Drip irrigation

Nutrients and water uptake