Abstract
In low-input farming systems, the availability of nutrients can limit yields as well as biological nitrogen fixation (BNF). The adaptability of legume species to soil fertility conditions may be relevant for designing crop rotations. The aim of this study was to determine the effect of soil fertility on biological N fixation of two annual legumes (chickpea Cicer arietinum and bitter vetch Vicia ervilia) adapted to dry conditions growing in organically amended soils, and whether, this effect was species-dependent. Two legume species were sown in two fields with contrasting soil fertility, amended or non-amended with cow manure. We measured soil N and P pools and availability and estimated N derived from the atmosphere (%Ndfa) by 15N natural abundance. In low-fertility soils, both legume species showed high BNF (17–22 mg N2 fixed per kg of dry matter) that correlated with plant production. While chickpea BNF responded negatively to soil fertility and manure application, bitter vetch BNF remained virtually unchanged, irrespective of soil fertility, and did not correlate with soil N or P available forms. Bitter vetch productivity and BNF, both in low- and high-fertility scenarios, was not responsive to a single manure application event, while chickpea showed a strong response to added manure. Bitter vetch %Ndfa and BNF were always higher than chickpea and consequently this former species could be more appropriate for increasing soil N pools in low-input cropping systems.
Access options
Buy single article
Instant access to the full article PDF.
US$ 39.95
Tax calculation will be finalised during checkout.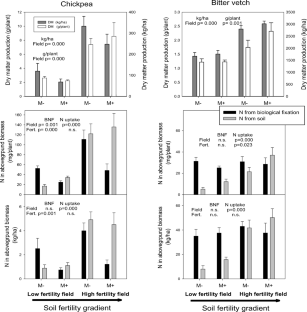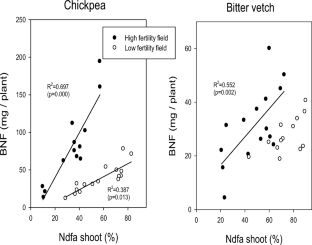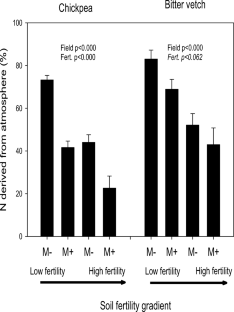 References
Abdelhamid MT, Palta JA, Veneklaas EJ, Atkins C, Turner NC, Siddique KHM (2010) Drying the surface soil reduces the nitrogen content of faba bean (Vicia faba L.) through a reduction in nitrogen fixation. Plant Soil 339:351–362. https://doi.org/10.1007/s11104-010-0586-9

Adu-Gyamfi JJ, Myaka FA, Sakala WD, Odgaard R, Vesterager JM, Høgh-Jensen H (2007) Biological nitrogen fixation and nitrogen and phosphorus budgets in farmer-managed intercrops of maize–pigeonpea in semi-arid southern and eastern Africa. Plant Soil 295:127–136. https://doi.org/10.1007/s11104-007-9270-0

Bundy LG, Meisinger JJ (1994) Nitrogen availability indices. 'Methods soil Anal. Part 2 Microbiol. Biochem. Prop.' (Eds RW Weaver, JS Angle, PS Bottomley) pp. 951–984. Soil Science Society of America: Madison, Wisconsin

Ciampitti IA, Salvagiotti F (2018) New insights into soybean biological nitrogen fixation. Agron J 110:1185–1196. https://doi.org/10.2134/agronj2017.06.0348

Collino DJ, Salvagiotti F, Perticari A, Piccinetti C, Ovando G, Urquiaga S, Racca RW (2015) Biological nitrogen fixation in soybean in Argentina: relationships with crop, soil, and meteorological factors. Plant Soil 392:239–252. https://doi.org/10.1007/s11104-015-2459-8

Dawson TE, Mambelli S, Plamboeck AH, Templer PH, Tu KP (2002) Stable isotopes in plant ecology. Annu Rev Ecol Syst 33:507–559. https://doi.org/10.1146/annurev.ecolysis.33.020602.095451ER

Ekblad A, Huss-Danell K (1995) Nitrogen fixation by Alnus incana and nitrogen transfer from A. incana to Pinus sylvestris influenced by macronutrients and ectomycorrhiza. New Phytol 131:453–459. https://doi.org/10.1111/j.1469-8137.1995.tb03082.x

Emteryd O (1989) Chemical and physical analysis of inorganic nutrients in plant,soil, water and air. Sveriges Lantbruksuniversitet, Umea

Espinoza S, Ovalle C, Zagal E, Matus I, Tay J, Peoples MB, del Pozo A (2012) Contribution of legumes to wheat productivity in Mediterranean environments of central Chile. Field Crop Res 133:150–159. https://doi.org/10.1016/j.fcr.2012.03.006

Garcia-Plazaola J, Hernandez A, Becerril JM, Arese-Igor C (1999) Long-term effects of nitrate on lucerne (Medicago sativa L.) nitrogen fixation is not influenced by the denitrification status of the microsymbiont. Plant and soil 216:139–145 http://link.springer.com/article/10.1023/A:1004716306003

Gil-Quintana E, Larrainzar E, Seminario A, Luis Diaz-Leal J, Alamillo JM, Pineda M, Arrese-Igor C, Wienkoop S, Gonzalez EM (2013) Local inhibition of nitrogen fixation and nodule metabolism in drought-stressed soybean. J Exp Bot 64:2171–2182. https://doi.org/10.1093/jxb/ert074

Goergen E, Chambers JC, Blank R (2009) Effects of water and nitrogen availability on nitrogen contribution by the legume, Lupinus argenteus Pursh. Appl Soil Ecol 42:200–208. https://doi.org/10.1016/j.apsoil.2009.04.001

Guinet M, Nicolardot B, Revellin C, Durey V, Carlsson G, Voisin A-S (2018) Comparative effect of inorganic N on plant growth and N2 fixation of ten legume crops: towards a better understanding of the differential response among species. Plant Soil 432:207–227. https://doi.org/10.1007/s11104-018-3788-1

Herridge DF, Peoples MB, Boddey RM (2008) Global inputs of biological nitrogen fixation in agricultural systems. Plant Soil 311:1–18. https://doi.org/10.1007/s11104-008-9668-3

Hogh-Jensen H, Schjoerring JK (2001) Rhizodeposition of nitrogen by red clover, white clover and rye grass leys. Soil Biol Biochem 33:439–448

Kaba JS, Zerbe S, Agnolucci M, Scandellari F, Abunyewa AA, Giovannetti M, Tagliavini M (2018) Atmospheric nitrogen fixation by gliricidia trees (Gliricidia sepium (Jacq.) Kunth ex Walp.) intercropped with cocoa (Theobroma cacao L.). Plant Soil 1:323–336. https://doi.org/10.1007/s11104-018-3897-x

Karadavut U, Bakoglu A, Tutar H, Kokten K, Yilmaz HS (2017) Prediction of dry matter accumulation in bitter vetch. Legume Research 40:1038–1045. https://doi.org/10.18805/LR-356

Kermah M, Franke AC, Adjei-Nsiah S, Ahiabor BDK, Abaidoo RC, Giller KE (2018) N2-fixation and N contribution by grain legumes under different soil fertility status and cropping systems in the Guinea savanna of northern Ghana. Agric Ecosyst Environ 261:201–210. https://doi.org/10.1016/j.agee.2017.08.028

Kuo S (1996) Phosphorus. 'Methods Soil Anal. Part 3. Chem. Methods.' (Eds DL Sparks, AL Page, PA Helmke, RH Loeppert, PN Soltanpour, MA Tabatabai, CT Johnston, ME Sumner, JM Bartels, JM Bigham) pp. 869–919. (Number 5 in the Soil Science Society of America Book Series. SSSA, ASA,: Madison, Wisconsin.) doi:https://doi.org/10.2136/sssabookser5.3.c32

Lopez-Bellido RJ, Lopez-Bellido L, Lopez-Bellido FJ, Castillo JE (2003) Faba bean (Vicia faba L.) response to tillage and soil residual nitrogen in a continuous rotation with wheat (Triticum aestivum L.) under rainfed Mediterranean conditions. Agron J 95:1253–1261

López-Bellido RJ, López-Bellido L, Benítez-Vega J, Muñoz-Romero V, López-Bellido FJ, Redondo R (2011) Chickpea and faba bean nitrogen fixation in a Mediterranean rainfed Vertisol: effect of the tillage system. Eur J Agron 34:222–230. https://doi.org/10.1016/j.eja.2011.01.005

Marron N, Gana C, Gérant D, Maillard P, Priault P, Epron D (2018) Estimating symbiotic N2 fixation in Robinia pseudoacacia. J Plant Nutr Soil Sci 181:296–304. https://doi.org/10.1002/jpln.201700503

Mathenge C, Thuita M, Masso C, Gweyi-Onyango J, Vanlauwe B (2019) Variability of soybean response to rhizobia inoculant, vermicompost, and a legume-specific fertilizer blend in Siaya County of Kenya. Soil Tillage Res 194:104290. https://doi.org/10.1016/j.still.2019.06.007

Moreau D, Voisin AS, Salon C, Munier-Jolain N (2008) The model symbiotic association between Medicago truncatula cv. Jemalong and Rhizobium meliloti strain 2011 leads to N-stressed plants when symbiotic N2 fixation is the main N source for plant growth. J Exp Bot 59:3509–3522. https://doi.org/10.1093/jxb/ern203

Muñoz-Romero V, Lopez-Bellido L, Lopez-Bellido RJ (2012) The effects of the tillage system on chickpea root growth. Field Crop Res 128:76–81. https://doi.org/10.1016/j.fcr.2011.12.015

Oberson A, Nanzer S, Bosshard C, Dubois D, Mäder P, Frossard E (2007) Symbiotic N2 fixation by soybean in organic and conventional cropping systems estimated by 15N dilution and 15N natural abundance. Plant Soil 290:69–83. https://doi.org/10.1007/s11104-006-9122-3

Peoples M, Bowman A, Gault R, Herridge DF, McCallum MH, McCormick RM, Norton RM, Rochester IJ, Scammell GJ, Schwenke GD (2001) Factors regulating the contributions of fixed nitrogen by pasture and crop legumes to different farming systems of eastern Australia. Plant Soil 228:29–41 http://link.springer.com/article/10.1023/A:1004799703040

Raji SG, Tzanakakis V, Dörsch P (2019) Bradyrhizobial inoculation and P application effects on haricot and mung beans in the Ethiopian Rift Valley. Plant Soil 442:271–284. https://doi.org/10.1007/s11104-019-04170-2

Rastetter EB, Vitousek PM, Field C, Shaver GR, Herbert D, Gren GI (2001) Resource optimization and symbiotic nitrogen fixation. Ecosystems 4, 369–388. https://doi.org/10.1007/s10021-001-0018-z

Reed SC, Cleveland CC, Townsend AR (2011) Functional ecology of free-living nitrogen fixation: a contemporary perspective. Annu Rev Ecol Evol Syst 42:489–512. https://doi.org/10.1146/annurev-ecolsys-102710-145034

Ruisi P, Giambalvo D, Di Miceli G, Frenda AS, Saia S, Amato G (2012) Tillage effects on yield and nitrogen fixation of legumes in Mediterranean conditions. Agron J 104:1459–1466. https://doi.org/10.2134/agronj2012.0070

Salvagiotti F, Cassman KG, Specht JE, Walters DT, Weiss A, Dobermann A (2008) Nitrogen uptake, fixation and response to fertilizer N in soybeans: a review. Field Crop Res 108:1–13. https://doi.org/10.1016/j.fcr.2008.03.001

Samago TY, Anniye EW, Dakora FD (2018) Grain yield of common bean (Phaseolus vulgaris L.) varieties is markedly increased by rhizobial inoculation and phosphorus application in Ethiopia. Symbiosis 75:245–255. https://doi.org/10.1007/s13199-017-0529-9

Schipanski ME, Drinkwater LE, Russelle MP (2010) Understanding the variability in soybean nitrogen fixation across agroecosystems. Plant Soil 329:379–397. https://doi.org/10.1007/s11104-009-0165-0

Seufert V, Ramankutty N, Foley JA (2012) Comparing the yields of organic and conventional agriculture. Nature 485:229–U113. https://doi.org/10.1038/nature11069

Shearer G, Kohl DH (1986) N2-fixation in field settings: estimations based on natural 15N abundance. Aust J Plant Physiol 13:756 http://ejournals.ebsco.com/direct.asp?ArticleID=4FB1853ED7A669EC8037

Smith VH (1992) Effects of nitrogen: phosphorus supply ratios on nitrogen fixation in agricultural and pastoral ecosystems. Biogeochemistry 18:19–35. https://doi.org/10.1007/BF00000424

Sulas L, Seddaiu G, Muresu R, Roggero PP (2009) Nitrogen fixation of sulla under Mediterranean conditions. Agron J 101:1470–1478. https://doi.org/10.2134/agronj2009.0151

Unkovich MJ, Pate JS (2000) An appraisal of recent field measurements of symbiotic N2 fixation by annual legumes. Field Crop Res 65:211–228

Unkovich M, Herridge D, Peoples M, Cadisch G, Boddey B, Giller K, Alves B, Chalk P (2008) Measuring plant-associated nitrogen fixation in agricultural systems. Aciar Monograph Series N0:136, 258 pp

Unkovich MJ, Baldock J, Peoples MB (2010) Prospects and problems of simple linear models for estimating symbiotic N2 fixation by crop and pasture legumes. Plant Soil 329:75–89

Vitousek PM, Cassman K, Cleveland C, Crews T, Field CB, Grimm NB, Howarth RW, Marino R, Martinelli L, Rastetter EB, Sprent JI (2002a) Towards an ecological understanding of biological nitrogen fixation. Biogeochemistry 57:1–45. https://doi.org/10.1023/A:1015798428743

Vitousek PM, Hättenschwiler S, Olander L, Allison S (2002b) Nitrogen and nature. Ambio 31:97–101. https://doi.org/10.1579/0044-7447-31.2.97

Vitousek PM, Menge DNL, Reed SC, Cleveland CC (2013) Biological nitrogen fixation: rates, patterns and ecological controls in terrestrial ecosystems. Philosophical Transactions of the Royal Society B-Biological Sciences 368:1–9. https://doi.org/10.1098/rstb.2013.0119

Walley FL, Kyei-Boahen S, Hnatowich G, Stevenson C (2011) Nitrogen and phosphorus fertility management for desi and kabuli chickpea. Can J Plant Sci 85:73–79. https://doi.org/10.4141/p04-039

Wichard T, Mishra B, Myneni SCB, Bellenger JP, Kraepiel AML (2009) Storage and bioavailability of molybdenum in soils increased by organic matter complexation. Nat Geosci 2:625–630. https://doi.org/10.1038/ngeo589

Willer H, Yussefi M, Sorensen N (2008) The world of organic agriculture: statistics and emerging trends. IFOAM-FiBl. Earthscan Publishers, London
Acknowledgments
We wish to thank Salvador Safont and Gemma Safont for their help in the setting up the experimental layout. We also would like to thank Miriam Burriel for her assistance in lab and fieldwork.
Funding
This research was supported by the Lindeco (CGL2009–13497-CO2–02) and the GRACCIE Research Net (CSD2007–00067) of the Spanish Ministry of Science and by Technology and by the Research Agency of the Catalonian Government; projects Agroecosystems (2009SGR1058) and AGEC00041.
Ethics declarations
Conflict of Interest
The authors declare that they have no conflict of interest.
Additional information
Publisher's Note
Springer Nature remains neutral with regard to jurisdictional claims in published maps and institutional affiliations.
About this article
Cite this article
Romanyà, J., Casals, P. Biological Nitrogen Fixation Response to Soil Fertility Is Species-Dependent in Annual Legumes. J Soil Sci Plant Nutr 20, 546–556 (2020). https://doi.org/10.1007/s42729-019-00144-6
Received:

Accepted:

Published:

Issue Date:
Keywords
Low-input farming

Natural 15N abundance

Ndfa

Bitter vetch

Chickpea