Abstract
Piperine (PIP) is a nitrogenous substance whose application in food is still limited due to its low solubility in water, low bioavailability, and high pungency. Nanosponges (NS) can selectively capture, transport, and release a wide variety of substances and mask unpleasant flavors. The objective of this study was to evaluate carbonate-β-cyclodextrin-based NS formation as a nanoencapsulation system for PIP. The NS were formed with a cyclic oligosaccharide (β-cyclodextrin) to a cross-linker (diphenyl carbonate) at molar ratios of 1:2, 1:6, and 1:10 by the solvent method at 90, 120, and 150 °C for 5 h. Only molar ratios of 1:6 and 1:10 formed NS. The NS 1:6 at 90 °C with loading efficiency of 42.6% ± 1.1 was the best alternative for loading PIP in the NS matrix because it had the lowest absorbance of cyclic carbonates and required the lowest amount of cross-linker in its formation. The ability of the cyclodextrin-based NS to encapsulate PIP was confirmed by FTIR studies and hyperspectral FTIR images, TGA, and DSC, showing that PIP is dispersed, not forming large clusters, or concentrating in a single zone. NS are an effective PIP encapsulation system and protect the bioactive properties of the PIP.
Access options
Buy single article
Instant access to the full article PDF.
US$ 39.95
Tax calculation will be finalised during checkout.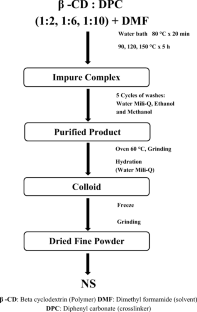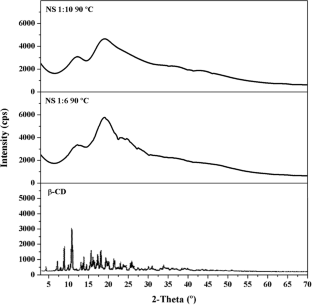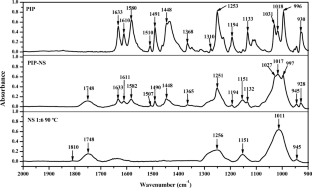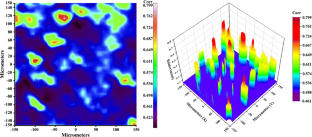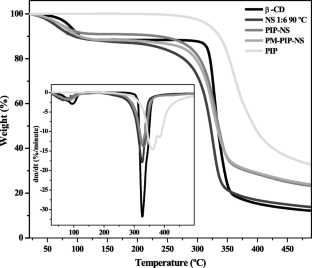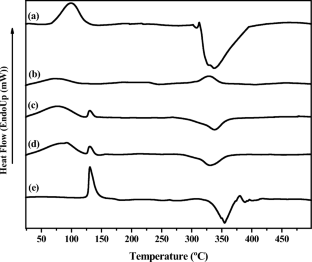 References
Acevedo F, Hermosilla J, Sanhueza C, Mora-Lagos B, Fuentes I, Rubilar M, Alvarez-Lorenzo C (2018) Gallic acid loaded PEO-core/zein-shell nanofibers for chemopreventive action on gallbladder cancer cells. Eur J Pharm Sci 119:49–61

Aldawsari HM, Badr-Eldin SM, Labib GS, El-Kamel AH (2015) Design and formulation of a topical hydrogel integrating lemongrass-loaded nanosponges with an enhanced antifungal effect: in vitro/ in vivo evaluation. Int J Nanomedicine 10:893–902

Anandam S, Selvamuthukumar S (2014) Fabrication of cyclodextrin nanosponges for quercetin delivery: physicochemical characterization, photostability, and antioxidant effects. J Mater Sci 49:8140–8153

Anissian D, Ghasemi-Kasman M, Khalili-Fomeshi M, Akbari A, Hashemian M, Kazemi S, Moghadamnia AA (2018) Piperine-loaded chitosan-STPP nanoparticles reduce mortal neuronal loss and astrocytes activation in chemical kindling model of epilepsy. Int J Biol Macromol 107:973–983

Ansari KA, Vavia PR, Trotta F, Cavalli R (2011) Cyclodextrin-based nanosponges for delivery of resveratrol: in vitro characterisation, stability, cytotoxicity and permeation study. AAPS PharmSciTech 12:279–286

Baspinar Y, Üstündas M, Bayraktar O, Sezgin C (2018) Curcumin and piperine loaded zein-chitosan nanoparticles: development and in-vitro characterization. Saudi Pharm J 26:323–334

Bibby DC, Davies NM, Tucker IG (2000) Mechanisms by which cyclodextrins modify drug release from polymeric drug delivery systems. Int J Pharm 197:1–11

Burgos-Díaz C, Rubilar M, Morales E, Medina C, Acevedo F, Marqués AM, Shene C (2016) Naturally occurring protein-polysaccharide complexes from linseed (Linum usitatissimum) as bioemulsifiers. Eur J Lipid Sci Tech 118:165–174

Caldera F, Tannous M, Cavalli R, Zanetti M, Trotta F (2017) Evolution of cyclodextrin nanosponges. Int J Pharm 531:470–479

Casu B, Reggiani M (1966) Conformation of amylose and its derived products. I. Infrared spectra of amylose and its oligomers in the amorphous solid phase and in solution. Starch-Stärke 18:218–229

Coviello V, Sartini S, Quattrini L, Baraldi C, Gamberini MC, La Motta C (2017) Cyclodextrin-based nanosponges for the targeted delivery of the anti-restenotic agent DB103: a novel opportunity for the local therapy of vessels wall subjected to percutaneous intervention. Eur J Pharm Biopharm 117:276–285

Darandale SS, Vavia PR (2013) Cyclodextrin-based nanosponges of curcumin: formulation and physicochemical characterization. J Incl Phenom Macro Chem 75:315–322

Doane WM, Shasha BS, Stout EI, Russell CR, Rist CE (1967) A facile route to trans cyclic carbonate of sugars. Carbohydr Res 4:445–451

Dutta S, Bhattacharjee P (2017) Nanoliposomal encapsulates of piperine-rich black pepper extract obtained by enzyme-assisted supercritical carbon dioxide extraction. J Food Eng 201:49–56

Ezawa T, Inoue Y, Murata I, Takao K, Sugita Y, Kanamoto I (2018) Characterization of the dissolution behavior of piperine/cyclodextrins inclusion complexes. AAPS PharmSciTech 19:923–933

Field LD, Sternhell S, Kalman JR (2008) Organic structures from spectra, fourth edn. Wiley, England

Jain S, Meka SRK, Chatterjee K (2016) Engineering a piperine eluting nanofibrous patch for cancer treatment. ACS Biomater-Sci Eng 2:1376–1385

Kennedy JF, Barker SA, Rosevear A (1973) Preparation of a water-insoluble trans-2,3-cyclic carbonate derivative of macroporous cellulose and its use as a matrix for enzyme immobilisation. J Chem Soc Perkin Trans 1(1973):2293–2299

Menezes DPP, Andrade TA, Frank LA, de Souza EPBSS, Trindade GDGG, Serafini MR, Guterres SS, Araújo AAS (2019) Advances of nanosystems containing cyclodextrins and their applications in pharmaceuticals. Int J Pharm 559:312–328

National Institute of Standards and Technology (2018) NIST SRM 660c - line position and line shape standard for powder diffraction (lanthanum hexaboride powder). https://www-s.nist.gov/srmors/view_cert.cfm?srm=660c. Accessed on 19 Mar 2019

de Oliveira FS, Freitas TS, Cruz RP, Costa M do S, Pereira RLS, Quintans-Júnior LJ, Coutinho HDM (2017) Evaluation of the antibacterial and modulatory potential of α-bisabolol, β-cyclodextrin and α-bisabolol/β-cyclodextrin complex. Biomed Pharmacother 92:1111–1118

Olteanu A, Arama C, Bleotu C, Lupuleasa D, Monciu C (2015) Investigation of cyclodextrin based nanosponges complexes with angiotensin I converting enzyme inhibitors (enalapril, captopril, cilazapril). Farmacia 63:492–503

Pachauri M, Gupta ED, Ghosh PC (2015) Piperine loaded PEG-PLGA nanoparticles: preparation, characterization and targeted delivery for adjuvant breast cancer chemotherapy. J Drug Deliv Sci Tec 29:269–282

Pentak D (2016) In vitro spectroscopic study of piperine-encapsulated nanosize liposomes. Eur Biophysics J 45:175–186

Pushpalatha R, Selvamuthukumar S, Kilimozhi D (2018) Cross-linked, cyclodextrin-based nanosponges for curcumin delivery - physicochemical characterization, drug release, stability and cytotoxicity. J Drug Deliv Sci Tec 45:45–53

Quilaqueo M, Millao S, Luzardo-Ocampo I, Campos-Vega R, Acevedo F, Shene C, Rubilar M (2019) Inclusion of piperine in β-cyclodextrin complexes improves their bioaccessibility and in vitro antioxidant capacity. Food Hydrocoll 91:143–152

Saha KC, Seal HP, Noor MA (2013) Isolation and characterization of piperine from the fruits of black pepper (Piper nigrum). J Bangladesh Agric Univ 11:11–16

Salaun F, Vroman I (2009) Curcumin-loaded nanocapsules: formulation and influence of the nanoencapsulation processes variables on the physico-chemical characteristics of the particles. Int J Chem React Eng 7:2093

Schulz H, Baranska M, Quilitzsch R, Schütze W, Lösing G (2005) Characterization of peppercorn, pepper oil, and pepper oleoresin by vibrational spectroscopy methods. J Agr Food Chem 53:3358–3363

Sedeky AS, Khalil IA, Hefnawy A, El-Sherbiny IM (2018) Development of core-shell nanocarrier system for augmenting piperine cytotoxic activity against human brain cancer cell line. Eur J Pharm Sci 118:103–112

Selvamuthukumar S, Anandam S, Krishnamoorthy K, Rajappan M (2012) Nanosponges: a novel class of drug delivery system - review. J Pharm Pharm Sci 15:103–111

Sherje AP, Dravyakar BR, Kadam D, Jadhav M (2017) Cyclodextrin-based nanosponges: a critical review. Carbohydr Polym 173:37–49

Silvertein R, Webster F, Kiemle D (2005) Spectrometric identification of organic compounds, Seventh edn. Wiley, New York

Strunz GM (2000) Unsaturated amides from piper species (Piperaceae). Stud Nat Prod Chem 24:683–738

Swaminathan S, Pastero L, Serpe L, Trotta F, Vavia P, Aquilano D, Cavalli R (2010) Cyclodextrin-based nanosponges encapsulating camptothecin: physicochemical characterization, stability and cytotoxicity. Eur J Pharm Biopharm 74:193–201

Tejashri G, Amrita B, Darshana J (2013) Cyclodextrin based nanosponges for pharmaceutical use: a review. Acta Pharma 63:335–358

Teixeira B, Ozdemir N, Hill L, Gomes C (2013) Synthesis and characterization of nano-encapsulated black pepper oleoresin using hydroxypropyl beta-cyclodextrin for antioxidant and antimicrobial applications. J Food Sci 78:N1913–N1920

Trotta F, Dianzani C, Caldera F, Mognetti B, Cavalli R (2014) The application of nanosponges to cancer drug delivery. Expert Opinion Drug Deliv 11:931–941

Trotta F, Moraglio G, Marzona M, Maritano S (1993) Acyclic carbonates of beta-cyclodextrin. Gazz Chim Ital 123:559–562

Wang J, Cao Y, Sun B, Wang C (2011) Physicochemical and release characterization of garlic oil-β-cyclodextrin inclusion complexes. Food Chem 127:1680–1685

Wattanathorn J, Chonpathompikunlert P, Muchimapura S, Priprem A, Tankamnerdtha O (2008) Piperine, the potential functional food for mood and cognitive disorders. Food Chem Toxicol 46:3106–3110

Yadav LDS (2005) Organic spectroscopy. Springer-Science Bussiness Media, India

Zhu F, Mojel R, Li G (2018) Physicochemical properties of black pepper (Piper nigrum) starch. Carbohyd Polym 181:986–993
Acknowledgements
We are grateful to projects FONDEQUIP EQM150019 and FONDEQUIP EQM160152 for granting access to their equipment and to Dr. Helen Lowry for her support in editing the English in the manuscript.
Funding
This research was funded by CONICYT through FONDECYT project No 1160558.
Ethics declarations
Conflict of Interest
The authors declare that they have no conflict of interest.
Additional information
Publisher's Note
Springer Nature remains neutral with regard to jurisdictional claims in published maps and institutional affiliations.
About this article
Cite this article
Garrido, B., González, S., Hermosilla, J. et al. Carbonate-β-Cyclodextrin-Based Nanosponge as a Nanoencapsulation System for Piperine: Physicochemical Characterization. J Soil Sci Plant Nutr 19, 620–630 (2019). https://doi.org/10.1007/s42729-019-00062-7
Received:

Accepted:

Published:

Issue Date:
Keywords
Piperine

β-Cyclodextrin

Nanosponges

Nanoencapsulation

Solvent method

Inclusion complex