Abstract
The effectiveness of the "attract and kill" approach for the management of Bactrocera dorsalis in citrus orchards using autoinoculation strategy was evaluated in three locations in Senegal (Sindia, Sébikhotane and Ndoyene), between 2016 and 2018. Attractant Contaminant Traps (ACT) were treated with 0.3 g of Metarhizium acridum, and methyl eugenol was then deployed at densities of 25, 50 and 100 ACT to infect the flies. Recovery Traps (RT) containing methyl eugenol and a toxicant, Timaye were used to monitor the B. dorsalis population and the contamination rate. Results showed that the rate of contaminated flies increases with the number of ACT, at an average daily rate of contaminated flies of 68.1%, 85.44% and 99.67% at 25, 50, 100 traps, respectively. No contaminated flies were found in the control. The number of flies caught decreased from 21.7, 4.2 and 6.2 flies per day, respectively, for 25, 50, 100 ACTs and control in the first week, to 0.64, 0.71, 0.71 and 99.9 flies per day, respectively, for 25, 50, 100 ACTs and the control. All the flies caught at M. acridum treated sites were contaminated. No significant difference between the incidence of fruit damage in the three ACT densities and the control was found in the first week; however, there was a significant difference over time, from 90.0, 96.7 and 83.3% in the first week, to 30, 50 and 46.7% at the 14th week, respectively, for 25, 50 and 100 ACTs. No significant differences were found in the control. This present study demonstrated the efficacy of autoinoculative systems based-M. acridum for the management of B. dorsalis in citrus orchards in Senegal. This strategy is economical as it uses very little amounts of inoculum with locally made materials.
Access options
Buy single article
Instant access to the full article PDF.
USD 39.95
Price includes VAT (USA)
Tax calculation will be finalised during checkout.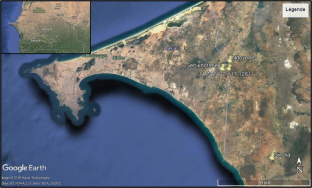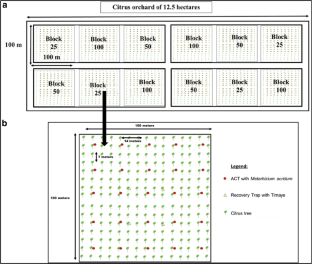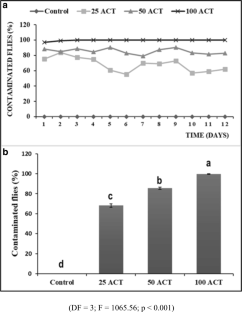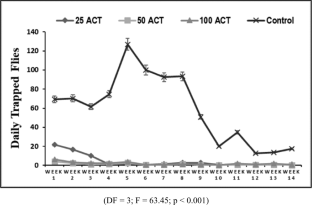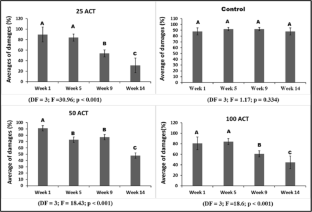 References
Agunloye OJ (1987) Trapping and chemical control of Ceratitis capitata (Wied.) (Diptera: Tephritidae) on sweet orange (Citrus sinensis) in Nigeria. J Horticult Sci Ashford 62(2):269–271

Badji H, Coly EV (2014) Gestion des Attaques de la Mouche des Fruits sur les Cultures de Cucurbitacées au Moyen de Pesticides Naturels au Sénégal. Acta Hortic 1021:421–426. https://doi.org/10.17660/actahortic.2014.1021.39

Banelli G, Daane KM, Canale A, Niu CY, Messing RH, Vargas RI (2014) Sexual communication and related behaviours in Tephritidae: current knowledge and potential applications for integrated Pest management. J Pest Sci 87:385–405. https://doi.org/10.1007/s10340-014-0577-3

Binta BAA, Barbier B (2015) Economic and environmental performances of organic farming system compared to conventional farming system: a case study of the horticulture sector in the Niayes region of Senegal. Procedia Environ Sci 29:17–19. https://doi.org/10.1016/j.proenv.2015.07.132

Bischoff JF, Rehner SA, Humber RA (2009) A multilocus phylogeny of the Metarhizium anisopliae lineage. Mycologia 101(4):512–530

Carcamo MC, Felchicher F, Duarte JP, Bernardi E, Ribeiro PB (2015) Horizontal transmission of Beauveria bassiana (Hypocreales: Cordycipitaceae) and Metarhizium anisopliae (Hypoceales: Clavicipitaceae) in Musca domestica (Diptera: Muscidae). J Econ Entomol 108:1579–1586. https://doi.org/10.1093/jee/tov163

CLIMATE-DATA.ORG (2020) Senegal climate: Average Temperature, weather by month, Senegal weather averages.URL:https://fr.climate-data.org/afrique/senegal/sindia/sindia-29237/ (Accessed 8 Jan 2020)

CLIMATE-DATA.ORG (2019) Senegal climate: Average Temperature, weather by month, Senegal weather averages. URL:https://fr.climate-data.org/afrique/senegal/ndoyene/ndoyene-1044525:/ (Accessed 29 Dec 2019)

Daniel C, Wyss E (2008) Field applications of entomopathogenic fungi against Rhagoletis cerasi. In: book, Markus (Ed.) Ecofruit - 13th International Conference on Cultivation Technique and Phytopathological Problems in Organic Fruit-Growing: Proceedings to the Conference from 18thFebruary to 20th February 2008 at Weinsberg/Germany pp 87-92

De Meyer M, Robertson M, Mansell M, Ekesi S, Tsuruta K, Mwaiko W, Vayssières JF, Peterson T (2009) Ecological niche and potential geographic distribution of the invasive fruit fly Bactrocera invadens (Diptera, Tephritidae). Bull Entomol Res 100(1):35–48

Deguine JP, Augusseaux X, Insa G, Jolet M, Le Roux K, Marquier M, , Rousse P, Roux E, Soupapoullé Y, Suzanne W (2013) Gestion Agroécologique des Mouches des Légumes à la Réunion. Innov Agronom 28: 59–74

Deguine JP, Gloanec C, Aubertot JN et al (2016) Protection agroécologique des cultures. Editions Quae, p 288

Di Rienzo JA, Casanoves F, Balzarini MG, Gonzalez L, Tablada M, Robledo CW. (2018) InfoStat versión 2018. InfoStat Group, Facultad de Ciencias Agropecuarias, Universidad Nacional de Córdoba, Argentina. URL http://www.infostat.com.ar

Dimbi S, Maniania NK, Ekesi S (2013) Horizontal transmission of Metarhizium anisopliae in fruit flies and effects of fungal infection on egg laying and fertility. Insects 4(2):206–216

Ekesi S (2016) Baiting and male annihilation techniques for fruit fly suppression in Africa pp 275–292. In: Fruit Fly Research and Development in Africa - Towards a Sustainable Management Strategy to Improve Horticulture

Ekesi S, Billah MK (2007) A field guide to the management of economically important Tephritid fruit fly in Africa. Nairobi: ICIPE Science Press. (English version-ISBN: 92-9064-209-2)

Ekesi S, Chabi-Olaye A, Subramanian S, Borgemeister C (2011) Horticultural pest management and the African economy: successes, challenges and opportunities in a changing global environment. pp 165–183 In: Acta Horticulturae

Ekesi S, Dimbi S, Maniania NK (2007) The role of entomopathogenic fungi in the integrated management of fruit flies (Diptera: Tephritidae) with emphasis on species occurring in Africa. In: Ekesi S, Maniania NK, eds. Use of Entomopathogenic Fungi in Biological Pest Management. Research, SignPost, Kerala, pp. 239–274

Ekesi S, Mohamed SA, de Meyer M (2016) Fruit fly research and development in Africa-Towards a sustainable management strategy to improve horticulture. First Edition Springer Editions pp. 778 https://doi.org/10.1007/978-3-319-43226-7

FAO (2018) Food Outlook - Biannual Report on Global Food Markets – November 2018. Rome. 104 pp. Licence: CC BY-NC-SA 3.0 IGO

Faye PD, Sangare YK, Coly EV, Badji K, Bal AB, Dieng EO (2017). Evaluation of the biological effectiveness of Metarhizium acridum against wild populations of fruit fly Bactrocera dorsalis (Hendel) in Niayes region. (Conference poster) AAIS 22nd Meeting and Scientific Conference, October 23-27, ARC Wad Medani, Sudan. https://doi.org/10.13140/RG.2.2.18829.36324

Fombong AT, Kachigamba DL, Torto B (2016) Chemical ecology of African tephritid fruit flies. In: Ekesi S, Mohamed S, De Meyer M (Editors) Fruit fly research and development in africa - towards a sustainable management strategy to improve horticulture. pp. 133-165

Fernandes E, Bittencourt V (2008) Entomopathogenic fungi against south American tick species. Exp Appl Acarol 46:71–93

Gao Q, Jin K, Ying SH, Zhang Y, Xiao G, Shang Y, Duan Z, Hu X, Xie XQ, Zhou G, Peng G, Luo Z, Huang W, Wang B, Fang W, Wang S, Zhong Y, Ma LJ, St Leger RJ, Zhao GP, Pei Y, Feng MG, Xia Y, Wang C (2011) Genome sequencing and comparative transcriptomics of the model entomopathogenic fungi Metarhizium anisopliae and M acridum. PLoS Genet 7(1). https://doi.org/10.1371/journal.pgen.1001264

GenStat (2006) Ninth Edition, (Version −9.1.0.147. Supplied by VSN International Ltd, 5 The Waterhouse Street, Hemel Hempstead HP1 1ES. United Kingdom. http://www.vsni.co.uk

Grechi I, Sane CAB, Diame L, De Bon H, Benneveau A, Michels T, Huguenin V, Malézieux E, Diarra K, Rey JY (2013) Mango-based orchards in Senegal: diversity of design and management patterns. Fruits 68(06):447–466

Haq I, Veysen MJB, Schutze M, Hendeicks J, Shelly T (2016) Effects of methyl Eugenol feeding on mating compatibility of Asian population of Bactrocera dorsalis (Diptera: Tephritidae) with African population and with B. carambolae. J Econ Entomol 1(109):148–153

Hedström I, Monge-Nájera J (1998) Is sexually transmitted fungal infection evidence for size-related mating success in Neotropical guava fruit flies? Rev Biol Trop 46(4):1129–1132

IAEA (2003) Insect Pest control section. Trapping guidelines for AreaWide fruit Fly Programmes. Int Atom Energy Agency Vienna Austria 26:7–46

Konta IS, Djiba S, Sane S, Diassi L, Ndiaye AB, Noba K (2016) Etude de la dynamique de Bactrocera dorsalis (Hendel) (Diptera : Tephritidae) dans les vergers de mangues en Basse Casamance : influence des facteurs climatiques. Int J Biol Chem Sci 9:2698. https://doi.org/10.4314/ijbcs.v9i6.15

Lux SA, Copeland RS, White IM, Manrakhan A (2003) A new invasive fruit Fly species from the Bactrocera dorsalis (Hendel) group detected in East Africa. Int J Tropic Insect Sci 23:355–361. https://doi.org/10.1017/s174275840001242x

Maertens M (2009) Horticulture exports, agro-industrialization, and farm-nonfarm linkages with the smallholder farm sector: evidence from Senegal. Agric Econ 40:219–229. https://doi.org/10.1111/j.1574-0862.2009.00371.x

McQuate G, Silva C, Jang E (2005) Mediterranean fruit fly (Diptera: Tephritidae) suppression in persimmon trough bait sprays in adjacent coffee plantings. J Appl Entomol 129:110–117

Navarro-Llopis V, Ayala I, Sanchis J, Primo J, Moya P (2015) Field efficacy of a Metarhizium anisopliae-based attractant–contaminant device to control Ceratitis capitata (Diptera: Tephritidae). J Econ Entomol 108(4):1570–1578

Ndiaye M, Dieng E, Delhove G (2008) Population dynamics and on-farm fruit fly integrated pest management in mango orchards in the natural area of Niayes in Senegal. Pest Manag Horticult Ecosyst 14(1):1–8

Ndiaye O, Vayssières JF, Rey JY, Ndiaye S, Diedhiou PM, Ba CT, Diatta P (2012) Seasonality and the importance of fruit fly (Diptera: Tephritidae) host plants in orchards at Niayes and the Thiès plateau. Fruits 67:311–331. https://doi.org/10.1051/fruits/2012024

Opisa S, Plessis D, Akutse KS, Fiaboe KKM, Ekesi S (2019) Horizontal transmission of Metarhizium anisopliae between Spoladea recurvalis (Lepidoptera: Crambidae). Microb Pathogen 131:197–204

Ouna E (2010) Entomopathogenicity of Hyphomycetes Fungi to fruit fly Bactrocera invadens (Diptera, Tephritidae) and their potential for biological control on mango, Jomo Kenyatta University, Thesis research in entomology-miceobiology. Nairobi, 116p. https://ir-library.ku.ac.ke/handle/123456789/682

Pattemore JA, Hane JK, Williams AH, Wilson BA, Stodart BJ, Ash GJ (2014) The genome sequence of the biocontrol fungus Metarhizium anisopliae and comparative genomics of Metarhizium species. BMC Genomics 15(1):660. https://doi.org/10.1186/1471-2164-15-660

San Andrés V, Ayala I, Abad MC, Primo J, Castanera P, Moya P (2014) Laboratory evaluation of the compatibility of a new attractive contaminant device containing Metarhizium anisopliae with Ceratitis capitata sterile males. Biol Control 72:54–61

Sanjaya Y, Ocampo V, Caoili BL (2013) Transmission effect of entomopathogenic fungi on population of Tetranychus kanzawai (Kishida) (Tetranychidae:Acarina). Arthropods 2(1):36–41

Schutze M, Bourtzis K, Cameron SL, Clarke AR, De Meyer M, Hee AKW, Hendricks J, Krosch MN, Mwatawala M (2017) Integrative taxonomy versus taxonomic authority without peer review: the case of the oriental fruit fly, Bactrocera dorsalis (Tephritidae). System Entomol 42:609–620

Shelly TE, Epsky N, Jang EB, Reyes-Flores J, Vargas R (2016) Trapping and the detection, control, and regulation of Tephritid fruit flies: lures, area-wide programs, and trade implications. Springer, New York

Shelly TE, Kaneshiro KY (1991) Lek behavior of the oriental fruit fly, Dacus dorsalis, in Hawaii (Diptera: Tephritidae). J Insect Behav 4:235–241

Sookar P, Bhagwant S, Allymanod M (2014) Effect of Metarhizium anisopliae on the fertility and fecundity of two species of fruit flies and horizontal transmission of Mycotic infection. J Insect Sci 14(100):1–12. https://doi.org/10.1673/031.014.100

Toledo J, Flores S, Campos S, Villasenoe A, Enkerlin W, Liedo P, Valle A, Montoya P (2017) Pathogenicity of three formulations of Beauveria bassiana and efficacy of autoinoculation devices and sterile fruit fly males for dissemination of conidia for control of Ceratitis capitata. https://doi.org/10.1111/eea.12608

Toledo J, Liedo P, Flores S, Campos SE, Villasenor A, Montoya P (2006) Use of Beauveria bassiana and Metarhizium anisopliae for Fruit Fly control: A novel Approach. In book: Fruit Flies of Economic Importance: From Basic to Applied knowledge, Edition: 1, Publisher: Press Color, Bahia, Brazil., pp.127-132

Vargas RI, Pinero JC, Mau RFL, Jang EB, Klungness LM, McInnis DO, Harris EB, McQuate GT, Bautista RC, Wong L (2010) Area-wide suppression of the Mediterranean fruit Fly, Ceratitis capitata, and the oriental fruit Fly, Bactrocera dorsalis, in Kamuela, Hawaii. J Insect Sci 10:1–17. https://doi.org/10.1673/031.010.13501

Vayssières J-F, Adandonon A, N'Diaye O, Sinzogan A, Kooyman C, Badji K, Rey J-Y, Wharton RA (2012) Native parasitoids associated with fruit flies (Diptera: Tephritidae) in cultivated and wild fruit crops in Casamance, Senegal. African Entomol 20:308–315. https://doi.org/10.4001/003.020.0221

Vayssières JF, Sinzogan A, Adandonon A, Rey JY, Dieng EO, Camara K, Sangaré M, Ouedraogo SN, Hala N, Sidibe A, Kéita YF, Gogovor G, Korie S, Coulibaly O, Kikissagbé C, Tossou A, Billah M, Biney K, Nobime O, Diatta P, N'Dépo OR, Noussourou M, Traore L, Saizonou S, Tamo M (2014) Annual population dynamics of mango fruit flies (Diptera:Tephritidae) in West Africa: socio-economic aspects, host phenology and implication for management. Fruits 69(011):207–209

Vayssières JF, Vannière H, Gueye PS, Barry O, Hanne AM, Korie S, Niassy A, Delhove G (2011) Preliminary inventory of fruit fly species (Diptera, Tephritidae) in mango orchards in the Niayes region, Senegal, in 2004. Fruits 66(002):91–107

Warthen JD, Cunningham RT, Leonhardt BA, Cook JM, Avery JW, Harte E (1998) Comparison of Ceralure and Trimedlure controlled-release formulations for male Mediterranean fruit flies in C&C Traps. J Chem Ecol 24(8):1305–1314

Zakari-Moussa O, Ratnadass A, Vayssières JF, Nikiema A, Fatondji D, Salha H, Aboubacar K, Rickewaert P, Pasternak D (2012) GF-120 effects on fruits fly species (Diptera, tephritidae) in Sahelian agroforestery-based horticultural cropping systems. Fruits 67(025):333–339
Acknowledgements
We would like to thank the Senegalese Plant Protection Directorate for making the work possible, the team of technicians and trainees from the agricultural zoology laboratory for the follow-up and Dr. Charles Haddad, producer for facilitating access to his orchard.
Funding
- Plant Protection Directorate of Senegal make the M. acridum strain available free of charge
- Dr. Charles Haddad paid the Methyl eugenol and fund some material to make traps.
Ethics declarations
Conflict of interest
The authors declare that they have no conflict of interest.
Additional information
Publisher's note
Springer Nature remains neutral with regard to jurisdictional claims in published maps and institutional affiliations.
About this article
Cite this article
Faye, P.D., Bal, A.B., Ndiaye, N.M. et al. Field efficacy of Metarhizium acridum (Hypocreales: Clavicipitaceae) in the control of Bactrocera dorsalis (Diptera: Tephritidae) in citrus orchards in Senegal. Int J Trop Insect Sci 41, 1185–1195 (2021). https://doi.org/10.1007/s42690-020-00306-5
Received:

Accepted:

Published:

Issue Date:
Keywords
Autoinoculation

Bactrocera dorsalis
Metarhizium acridum

Attractive contaminant trap