Abstract
The housefly (Musca domestica) is incriminated as a vector of many detrimental diseases like diarrhoea, cholera, etc. To combat its population below threshold levels many types of insecticides including essential oils (EOs) have been tested from time to time. However the insect has often shown some resistance to proliferate and reproduce continuously. In view of this objective, present study highlights the antioxidative responses of M. domestica larvae to Bay, Lemongrass and Tea tree EOs during a short-term exposure (24 h) to respective compounds. After treatment with EOs, the housefly larvae showed increased levels of Malondialdehyde (MDA) indicating increased lipid peroxidation due to tested oils. The Tea tree essential oil induced substantial increase in superoxide dismutase and glutathione peroxidase activities as compared to lemongrass and bay EOs. Moreover, Lemongrass EO was found to significantly affect the catalase activity depicting a value of 0.0733 ± 0.006 units per milligram of protein (U/mg protein). In case of glutathione reductase activity, higher effect was induced by bay EO exhibiting 0.0150 ± 0.001 U/mg protein which was preceded by tea tree compound. The observations of the present study signpost that M. domestica has evolved antioxidant defence mechanism to combat reactive oxygen species generated by short term exposure of LC50 concentration of tested EOs. Therefore proper optimization of EO concentration together with time of exposure of the insect becomes imperative for formulating organic insecticides against house fly populations.
Access options
Buy single article
Instant access to the full article PDF.
US$ 39.95
Tax calculation will be finalised during checkout.
Subscribe to journal
Immediate online access to all issues from 2019. Subscription will auto renew annually.
US$ 79
Tax calculation will be finalised during checkout.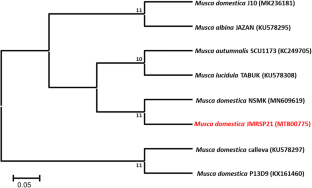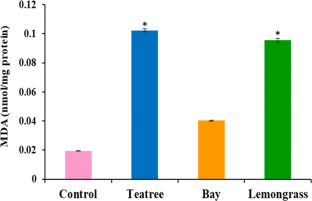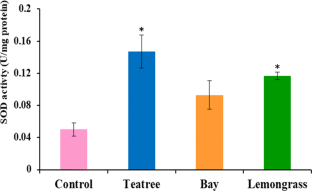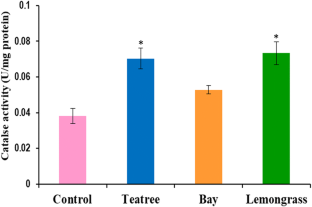 Data availability
All the data generated or analyzed during this study is provided in the manuscript and its associated materials.
References
Abu-Dahab R, Kasabri V, Afifi FU (2014) Evaluation of the volatile oil composition and anti-proliferative activity of Laurus nobilis L. (Lauraceae) on breast cancer cell line models. Rec Nat Prod 8:136–147

Aebi H (1984) Catalase, in vitro. Method Enzymol 105:121–126. https://doi.org/10.1016/S0076-6879(84)05016-3

Ahmad S (1995) Oxidative stress from environmental pollutants. Arch Insect Biochem Physiol 29:135–157. https://doi.org/10.1002/arch.940290205

Andrade-Ochoa S, Sánchez-Aldana D, Chacón-Vargas KF, Rivera-Chavira BE, Sánchez-Torres LE, Camacho AD, Nogueda-Torres B, Nevárez-Moorillón GV (2018) Oviposition deterrent and larvicidal and pupicidal activity of seven essential oils and their major components against Culex quinquefasciatus Say (Diptera: Culicidae): synergism–antagonism effects. Insects 9:25. https://doi.org/10.3390/insects9010025

Angioni A, Barra A, Coroneo V, Dessi S, Cabras P (2006) Chemical composition, seasonal variability, and antifungal activity of Lavandula stoechas L. ssp. stoechas essential oils from stem/leaves and flowers. J Agric Food Chem 54:4364–4370. https://doi.org/10.1021/jf0603329

Bakkali F, Averbeck S, Averbeck D, Idaomar M (2008) Biological effects of essential oils-A review. Food Chem Toxicol 46:446–475. https://doi.org/10.1016/j.fct.2007.09.106

Beauchamp C, Fridovich I (1971) Super oxide dismutase: improved assays and assay applicable to acrylamide gels. Anal Biochem 44:276–287. https://doi.org/10.1016/0003-2697(71)90370-8

Birben E, Sahiner UM, Sackesen C, Erzurum S, Kalayci O (2012) Oxidative stress and antioxidant defense. World Allergy Organ J 5:9–20. https://doi.org/10.1097/WOX.0b013e3182439613

Butler SM, Gerry AC, Mullens BA (2007) Housefly (Diptera: Muscidae) activity near baits containing (Z)-9- tricosene and efficacy of commercial toxic fly baits on a southern California dairy. J Econ Entomol 100:1489–1495. https://doi.org/10.1603/0022-0493(2007)100[1489:hfdman]2.0.co;2

Buyukguzel E, Kayaoğlu S (2014) The effect of niclosamide on some biological and physiological aspects of Galleria mellonella L. (Lepidoptera: Pyralidae). Turkiye Entomoloji Dergisi 38:83–99. https://doi.org/10.16970/ted.87976

Buyukguzel E, Buyukguzel K, Erdem E, Adamski Z, Marciniak Ziemnick K, Ventrella KSL, Bufo SA (2013) The influence of dietary α-solanine on the waxmoth Galleria mellonella L. Arch Insect Biochem 89:1–10. https://doi.org/10.1002/arch.21089

Cavalca PAM, Lolis MIGA, Reis B, Bonato CM (2010) Homeopathic and larvicide effect of Eucalyptus cinerea essential oil against Aedes aegypti. Braz Arch Biol Technol 53:835–843. https://doi.org/10.1590/S1516-89132010000400012

Chintalchere JM, Dar MA, Pandit RS (2018) Evaluation of some essential oils against the larvae of house fly, Musca domestica by using residual film method. Adv Biotech Micro 9:1–8. AIBM.MS.ID.555752. https://doi.org/10.19080/AIBM.2018.09.555752

Chintalchere JM, Dar MA, Pandit RS (2020) Biocontrol efficacy of bay essential oil against housefly, Musca domestica (Diptera: Muscidae). JOBAZ 81:6. https://doi.org/10.1186/s41936-020-0138-7

Choi J, Roche H, Caquet T (1999) Characterization of superoxide dismutase activity in Chironomus riparius Mg. (Diptera: Chironomidae) larvae a potential biomarker. Comp Biochem Physiol C: Pharmacol Toxicol Endochrinol 124:73–81. https://doi.org/10.1016/s0742-8413(99)00045-6

Del Rio D, Stewar AJ, Pellegrini N (2005) A review of recent studies on malondialdehyde as toxic molecule and biological marker of oxidative stress. Nutr Metab Cardiovasc Dis 15:316–328. https://doi.org/10.1016/j.numecd.2005.05.003

Desneux N, Decourtye A, Delpuech JM (2007) The sub-lethal effects of pesticides on beneficial arthropods. Annu Rev Entomol 52:81–106. https://doi.org/10.1146/annurev.ento.52.110405.091440

Drapeau J, Frohler C, Touraud D, Krockel U, Geier M, Rose A, Kunz W (2009) Repellent studies with Aedes aegypti mosquitoes and human of olfactory tests on 19 essential oils from Corsica. Flavour Frag J 4:160–169. https://doi.org/10.1002/ffj.1928

Durak D, Uzun FG, Kalender S, Ogutcu A, Uzunhisarcikli M, Kalender Y (2009) Malathion-induced oxidative stress in human erythrocytes and protective effect of vitamins C and E in vitro. Environ Toxicol 24:235–242. https://doi.org/10.1002/tox.20423

El Zayyat EA, Soliman MI, Elleboudy NA, Ofaa SA (2015) Musca domestica laboratory susceptibility to three ethnobotanical culinary plants. Environ Sci Pollut Res 22:15844–15852. https://doi.org/10.1007/s11356-015-4796-9

Erdem M, Kucuk C, Buyukguzel E, Buyukguze K (2013) The effect of gemifloxacin on hemoplymph oxidative and antioxıdative response of Galleria mellonella L. (Lepidoptera: Pyralidae) 168. Drug discovery and therapy world congress (3–6 June, USA) proceedings, 226

Esterbauer H, Cheeseman KH (1990) Determination of aldehydic lipid peroxidation products: malonaldehyde and 4-Hydroxynonenal. Methods Enzymol 186:407–421. https://doi.org/10.1016/0076-6879(90)86134-h

Evans P, Halliwell B (2001) Micronutrients: oxidant/antioxidant status. Br J Nutr 85:S67–S74

Evans P, Lyras L, Halliwel B (1999) Measurement of protein carbonyls in human brain tissue. Method Enzymol 300:145–156. https://doi.org/10.1016/s0076-6879(99)00122-6

Evrendilek GA (2015) Empirical prediction and validation of antibacterial inhibitory effects of various plant essential oils on common pathogenic bacteria. Int J Food Microbiol 202:35–41. https://doi.org/10.1016/j.ijfoodmicro.2015.02.030

Fang YZ, Yang S, Wu G (2002) Free radicals, antioxidants, and nutrition. Nutrition 18:872–879. https://doi.org/10.1016/s0899-9007(02)00916-4

Felton GW, Summers CB (1995) Antioxidant systems in insects. Arch Insect Biochem Physiol 29:187–197. https://doi.org/10.1002/arch.940290208

Folmer O, Black M, Hoeh W, Lutz R, Vrijenhoek R (1994) DNA primers for amplification of mitochondrial cytochrome C oxidase subunit I from diverse metazoan invertebrates. Mol Mar Biol Biotechnol 3:294–299

Frederich M, Dogné JM, Angenot L, De Mol P (2002) New trends in anti-malarial agents. Curr Med Chem 9:1435–1456. https://doi.org/10.2174/0929867023369691

Geden CJ (2012) Status of biopesticides for control of house flies. J Biopest 5:1–11

Goldberg DM, Spooner RJ (1983) Glutathione reductase. In: Bergmeyer HU, Bergmeyer J, GraBI M (eds) Methods of enzymatic analysis, vol 3, 3rd edn. Verlag Chemie, Weinheim, pp 258–265

Grubel P, Hoffman JS, Chong FK, Burstein NA, Mepani C, Cave DR (1997) Vector potential of houseflies (Musca domestica) for Helicobacter pylori. J Clin Microbiol 35:1300–1303. https://doi.org/10.1128/JCM.35.6.1300-1303.1997

Gulbahar O (2007) Biochemical and molecular mechanism of protein oxidation. Turk J Geriatr 10:43–48

Gumus T, Demirci AS, Sagdic O, Arici M (2010) Inhibition of heat resistant molds: Aspergillus fumigates and Paecilo mycesvariotti by some plant essential oils. Food Sci Biotechnol 19:1241–1244. https://doi.org/10.1007/s10068-010-0177-9

Hafeman G, Sunde A, Hoekstra G (1974) Effect of dietary selenium on erythrocyte and liver glutathione peroxidase in the rat. J nutrition 104:580–587. https://doi.org/10.1093/jn/104.5.580

Halliwell B, Whiteman M (2004) Measuring reactive species and oxidative damage in vivo and in cell culture: how should you do it and what do the results mean? Br J Pharmacol 142:231–255. https://doi.org/10.1038/sj.bjp.0705776

Hyršl P, Buyukguzel E, Buyukguzel K (2007) The effects of boric acid-induced oxidative stress on antioxidant enzymes and survivorship in Galleria mellonella. Arch Insect Biochem Physiol 66:23–31. https://doi.org/10.1002/arch.20194

Isman MB (2006) Botanical insecticides, deterrents and repellents in modern agriculture and an increasingly regulated world. Annu Rev Entomol 51:45–66. https://doi.org/10.1146/annurev.ento.51.110104.151146

Kaufman PES, Long J, Rutz DA, Waldron JK (2001) Parasitism rates of Muscidifurax raptorellus and Nasonia vitripennis (hymenoptera: pteromalidae) after individual and paired releases in New York poultry facilities. J Econ Entomol 94:593–598. https://doi.org/10.1603/0022-0493-94.2.593

Kim P (2019) Infrastructure development for collection and its application of natural history reference specimens. Genbank 2019

Kumar P, Mishra S, Malik A, Satya S (2011) Repellent, larvicidal and pupicidal properties of essential oils and their formulations against the housefly, Musca domestica. Med Vet Entomol 25:302–310. https://doi.org/10.1111/j.1365-2915.2011.00945.x

Lalouette L, Williams CM, Hervant F, Sinclair BJ, Renault D (2011) Metabolic rate and oxidative stress in insects exposed to low temperature thermal fluctuations. Comp Biochem Physiol A158:229–234. https://doi.org/10.1016/j.cbpa.2010.11.007

Leelaja BC, Rajini PS (2012) Impact of phosphine exposure on development in Caenorhabditis elegans: involvement of oxidative stress and the role of glutathione. Pestic Biochem Phys 104:38–43. https://doi.org/10.1016/j.pestbp.2012.06.007

Lopez-Martinez G, Elnitsky MA, Benoit JB, Jrre L, Denlinger DL (2008) High resistance to oxidative damage in the Antarctic midge Belgica antarctica, and developmentally linked expression of genes encoding superoxide dismutase, catalase and heat shock proteins. Insect Biochem Mol Biol 38:796–804. https://doi.org/10.1016/j.ibmb.2008.05.006

Macovei L, Miles B, Zurek L (2008) The potential of house flies to contaminate ready-to-eat food with antibiotic resistant enterococci. J Food Prot 71:432–439. https://doi.org/10.4315/0362-028x-71.2.435

Melusova M, Slamenova D, Kozics K, Jantova S, Horvathova E (2014) Carvacrol and rosemary essential oil manifest cytotoxic, dna-protective and pro-apoptotic effect having no effect on DNA repair. Neoplasma 61:690–699. https://doi.org/10.4149/neo_2014_084

Meng JY, Zhang CY, Zhu F, Wang XP, Lei CL (2009) Ultraviolet light-induced oxidative stress: effects on antioxidant response of Helicoverpa armigera adults. J Insect Physiol 55:588–592. https://doi.org/10.1016/j.jinsphys.2009.03.003

Meng XY, Zhang HX, Mezei M, Cui M (2011) Molecular docking: a powerful approach for structure-based drug discovery. Curr Comput-Aid Drug 7:146–157. https://doi.org/10.2174/157340911795677602

Norris EJ, Gross AD, Dunphy BM, Bessette S, Bartholomay L, Coats JR (2015) Comparison of the insecticidal characteristics of commercially available plant essential oils against Aedes aegypti and Anopheles gambiae (Diptera: Culicidae). J Med Entomol 52:993–1002. https://doi.org/10.1093/jme/tjv090

Pavela R (2009) Larvicidal property of essential oils against Culex quinquefasciatus Say (Diptera: Culicidae). Ind Crop Prod 30:311–315. https://doi.org/10.1016/j.indcrop.2009.06.005

Pinho AI, Wallau GL, Nunes MEM, Leite NF, Tintino SR, da Cruz LC, da Cunha FAB, da Costa JGM, Coutinho HDM, Posser T, Franco JL (2014) Fumigant activity of the Psidium guajava Var. Pomifera (Myrtaceae) essential oil in Drosophila melanogaster by means of oxidative stress. Oxid Med Cell Longev ID 696785 8. https://doi.org/10.1155/2014/696785

Prakash KSB (2015) Toxicity and biochemical efficacy of chemically characterized Rosmarinus officinalis essential oil against Sitophilus oryzae and Oryzaephilus surinamensis. Ind Crop Prod 74:817–823. https://doi.org/10.1016/j.indcrop.2015.05.073

Sayyah M, Saroukhani G, Peirovi A, Kamalinejad M (2003) Analgesic and anti-inflammatory activity of the leaf essential oil of Laurus nobilis Linn. Phytother Res 17:733–736. https://doi.org/10.1002/ptr.1197

Scott JG (2017) Evolution of resistance to pyrethroid insecticides in Musca domestica. Pest Manag Sci 73:716–722. https://doi.org/10.1002/ps.4328

Senfi F, Safaralizadeh MH, Safavi SA (2014) Fumigant toxicity of Laurus nobilis and Myrtus communis essential oils on larvae and adults of the Red flour beetle, Tribolium castaneum Herbst (Col.: Tenebrionidae). Arch Phytopathol Pflanzenschutz 47:472–476. https://doi.org/10.1080/03235408.2013.812819

Sertkaya E, Kaya K, Soylu S (2010) Acaricidal activities of the essential oils from several medicinal plants against the carmine spider mite (Tetranychus cinnabarinus Boisd.) (Acarina:Tetranychidae). Ind Crop Prod 31:107–112. https://doi.org/10.1016/j.indcrop.2009.09.009

Singh R, Koul O, Rup PJ, Jindal J (2009) Toxicity of some essential oil constituents and their binary mixtures against Chilo partellus (Lepidoptera: Pyralidae). Int J Trop Insect Sci 29:93–101. https://doi.org/10.1017/S1742758409990087

Srinivasan S, Dorighi KM, Tamkun JW (2008) Drosophila kismet regulates histone H3 lysine 27 methylation and early elongation by RNA polymerase II. PLoS Genet 4:e1000217. https://doi.org/10.1371/journal.pgen.1000217

Summers CB, Felton GW (1993) Antioxidant role of dehydroascorbic acid reductase in insects. Biochim Biophys Acta 1156:235–238. https://doi.org/10.1016/0304-4165(93)90142-u

Thapa D, Richardson AJ, Zweifel B, Wallace RJ, Gratz SW (2019) Genoprotective effects of essential oil compounds against oxidative and methylated DNA damage in human colon cancer cells. J Food Sci 84:1979–1985. https://doi.org/10.1111/1750-3841.14665

Wanaratana S, Amonsin A, Chaisingh A, Panyim S, Sasipreeyajan J, Pakpinyo S (2013) Experimental assessment of houseflies as vectors in avian influenza subtype H5N1 transmission in chickens. Avian Dis 57:266–272. https://doi.org/10.1637/10347-090412-Reg.1
Acknowledgements
The authors are thankful to Ms. Shruti Satpute and Trupti Tondarkar for their kind assistance while rearing the insects. JMC is highly indebted to S. P. Pune University, Pune for providing research stipend and infrastructural support necessary to carry out the presented work. The grants sanctioned under UGC-CAS-III, DRDP and DST-PURSE schemes to RSP are also acknowledged. The funding sources had no role in design, execution and publication of this study.
Funding
The study was supported by the grants received from UGC-New Delhi, under UGC-CAS-III, DRDP and DST-PURSE schemes to RSP.
Ethics declarations
Conflict of interest
The authors declare that they have no conflict of interest with respect to the research, authorship, and/or publication of this article.
Code availability
Not applicable.
Additional information
Publisher's note
Springer Nature remains neutral with regard to jurisdictional claims in published maps and institutional affiliations.
Mudasir A. Dar is co-first author
Electronic supplementary material
About this article
Cite this article
Chintalchere, J.M., Dar, M.A., Shaha, C. et al. Impact of essential oils on Musca domestica larvae: oxidative stress and antioxidant responses. Int J Trop Insect Sci 41, 821–830 (2021). https://doi.org/10.1007/s42690-020-00272-y
Received:

Accepted:

Published:

Issue Date:
Keywords
Musca domestica

Oxidative stress

Essential oils

Lemongrass

Bay

Reactive oxygen species