Abstract
The establishment of a laboratory colony is an essential first step for conduction of laboratory studies on the biology and control of Aedes albopictus mosquitoes. Therefore, with the objective of generating high quality mosquitoes as research material for utilization in ongoing vector control studies and to disseminate authenticated, high-quality Ae. albopictus mosquito rearing information to the research community, maintenance of an Ae. albopictus mosquito colony was initiated at the Molecular Medicine Unit, Faculty of Medicine, University of Kelaniya, Sri Lanka. A self-mating colony was established from eggs of the F1 progeny of individuals collected as free-living larvae in Narahenpita (Western Province), Sri Lanka. The mean temperature of 28 °C (± 2 °C) and relative humidity of 80% (± 5%) was constantly maintained inside the insectary. Lighting was provided by fluorescent lights, regulated with 12:12 h continuous dark and light period. Pest insects were controlled manually. Mosquitoes were maintained on bovine blood provided via an artificial membrane feeding system and a continuous supply of 10% sugar supplements. Larvae were maintained in deoxygenate water and fed with International Atomic Energy Agency (IAEA) recommended diet of tuna meal, bovine liver powder, and brewery yeast in a ratio of 37.5:27:10.5 in 1 L. Data on fecundity, fertility, larvae death, pupation, adult emergence, adult mosquito longevity were recorded. Adhering to bio-safety, all discarded materials were boiled thoroughly and incinerated if required. This report on the establishment and maintenance of a laboratory colony of Ae. albopictus will be of value for identifying the critical requirements essential under artificial conditions.
Access options
Buy single article
Instant access to the full article PDF.
USD 39.95
Price excludes VAT (USA)
Tax calculation will be finalised during checkout.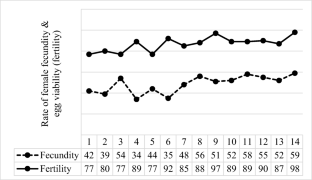 References
Balestrino F, Puggioli A, Gilles JRL, Bellini R (2014) Validation of a new larval rearing unit for Aedes albopictus (Diptera: Culicidae) mass rearing. PLoS One 9(3):e91914. https://doi.org/10.1371/journal.pone.0091914

Bellini R, Calvitti M, Medici A, Carrieri M, Celli G, Maini S (2007) Use of the sterile insect technique against Aedes albopictus in Italy: first results of a pilot trial. In: area wide Control of insect pests. Springer, Netherlands. pp505–515

Benedict MQ, Levine RS, Hawley WA, Lounibos LP (2007) Spread of the tiger: global risk of invasion by the mosquito Aedes albopictus. Vector Borne Zoonotic Dis 7:76–85. https://doi.org/10.1089/vbz.2006.0562

Benelli G, Jeffries CL, Walker T (2016) Biological Control of mosquito vectors: past, present, and future. Insects 7(4):52. https://doi.org/10.3390/insects7040052

Borg AF, Horsfall WR (1953) Eggs of floodwater mosquitoes II. Hatching stimulus. Ann Entomol Soc Am 46(4):472–478

Carvalho DO, MsKemey AR, Garziera L, Lacroix R, Donnelly CA, Alphey L et al (2014) Suppression of a field population of Aedes aegypti in Brazil by sustained release of transgenic male mosquitoes. PLoS Negl Trop Dis 9(7):e0003864. https://doi.org/10.1372/journal.pntd.0003864

Castro A, Davidson S, Azevedo C, Bicudo de Paula M, Marques R (1994) Duration of larval and pupal development stages of Aedes albopictus in natural and artificial containers. Rev Saude Publica 29(1):15–19

Center for Disease Control (CDC) (2017) Surveillance and control of Aedes aegypti and Aedes albopicyus in the United States. Online available from: https://www.cdc.gov/chikungunya/pdfs/surveillance-and-control-of-Aedes-aegypti-and-Aedes-albopictus-US.pdf

Christofferson RC (2015) A reevaluation of the role of Aedes albopictus in dengue transmission. J Infect Dis 212(8):1177–1179. https://doi.org/10.1093/infdis/jiv174

Consoli RAGB, Lourenço-de-Oliveira R (1994) Principais mosquitos de importância sanitária no Brasil. Fiocruz, Rio de Janeiro, p 225

Couret J, Dotson E, Benedict MQ (2014) Temperature, larval diet, and density effects on development rate and survival of Aedes aegypti (Diptera: Culicidae). PLoS One 9:e87468

Cunze S, Kochmann J, Koch LK, Klimpel S (2016) Aedes albopictus and its environmental limits in Europe. PLoS One 11(9):e0162116. https://doi.org/10.1371/journal.pone.0162116

De Jesus, C.E., Reiskind, M.H. (2016). The importance of male body size on sperm uptake and usage, and female fecundity in Aedes aegypti and Aedes albopictus. Parasite Vectors 9: pp 1

Delatte, H., Gimonneau, G., Triboire, A., Fontenille, D. (2009). Influence of temperature on immature development, survival, longevity, fecundity and gonotrophic cycles of Aedes albopictus, vector of chikungunya and dengue in the Indian Ocean. J Med Entomol 46(1): pp33–41, 33

Deng L, Koou SY, Png AB, Ng LC, Lam-Phua SG (2012) A novel mosquito feeding system for routine blood-feeding of Aedes aegypti and Aedes albopictus. Tropical Biomedicine. 29: pp169–174. Ecology. 4: 51–85

Eisen L, Beaty BJ, Morrison AC, Scott TW (2009) Proactive vector control strategies and improved monitoring and evaluation practices for dengue prevention. J Med Entomol 46:1245–1255

Fallis, S.P., Snow, K.R. (1983). The hatching stimulus for eggs of Aedes punctor (Diptera: Culicidae). Ecol Entomol 8(1): pp23–28

Farnesi LC, Martins AJ, Valle D, Rezende GL (2009) Embryonic development of Aedes aegypti (Diptera: Culicidae): influence of different constant temperatures. Mem Inst Oswaldo Cruz 104(1):124–126

Gubler DJ (1988) In the arboviruses: biology and epidemiology (T.P. Monath, ed.). CRC Press, Boca Raton, pp 223–258

Hawley WA (1988) The biology of Aedes albopictus. J Am Mosq Control Assoc 1(1):1–39

Higgs, S., Beaty, B.J. (1996). Rearing and containment of mosquito vectors. In The biology of Disease vectors, ed. BJ Beaty, WC Marquardt, Niwot: University Press of Colorado. pp595–605

International Atomic Energy Agency (IAEA) (2017) Guidelines for routine colony maintenance of Aedes mosquito species. Insect Pest Control Section, Joint FAO. IAEA Division of Nuclear Techniques in Food and Agriculture. 1

Judson CL (1960) The physiology of hatching of aedine mosquito eggs: hatching stimulus. Ann Entomol Soc Am 53(5):688–691

Lambrechts L, Scott TW, Gubler DJ (2011) Consequences of the expanding global distribution of Aedes albopictus for dengue virus transmission. PLoS Negl Trop Dis 4(5):e646. https://doi.org/10.1371/journal.pntd.0000646

Medlock JM, Hansford KM, Schaffner F, Versteirt V, Hendrickx G, Zeller H et al (2012) A review of the invasive mosquitoes in Europe: ecology, public health risks, and control options. Vector Borne Zoonotic Dis 12:435–447

Morlan HB, Hayes RO, Schoof HF (1963) Methods for mass rearing of Aedes aegypti (L.). Public Health Rep 78(8):711

Mulla MS, Chaudhury MF (1968) Release of new mosquito larvicides into water from granular formulations. In: proceedings and papers of the annual conference of the California mosquito Control association. California. pp 86

Norkrans B (1980) Surface microlayers in aquatic environments. Advances in Microbial

Schwan TG, Anderson JR (1980) A comparison of egg hatching techniques for the western treehole mosquito, Aedes sierrensis. Mosquito News 40(1):263–269

Sirisena PDNN, Noordeen F (2013) Evolution of dengue in Sri Lanka-changes in the virus, vector, and climate. Int J Infect Dis. https://doi.org/10.1016/j.ijid.2013.10.012

Wijegunawardana NDAD, Abeyewickreme W, Gunawardene YINS, Dasannayaka RS, Chandrasena N, Bourtzis K, Xi Z (2017) Potential use of a combined sterile insect technique (SIT) and Wolbachia-based (Wb) approach for the control of the dengue vector Aedes albopictus in Sri Lanka. Proceedings of the SLAYS open forum 2017 "Research for Impact; March of the Sri Lankan Young Scientists" organized by the Sri Lanka Academy of Young Scientists (SLAYS) and National Science Foundation (NSF) Sri Lanka in collaboration with Coordinating Secretariat for Science, Technology and Innovation (COSTI). pp 88–89

Yi H, Devkota BR, Yu JS, Oh KC, Kim J, Kim HJ (2014) Effects of global warming on mosquitoes & mosquito-borne diseases and the new strategies for mosquito control. Entomol Res 44(6):215–235
Acknowledgements
Financial support received through NRC TO 14/04, IAEA RAS 5047 and WHO/TDR grant HQTDR1409931 (TIMS ID: B40098) are greatly acknowledged.
Ethics declarations
Conflict of Interest
The authors declare that they have no conflict of interest.
Additional information
Publisher's note
Springer Nature remains neutral with regard to jurisdictional claims in published maps and institutional affiliations.
About this article
Cite this article
Wijegunawardana, N.D.A.D., Gunawardene, Y.I.N.S., Abeyewickreme, W. et al. Optimization of Aedes albopictus rearing procedures for combined sterile insect techniques (SIT) and Wolbachia-based laboratory studies in Sri Lanka. Int J Trop Insect Sci 40, 801–807 (2020). https://doi.org/10.1007/s42690-020-00134-7
Received:

Accepted:

Published:

Issue Date:

DOI: https://doi.org/10.1007/s42690-020-00134-7
Keywords
Aedes albopictus

Laboratory colonization

Optimum rearing conditions