Abstract
Since the early 1990s, persistently low fertility in Mediterranean countries has attracted the interest of empirical research aimed at identifying factors associated with demographic change in what were traditionally high-fertility contexts. Most of these studies have been carried out at the national scale, while spatial analyses of sub-national patterns remain mostly absent. The present study aims to fill this gap, investigating the spatio-temporal changes in local fertility in Spanish municipalities over a 16-year period that covers consecutive waves of economic expansion (2002–2009) and recession (2010–2017). The analytical framework is grounded on descriptive statistics, spatial statistics (that is, Global Moran's I and Local Indicators of Spatial Association) and non-parametric inference testing the pair-wise correlations between fertility levels and contextual variables (including population density, topography, accessibility and distance from central locations). Results of this study reveal a fertility decline in most areas of the country—especially in depopulated districts. The highest fertility is observed in Southern Spain, along the Mediterranean coast, and around the main cities. With recession, spatial heterogeneity emerges as the main trend characterizing regional fertility—a finding in line with research from other Mediterranean countries. Local fertility rates were less spatially clustered in the recession than in the expansion period, with a progressive shrinkage of high-fertility districts. A persistent decline in local fertility may be considered an early-warning indicator of depopulation in Spain's rural districts and can be used to delineate demographically fragile areas.
Résumé
Depuis le début des années 1990, une fécondité toujours faible dans les pays méditerranéens a suscité l'intérêt des chercheurs visant à identifier les facteurs associés au changement démographique dans des contextes traditionnellement à forte fécondité. La plupart de ces études ont été menées à l'échelle nationale et des analyses explicitement spatiales étaient partielles ou absentes. La présente étude vise à combler ce manque de connaissances en examinant l'évolution spatio-temporelle de la fécondité dans les municipalités espagnoles sur une période de seize ans qui couvre une phase d'expansion economique (2002–2009) et de récession (2010–2017). Le cadre analytique est fondé sur des statistiques descriptives, le I de Global Moran, les indicateurs locaux de l'association spatiale (LISA) et l'inférence non paramétrique testant les corrélations par paires entre les niveaux de fécondité et les variables contextuelles (y compris la densité de population). Les résultats de cette étude montrent une tendance à la baisse de la fécondité dans la plupart des régions du pays - en particulier dans les districts dépeuplés. La plus forte fécondité est observée dans le sud de l'Espagne, le long de la côte méditerranéenne et autour des principales villes. Avec la récession, l'hétérogénéité spatiale apparaît comme la principale tendance caractérisant la fécondité régionale de l'Espagne - une constatation conforme aux recherches dans d'autres pays méditerranéens. Les taux de fécondité locaux étaient moins homogènes pendant la récession que pendant la période d'expansion, quand il y eu une réduction progressive des districts à forte fécondité. Une baisse persistante de la fécondité locale peut être considérée comme un indicateur d'alerte précoce du dépeuplement dans les districts ruraux et peut être utilisée pour délimiter les zones démographiquement fragiles.
Access options
Buy single article
Instant access to the full article PDF.
USD 39.95
Price excludes VAT (USA)
Tax calculation will be finalised during checkout.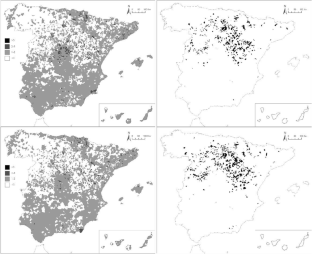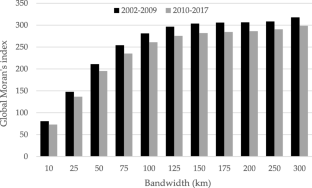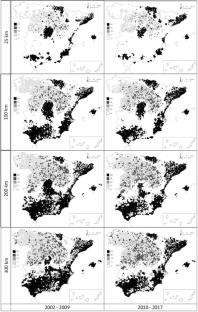 Notes
Global and local spatial autocorrelation coefficients provide a comprehensive analysis of the spatial behaviour of a given variable at various territorial scales, moving from the whole study area (global indexes) to the most elementary spatial unit (local indexes). Global measures generate a single metric of overall spatial autocorrelation, whereas local measures draw on a subset of data and are useful for identifying clusters and specific types of clusters (identifying clusters of high values of fertility in adjacent municipalities or "hot spots", as well as clusters of low values of fertility in adjacent municipalities or "cold spots"). Significant and non-significant coefficients respectively indicate the level of spatial clustering and randomness. Use of multiple bandwidths in global analysis identifies specific spatial patterns and regularities at varying ranges, from small-range to large-range similarities in demographic behaviours.
References
Adsera, A. (2006a). An economic analysis of the gap between desired and actual fertility: the case of Spain. Review of Economics of the Household, 4(1), 75–95.

Adsera, A. (2006b). Marital fertility and religion in Spain, 1985 and 1999. Population Studies, 60, 205–221.

Arpino, B., & Patrício Tavares, L. (2013). Fertility and values in Italy and Spain: a look at regional differences within the European context. Population Review, 52(1), 62–86.

Baizán, P. (2009). Regional child care availability and fertility decisions in Spain. Demographic Research, 21(27), 803–842.

Balbo, N., Billari, F. C., & Mills, M. (2013). Fertility in advanced societies: a review of research. European Journal of Population, 29(1), 1–38.

Bernardi, F. (2005). Public policies and low fertility: rationales for public intervention and a diagnosis for the Spanish case. Journal of European Social Policy, 15(2), 123–138.

Bernardi, F., & Roquena, M. (2003). La caída de la fecundidad y el déficit de natalidad en España. RES, Revista Española de Sociología, 3, 29–49.

Billari, F. C., Kohler, H. P., Andersson, G., & Lundström, H. (2007). Approaching the limit: long-term trends in late and very late fertility. Population and Development Review, 33(1), 149–170.

Bledsoe, C., Houle, R., & Sow, P. (2007). High fertility Gambians in low-fertility Spain: the dynamics of child accumulation across transnational space. Demographic Research, 16(12), 375–412.

Brodmann, S., Esping-Andersen, G., & Güell, M. (2007). When fertility is bargained: second births in Denmark and Spain. European Sociological Review, 23(5), 599–613.

Cabré, A. (2003). Facts and factors on low fertility in Southern Europe. The Case of Spain. Journal of Population and Social Security (Population), S1, 309–321.

Carlucci, M., Chelli, F. M., & Salvati, L. (2018). Toward a new cycle: short-term population dynamics, gentrification, and re-urbanization of Milan (Italy). Sustainability (Switzerland), 10(9), 3014.

Castro, M. C. (2007). Spatial demography: an opportunity to improve policy making at diverse decision levels. Population Research and Policy Review, 26(5–6), 477–509.

Castro-Martín, T., & Rosero-Bixby, L. (2011). Maternidades y fronteras. La fecundidad de las mujeres inmigrantes en España. Revista Internacional de Sociología, 69(1), 105–137.

Chelli, F., & Rosti, L. (2002). Age and gender differences in Italian workers' mobility. International Journal of Manpower, 23(4), 313–325.

Chelli, F., Gigliarano, C., & Mattioli, E. (2009). The impact of inflation on heterogeneous groups of households: an application to Italy. Economics Bulletin, 29(2), 1276–1295.

Ciommi, M., Gentili, A., Ermini, B., Chelli, F. M., & Gallegati, M. (2017). Have your cake and eat it too: the well-being of the Italians (1861–2011). Social Indicators Research, 134(2), 473–509.

Ciommi, M., Chelli, F. M., Carlucci, M., & Salvati, L. (2018). Urban growth and demographic dynamics in southern Europe: Toward a new statistical approach to regional science. Sustainability (Switzerland), 10(8), 2765.

Ciommi, M., Chelli, F. M., & Salvati, L. (2019). Integrating parametric and non-parametric multivariate analysis of urban growth and commuting patterns in a European metropolitan area. Quality and Quantity, 53(2), 957–979.

Cooke, L. P. (2009). Gender equity and fertility in Italy and Spain. Journal of Social Policy, 38(1), 123–140.

Coppola, L., & Di Cesare, M. (2008). How fertility and union stability interact in shaping new family patterns in Italy and Spain. Demographic Research, 18(4), 117–144.

Davia, M. A., & Legazpe, N. (2013). The role of education in fertility and female employment in Spain: a simultaneous approach. Journal of Family Issues, 35(14), 1898–1925.

Delgado, M., Zamora, F., & Barrios, L. (2006). Déficit de fecundidad en España: factores demográficos que operan sobre una tasa muy inferior al nivel de reemplazo. Reis, 115(06), 197–222.

Delgado, M., Meil Landwerlin, G., & Zamora López, F. (2008). Spain: short on children and short on family policies. Demographic Research, 19(27), 1059–1104.

Espon (2017). Shrinking rural regions in Europe towards smart and innovative approaches to regional development challenges in depopulation rural regions. Policy Brief, Espon Egtc.

European Commission. (1999). European spatial development perspective. Luxemburg: Towards balanced and sustainable development of the territory of EU. Office for Official Publications of the European Communities.

Evans, A., & Gray, E. (2018). Modelling variation in fertility rates using geographically weighted regression. Spatial Demography, 6, 121–140.

Fotheringham, A. S., Wenbai, T., & Kang, W. (2017). Multiscale geographically weighted regression (MGWR). Annals of the American Association of Geographers, 107(6), 1247–1265.

Frejka, T., & Sobotka, T. (2008). Fertility in Europe: Diverse, delayed and below replacement. Demographic Research, 19, 15–46.

Frejka, T., Jones, G. W., & Sardon, J.-P. (2010). East Asian childbearing patterns and policy developments. Population and Development Review, 36, 579–606.

Galor, O. (2011). The demographic transition: causes and consequences. Cliometrica, 6, 1–28.

Gavalas, V. S., Rontos, K., & Salvati, L. (2014). Who becomes an unwed mother in Greece? Sociodemographic and geographical aspects of an emerging phenomenon. Population, Space and Place, 20(3), 250–263.

Gigliarano, C., & Chelli, F. M. (2016). Measuring inter-temporal intragenerational mobility: an application to the Italian labour market. Quality and Quantity, 50(1), 89–102.

Gil-Alonso, F., Bayona-i-Carrasco, J., Villanueva, C. L., & Pujadas, I. (2017). Diferencias geográficas de la fecundidad en España: una perspectiva provincial. Papeles de Geografía, 63, 21–38.

Guilmoto, C. Z., & Rajan, S. I. (2001). Spatial patterns of fertility transition in Indian districts. Population and Development Review, 27(4), 713–738.

Kalwij, A. (2010). The impact of family policy expenditure on fertility in western Europe. Demography, 47(2), 503–519.

Kohler, H. P., Billari, F. C., & Ortega, J. A. (2002). The emergence of lowest-low fertility in Europe during the 1990s. Population and Development Review, 28(4), 641–680.

Leasure, J. W. (1963). Factors involved in the decline of fertility in Spain 1900–1950. Population Studies, 16(3), 271–285.

Lerch, M. (2019). Regional variations in the rural-urban fertility gradients in global South. PLoS One, 14(7), 1–19.

Lesthaeghe, R., & Lopez-Gay, A. (2013). Spatial continuities and discontinuities in two successive demographic transitions: Spain and Belgium, 1880-2010. Demographic Research, 28, 77–136.

Livi Bacci, M. (1968). Fertility and nuptiality changes in Spain from the late 18th to the early 20th century. Population Studies, 22, 83–102.

Martín García, T. (1992). Delayed childbearing in contemporary Spain: trends and differentials. European Journal of Population, 8(3), 217–246.

Martín García, T. (2010). The impact of occupational sex-composition on women's fertility in Spain. European Societies, 12(1), 113–133.

Martin-Garcia, T., & Castro-Martín, T. (2013). Do women working in the public sector have it easier to become mothers in Spain? Population Review, 52(1), 149–171.

Melo-Martín, I. D. (2009). Assisted reproductive technology in Spain: considering women's interests. Cambridge Quarterly of Healthcare Ethics, 18(3), 228–235.

Mills, M., Rindfuss, R. R., McDondald, P., & Te Velde, E. (2011). Why do people postpone parenthood? Reasons and social policy incentives. Human Reproduction Update, 17(6), 848–860.

Morgan, S. P. (2003). Is low fertility a twenty-first-century demographic crisis? Demography, 40(4), 589–603.

Muniz, J. O. (2009). Spatial dependence and heterogeneity in ten years of fertility decline in Brazil. Population Review, 48(2), 32–65.

Oinonen, E. (2004). Starting the first family. Changes in patterns of family formation and demographic trends in Finland and Spain. European Societies, 6(3), 319–346.

Reher, D. S., & Iriso-Napal, P. L. (1989). Marital fertility and its determinants in rural and in urban Spain, 1887–1930. Population Studies, 43, 405–427.

Reher, D. S., & Sanz-Gimeno, A. (2007). Rethinking historical reproductive change: insights from longitudinal data for a Spanish town. Population and Development Review, 33(4), 703–727.

Requena, M., & Salazar, L. (2014). Education, marriage, and fertility: The Spanish case. Journal of Family History, 39(3), 283–302.

Reynaud, C., Miccoli, S., Benassi, F., Naccarato, A., & Salvati, L. (2020). Unravelling a demographic 'mosaic': spatial patterns and contextual factors of depopulation in Italian municipalities, 1981–2011. Ecological Indicators, 115, 106356.

Rodriguez-Rodriguez, V. (2000). The seven demographic Spains. Inter-municipal contrasts in age structure: fertility and migration are the determining factors. Espace, Populations, Sociétés, 18(3), 425–435.

Roig, M., & Castro Martín, T. (2007). Childbearing patterns of foreign women in a new immigration country: the case of Spain. Population, 62(3), 351–380.

Rosti, L., & Chelli, F. (2009). Self-employment among Italian female graduates. Education and Training, 51(7), 526–540.

Rosti, L., & Chelli, F. (2012). Higher education in non-standard wage contracts. Education and Training, 54(2–3), 142–151.

Sabater, A., & Graham, E. (2019). International migration and fertility variation in Spain during the economic recession: a spatial Durbin approach. Applied Spatial Analysis and Policy, 12(3), 515–546.

Salvati, L., & Carlucci, M. (2017). Urban growth, population, and recession: unveiling multiple spatial patterns of demographic indicators in a Mediterranean City. Population, Space and Place, 23(8), e2079.

Salvati, L., Ciommi, M. T., Serra, P., & Chelli, F. M. (2019). Exploring the spatial structure of housing prices under economic expansion and stagnation: the role of socio-demographic factors in metropolitan Rome, Italy. Land Use Policy, 81, 143–152.

Salvati, L., Benassi, F., Miccoli, S., Rabiei-Dastjerdi, H., & Matthews, S. A. (2020). Spatial variability of total fertility rate and crude birth rate in a low-fertility country: patterns and trends in regional and local scale heterogeneity across Italy, 2002–2018. Applied Geography, 124, 102321.

Tragaki, A., & Bagavos, C. (2019). Fertility variations in the recession context: the case of Greece. Genus, 75(1), 18.

Van Bavel, J. (2012). The reversal of gender inequality in education, union formation and fertility in Europe. Vienna Yearbook of Population Research, 10, 127–154.

Van de Kaa, D. J. (1987). Europe's second demographic transition. Population Bulletin, 42(1), 1–59.

Vitali, A., Billari, F.C. (2017). Changing determinants of low fertility and diffusion: a spatial analysis for Italy. Population, Space and Place 23(2), e1998.

Wachter, K.W. (2005). Spatial demography. Proceedings of the National Academy of Sciences 102(43), 15299–15300.

Zaidi, B., & Morgan, P. (2017). The second demographic transition theory: a review and appraisal. Annual Review of Sociology, 43, 473–492.
Ethics declarations
Conflict of Interest
The authors declare that they have no conflict of interest.
Research Involving Human Participants and/or Animals
No humans or animals involved.
Informed Consent
All authors agree with this submission.
About this article
Cite this article
Burillo, P., Salvati, L., Matthews, S.A. et al. Local-Scale Fertility Variations in a Low-Fertility Country: Evidence from Spain (2002–2017). Can. Stud. Popul. 47, 279–295 (2020). https://doi.org/10.1007/s42650-020-00036-6
Received:

Accepted:

Published:

Issue Date:

DOI: https://doi.org/10.1007/s42650-020-00036-6
Keywords
Total fertility rate

Urban-rural gradient

Accessibility

Depopulation

Municipality

Spain