Abstract
While some intrastate conflicts receive political attention by International Organizations (IOs), others do not. When and under what conditions do IOs pay attention to intrastate conflicts? This paper argues that political attention of IOs towards conflicts is influenced by developments on the micro level (group level)—namely by the establishment of de-bordering strategies by rebel groups. I argue that rebel groups are active agents in elevating the conflict into the world political system by de-bordering the conflict politically. Based on modern systems theory, I developed a theoretical model that distinguishes between a functional, territorial, and symbolic de-bordering of intrastate conflicts. I use descriptive statistics to show in how many conflicts that ended between 1989 and 2006 rebel groups have used de-bordering strategies, and in which cases IOs granted international attention to rebels. The results show that 63% of the rebels in the analyzed conflicts had used de-bordering strategies. In 65% of those cases, IOs responded to the rebels, thereby awarding political attention. This study highlights the importance to take different de-bordering strategies of rebels and the international attention of IOs into account to identify linkages between the micro and macro level in conflict situations. To understand this pattern in more detail, the analysis is followed by an illustrative case study on the de-bordering of the conflict between the Turkish government and the Kurdistan Workers' Party (PKK).
Zusammenfassung
Unter welchen Bedingungen erhalten innerstaatliche Konflikte Aufmerksamkeit von IOs? Das vorliegende Papier argumentiert, dass politische Aufmerksamkeit von IOs gegenüber einem Konflikt von Entwicklungen auf dem Mikrolevel (Gruppenebene) abhängig ist – nämlich dem Aufbau von Entgrenzungsstrategien durch Rebellengruppen. Rebellengruppen tragen durch politische Entgrenzungsstrategien selbst aktiv dazu bei, den Konflikt im weltpolitischen System anschlussfähig zu machen. Zur Analyse entwickele ich ein theoretisches Modell, das auf systemtheoretischen und konflikttheoretischen Annahmen basiert und unterscheide zwischen einer funktionalen, symbolischen und territorialen Entgrenzung von Konflikten. Neue Daten für alle Konflikte, die zwischen 1989 und 2006 endeten, zeigen, dass Rebellengruppen in 63 % der Konflikte Entgrenzungsstrategien genutzt haben und dass IOs in 65 % der Fälle politische Aufmerksamkeit geschenkt haben. Die Ergebnisse unterstreichen die Relevanz von Strukturen zwischen Mikro- und Makrolevel in Konfliktsituationen. Die deskriptive statistische Auswertung wird durch eine illustrative Fallstudie zur Entgrenzung des Konfliktes zwischen der Türkischen Regierung und der Kurdischen Arbeiterpartei (PKK) ergänzt.
Access options
Buy single article
Instant access to the full article PDF.
US$ 39.95
Tax calculation will be finalised during checkout.
Subscribe to journal
Immediate online access to all issues from 2019. Subscription will auto renew annually.
US$ 47.08
Tax calculation will be finalised during checkout.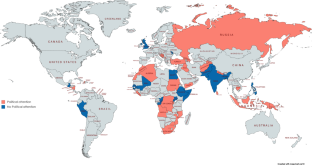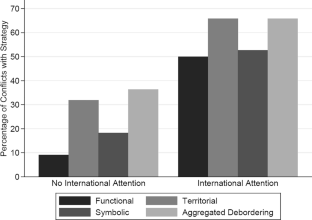 Notes
1.

I thank Rhianna Vonk for her excellent assistance with the coding process, the participants at the German Association for Peace and Conflict Studies (AFK) Conference 2018 in Berlin for the discussion of my paper and the two anonymous reviewers for their helpful comments and suggestions. Special thanks to Roos van der Haer, Johannes Vüllers, and Nils Weidmann for putting together this special issue and their valuable comments on earlier drafts of this paper.

2.

The concepts "rebel groups" and "non-state conflict parties" are used interchangeably.

3.

Compared to rebels, most states already conduct institutionalized relations to IOs in form of representatives in the IO, embassies, or other forms of diplomatic relations.

4.

There are violent ways as in the case of cross-border fighting, border disputes, or safe havens in neighbouring states (Vasquez 1995; Vasquez and Henehan 2001). But there are also plenty of non-violent ways. These include resource-driven border contestations like transnational smuggling, drug trafficking, or financial or logistical cross-border bonds (Gleditsch 2007), as well as political processes, like the setting-up of political outlets, both in the home countries and abroad, in order to attract (international) support and recognition. Moreover, borders are contested by the intervention of external actors (Gleditsch 2009; Gleditsch and Beardsley 2007; Regan 2002).

5.

With 32% of all cases mediated by organizations, the UN is the leading entity in mediation processes, followed by organizations such as the Intergovernmental Authority on Development, the EU, and the Organization of African Unity (DeRouen Jr. et al. 2011, p. 665).

6.

While not every rebel group decides to govern a group of civilians, "a surprisingly large number of rebel groups engage in some sort of governance, ranging from creating minimal regulation and informal taxation to forming popular assemblies, elaborate bureaucracies, schools, courts, and health clinics" (Arjona et al. 2015, p. 1).

7.

"International and/or transnational institutions have authority when the direct and indirect addressees recognize, in principal or in practice, that an institution can make competent judgments and decisions that come with the ambition to be binding at least for some members of the global governance system" (Zürn et al. 2012, p. 70).

8.

Usually, the nation-state harmonizes and integrates the territorial (state borders), symbolic (national identity), and functional borders (political system) discursively and institutionally (Bonacker 2006, p. 82).

9.

For more information about the nature of the non-state armed actor, I referred to the Non-State Actors dataset by Cunningham et al. (2013), which includes data on the state-rebel dyad and additional information on the organizations involved in conflict dynamics.

10.

11.

An international dimension characterizes the conflict due to the hideouts for the PKK leadership and the establishment of training camps for PKK fighters in neighbouring territories in Syria and Northern Iraq. These cross border operations make the conflict relevant in the neighbouring countries as well: In 1998, Turkey threatened Syria with war if the Syrian regime would continue to support the PKK by providing its leader, Abdullah Öcalan, and its fighters with a safe haven on Syrian territory. Northern Iraq even suffered air strikes by the Turkish army in their attempt to destroy PKK camps on Iraqi territory.
References
Adamson, Fiona B. 2013. Mechanisms of diaspora mobilization and the transnationalization of civil war. In Transnational dynamics of civil war, ed. Jeffrey T. Checkel. New York: Cambridge University Press.

Akcinaroglu, Seden, and Elizabeth Radziszewski. 2005. Expectations, rivalries, and civil war duration. International Interactions 31(4):349–374.

Albert, Mathias. 2016. A theory of world politics. Cambridge: Cambridge University Press.

Anderson, Benedict. 2005. Die Erfindung der Nation. Zur Karriere eines folgenreichen Konzepts. Frankfurt/Main, New York: Campus Verlag.

Arjona, Ana, Nelson Kasfir, and Zachariah C. Mampilly (eds.). 2015a. Rebel governance in civil war. Cambridge: Cambridge University Press.

Balch-Lindsay, Dylan, and Andrew J. Enterline. 2000. Killing time: the world politics of civil war duration, 1820–1992. International Studies Quarterly 44(4):615–642.

Baser, Bahar. 2011. Kurdish diaspora political activism in europe with a particular focus on Great Britain

Bob, Clifford. 2005. The marketing of rebellion. Insurgents, media, and international activism. Cambridge: Cambridge University Press.

Bonacker, Thorsten. 2003. Die Ironie des Protests. Zur Rationalität von Protestbewegungen. In Die Ironie der Politik. Über die Konstruktion politischer Wirklichkeiten, ed. Thorsten Bonacker, André Brodocz, and Thomas Noetzel, 195–212. Frankfurt/Main: Campus Verlag.

Bonacker, Thorsten. 2006. Krieg und die Theorie der Weltgesellschaft. Zur makrosoziologischen Erklärung neuer Ergebnisse der empirischen Kriegsforschung. In Den Krieg überdenken. Kriegsbegriffe und Kriegstheorien in der Kontroverse, ed. Anna Geis, 75–94. Baden-Baden: Nomos.

Bonacker, Thorsten, and Christoph Weller. 2006. Konflikte in der Weltgesellschaft: aktuelle Theorie- und Forschungsperspektive. In Konflikte der Weltgesellschaft. Akteure-Strukturen-Dynamiken, ed. Thorsten Bonacker, Christoph Weller, 9–48. Frankfurt/Main: Campus Verlag.

Buhaug, Halvard, and Kristian S. Gleditsch. 2008. Contagion or confusion? Why conflicts cluster in space. International Studies Quarterly 52(2):215–233.

Carment, David, Patrick James, and Zeynep Taydas. 2009. The internationalization of ethnic conflict: state, society, and synthesis. International Studies Review 11:63–86.

Cederman, Lars-Erik, Luc Girardin, and Kristian S. Gleditsch. 2009. Ethnonationalist triads: assessing the influence of kin groups on civil wars. World Politics 61(3):403–437.

Chalk, Peter. 2000. Liberation tigers of Tamil Eelam's (LTTE) international organization and operations—a preliminary analysis (commentary no. 77)

Coggins, Bridget L. 2015. Rebel diplomacy: theorizing violent non-state actors' strategic use of talk. In Rebel governance in civil war, ed. Ana Arjona, Nelson Kasfir, and Zachariah C. Mampilly, 98–118. Cambridge: Cambridge University Press.

Cunningham, David E. 2010. Blocking resolution: how external states can prolong civil wars. Journal of Peace Research 47(2):115–127.

Cunningham, David E., Kristian S. Gleditsch, and Idean Salehyan. 2013. Non-state actors in civil wars: a new dataset. Conflict Management and Peace Science 30(5):516–531.

DeRouen, Karl, Jr., Jacob Bercovitch, and Paulina Pospieszna. 2011. Introducing the civil wars mediation (CWM) dataset. Journal of Peace Research 48(5):663–672.

Diez, Thomas, Mathias Albert, and Stephan Stetter (eds.). 2008. The European Union and border conflicts. The power of integration and association. Cambridge: Cambridge University Press.

Doyle, Michael W. and Nicholas Sambanis 2006. Making War and Building Peace: United Nations Peace Operations, Princeton, N.J.: Princeton University Press.

Eccarius-Kelly, Vera. 2002. Political movements and leverage points: Kurdish activism in the European diaspora. Journal of Muslim Minority Affairs 22(1):91–118.

Eppert, Kerstin, and Mitja Sienknecht. 2017. Engaging with the "Threat"? Tracing Desecuritization between the UN Security Council and UN Missions. In Securitization in Statebuilding and Intervention, ed. Thorsten Bonacker, Werner Distler, and Maria Ketzmerick, 105–126. Baden-Baden: Nomos.

Gilboa, Eytan. 2008. Searching for a theory of public diplomacy. The ANNALS of the American Academy of Political and Social Science 616(1):55–77.

Gleditsch, Kristian S. 2007. Transnational dimensions of civil war. Journal of Peace Research 44(3):293–309.

Gleditsch, Kristian S. 2009. The spread of civil war. In The SAGE handbook of conflict resolution, ed. Jacob Bercovitch, Victor Kremenyuk, and William I. Zartman, 595–612. London: SAGE Publications.

Gleditsch, Kristian S., and Kyle Beardsley. 2007. Nosy neighbors: third party actors in central American conflicts. Journal of Conflict Resolution 46(3):379–402.

Grojean, Olivier. 2011. Bringing the organization back in: pro-Kurdish protest in Europe. In Nationalisms and Politics in Turkey. Political Islam, Kemalism, and the Kurdish Issue, ed. Marlies Casier, and Joost Jongerden, 182–196. Abingdon, Oxon, New York: Milton Park.

Gunter, Michael M. 2013. The multifaceted Kurdish movement in Turkey. In Understanding Turkey's Kurdish question, plymouth, ed. Fevzi Bilgin, Ali Sarihan, 73–88.

Gunter, Michael M. 2018. Historical dictionary of the Kurds. Maryland: Scarecrow Press.

Gurses, Mehmet. 2014. Transnational ethnic kin and civil war outcomes. Political Research Quarterly 1:1–12.

Hegre, Havard, and Nicholas Sambanis. 2006. Sensitivity analysis of empirical results of civil war onset. Journal of Conflict Resolution 50(4):508–535.

Heraclides, Alexis. 1990. Secessionist minorities and external involvement. International Organization 44(3):341–378.

Horowitz, Donald L. 1985. Ethnic groups in conflict. Berkeley: University of California Press.

Huang, Reyko. 2016. Rebel diplomacy in civil war. International Security 40(4):89–126.

Imset, Ismet G. 1992. The PKK. A report on separatist violence in Turkey (1973–1992). Istanbul: Turkish Daily News.

Innes, Michael A., and William C. Banks. 2012. Making sense of proxy wars. States, surrogates & the use of force, Dulles

Jo, Hyeran. 2015. Compliant rebels. Rebel groups and international law in world politics. Cambridge, United Kingdom, New York, NY, USA, Port Melbourne: Cambridge University Press.

Khatib, Lina. 2012. Hizbullah's image management strategy. https://uscpublicdiplomacy.org/sites/uscpublicdiplomacy.org/files/useruploads/u35361/2012%20Paper%201.pdf. Accessed 7 Aug 2017.

Kuperman, Alan J. 2003. Transnational causes of genocide: how the west inadvertently exacerbates ethnic conflict. In Yugoslavia unraveled. Sovereignty, self-determination, intervention, ed. Raju G.C. Thomas, 55–85. Lanham: Lexington Books.

Luhmann, Niklas. 1984. Soziale Systeme. Grundriss einer allgemeinen Theorie. Frankfurt am Main: Suhrkamp.

Petrova, Marina G. 2019. What matters is who supports you: diaspora and foreign states as external supporters and militants' adoption of nonviolence. Journal of Conflict Resolution. https://doi.org/10.1177/0022002719826645.

La Porte, Teresa. 2012. The impact of "Intermestic" non-state actors on the conceptual framework of public diplomacy. The Hague Journal of Diplomacy 7:441–458.

Regan, Patrick M. 2002. Civil wars and foreign powers. Outside intervention in intrastate conflict. Ann Arbor: University of Michigan Press.

Risse, Thomas, and Kathryn Sikkink. 1999. The socialization of international human rights norms into domestic practices: introduction. In The power of human rights. International norms and domestic change, ed. Thomas Risse-Kappen, Steve C. Ropp, and Kathryn Sikkink, 1–38. New York: Cambridge University Press.

Salehyan, Idean. 2006. Rebels without borders. Transnational insurgencies in world politics. Ithaca: Cornell University Press.

Salehyan, Idean, Kristian S. Gleditsch, and David E. Cunningham. 2011. Explaining external support for insurgent groups. International Organization 65(4):709–744.

Sienknecht, Mitja. 2018a. Entgrenzte Konflikte in der Weltgesellschaft. Zur Inklusion internationaler Organisationen in innerstaatliche Konfliktsysteme. Wiesbaden: Springer VS.

Sienknecht, Mitja. 2018b. Entgrenzte Konfliktkommunikation. Zum Aufbau von Kommunikationsstrukturen von nichtstaatlichen Konfliktparteien in das weltpolitische System. Zeitschrift für Internationale Beziehungen 25(1):5–35.

Simmel, Georg. 1992. Soziologie: Untersuchungen über die Formen der Vergesellschaftung. Georg Simmel Gesamtausgabe, Vol. 11. Frankfurt am Main: Suhrkamp.

Stetter, Stephan (ed.). 2007. Territorial conflicts in world society. Modern systems theory, international relations and conflict studies. London, New York: Routledge.

Stetter, Stephan. 2008. Entgrenzung in der Weltgesellschaft. Eine Bedrohung für die Demokratie? In Bedrohungen der Demokratie, ed. André Brodocz, Marcus Llanque, and Gary S. Schaal, 99–118. Wiesbaden: VS Verlag für Sozialwissenschaften.

Stetter, Stephan. 2014. World politics and conflict systems: the communication of a "no" and its effects. Horyzonty Polityki 5(12):44–67.

UCDP, and PRIO. 2017. Armed Conflict Dataset, 1946–2016. http://www.pcr.uu.se/research/ucdp/datasets/ucdp_prio_armed_conflict_dataset/. Accessed 27.09.2019.

Vasquez, John A. 1995. Why do neighbors fight? Proximity, interaction, or territoriality. Journal of Peace Research 32(3):277–293.

Vasquez, John A., and Marie T. Henehan. 2001. Territorial disputes and the probability of war, 1816–1992. Journal of Peace Research 38(2):123–138.

Walter, Barbara F. 2004. Does conflict beget conflict? Explaining recurring civil war. Journal of Peace Research 41(3):371–388.

Zürn, Michael, Martin Binder, and Matthias Ecker-Ehrhardt. 2012. International authority and its politicization. International Theory—A Journal of International Politics, Law and Philosophy 4(1):69–106.
Appendix
Appendix

About this article
Cite this article
Sienknecht, M. Conflict diplomacy—political de-bordering strategies in intrastate conflicts. Z Friedens und Konflforsch 8, 183–211 (2019). https://doi.org/10.1007/s42597-019-00017-w
Keywords
Diplomacy

Political Communication

Rebel Groups

International Organizations

Turkey
Schlüsselwörter
Diplomatie

Politische Kommunikation

Rebellengruppen

Internationale Organisationen

Türkei