Abstract
The eastern part of Odisha is the coastal line covering the districts from Ganjam to Balasore. In the present investigation, a total 54 phytoplankton species under 30 genera were reported from different sites of east coast Odisha. The diversity of phytoplankton included three divisions such as Chlorophyta (02 species), Bacillariophyta (42 species) and Dinophyta (10 species). Altogether 21 phytoplanktons were for the first time from the Odisha coast, namely Alexandrium foedum Balech, Bleakeleya notata (Grunow) Round, Coscinodiscus asteromphalus Ehrenberg, Coscinodiscus granii L.F.Gough, Coscinodiscus radiatus Ehrenberg, Coscinodiscus wailesii Gran & Angst, Diploneis vacillan var. renitens (A.W.F.Schmidt) Cleve, Diploneis littoralis (Donkin) Cleve, Ditylum brightwellii (T.West) Grunow, Gonyaulax polygramma F.Stein, Hemiaulus membranaceus Cleve, Lampriscus shadboltianum (Greville) Peragallo & Peragallo, Pediastrum duplex var. subgranulatum Raciborski, Pediastrum simplex Meyen, Proboscia alata (Brightwell) Sundström, Pseudonitzschia seriata (Cleve) H. Peragallo, Rhizosolenia pungens A. Cleve-Euler, Stephanopyxis palmeriana (Greville) Grunow, Thalassionema nitzschioides (Grunow) Mereschkowsky, Thalassiosira eccentrica (Ehrenberg) Cleve and Thalassiosira oestrupii var venrickae G.Fryxell & Hasle. Furthermore, our results revealed that few diatom species such as Coscinodiscus asteromphalus Ehrenberg, Coscinodiscus centralis Ehrenberg, Coscinodiscus radiatus Ehrenberg, Coscinodiscus wailesii Gran & Angst, Bacteriastrum delicatulum Cleve and Bacteriastrum hyalinum Lauder were recorded in more than five sites of east coast Odisha. By the analysis of Bary-Curtis similarity cluster, similarity index, Jaccard's similarity and hierarchical cluster analysis showed that these species have the ability to survive in the diverse ecological conditions. On the other hand, only two species of chlorophyceae namely Pediastrum simplex Meyen and Pediastrum duplex var. subgranulatum Raciborski were recorded in two sites of Bhadrak district only. Moreover, 14 bloom and toxin producing phytoplanktons were for the first time recorded in the present study.
Access options
Buy single article
Instant access to the full article PDF.
USD 39.95
Price includes VAT (USA)
Tax calculation will be finalised during checkout.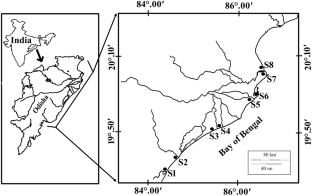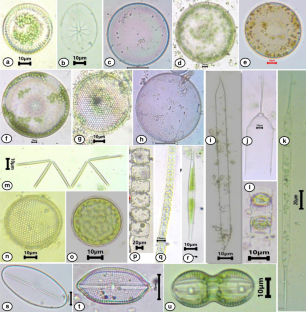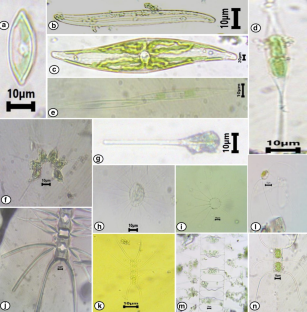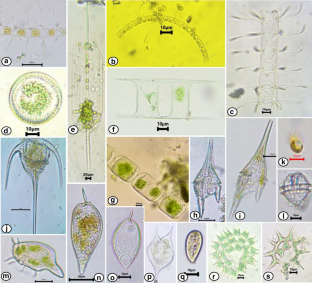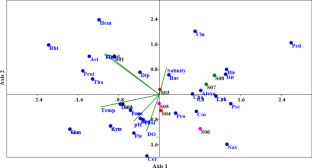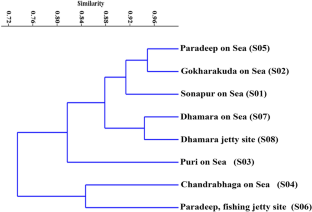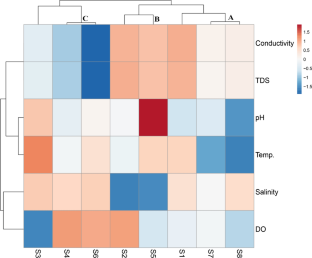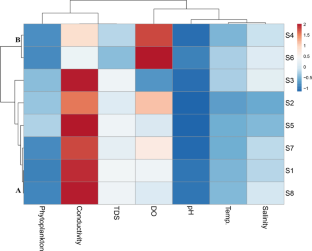 References
Akrum M (2018) Phytoplankton community composition and seasonal variation in Mangrove Ecosystem at Sandspit Karachi, along the Sindh Coast. University of Karachi, Karachi

Al-Kandari M, Al-Yamani F, Al-Rifaie K (2009) Marine phytoplankton atlas of Kuwait's waters. Kuwait Institute for Scientific Research, Safat

Alkawri A, Ramaiah N (2010) Spatio-temporal variability of dinoflagellate assemblages in different salinity regimes in the west coast of India. Harmful Algae 9(2):153–162

Azam F, Malfatti F (2007) Microbial structuring of marine ecosystems. Nat Rev Microbiol 5(10):782–791

Baliarsingh S, Sahu BK, Srichandan S, Sahu K, Lotliker A, Kumar TS (2013) Seasonal variation of phytoplankton community in Gopalpur Creek: a tropical tidal backwater ecosystem, East Coast of India. NISCAIR, New Delhi

Baliarsingh S, Srichandan S, Naik S, Sahu K, Lotliker AA, Kumar T (2013b) Distribution of hydro-biological parameters in coastal waters off Rushikulya Estuary, East Coast of India: a premonsoon case study. Pak J Biol Sci 16(16):779–787

Behera SK, Misra MK (2006) Floristic and structure of the herbaceous vegetation of four recovering forest stands in the Eastern Ghats of India. Biodivers Conserv 15(7):2263–2285

Behera C, Dash SR, Pradhan B, Jena M, Adhikary SP (2020) Algal Diversity of Ansupa lake, Odisha, India. Nelumbo 62(2):207–220

Behera C, Pradhan B, Panda R, Nayak R, Nayak S, Jena M (2021) Algal diversity of Saltpans, Huma (Ganjam), India. J Indian Bot Soc 101(1):107–120

Berdalet E, Montresor M, Reguera B, Roy S, Yamazaki H, Cembella A, Raine R (2017) Harmful algal blooms in fjords, coastal embayments, and stratified systems: recent progress and future research. Oceanography 30(1):46–57

Borkman DG, Smayda TJ, Tomas CR, York R, Strangman W, Wright JL (2012) Toxic Alexandrium peruvianum (Balech and de Mendiola) Balech and Tangen in Narragansett Bay, Rhode Island (USA). Harmful Algae 19:92–100

Choudhury AK, Pal R (2010) Phytoplankton and nutrient dynamics of shallow coastal stations at Bay of Bengal, Eastern Indian coast. Aquat Ecol 44(1):55–71

D'Silva MS, Anil AC, Naik RK, D'Costa PM (2012) Algal blooms: a perspective from the coasts of India. Nat Hazards 63(2):1225–1253

Dash S, Padhan S, Rajhans G, Mohapatra PK, Sarangi RK, Raut D, Mohanty B, Nayak S, Patnaik L (2019) Abundance and diversity of plankton in the coastal waters of Chandipur, Bay of Bengal. Russ J Mar Biol 45(3):252–261

Dash S, Pradhan B, Behera C (2020) Algal diversity of Kanjiahata Lake, Nandankanan, Odisha, India. J Indian Bot Soc 99(1):11–24

Dash S, Pradhan B, Behera C, Nayak R, Jena M (2021) Algal Flora of Tampara Lake, Chhatrapur, Odisha, India. J Indian Bot Soc 101(1):1–15

Desikachary T (1987) Atlas of diatoms: diatom flora of some sediments from the Indian Ocean region. Madras Science Foundation, Chennai

Desikachary TV, Hema A, Prasad A, Prema P, Sreelatha P, Sridharan V, Subrahmanyan R (1987) Atlas of diatoms. Fascicle 3: diatoms from the Bay of Bengal; Fascicle 4: marine diatoms from the Arabian Sea and Indian Ocean. Madras Science Foundation, Chennai

Gameiro C, Brotas V (2010) Patterns of phytoplankton variability in the Tagus Estuary (Portugal). Estuaries Coasts 33(2):311–323

Gu H, Liu T, Vale P, Luo Z (2013) Morphology, phylogeny and toxin profiles of Gymnodinium inusitatum sp. nov., Gymnodinium catenatum and Gymnodinium microreticulatum (Dinophyceae) from the Yellow Sea, China. Harmful Algae 28:97–107

Hammer Ø, Harper DA, Ryan PD (2001) PAST: paleontological statistics software package for education and data analysis. Palaeontologia Electronica 4(1):9

Husseini ZN, Hosseini Tafreshi SA, Aghaie P, Toghyani MA (2020) CaCl(2) pretreatment improves gamma toxicity tolerance in microalga Chlorella vulgaris. Ecotoxicol Environ Saf. https://doi.org/10.1016/j.ecoenv.2020.110261

Jena M, Ratha SK, Adhikary SP (2006) Diatoms (Bacillariophyceae) from Orissa state and neighbouring regions, India. Algae 21(4):377–392

Jyothibabu R, Madhu N, Maheswaran P, Nair K, Venugopal P, Balasubramanian T (2003a) Dominance of dinoflagellates in micro-zooplankton community in the oceanic regions of the Bay of Bengal and the Andaman Sea. Curr Sci 84(9):1247–1253

Jyothibabu R, Madhu N, Murukesh N, Haridas P, Nair K, Venugopal P (2003b) Intense blooms of Trichodesmium erythraeum (Cyanophyta) in the open waters along east coast of India. Indian J Mar Sci 32:165–167

Kudela R, Berdalet E, Bernard S, Burford M, Fernand L, Lu S, Roy S, Usup G, Tester P, Magnien R (2015) Harmful algal blooms. A scientific summary for policy makers. IOC/UNESCO, Paris

Legendre P, Legendre L (1998) Numerical ecology: developments in environmental modelling. Elsevier, Amsterdam, p 20

Maharana S, Pradhan B, Jena M, Misra MK (2019) Diversity of phytoplankton in Chilika Lagoon, Odisha, India. Environ Ecol 37(3):737–746

Metsalu T, Vilo J (2015) ClustVis: a web tool for visualizing clustering of multivariate data using principal component analysis and heatmap. Nucleic Acid Res 43(W1):W566-570. https://doi.org/10.1093/nar/gkv468

Mohanty D, Adhikary SP (2013) Assessment of changes in the algal diversity of Chilika lagoon after opening of new mouth to Bay of Bengal. J Water Resour Prot 5:13

Mukherjee M, Karna S, Suresh V, Manna R, Panda D, Sharma A, Pati M, Mandal S, Ali Y (2016) Dinoflagellate diversity and distribution in Chilika Lagoon with description of new records. Indian Journal of Geo-Marine Sciences, 45(8):999–1009

Naik RK, Hegde S, Anil AC (2011) Dinoflagellate community structure from the stratified environment of the Bay of Bengal, with special emphasis on harmful algal bloom species. Environ Monit Assess 182(1–4):15–30

Naik S, Mishra RK, Sahu K, Lotliker AA, Panda U, Mishra P (2020) Monsoonal influence and variability of water quality, phytoplankton biomass in the tropical coastal waters–a multivariate statistical approach. Front Mar Sci 7:648

Nielsen ES (1975) Marine photosynthesis with special emphasis on the ecological aspects. Elsevier, Amsterdam, Netherlands

Padmakumar K, Menon N, Sanjeevan V (2012) Is occurrence of harmful algal blooms in the exclusive economic zone of India on the rise? Int J Oceanogr 2012:7

Prabhudessai SS, Vishal C, Rivonker C (2019) Antonymous nature of freshwater phytoplankton in the tropical estuarine environments of Goa, southwest coast of India. Reg Stud Mar Sci 32:100880

Pradhan B, Patra S, Behera C, Nayak R, Patil S, Bhutia SK, Jena M (2020a) Enteromorpha compressa extract induces anticancer activity through apoptosis and autophagy in oral cancer. Mol Biol Rep 47:1–12

Pradhan B, Patra S, Nayak R, Behera C, Dash SR, Nayak S, Sahu BB, Bhutia SK, Jena M (2020b) Multifunctional role of fucoidan, sulfated polysaccharides in human health and disease: a journey under the sea in pursuit of potent therapeutic agents. Int J Biol Macromol 164:4263–4278. https://doi.org/10.1016/j.ijbiomac.2020.09.019

Pradhan B, Nayak R, Patra S, Jit B, Ragusa A, Jena M (2021a) Bioactive metabolites from marine algae as potent pharmacophores against oxidative stress-associated human diseases: a comprehensive review. Molecules 26(1):37

Pradhan B, Patra S, Behera C, Nayak R, Jit B, Ragusa A, Jena M (2021b) Preliminary investigation of the antioxidant, anti-diabetic, and anti-inflammatory: activity of enteromorpha intestinalis extracts. Molecules 26:1171

Pramanik DS, Mohanty SS (2016) Seasonal variation of primary productivity of Bay of Bengal at Chandipur on Sea, Odisha. Int J Fish Aquat Stud 4(2):331–336

Rath J, Adhikary SP (2005) Algal flora of Chilika lake. Daya Books, New Delhi

Rimet F, Bouchez A (2012) Biomonitoring river diatoms: implications of taxonomic resolution. Ecol Indic 15(1):92–99

Sarojini Y, Sarma N (2001) Phytoplankton distribution in the sea around Andaman and Nicobar Islands at the onset of North East Monsoon. Sea Weed Res Util 23:133–141

Sridhar R, Thangaradjou T, Kannan L (2010) Spatial and temporal variations in phytoplankton in coral reef and seagrass ecosystems of the Palk Bay, southeast coast of India. J Environ Biol 31(5):765

Stoecker D, Tillmann U, Granéli E (2006) Phagotrophy in harmful algae. Ecology of harmful algae. Springer, Berlin, pp 177–187

Subramanyan R (1968) The dinophyceae of the Indian Sea. Mar Biol Assoc India 3:118–133

Swain S, Sahu BK, Pattanaik S, Sahoo RK, Majhi A, Satapathy DR, Panda CR, Roy R, Choudhury SB (2021) Anthropogenic influence on the physico-chemical parameters of Dhamra estuary and adjoining coastal water of the Bay of Bengal. Mar Pollut Bull 162:111826

Vallina SM, Cermeno P, Dutkiewicz S, Loreau M, Montoya JM (2017) Phytoplankton functional diversity increases ecosystem productivity and stability. Ecol Model 361:184–196

Vinayachandran P, Mathew S (2003) Phytoplankton bloom in the Bay of Bengal during the northeast monsoon and its intensification by cyclones. Geophys Res Lett 30(11):1572
Acknowledgements
The authors are thankful to MoEF and CC, Govt. of India (F.n. No. 22018/19/2015-Cs (TAX) for financial supports to carry out this study. The authors are also thankful to Berhampur University for providing necessary facilities to carry out this work. We are grateful to Prof. M.K. Misra, Department of Botany, Berhampur University, Odisha for suggestions to improve the manuscript. We are also thankful to Somanath Baral and Rabindra Nayak for their unconditional help for collecting samples.
Ethics declarations
Conflict of interest
The authors declare that there is no conflict of interest.
Additional information
Publisher's Note
Springer Nature remains neutral with regard to jurisdictional claims in published maps and institutional affiliations.
About this article
Cite this article
Pradhan, B., Maharana, S., Bhakta, S. et al. Marine phytoplankton diversity of Odisha coast, India with special reference to new record of diatoms and dinoflagellates. Vegetos (2021). https://doi.org/10.1007/s42535-021-00301-2
Received:

Revised:

Accepted:

Published:
Keywords
Bacillariophyta

Bay of Bengal

Dinophyta

East coast

Multivariate analysis