Abstract
Plumbago zeylanica L. (Plumbaginaceae) is a very important medicinal plant containing plumbagin as the major secondary metabolite synthesized and stored in its roots. Over-exploitation to meet the growing demand on global level has put it under the endangered plant category. The objective of the present study is to provide the desired plant material for industrial use. Adventitious root culture is considered as an alternative source of plant material. In the present study, the leaf explants were inoculated on half-strength Murashige and Skoog (MS) medium supplemented with different plant growth regulators to obtain the adventitious roots in vitro. The leaf explants inoculated on half-strength MS medium supplemented with 6.0 µM 6-benzylaminopurine (BAP) and 2.5 µM 1-naphthaleneacetic acid (NAA) produced maximum roots within the shortest period of time. The current study aims at the optimization of in vitro adventitious roots initiation and growth of P. zeylanica from the leaf explants. The protocol established here can be used for bulk production of P. zeylanica roots for medicinal use.
Access options
Buy single article
Instant access to the full article PDF.
USD 39.95
Price includes VAT (USA)
Tax calculation will be finalised during checkout.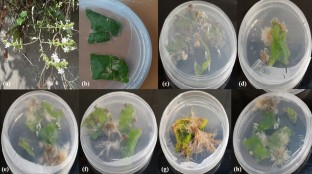 References
Adebanjo A, Victoria M (2021) The antifungal activities of Plumbago zeylanica extract against Aspergillus flavus, Lasiodiplodia theobromae and Cladosporium oxysporum for potential human cream development. Eur J Appl Sci 9(1):195–203. https://doi.org/10.14738/aivp.91.9129

Ajayi GO, Olagunju JA, Ademuyiwa O, Martins OC (2011) Gas chromatography-mass spectrometry analysis and phytochemical screening of ethanolic root extract of Plumbago zeylanica, Linn. J Med Plants Res 5(9):1756–1761

Alphonse M, Thiagarajan K (2021) Optimisation of gentiopicroside production in Gentiana kurroo Royle from adventitious root cultures in a liquid culture system. Vitro Cell Dev Biol Plant. https://doi.org/10.1007/s11627-021-10168-2

Baque MA, Hahn EJ, Paek KY (2010) Induction mechanism of adventitious root from leaf explants of Morinda citrifolia as affected by auxin and light quality. Vitro Cell Dev Biol Plant 46(1):71–80. https://doi.org/10.1007/s11627-009-9261-3

Bhargava SK (1984) Effect of plumbagin on reproductive function of male dog. Indian J Exp Biol 22:153–156

Checker R, Sharma D, Sandur SK, Khanam S, Poduval TB (2009) Anti-inflammatory effects of plumbagin are mediated by inhibition of NF-kappaB activation in lymphocytes. Int Immunopharmacol 9(7–8):949–958. https://doi.org/10.1016/j.intimp.2009.03.022

Checker R, Sharma D, Sandur SK, Subrahmanyam G, Krishnan S, Poduval TB, Sainis KB (2010) Plumbagin inhibits proliferative and inflammatory responses of T cells independent of ROS generation but by modulating intracellular thiols. J Cell Biochem 110(5):1082–1093. https://doi.org/10.1002/jcb.22620

Dissanayake DMIH, Perera DDBD, Keerthirathna LR, Heendeniya S, Anderson RJ, Williams DE, Peiris LDC (2020) Antimicrobial activity of Plumbago indica and ligand screening of plumbagin against methicillin-resistant Staphylococcus aureus. J Biomol Struct Dyn. https://doi.org/10.1080/07391102.2020.1846622

Dzoyem JP, Tangmouo JG, Lontsi D, Etoa FX, Lohoue PJ (2007) In vitro antifungal activity of extract and plumbagin from the stem bark of Diospyros crassiflora Hiern (Ebenaceae). Phytother Res 21(7):671–674. https://doi.org/10.1002/ptr.2140

Fazal H, Abbasi BH, Ahmad N (2014) Optimization of adventitious root culture for production of biomass and secondary metabolites in Prunella vulgaris L. Appl Biochem Biotechnol 174(6):2086–2095. https://doi.org/10.1007/s12010-014-1190-x

Gomathinayagam R, Sowmyalakshmi S, Mardhatillah F, Kumar R, Akbarsha MA, Damodaran C (2008) Anticancer mechanism of plumbagin, a natural compound, on non-small cell lung cancer cells. Anticancer Res 28(2A):785–792

Hassan ST, Berchová-Bímová K, Petráš J (2016) Plumbagin, a plant‐derived compound, exhibits antifungal combinatory effect with amphotericin B against Candida albicans clinical isolates and anti‐hepatitis C virus activity. Phytother Res 30(9):1487–1492. https://doi.org/10.1002/ptr.5650

Hussein S, Ling APK, Ng TH, Ibrahim R, Paek KY (2012) Adventitious roots induction of recalcitrant tropical woody plant, Eurycoma longifolia. Rom Biotechnol Lett 17(1):7027

Jaisi A, Panichayupakaranant P (2016) Increased production of plumbagin in Plumbago indica root cultures by biotic and abiotic elicitors. Biotechnol Lett 38:351–355

Jaisi A, Panichayupakaranant P (2020) Enhanced plumbagin production in Plumbago indica root culture by simultaneous and sequential dual elicitations using chitosan with l-alanine and methyl-β-cyclodextrin. Bioresour Bioprocess 7:10. https://doi.org/10.1186/s40643-020-0298-9

Jetty A, Subhakar C, Rajagopal D, Jetty M, Subramanyam M, Marthanda Murthy M (2010) Antimicrobial activities of neo-and L-epineo-isoshinanolones from Plumbago zeylanica roots. Pharm Biol 48(9):1007–1011. https://doi.org/10.3109/13880200903433760

Jeyachandran R, Mahesh A, Cindrella L, Sudhakar S, Pazhanichamy K (2009) Antibacterial activity of plumbagin and root extracts of Plumbago zeylanica L. Acta Biologica Cracoviensia Series Botanica 51(1):17–22

Kannan N, Manokari M, Shekhawat MS (2021) Induction of adventitious roots from leaf explants of Morinda coreia Buch. and ham.: an important dye yielding plant. Plant Cell Tissue Organ Cult. https://doi.org/10.1007/s11240-021-02016-3

Kini DP, Pandey S, Shenoy BD, Singh UV, Udupa N, Umadevi P et al (1997) Antitumor and antifertility activities of plumbagin controlled release formulations. Indian J Exp Biol 35(4):374–379

Krishnaswamy M, Purushothaman KK (1980) Plumbagin: a study of its anticancer, antibacterial and antifungal properties. Indian J Exp Biol 18(8):876–877

Lee YS, Yang TJ, Park SU, Baek JH, Wu S, Lim KB (2011) Induction and proliferation of adventitious roots from 'Aloe vera' leaf tissues for 'in vitro' production of aloe-emodin. Plant Omics 4(4):190–194

Likhitwitayawuid K, Kaewamatawong R, Ruangrungsi N, Krungkrai J (1998) Antimalarial naphthoquinones from Nepenthes thorelii. Planta Med 64(03):237–241

Lin LC, Yang LL, Chou CJ (2003) Cytotoxic naphthoquinones and plumbagic acid glucosides from Plumbago zeylanica. Phytochemistry 62(4):619–622. https://doi.org/10.1016/S0031-9422(02)00519-8

Luo P, Wong YF, Ge L, Zhang ZF, Liu Y, Liu L, Zhou H (2010) Anti-inflammatory and analgesic effect of plumbagin through inhibition of nuclear factor-κB activation. J Pharmacol Exp Ther 335(3):735–742. https://doi.org/10.1124/jpet.110.170852

Mallavadhani UV, Sahu G, Muralidhar J (2002) Screening of Plumbago species for the bio-active marker plumbagin. Pharm Biol 40(7):508–511. https://doi.org/10.1076/phbi.40.7.508.14685

Martin KP, Zhang CL, Hembrom ME, Slater A, Madassery J (2008) Adventitious root induction in Ophiorrhiza prostrata: a tool for the production of camptothecin (an anticancer drug) and rapid propagation. Plant Biotechnol Rep 2(2):163–169. https://doi.org/10.1007/s11816-008-0057-4

Nair SV, Baranwal G, Chatterjee M, Sachu A, Vasudevan AK, Bose C et al (2016) Antimicrobial activity of plumbagin, a naturally occurring naphthoquinone from Plumbago rosea, against Staphylococcus aureus and Candida albicans. Int J Med Microbiol 306(4):237–248. https://doi.org/10.1016/j.ijmm.2016.05.004

Oyedapo OO (1996) Studies on bioactivity of the root extract of Plumbago zeylanica. Int J Pharmacogn 34(5):365–369. https://doi.org/10.1076/phbi.34.5.365.13249

Padhye S, Dandawate P, Yusufi M, Ahmad A, Sarkar FH (2012) Perspectives on medicinal properties of plumbagin and its analogs. Med Res Rev 32(6):1131–1158. https://doi.org/10.1002/med.20235

Paiva SRD, Figueiredo MR, Aragão TV, Kaplan MAC (2003) Antimicrobial activity in vitro of plumbagin isolated from Plumbago species. Mem Inst Oswaldo Cruz 98(7):959–961. https://doi.org/10.1590/S0074-02762003000700017

Parimala R, Sachdanandam P (1993) Effect of Plumbagin on some glucose metabolising enzymes studied in rats in experimental hepatoma. Mol Cell Biochem 125(1):59–63. https://doi.org/10.1007/BF00926835

Praveen N, Murthy HN (2010) Production of withanolide-A from adventitious root cultures of Withania somnifera. Acta Physiologiae Plantarum 32(5):1017–1022. https://doi.org/10.1007/s11738-010-0489-7

Praveen N, Manohar SH, Naik PM, Nayeem A, Jeong JH, Murthy HN (2009) Production of andrographolide from adventitious root cultures of Andrographis paniculata. Curr Sci 96:694–697

Rose RJ, Wang XD, Nolan KE, Rolfe BG (2006) Root meristems in Medicago truncatula tissue culture arise from vascular-derived procambial-like cells in a process regulated by ethylene. J Exp Bot 57(10):2227–2235. https://doi.org/10.1093/jxb/erj187

Saiman MZ, Mustafa NR, Schulte AE, Verpoorte R, Choi YH (2012) Induction, characterization, and NMR-based metabolic profiling of adventitious root cultures from leaf explants of Gynura procumbens. Plant Cell Tissue Organ Cult 109(3):465–475. https://doi.org/10.1007/s11240-011-0111-8

Silja PK, Satheeshkumar K (2015) Establishment of adventitious root cultures from leaf explants of Plumbago rosea and enhanced plumbagin production through elicitation. Ind Crops Prod 76:479–486. https://doi.org/10.1016/j.indcrop.2015.07.021

Simonsen HT, Nordskjold JB, Smitt UW, Nyman U, Palpu P, Joshi P, Varughese G (2001) In vitro screening of Indian medicinal plants for antiplasmodial activity. J Ethnopharmacol 74(2):195–204. https://doi.org/10.1016/S0378-8741(00)00369-X

Sunil C, Duraipandiyan V, Agastian P, Ignacimuthu S (2012) Antidiabetic effect of plumbagin isolated from Plumbago zeylanica L. root and its effect on GLUT4 translocation in streptozotocin-induced diabetic rats. Food Chem Toxicol 50(12):4356–4363. https://doi.org/10.1016/j.fct.2012.08.046

Tilak JC, Adhikari S, Devasagayam TP (2004) Antioxidant properties of Plumbago zeylanica, an Indian medicinal plant and its active ingredient, plumbagin . Redox Rep 9(4):219–227. https://doi.org/10.1179/135100004225005976

Wang T, Wu F, Jin Z, Zhai Z, Wang Y, Tu B et al (2014) Plumbagin inhibits LPS-induced inflammation through the inactivation of the nuclear factor-kappa B and mitogen activated protein kinase signaling pathways in RAW 264.7 cells. Food Chem Toxicol 64:177–183. https://doi.org/10.1016/j.fct.2013.11.027

Zarmouh MM, Subramaniyam K, Viswanathan S, Kumar PG (2010) Cause and effect of Plumbago zeylanica root extract on blood glucose and hepatic enzymes in experimental diabetic rats. Afr J Microbiol Res 4(24):2674–2677

Zhang B, Chen L, Huo Y, Zhang J, Zhu C, Zhang X, Ma Z (2020) Establishment of adventitious root cultures from leaf explants of Tripterygium wilfordii (thunder god vine) for the production of celastrol. Ind Crops Prod 155:112834. https://doi.org/10.1016/j.indcrop.2020.112834

Zhang X, Kan H, Liu Y, Ding W (2021) Plumbagin induces Ishikawa cell cycle arrest, autophagy, and apoptosis via the PI3K/Akt signaling pathway in endometrial cancer. Food Chem Toxicol 148:111957. https://doi.org/10.1016/j.fct.2020.111957

Zheng W, Tao Z, Chen C, Zhang C, Zhang H, Ying X, Chen H (2017) Plumbagin prevents IL-1β-induced inflammatory response in human osteoarthritis chondrocytes and prevents the progression of osteoarthritis in mice. Inflammation 40(3):849–860. https://doi.org/10.1007/s10753-017-0530-8
Ethics declarations
Conflict of interest
All authors declare that they have no conflict of interest.
Additional information
Publisher's Note
Springer Nature remains neutral with regard to jurisdictional claims in published maps and institutional affiliations.
About this article
Cite this article
Katoch, K., Gupta, S., Nazir, R. et al. Establishment of adventitious root culture from leaf explants of Plumbago zeylanica: an endangered medicinal plant. Vegetos (2021). https://doi.org/10.1007/s42535-021-00300-3
Received:

Revised:

Accepted:

Published:
Keywords
Plumbago zeylanica

Adventitious root

Micropropagation

Endangered

In vitro