Abstract
The activities of superoxide dismutase (SOD), catalase (CAT), peroxidase (POD) and concentration of total phenols, proteins were studied during seed germination of S. urens from 0 to 15th day. The increased activity of SOD was observed on 3rd day of seed germination in cotyledons and on 6th day in seedlings respectively which decreased thereafter. Similarly increased CAT activity was observed on 3rd day of seed germination in cotyledons and maximum activity on 6th day of germination in seedlings. But increased activity of POD was observed on 6th day of seed germination in cotyledons and on 3rd day in seedlings respectively which decreased thereafter. The protein content reduced gradually in cotyledons from 0 day to 15th day, with a rapid decrease on 6th day of germination. But in seedlings it increased gradually up to 9th day of germination and later reverse trend was observed. Increased level of total phenols was observed on 3rd day of germination and decreased thereafter in cotyledons, while in seedlings phenols increased gradually up to 12th day of seed germination. The present study explains the efficient involvement of antioxidant systems and the synergistic activities of different antioxidant enzymes that play a key role during seed germination in S. urens.
Access options
Buy single article
Instant access to the full article PDF.
US$ 39.95
Tax calculation will be finalised during checkout.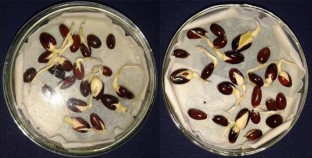 References
Ayşe AK, Yücel E, Ayan S (2012) Relationship between seed germination and catalase enzyme activity of Abies taxa from Turkey. Kastamonu Üni Orman Fakültesi Dergisi, Özel Sayı, pp 185–188

Beauchamp BC, Fedovich I (1976) Superoxide dismutase: improved assay and an assay applicable to acrylamide gel. Anal Biochem 10:276–287

Bogdanović J, Radotić K, Mitrović A (2008) Changes in activities of antioxidant enzymes during Chenopodium murale seed germination. Biol Plant 52:396

Botcha S, Prattipati SD, Atluru A (2011) Biochemical changes during seed germination of Sterculia urens Roxb. Notulae Scientia Biologicae 3(3):105–108

Cai F, Mei LJ, An XL, Gao S, Tang L, Chen F (2011) Lipid peroxidation and antioxidant responses during seed germination of Jatropha curcas. Int J Agric Biol 13:25–30

Choudhary A, Kumar A, Kaur N (2020) ROS and oxidative burst: roots in plant development. Plant Divers 42:33–43

Galla NR, Pamidighantam PR, Akula S (2012) Chemical, amino acid and fatty acid composition of Sterculia urens L. seed. Food Hydrocoll 28:320–324

Giami SY, Chibor BS, Edebiri KE, Achinewhu SC (1999) Changes in nitrogenous and other chemical constituents, protein fractions and in vitro protein digestibility of germinating fluted pumpkin (Telfairia occidentalis Hook) seed. Plant Foods Hum Nutr 53:333–342

Gomez KA, Gomez AA (1984) Statistical procedures for agricultural research, 2nd edn. Wiley, New York

Hasanuzzaman M, Nahar K, Alam MM, Roychowdhury R, Fujita M (2013) Physiological, biochemical, and molecular mechanisms of heat stress tolerance in plants. Int J Mol Sci 14:9643–9684

He X, Gao S (2008) Changes of antioxidant enzyme and phenylalanine ammonia lyase activities during Chimonanthus praecox seed maturation. Z Naturforsch 63(7–8):569–573

Huang H, Ullah F, Zhou DX, Yi M, Zhao Y (2019) Mechanisms of ROS regulation of plant development and stress responses frontiers in plant. Science 10:800

Kartoori S, Sumalatha GM, Shuba AC, Komala NT, Biradar Patil NK (2018) Role of enzymatic antioxidants defense system in seeds. Int J Curr Microbiol Appl Sci 7:584–594

Khangembam S, Abira C, Rup K (2015) Role of peroxidase activity and Ca2+ in axis growth during seed germination. Planta 242:997–1007. https://doi.org/10.1007/s00425-015-2338-9

Kibinza S, Bazin J, Bailly C, Farrant JM, Corbineau F, El-Maarouf-Bouteau H (2011) Catalase is a key enzyme in seed recovery from ageing during priming. Plant Sci 181(3):309–315

Kubala S, Wojtyla Ł, Quinet M, Lechowska K, Lutts S, Garnczarska M (2015) Enhanced expression of the proline synthesis gene P5CSA in relations to seed osmopriming improvement of Brassica napus germination under salinity stress. J Plant Physiol 183:1–12

Lal G, Meena SS (2018) Medicinal and therapeutic potential of seed spices. Biomed J Sci Tech Res 5(4):1–21

Lowry OH, Rosebrough NJ, Farr AL, Randall RJ (1951) Protein measurement with folin phenol reagent. J Biol Chem 193:265–275

Miloševic M, Vujakovic M, Karagic D (2010) Vigour tests as indicators of seed viability. Genetika 42(1):103–118

Mittler R, Vanderauwera S, Gollery M, Van Breusegem F (2004) Reactive oxygen gene network of plants. Trends Plant Sci 9:490–498

Morohashi Y (2002) Peroxidase activity develops in the micropylar endosperm of tomato seeds prior to radicle protrusion. J Exp Bot 53:1643–1650

Nonogaki H (2017) Seed biology updates-highlights and new discoveries in seed dormancy and germination research. Front Plant Sci 8:1–16

Radhakrishnan TM, Sarma PS (1963) Intracellular localization and biosynthesis of catalase in liver tissues. Curr Sci 32:1749

Sadasivam S, Manickam A (1996) Biochemical methods, 2nd edn. New Age International Ltd Publishers, New Delhi, pp 108–110

Sharma P, Jha AB, Dubey RS, Pessarakli M (2012) Reactive oxygen species oxidative damage, and antioxidative defense mechanism in plants under stressful conditions. J Bot 2012:1–26

Subhashini Devi P, Satyanarayana B, Arundhati A, Raghava Rao T (2012) Effect of storage temperature and dormancy-breaking treatments on seed germination, moisture content and seed vigor in gum karaya (Sterculia urens Roxb). For Sci Tech 8(1):1–5

Yoshida K, Tsurushiin S, Fukuba H, Tadokoro T, Maekawa A (1997) Changes in protein content and enzyme activity in black matpe organs during germination Nippon-Eiyo- Shokuryo-Gakkaishi. J Jpn Soc Nutr Food Sci 50:153–159

Zorov DB, Juhaszova M, Sollott SJ (2014) Mitochondrial reactive oxygen species (ROS) and ROS-induced ROS release. Physiol Rev 94(3):909–950
Ethics declarations
Conflict of interest
The authors declare that they have no conflict of interest.
Additional information
Publisher's Note
Springer Nature remains neutral with regard to jurisdictional claims in published maps and institutional affiliations.
Supplementary Information
Below is the link to the electronic supplementary material.
About this article
Cite this article
Prattipati, S.D., Botcha, S. & Maradana, T.N. Activities of antioxidant systems during germination of Sterculia urens Roxb. seeds. Vegetos (2021). https://doi.org/10.1007/s42535-021-00252-8
Received:

Revised:

Accepted:

Published:
Keywords
Catalase

Peroxidase

Phenolics

Seed germination

Sterculia urens

Superoxidase dismutase