Abstract
Pumpkin seed (Cucurbita pepo) otherwise known as pepitas serves as food and has several medicinal uses in many parts of the world. This study investigated the effect of roasting on the phenolic phytochemicals and antioxidant activities of pumpkin seeds. Reverse-phase HPLC analysis revealed that the seed had appreciable levels of caffeic acid, quinine, rutin, quercetin, and chlorogenic acid. Roasting caused a significant (P < 0.05) increase in the polyphenolic content; reducing power, iron-chelating ability, DPPH* (2,2 diphenyl-1-picrylhydrazyl radical), ABTS*+ [2,2-azinobis (3-ethyl-benzothiazoline-6-sulfonic acid) radical cation], NO* (nitric oxide radical), OH* (hydroxyl radical) scavenging abilities; and SNP- (sodium nitroprusside) and Fe2+-induced lipid peroxidation inhibitory capacity of the seed extract. Thus, roasting enhanced the levels of these functional attributes of the seeds due to the release of phenolic phytochemicals, hence contributing to the health-promoting and disease preventing abilities of pepitas.
Access options
Buy single article
Instant access to the full article PDF.
USD 39.95
Price includes VAT (USA)
Tax calculation will be finalised during checkout.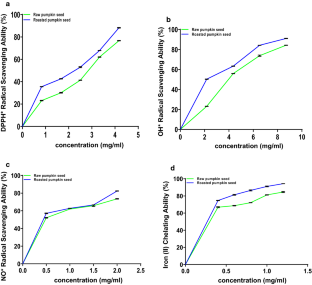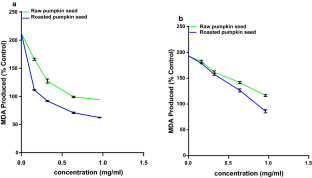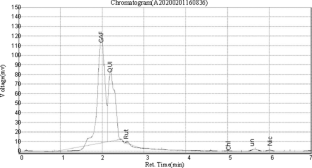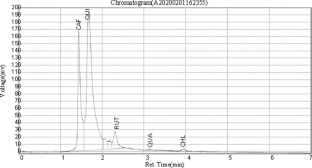 References
Adefegha SA, Oboh G, Oyeleye SI, Ejakpovi I (2016) Erectogenic, antihypertensive, antidiabetic, anti-Oxidative properties and phenolic compositions of Almond fruit (Terminalia catappa L.) parts (Hull and Drupe)–in vitro. J Food Biochem. https://doi.org/10.1111/jfbc.12309

Ademiluyi AO, Oyeleye SI, Oboh G (2016) Biological activities, antioxidant properties and phytoconstituents of essential oil from sweet basil (Ocimum basilicum L.) leaves. Comp Clin Pathol 25(1):169–176

Ademiluyi AO, Aladeselu OH, Oboh G, Boligon AA (2018) Drying alters the phenolic constituents, antioxidant properties, α-Amylase and α-Glucosidase inhibitory properties of Moringa (Moringa oleifera) leaf. Food Sci Nutr. https://doi.org/10.1002/fsn3.770

Ademiluyi AO, Oyeniran OH, Jimoh TO, Oboh G, Boligon AA (2019) Fluted Pumpkin (Telfairia occidentalis) seed modulate markers of erectile function in isolated rat's corpus cavernosum: Influence of polyphenol and amino acid constituents. J Food Biochem 43(11):e13037. https://doi.org/10.1111/jfbc.13037

Akomolafe SF, Ajayi OB (2015) A comparative study on antioxidant properties, proximate and mineral compositions of the peel and pulp of ripe Annona muricata (L.) fruit. Int Food Res J 22(6):2381–2388

Akomolafe SF, Oboh G, Oyeleye SI, Boligon AA (2016a) Aqueous extract from Ficus capensis leaves inhibits key enzymes linked to erectile dysfunction and prevent oxidative stress in rats' penile tissue. NFS J 4:15–21

Akomolafe SF, Oyeleye IS, Molehin OR, Ogunsuyi OB (2016b) Phenolic composition and inhibitory ability of methanolic extract from Pumpkin (Cucurbita pepo L.) seeds on Fe2+-induced thiobarbituric acid reactive species in albino rat's testicular tissue - In Vitro. J Appl Pharm Sci 6(9):115–120

Akomolafe S, Oboh G, Olasehinde T, Oyeleye S, Ogunsuyi O (2017) Modulatory effects of Aqueous extract from Tetracarpidium conophorum leaves on key enzymes linked to erectile dysfunction and oxidative stress-induced lipid peroxidation in penile and testicular tissues. J Appl Pharm Sci 7(1):051–056

Akomolafe SF, Oyeleye SI, Olasehinde TA, Oboh G (2018) Phenolic characterization, antioxidant activities, and inhibitory effects of Physalis angulate and Newbouldia laevis on enzymes linked to erectile dysfunction. Int J Food Prop 21(1):645–654. https://doi.org/10.1080/10942912.2018.1446149

Akomolafe SF, Olasehinde TA, Aluko BT (2021) Diets supplemented with raw and roasted pumpkin (Cucurbita pepo L) seeds improved some biochemical parameters associated with erectile function in rats. J Food Biochem 45:e13629

Alia M, Horcajo C, Bravo L, Goya L (2003) Effect of grape antioxidant dietary fiber on the total antioxidant capacity and the activity of liver antioxidant enzymes in rats. Nutr Res 23:1251–1267

Bhattacharya S, Prakash M (1997) Kinetics of roasting of split chickpea (Cicer arietinum). Int J Food Sci Technol 32:81–84

Bloknina O, Virolainen E, Fagerstedt KV (2003) Antioxidants, oxidative damage and oxygen deprivation stress: a review. Ann Bot-London 91:179–194

Boligon AA, Freitas RB, Brum TF, Waczuk EP, Klimaczewski CV, Ávila DS, Athayde ML, Bauermann LF (2014) Antiulcerogenic activity of Scutia buxifolia on gastric ulcers induced by ethanol in rats. Acta Pharmaceutica Sinica 4(5):358–367

Cho JG, Song NY, Nam TG, Shrestha S (2013) Flavonoids from the grains of C1/R-S transgenic rice, the transgenic Oryza sativa spp. japonica, and their radical scavenging activities. J Agric Food Chem 61:10354–10359

Fahim AT, Abdel Fattah AA, Agha AM, Gad MZ (1995) Effect of pumpkin-seed oil on the level of free radical scavengers induced during adjuvant-arthritis in rats. Pharmacol Res 31(1):73–79. https://doi.org/10.1016/1043-6618(95)80051-4

Francisco M, Velasco P, Moreno DA, García-Viguera C (2010) Cooking methods of Brassica rapa affect the preservation of glucosinolates, phenolics and vitamin C. Food Res Int 43:1455–1463

Gaurav M, Apminder SB, Giridhar S (2008) Nitrosodiethylamine-induced toxicity in relation to oxidative stress and development of atherosclerosis in hypercholesterolemic diet-fed rabbits. Exp Toxicol Pathol 59(6):409–414

Goufo P, Trindade H (2014) Rice antioxidants: phenolic acids. flavonoids, anthocyanins

Goufo P, Pereira J, Moutinho-Pereira J, Correia CM (2014) Rice (Oryza sativa L.) phenolic compounds under elevated carbon dioxide (CO2) concentration. Environ Exp Bot 99:28–37

Halliwell B, Gutteridge JMC (1999) Free radicals in biology and medicine, 3rd edn. Oxford University Press Inc., New York

Halliwell B, Gutteridge JMC, Aruoma OI (1987) The deoxyribose method: simple test-tube assay for determination of rate constant s for reactions of hydroxyl radicals. Anal Biochem 165:215–219

Igbinosa OO, Igbinosa IH, Chigor VN, Uzunuigbe OE, Oyedemi SO, Odjadjare EE (2011) Polyphenolic contents and antioxidant potential of stem bark extracts from Jatropha curcas (Linn). Int J Mol Sci 12:2958–2971

Indrianingsih AW, Rosyida VT, Apriyana W, Hayati SN, Nisa K, Darsih C, Kusumaningrum A, Ratih D, Indirayati N (2019) Comparisons of antioxidant activities of two varieties of pumpkin (Cucurbita moschata and Cucurbita maxima) extracts. Earth Environmental Science 251:012021. https://doi.org/10.1088/1755-1315/251/1/012021

Kim JK, Lee SY, Chu SM, Lim SH (2010) Variation and correlation analysis of flavonoids and carotenoids in Korean pigmented rice (Oryza sativa L.) cultivars. J Agric Food Chem 58:12804–12809

Mirjana A, John VC, Agniezska T, Roland V (2010) Phenolic compounds and some quality parameters of pumpkin seed oil. Eur J Lipid Sci Technol 112(2):208–217

Nagy S (1980) Vitamin C contents of Citrus fruit and their products: A review. J Agric Food Chem 28(1):8–18

Nagy S, Smooth JM (1977) Temperature and storage effects on percent retention and percent U.S. recommended dietary allowances of vitamin C in canned single-strength orange juice. J Agric Food Chem 25(1):135–138

Oboh G (2005) Effect of blanching on the antioxidant properties of some tropical green leafy vegetables. LWT 38:513–517

Oboh G, Akindahunsi AA (2004) Change in the ascorbic acid, total phenol and antioxidant activity of sun-dried commonly consumed green leafy vegetables in Nigeria. Nutr Health 18:29–36

Oboh G, Nwanna EE, Elusiyan CA (2006) Antioxidant and antimicrobial properties of Telfairia occidentalis (Fluted pumpkin) leaf extracts. J Pharmacol Toxicol 1(2):167–175

Oboh G, Puntel RL, Rocha JBT (2007) Hot pepper (Capsicum annuum, tepin and Capsicum chinese, Habanero) prevents Fe2+-induced lipid peroxidation in brain in vitro. Food Chem 102:178–185

Oboh G, Adefegha SA, Ademosun AO, Unu D (2010) Effects of hot water treatment on the phenolic phytochemicals and antioxidant activities of lemon grass (cymbopogon citratus). EJEAFChe 9(3):503–513

Oboh G, Akinyemi AJ, Adeleye B, Oyeleye SI, Ogunsuyi OB, Ademosun AO, Ademiluyi AO, Boligon AA (2016) Polyphenolic compositions and in vitro angiotensin-I-converting enzyme inhibitory properties of common green leafy vegetables: a comparative study. Food Sci Biotechnol 25(5):1243–1249

Ohkawa H, Ohishi N, Yagi K (1979) Assay for lipid peroxides in animal tissues by thiobarbituric acid reaction. Anal Biochem 95(2):351–358

Oloyede FM (2012) Growth, yield and antioxidant profile of pumpkin (Cucurbita pepo L.) leafy vegetable as affected by NPK compound fertilizer. J Soil Sci Plant Nutr 12(3):379–387

Oyetayo FL, Akomolafe SF, Osesanmi TJ (2020) Effect of dietary inclusion of pumpkin (Cucurbita pepo L) seed on nephrotoxicity occasioned by cisplatin in experimental rats. J Food Biochem 44(10):e13439

Pier GP, Giorgia M, Francesco G, Erica L, Ryszard A (2017) Antioxidative activities and phenolic compounds of pumpkin (Cucurbita pepo) seeds and amaranth (Amaranthus caudatus) grainextracts. Nat Prod Res 31(18):2178–2182. https://doi.org/10.1080/14786419.2017.1278597

Ratnam N, Vandana M, Najibullah D, Ibrahim D (2017) A review on Cucurbita pepo. Int J Pharmacogn Phytochem Res 9(9):1190–1194

Roy MK, Juneja LR, Isobe S, Tsushida T (2009) Steam processed broccoli (Brassica oleracea) has higher antioxidant activity in chemical and cellular assay systems. Food Chem 114:263–269

Sarkar S, Guha D (2008) Effect of ripe fruit pulp extract of Cucurbita pepo Linn. in aspirin induced gastric and duodenal ulcer in rats. Indian J Exp Biol 46(9):639–645

Schenker S, Heinemann C, Huber M, Pompizzi P, Perren R, Escher F (2002) Impact of roasting conditions on the formation of aroma compounds in coffee beans. J Food Sci 67(1):60–66

Seymen M, Uslu N, Turkmen O, Al Juhaimi F, Ozcan MM (2016) Chemical compositions and mineral contents of some hull-less pumpkin seed and oils. J Am Oil Chem Soc 93:1095–1099

Türkmen Ö, Uslu N, Paksoy M, Seymen M, Fidan S, Özcan MM (2015) Evaluation of fatty acid composition, oil yield and total phenol content of various pumpkin seed genotypes. La Rivista Italiana dele Sostanze Grasse, VOL. XCII -APRILE/GIUGNO 93

Türkmen Ö, Özcan MM, Seymen M, Paksoy M, Uslu N, Fidan S (2017) Physico-chemical properties and fatty acid compositions of some edible pumpkin seed genotypes and oils. J Agroaliment Process Technol 23(4):229–235

Wen TN, Prasad KN, Yang B, Ismail A (2010) Bioactive substance contents and antioxidant capacity of raw and blanched vegetables. Innov Food Sci Emerg Technol 11:464–469

Xu Z, Jin-zhi O, Yong-shang Z (1994) Effect of the extracts of pumpkin seeds on the urodynamics of rabbits: An experimental study. J Tongji Med Univ 14:235

Yadav M, Jain S, Tomar R, Prasad GBKS, Yadav H (2017) Medicinal and biological potential of pumpkin: an updated review. Nutr Res. 23:184–190

Zhang Z, Chang Q, Zhu M, Huang Y, Ho WK, Chen K (2001) Characterization of antioxidants present in hawthorn fruits. J Nutr Biochem 12:144–152

Zhang G, Huang G, Xiao L, Seiber J, Mitchell AE (2011) Acrylamide formation in almonds (Prunus dulcis): influences of roasting time and temperature, precursors, varietal selection, and storage. J Agric Food Chem 59(15):8225–8232

Zhao BL (2005) Natural antioxidants for neurodegenerative diseases. Mol Neurobiol 31:283–293

Zuhair AH, Abdel-Fattah AA, El-sayed MI (2000) Pumpkin seed oil modulates the effect of felodipine and captoprilin spontaneously hypertensive rats. Pharm Res 41:555–563
Ethics declarations
Ethical statement
All procedures performed in studies involving animals were following the Institutional Animal Ethical Committee. All efforts were made to minimize the number of animals and their suffering.
Additional information
Publisher's Note
Springer Nature remains neutral with regard to jurisdictional claims in published maps and institutional affiliations.
About this article
Cite this article
Akomolafe, S.F. Effects of roasting on the phenolic phytochemicals and antioxidant activities of pumpkin seed. Vegetos 34, 505–514 (2021). https://doi.org/10.1007/s42535-021-00226-w
Received:

Revised:

Accepted:

Published:

Issue Date:
Keywords
Pepitas

Phenolic phytochemicals

Antioxidant

Roasting treatment