Abstract
Chickpea is considered as one of the protein rich and low input crops in India but it suffers from a huge group of soil borne pathogens. Fusarium wilt, caused by Fusarium oxysporum f. sp. ciceris (FOC) at any time from the seedling to podding and become a major factor for yield loss. The aim of this study was to determine the plant growth promoting and bio-control activity of marine Micrococcus luteus and checking its in vitro effect on vegetative parameters in the presence and absence of pathogen. M. luteus was characterized as PGPB as it was tested positive for indole 3-acetic acid (IAA) production (81.379 µg ml−1 of IAA), ammonia production (1.513 µmol ml−1), potassium solubilization (17.78 µg ml−1), phosphate solubilization (81.03 ppm), glucanase production (0.5848 µmol ml−1 h−1) and chitinase production (0.024 µmol ml−1 h−1) along with antagonistic potential against four different soil borne pathogens. Talc-based bio-formulation was prepared using M. luteus and its effect on vegetative parameters was checked by performing pot trials, using four different conditions- control (T1), M. luteus treated (T2), FOC treated (T3) and both M. luteus and FOC treated (T4). M. luteus showed significantly positive effect on vegetative parameters of plants. The results suggested that M. luteus protected chickpea from pathogen as it showed bio-control ability with inhibitory effect against pathogens and act as PGPB to enhance overall plant growth.
Access options
Buy single article
Instant access to the full article PDF.
US$ 39.95
Tax calculation will be finalised during checkout.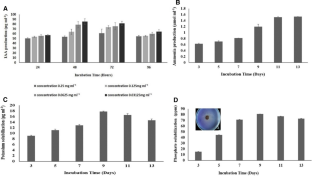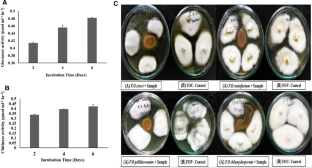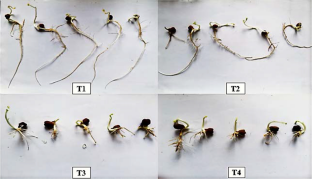 References
Agrawal T, Kotasthane AS (2012) Chitinolytic assay of indigenous trichoderma isolates collected from different geographical locations of Chhattisgarh in Central India. SpringerPlus 1(1):73. https://doi.org/10.1186/2193-1801-1-73

Aleksandrov VG, Blagodyr RN, Ilev IP (1967) Liberation of phosphoric acid from apatite by silicate bacteris. Mikrobiolohichnyi Zhurnal (Kiev) 29:111–114

Alexander M (1985) Introduction to soil microbiology. Wiley, USA, pp 382–385

Aloni R, Aloni E, Langhans M, Ulrich CI (2006) Role of cytokinin and auxin in shaping root architecture: regulating vascular differentiation, lateral root initiation, root apical dominance and root gravitropism. Ann Bot 97:883–893. https://doi.org/10.1093/aob/mcl027

Aneja KR (2009) Experiments in microbiology. New Age International Publications, New Delhi, India, pp 245–275

Arrigo KR (2005) Marine microorganisms and global nutrient cycles. Nature 437(7057):349–355

Brick JM, Bostock RM, Silverstone SE (1991) Rapid in situ assay for indole acetic acid production by bacteria immobilized on nitrocellulose membrane. Appl Environ Microbiol 57:535–538

Cappucino JC, Sherman N (1992) Nitrogen cycle. Microbiology: a laboratory manual, 4th edn. Benjamin/Cumming, New York, pp 311–312

Chhonkar PK, Subba-Rao NS (1967) Fungi associated with legume root nodules. Can J Microbiol 13(7):749–753. https://doi.org/10.1139/m67-099

Datta J, Lal N (2012) Application of molecular markers for genetic discrimination of Fusarium wilt pathogen races affecting chickpea and pigeon pea in major region if India. Eur J Agron 58(1):55–65. https://doi.org/10.1170/T921

Friedlander M, Inbar J, Chet I (1993) Biological control of soil borne plant pathogens by a β-1, 3 glucanase-producing Pseudomonas cepacia. Soil Biol Biochem 25(9):1211–1221. https://doi.org/10.1016/0038-0717(93)90217-Y

Goswami D, Vaghela H, Parmar S, Dhandhukia P, Thakker JN (2013) Plant growth promoting potentials of Pseudomonas spp. strain OG isolated from marine water. J Plant Interact 8(4):281–290. https://doi.org/10.1080/17429145.2013.768360

Graham PH, Vance CP (2000) Nitrogen fixation in perspective: an overview of research and extension needs. Field Crops Res 65:93–106. https://doi.org/10.1016/S0378-4290(99)00080-5

John RP, Tyagi RD, Prévost D, Brar SK, Pouleur S, Surampalli RY (2010) Mycoparasitic Trichoderma viride as a biocontrol agent against Fusarium oxysporumf sp. adzuki and Pythium arrhenomanes and as a growth promoter of soybean. Crop Protect 29(12):1452–1459. https://doi.org/10.1016/j.cropo.2010.08.004

King JE (1932) The colorimetric determination of phosphorus. Biochem J 26:292–297. https://doi.org/10.1042/bj0260292

Kumar R, Mishra A, Jha B (2019) Bacterial community structure and functional diversity in subsurface seawater from the western coastal ecosystem of the Arabian Sea, India. Gene 701:55–64

Marschner P (2012) Marschner's mineral nutrition of higher plants, vol 3. Academic Press, London, pp 178–189

Patel KB, Thakker JN (2019) Growth promotion and biocontrol activity of Nocardiopsis dassonvillei strain YM12: an isolate from coastal agricultural land of Khambhat. Vegetos 32(4):571–582

Patel KB, Thakker JN (2020) Deliberating plant growth promoting and mineral-weathering proficiency of Streptomyces nanhaiensis strain YM4 for nutritional benefit of millet crop (pennisetum glaucum). JBFS 9(4):721–726

Patel D, Jha CK, Tank N, Saraf M (2012) Growth enhancement of chickpea in saline soils using plant growth-promoting rhizobacteria. J Plant Growth Regul 31:53–62. https://doi.org/10.1007/s00344-011-9219-7

Patten CL, Glick BR (2002) Role of Pseudomonas putida indole-acetic acid in development of the host plant root system. Appl Environ Microbial 68:3795–3801. https://doi.org/10.1128/AEM.68.8.3795-3801.2002

Pikovskaya RI (1948) Mobilization of phosphorus in soil in connection with the vital activity of some microbial species. Mikrobiologiya 17:362–370
Acknowledgements
Authors are thankful to the Department of Biotechnology (DBT), New Delhi, India for financial aids. Authors are also thankful to Charotar University of Science and Technology (CHARUSAT) management to provide necessary facilities.
Additional information
Publisher's Note
Springer Nature remains neutral with regard to jurisdictional claims in published maps and institutional affiliations.
About this article
Cite this article
Patel, P., Patel, K., Dhandhukia, P. et al. Plant growth promoting traits of marine Micrococcus sp. with bio-control ability against Fusarium in chickpea plant. Vegetos 34, 94–101 (2021). https://doi.org/10.1007/s42535-021-00191-4
Received:

Revised:

Accepted:

Published:

Issue Date:
Keywords
Antifungal activity

Bio-control agent

IAA production

Marine organism

Plant growth promoting bacteria