Abstract
Ian McHarg's theory of regional ecological planning is a milestone in the history of planning and socio-ecological practice. The use of science—geology, physiography, soils, hydrology, and vegetation—to determine the appropriate locations for development marked a distinct departure from planning based on promoting economic growth. McHarg tested his theory in practice, most notably in three projects in the USA: The Metropolitan Open Space study of greater Philadelphia, The Plan for the Valleys in Baltimore County, Maryland, and The Woodlands, a new town outside of Houston, Texas. New challenges to regional ecological planning have arisen in the past 30 years: population growth, infrastructure needs, climate change, and social equity and environmental justice. McHarg's emphasis on the integration of nature and the built environment is still valid, especially in urban/suburban areas, where the use of green infrastructure has gained popularity. McHarg advocated some separation of rural areas from urban/suburban areas to protect farmland and curb sprawl. But more separation is now necessary given America's much larger and dispersed metropolitan populations. Also, greater emphasis is needed on social equity, environmental justice, and the sustainability of the built environment to provide more affordable housing and to produce more resilient, healthy, walkable, and mixed-use cities and suburbs that rely on mass transit to reduce greenhouse gas emissions.
Access options
Buy single article
Instant access to the full article PDF.
USD 39.95
Price excludes VAT (USA)
Tax calculation will be finalised during checkout.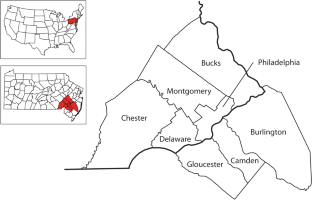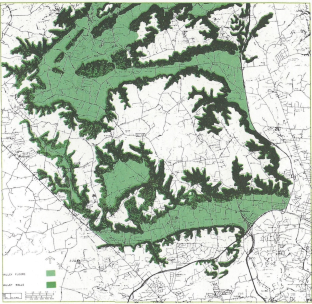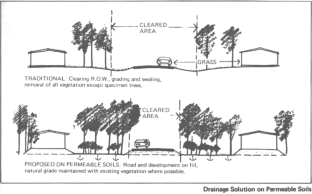 References
Ammon F (2016) Bulldozer: demolition and clearance of the postwar landscape. Yale university Press, New Haven

Anderson M (1965) Federal Bulldozer—critical analysis of Urban renewal, 1949–1962. MIT Press, Cambridge

Anderson F (1973) NEPA in the courts: a legal analysis of the national environmental policy act. Resources for the Future, Baltimore

Avin U (2013) The plan for the Valleys: legend and legacy. Planning 79(8):20–25

Baltimore County Department of Planning (2018) Land preservation, April 17, 2018. https://www.baltimorecountymd.gov/Agencies/planning/landpreservation/index.html. Accessed 21 Aug 2018

Benedict MA, McMahon ET (2006) Green infrastructure. Island Press, Washington, DC

Bullard RD, Warren RC, Johnson GS (2001) The quest for environmental justice. In: Braithwaite RL, Taylor SE (eds) Health issues in the black community, 2nd edn. Jossey-Bass Publishers, San Francisco, CA, pp 471–488

Bunster-Ossa IF (2014) Reconsidering ian mcHarg: the future of urban ecology. American Planning Association, Chicago

Burge GS, Trosper TL, Nelson AC, Juergensmeyer JC, Nicholas JC (2013) Can development impact fees help mitigate urban sprawl? J Am Plan Assoc 79(3):235–248

Calthorpe P (2010) Urbanism in the age of climate change. Island Press, Washington, DC

Calthorpe P, Fulton W (2001) The regional city. Island Press, Washington, DC

Chapin T (2012) From growth controls to comprehensive planning, to smart growth: planning's emerging fourth wave. J Am Plan Assoc 78(1):5–15

Colby JL, Ortman SM (2015) Projections of the size and composition of the U.S. population: 2014 to 2060. U.S. Census Bureau, Washington, DC. https://www.census.gov/content/dam/Census/library/publications/2015/demo/p25-1143.pdf. Accessed May 11, 2019

Daniels TL (1998) When city and country collide: managing growth in the metropolitan fringe. Island Press, Washington, DC

Daniels TL (2001) Smart growth: a new American approach to regional planning. Plan Pract Res 3, 4:271–281

Daniels TL (2014) The environmental planning handbook for sustainable communities and regions, 2nd edn. American Planning Association, Chicago

Daniels TL, Keller JW, Lapping MB, Daniels K, Segedy J (2007) The small town planning handbook, 3rd edn. American Planning Association, Chicago

Delaware County Regional Planning Commission (DVRPC) (2018) Local government links. https://www.dvrpc.org/links/LocalGovernments/. Accessed 26 Nov 2018

Demographia (2014) Urban areas in the united states: 1950 to 2010, principal urban areas in metropolitan areas over 1,000,000 population in 2010. http://demographia.com/db-uza2000.htm. Accessed 10 Aug 2018

Duany A, Plater-Zyberk E, Speck J (2000) Suburban nation: the rise of sprawl and the decline of the American dream. North Point Press, San Francisco

Forsyth A (2003) Ian McHarg's woodlands: a second look. Planning 69(8):10–13

Forsyth A (2005) Reforming suburbia: the planned communities of Irvine, Columbia, and The Woodlands. University of California Press, Berkeley

Freeman M (1990) Water pollution policy. In: Portney P (ed) Public policies for environmental protection. Resources for the Future, Washington, DC, pp 27–96

Frey, WH (2012) Population growth in metro America since 1980: putting the volatile 2000s in perspective. The Brookings Institution, Washington, DC. https://www.brookings.edu/wp-content/uploads/2016/06/0320_population_frey.pdf. Accessed 14 May 2019

Gillham O (2002) The limitless city: a primer on the urban sprawl debate. Island Press, Washington, DC

Healy R, Rosenberg J (1979) Land use and the States, 2nd edn. Johns Hopkins University Press and Resources for the Future, Baltimore

Herrington S (2010) The nature of Ian McHarg's science. Landsc J 29:1–20

Hundt G Jr, Daniels T (2018) The plan for the valleys: assessing the vision of David Wallace and Ian McHarg. J Plan Hist 17(1):3–19

Intergovernmental Panel on Climate Change (2018) Global warming of 1.5 degrees C. https://report.ipcc.ch/sr15/pdf/sr15_spm_final.pdf. Accessed 3 May 2019

Jackson K (1985) Crabgrass frontier. Oxford University Press, New York

Malone MD (ed) (1985) The Woodlands: new town in the forest. Pioneer Publications, The Woodlands

McHarg IL (1963a) Man and environment. In: Steiner FR (2006) (ed) The essential Ian McHarg: writings on design and nature. Island Press, Washington, DC, pp 1–14

McHarg IL (1963b) Regional landscape planning. In: McHarg IL, Steiner FR (1998) (eds) To heal the earth: selected writings of Ian L. McHarg. Island Press, Washington, DC, pp 94–107

McHarg IL (1964) The place of nature in the city of man. In: Steiner FR (2006) (ed) The essential Ian McHarg: writings on design and nature. Island Press, Washington, DC, pp 15–29

McHarg IL (1966) Ecological determinism. In: Steiner FR (2006) (ed) The essential Ian McHarg: writings on design and nature. Island Press, Washington, DC, pp 30–46

McHarg IL (1967) An ecological method for landscape architecture. In: McHarg IL, Steiner FR (1998) (eds) To heal the earth: selected writings of Ian L. McHarg. Island Press, Washington, DC, pp 212–218

McHarg IL (1968) A comprehensive highway route selection method. In: McHarg IL, Steiner FR (1998) (eds) To heal the earth: selected writings of Ian L. McHarg. Island Press, Washington, DC, pp 219–233

McHarg IL (1969) Design with nature. Doubleday, New York

McHarg IL (1970) Open space from natural processes. In: Steiner FR (2006) (ed) The essential Ian McHarg: writings on design and nature. Island Press, Washington, DC, pp 62–85

McHarg IL (1978) Ecological planning: the planner as catalyst. In: Steiner FR (2006) (ed) The essential Ian McHarg: writings on design and nature. Island Press, Washington, DC, pp 62–85

McHarg IL (1981) Human ecological planning at pennsylvania. In: Steiner FR (2006) (ed) The essential Ian McHarg: writings on design and nature. Island Press, Washington, DC, pp 90–103

McHarg IL (1996) A quest for life: an autobiography. Wiley, New York

McHarg IL (2007) The theory of creative fitting. In: Margulis L, Corner J, Hawthorne B (eds) Ian McHarg: conversations with students: dwelling in nature. Princeton Architectural Press, New York, pp 19–61

McHarg IL, Sutton J (1975) Ecological plumbing for the texas coastal plain. In: McHarg IL, Steiner FR (1998) (eds) To heal the earth: selected writings of Ian L. McHarg. Island Press, Washington, DC, pp 325–340

McHarg IL, Wallace D (1965) Plan for the valleys vs. spectre of uncontrolled growth. In: McHarg IL, Steiner FR (1998) (eds) To heal the earth: selected writings of Ian L. McHarg. Island Press, Washington, DC, pp 271–277

McHarg IL, Johnson A, Berger J (1979) A case study in ecological planning: The Woodlands. In: McHarg IL, Steiner FR (1998) (eds) To heal the earth: selected writings of Ian L. McHarg. Island Press, Washington, DC, pp 242–262

Metro of Greater Portland, Oregon (2018) Urban growth management functional plan. https://www.oregonmetro.gov/sites/default/files/2018/04/16/urban-growth-management-functional-plan-04162018.pdf. Accessed 10 Sep 2018

National Agricultural Lands Study (1981) Executive summary of final report. United States Department of Agriculture and President's Council on Environmental Quality, Washington, DC

Ndubisi F (2002) Ecological planning: a historical and comparative synthesis. Johns Hopkins University Press, Baltimore

Nelson AC, Burby RJ, Feser E, Dawkins CJ, Malizia EE, Queria R (2004) Urban containment and central-city revitalization. J Am Plan Assoc 70(4):411–425

Odum E (1997) Ecology: a bridge between science and society. MA Sinaur Assiciates, Sunderland

Portney P (1990) Air pollution policy. In: Portney P (ed) Public policies for environmental protection. Resources for the Future, Washington, DC, pp 27–96

Rusk D (1993) Cities without suburbs. Woodrow Wilson Center Press, Washington, DC

Rusk D (2010) Cities without suburbs, 3rd edn. Johns Hopkins University Press, Baltimore

Schwartz J, Glanz J, Lehren AW (2017) Builders said their homes were out of a flood zone. Then harvey came. The New York Times, December 2, 2017. https://www.nytimes.com/2017/12/02/us/houston-flood-zone-hurricane-harvey.html. Accessed 8 Aug 2018

Seymour B (2011) Land use and infrastructure planning in the greater Philadelphia region. In: Montgomery CK (ed) Regional planning for a sustainable America: how creative programs are promoting prosperity and saving the environment. Rutgers University Press, New Brunswick, pp 227–235

Squires GD (2002) Urban sprawl and uneven development. In: Squires GD (2002) (ed) Urban sprawl: causes, consequences and policy responses. The Urban Institute Press, Washington, DC, pp 1–22

Steiner FR (ed) (2006) The essential Ian McHarg: writings on design and nature. Island Press, Washington, DC, pp 11–24

Steiner FR (2017) Healing the earth: the relevance of Ian McHarg's work for the future. Hum Ecol Rev 23(2):75–85

The Woodlands (2018). www.thewoodlands.com. Accessed 10 Aug 2018

Theobald DM, Romme WH (2007) Expansion of the US wildland–urban interface. Landsc Urb Plan 83:340–354

University of Pennsylvania (1963) Metropolitan open space from natural processes. Urban Renewal Administration and the states of Pennsylvania and New Jersey. Ian L. McHarg, principal investigator. University of Pennsylvania, Philadelphia

U.S. Census Bureau (1964) Census of agriculture, 1964. USGPO, Washington, DC

U.S. Census Bureau (1970) 1970 census: population, population counts for standard metropolitan statistical areas (preliminary reports). U.S. Census Bureau, Washington, DC. https://www.census.gov/library/publications/1970/dec/pcp-2.html. Accessed 10 Aug 2018

U.S. Census Bureau (2018a) Metropolitan and micropolitan. https://www.census.gov/programs-surveys/metro-micro/about.html. Accessed 10 Aug 2018

U.S. Census Bureau (2018b) Annual estimates of the resident population: April 1, 2010 to July 1, 2017—United States—Metropolitan Statistical Area; and for Puerto Rico. https://factfinder.census.gov/faces/tableservices/jsf/pages/productview.xhtml?src=bkmk. Accessed 10 Aug 2018

U.S. Census Bureau and U.S. Department of Housing and Urban Development (2019) Median sales price of houses sold for the United States [MSPUS], Retrieved from FRED, Federal Reserve Bank of St. Louis; https://fred.stlouisfed.org/series/MSPUS. May 3, 2019

U.S. Department of Agriculture (2019) Census of agriculture, 2017. USDA, Washington, DC

Wallace DA, McHarg IL, Roberts WH, Todd TA (1973) Woodlands new community: phase one: land planning and design principles. The Woodlands Development Corporation, Ian L. McHarg, partner-in-charge, Houston

Wallace DA, McHarg IL, Roberts WH, Todd TA (1974) Woodlands new community: an ecological inventory. The Woodlands Development Corporation, Ian L. McHarg, partner-in-charge, Houston

Wallace-McHarg Associates (1964a) Part I: the plan for the valleys. Green Spring and Worthington Valley Planning Council Inc, Towson

Wallace-McHarg Associates (1964b) Part II: technical report on the plan for the valleys. Green Spring and Worthington Valley Planning Council Inc, Towson

Yang B (2019) Landscape performance: ian McHarg's ecological planning in The Woodlands, Texas. Routledge, London

Yang B, Li M-H (2011) Assessing planning approaches by watershed streamflow modeling: case study of The Woodlands, Texas. Landsc Urb Plan 99:9–22

Yang B, Li M-H, Huang C-S (2015) Ian McHarg's ecological planning in The Woodlands, Texas: lessons learned after four decades. Landsc Res 40(7):773–794
About this article
Cite this article
Daniels, T. McHarg's theory and practice of regional ecological planning: retrospect and prospect. Socio Ecol Pract Res 1, 197–208 (2019). https://doi.org/10.1007/s42532-019-00024-4
Received:

Accepted:

Published:

Issue Date:

DOI: https://doi.org/10.1007/s42532-019-00024-4
Keywords