Abstract
As the economy stepped into the "new normal," the Chinese government has implemented various policies to transform its economic development model to pursue an innovation-driven growth. Against this background, the most innovating field is the Internet-based "new economy." A major feature of the Chinese new economy is that it is based on a new payment system. Various new businesses have been developed owing to third-party payment platforms (particularly Alibaba's Alipay and Tencent's WeChat Pay) and a vast ecosystem has been created around them. Moreover, the development of the Chinese new economy is helping to expand consumer spending and is becoming a new economic growth engine.
Access options
Buy single article
Instant access to the full article PDF.
US$ 39.95
Tax calculation will be finalised during checkout.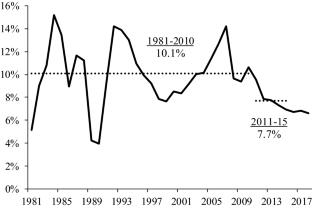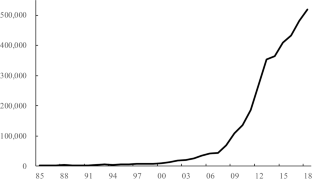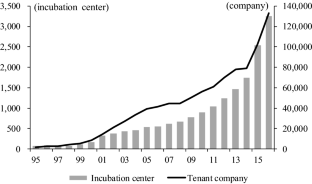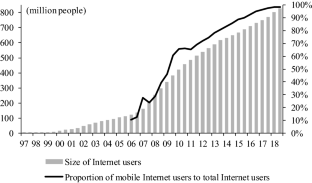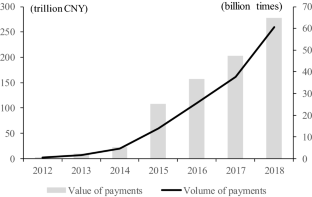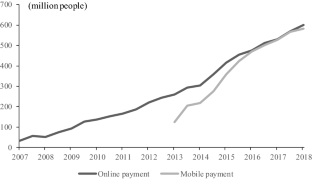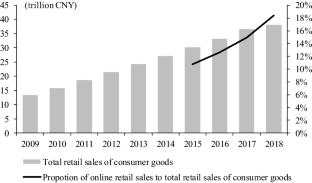 Notes
1.

2.

China implemented the two-child policy in 2016, however, potential impacts of this policy on labor supply was limited. Zhang [9] estimates the working-age population scale and forecasts the trend of scale and structure of labor supply in China between 2018 and 2050. Four scenarios were estimated: the total fertility rate could not change (1.5), experience a low growth (between 1.6 and 1.7), a mid-sized growth (between 1.8 and 1.9) or a high growth (between 1.9 and 2.0). The results show that the future labor supply in China decreased under all four total fertility rate scenarios.

3.

The negative impact on economic growth generated by the working-age population decline is a global phenomenon. Manyika et al. [4] points out that the declining working-age population share implies a 19 % decrease in per capita income growth over the next 50 years.

4.

Although China's corporate debt-to-GDP ratio has fallen since 2016 (peaking at 142 % of GDP), it remains one of the highest in the world (see [1] for details).

5.

Through a simulation analysis, [3] found that both improvement in TFP and in labor force participation can increase the potential GDP growth rate of China. However, the policies for increase in labor force participation have only short-term effects. By contrast, policies aimed to improve TFP can enhance the potential GDP growth rate over a long period.

6.

In a report on the work of the government, Chinese Premier Li Keqiang mentioned "We should strive to achieve major breakthroughs in basic research, applied research, and research in strategic and frontier fields by 2020. China's investment in research and development is expected to reach 2.5% of GDP, and the contribution of scientific and technological advances toward economic growth should come to reach 60%." Full text is available at the official website of the National People's Congress of the People's Republic of China (https://www.npc.gov.cn/englishnpc/c2866/201603/8432092de21b4ea3a019d443a1fce93d.shtml).

7.

In an executive meeting held in March 2015 to discuss the implementation of new guidelines, Chinese Premier Li Keqiang stated: "We will implement the Made in China 2025 strategy to seek innovation-driven development, apply smart technologies, strengthen foundations, pursue green development, and redouble our efforts to upgrade China from a manufacturer of quantity to one of quality" ([2], p.54). For a comparative study of Made in China 2025 and Germany's Industry 4.0, see also [7].

8.

A document regarding the implementation of the "Internet Plus" strategy was approved on June 24, 2015. The government pledged to encourage national innovation platforms to open up to enterprises, especially small and medium-sized ones (For more details, see the official website of the State Council the People's Republic of China, https://english.www.gov.cn/2016special/internetplus/).

9.

10.

This paper used the exchange rate of 6.8841 RMB per US dollar (31 July 2019). The exchange rate data were obtained from the People's Bank of China.

11.

"Overseas talents help China shift growth pattern" by China Daily (April 12, 2012). For more detailed information about the "Thousand Talents Plan," see the official website of the Recruitment Program of Global Experts (https://www.1000plan.org.cn/en/).

12.

A third-party payment platform is an independent agency with the necessary strength and reputation to protect the transaction payment. When performing a transaction, the user buys a commodity and pays the purchase through a third-party payment platform which should inform the seller that the goods were shipped immediately after the receipt of payment (see also [10]).

13.

Tencent's third-party payment system is called "Tenpay." Therefore, strictly speaking, WeChat Pay is part of Tenpay. For convenience, this paper would refer to "WeChat Pay" as the Tencent's third-party payment system.

14.

China's per capita credit card numbers are still relatively low. In fact, there are 711 million cards in China, which means an average of 0.51 cards per person in the second quarter of 2019. (Data source: People's Bank of China).

15.

For a more detailed explanation about Chinese new economy, see [5].

16.

In 2009, the total retail sales of consumer goods were 1.33 trillion CNY (193 million USD).

17.

At the end of 2018, the personal consumption expenditures' share of GDP reached 68.0 % in the U.S. (Data source: U.S. Bureau of Economic Analysis).

18.

In 2018, the proportion of the national online retail sales including both goods and services reached 23.6%.
References
1.

International Monetary Fund (2019), People's Republic of China, IMF Country Report, No. 19/274.

2.

Liu, S. X. (2016). Innovation design: made in China 2025. Design Management Review, 27(1), 52–58.

3.

Lu, Y., & Cai, F. (2016). China's shift from the demographic dividend to the reform dividend: based on the simulation of China's potential growth rate. The Journal of World Economy, 39(1), 3–23. (in Chinese).

4.

Manyika, J., Woetzel, J., Dobbs, R., Remes, J., Labaye, E., & Jordan, A. (2015). Global growth: can productivity save the day in an aging world? McKinsey Global Institute Report, January 2015.

5.

Nishimura, Y. (2019). The cashless nation: the light and shadow of the Chinese new economy. Tokyo: Bunshun Shinsho. (in Japanese).

6.

Walters J., Gao, H., Hui, V., Wang, A., Yang, J., & Lyu, Z. (2017). Five profiles that explain China's consumer economy, Boston Consulting Group Report, June 28, 2017.

7.

Wu, Y., & Duan, Y. (2018). "Made in China": building Chinese smart manufacturing image. Journal of Service Science and Management, 11, 590–608.

8.

Zhang, J., & Zhang, Y. (2016). Mass entrepreneurship and innovation: new impetus to development. Article of Development Research Center of the State Council of the People's Republic of China. https://en.drc.gov.cn/2016-04/07/content_24350321.htm. Accessed 23 Dec 2019.

9.

Zhang, P. (2019). Universal two-child policy, population aging and labor supply. Economic Survey, 36(3), 134–141. (in Chinese).

10.

Zhu, S., & Kuang, T. (2014). E-commerce model and platform based on the third-party. Journal of Chemical and Pharmaceutical Research, 6(3), 863–868.
Acknowledgements
The author wishes to thank Yoji Taniguchi, Hiroshige Tanaka and seminar participants at the 18th International Conference of the Japan Economic Policy Association for helpful comments.
Additional information
Publisher's Note
Springer Nature remains neutral with regard to jurisdictional claims in published maps and institutional affiliations.
About this article
Cite this article
Nishimura, Y. New normal and new economy: a new growth engine for China. IJEPS 14, 301–312 (2020). https://doi.org/10.1007/s42495-020-00037-y
Received:

Accepted:

Published:

Issue Date:
Keywords
Chinese new economy

New normal

Innovation

Online payment