Abstract
The Sindh River is one of the most important water sources in Jammu and Kashmir, India. It is the chief Jhelum tributary flowing in the Kashmir Valley, with a significant impact to the country's economy, production of hydroelectric power and irrigation for farming. This study aims to access the applicability, competence and aptness of Hydrologic modeling system (HEC-HMS) for forecasting flood in the River Sindh of Kashmir Valley, India. HEC-GeoHMS which is an extension ArcView GIS tool was used for processing digital elevation model (DEM) by terrain pre-processing, and basin processing. Historical observed data (1992–2018), collected from irrigation and flood control department Kashmir, was used for calibration and validation of model. Four peak flow years were selected for calibration (1995 and 1998) and validation (2014 and 2017). The competence of the model was assessed by relating the observed data with the simulation data of the chosen flood occasions. Performance indicator values, i.e., (Peak flow) Percentage error in Peak Flow (PEPF), Model Efficiency (ME), and correlation coefficient (R2)were all within the acceptable range. The efficiency of the calibrated and validated training model is 0.94–0.95, and 0.96–0.98, respectively, which is acceptable. Also, a strong relation was found between observed and simulated values of peak discharge with R2 ranging between 0.95–0.98 for calibration and validation periods. The overall result shows interest in applying a hydrological model for flood risk assessment of Sindh River, where the peak discharge simulation results are consistent with historical observation data.
Zusammenfassung
Der Fluss Sindh ist eine der wichtigsten Wasserquellen in Jammu und Kaschmir, Indien. Er ist der Hauptzufluss des Jhelum, der in das Kaschmirtal fließt. Er hat einen erheblichen Einfluss auf die Wirtschaft des Landes, die Erzeugung von Wasserkraft und die Bewässerung in der Landwirtschaft. Ziel dieser Studie ist es, die Anwendbarkeit, Kompetenz und Eignung des hydrologischen Modellierungssystems (HEC-HMS) für die Hochwasservorhersage des Flusses Sindh im Kaschmirtal, Indien, zu untersuchen.
Access options
Buy single article
Instant access to the full article PDF.
USD 39.95
Price excludes VAT (USA)
Tax calculation will be finalised during checkout.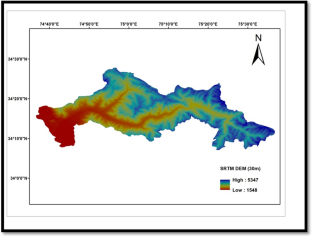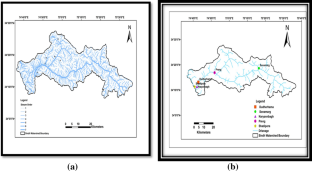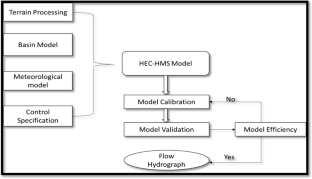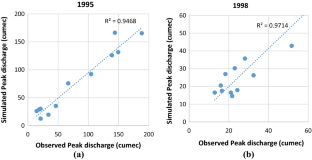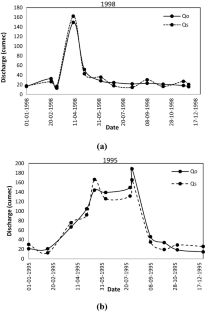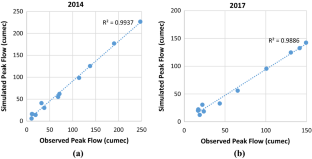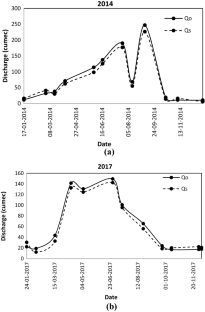 References
Abdul Rahman H (2009) Sustainable urban settlement and environmental challenges. Malaysian J Environ Manag 10(2):17–32

Abhas KJ, Robin B, and Jessica L (2012). Cities and Flooding; A Guide to Integrated Urban Flood Risk Management for the 21st Century, electronic document

Adeloye AJ, Rustum R (2011) Lagos (Nigeria) flooding and influence of urban planning. Proc. Inst. Civ. Eng. Urban Des. Plan. 164(3):175–187

Cahyono C, Adidarma WK (2019) Influence analysis of peak rate factor in the flood events' calibration process using HEC–HMS. Model Earth Syst Environ. https://doi.org/10.1007/s40808-019-00625-8

Dawson RJ, Speight L, Hall JW, Djordjevic S, Savic D, Leandro J (2008) Attribution of flood risk in urban areas, J. Hydro inform. 10(4)

Hirabayashi Y, Mahendran R, Koirala S, Konoshima L, Yamazaki D, Watanabe S, Kim H, Kanae S (2013) Global flood risk under climate change. Nat. Clim. Change 3(9):816–821

Icyimpaye G, Abdelbaki C, Mourad KA (2021) Hydrological and hydraulic model for flood forecasting in Rwanda. Model Earth Syst Environ. https://doi.org/10.1007/s40808-021-01146-z

Kadaverugu A, Kadaverugu R, Chintala NR et al (2021) Flood vulnerability assessment of urban micro-watersheds using multi-criteria decision making and InVEST model: a case of Hyderabad City. Model. Earth Syst. Environ, India. https://doi.org/10.1007/s40808-021-01310-5

Liu L, Liu Y, Wang X, Yu D, Liu K, Huang H, Hu G (2015) Developing an effective 2-D urban flood inundation model for city emergency management based on cellular automata. Nat Hazards Earth Syst Sci 15:381–391

Lumbroso DM, Vinet F (2011) A comparison of the causes, effects and aftermaths of the coastal flooding of England in 1953 and France in 2010. Nat Hazards Earth Syst Sci 11(8):2321–2333

Malik M, Dar AQ, Jain MK (2021) Modelling streamflow using the SWAT model and multi-site calibration utilizing SUFI-2 of SWAT-CUP model for high altitude catchments NW Himalaya's. Model Earth Syst Environ. https://doi.org/10.1007/s40808-021-01145-0

Mandal SP, Chakrabarty A (2016) Flash flood risk assessment for upper Teesta river basin: using the hydrological modeling system (HEC-HMS) software. Earth Syst. Environ, Model. https://doi.org/10.1007/s40808-016-0110-1

Parvaze S, Khan J, Kumar R, Allaie S (2021) Temporal flood forecasting for trans-boundary Jhelum River of Greater Himalayas. Theo Appl Climato. 144:493–506

Pathan AI, Agnihotri PG (2021) Application of new HEC-RAS version 5 for 1D hydrodynamic flood modeling with special reference through geospatial techniques: a case of River Purna at Navsari, Gujarat. India Model Earth Syst Environ. https://doi.org/10.1007/s40808-020-00961-0

Romali N, Yusop Z, Ahmad I (2018) Hydrological modelling using HEC-HMS for flood risk assessment of segamat Town, Malaysia. IOP Conference Series: Mater Sci and Engg. https://doi.org/10.1088/1757-899X/318/1/012029

Samu R, Kentel AS (2018) An Analysis of the flood management and mitigation measures in Zimbabwe for a sustainable future. Int. J. Disaster Risk Reduct. 31:1–10

Smith K, Hazards E (2013) Assessing Risk and Reducing Disaster, 6th edn. Routledge, London, p 309

Tamiru H, Wagari M (2021) Machine-learning and HEC-RAS integrated models for flood inundation mapping in Baro River Basin. Model. Earth Syst. Environ, Ethiopia. https://doi.org/10.1007/s40808-021-01175-8

U. S. Army Corps of Engineers (USACE) (2000) Hydrologic Modeling System: Technical Reference Manual. Davis, CA: U.S. Army Corps of Engineers, Hydrologic Engineering CenterVan de Sande B, Lansen J, Hoyng C, (2012) Sensitivity of coastal flood risk assessment to digital elevation models. Water 4:568–579

U. S. Army Corps of Engineers (USACE). 2000a. Geospatial modeling extension. HEC-GeoHMS, User's Manual. Davis, CA: U.S. Army Corps of Engineers, Hydrologic Engineering Center

Vazhuthi HI, Kumar A (2020) Causes and Impacts of Urban Floods in Indian Cities: A Review. Int J Emerg Techno 11(4):140–147

Wahl T, Jain S, Bender J, Meyers SD, Luther ME (2015) Increasing risk of compound flooding from storm surge and rainfall for major US cities. Clim. Change, Nat. https://doi.org/10.1038/nclimate2736

Yusop Z, Chan CH, Katimon A (2007) Runoff characteristics and application of HEC-HMS for modelling stormflow hydrograph in an oil palm catchment. Water Sci Technol 56(8):41–48
Supplementary Information
Below is the link to the electronic supplementary material.
About this article
Cite this article
Shah, M., Lone, M.A. Flood Modeling and Simulation Using HEC-HMS/HEC-GeoHMS and GIS Tools for River Sindh-NW Himalayas. KN J. Cartogr. Geogr. Inf. 72, 325–333 (2022). https://doi.org/10.1007/s42489-022-00116-4
Received:

Accepted:

Published:

Issue Date:

DOI: https://doi.org/10.1007/s42489-022-00116-4
Keywords
Flood risk

HEC-GeoHMS

HEC-HMS

Hydrological model

Sindh River