Abstract
Icons play an important role in improving the efficiency of information transmission and reducing the user's cognitive load. Complexity is one of the important cognitive attributes of icons, which affects the semantic cognitive process of icons. The impact of icon complexity on the cognitive was studied by event-related potential (ERP) technology. The ERP experiment applies "target-priming" paradigm, and the experiment materials adopt a mixed design of 3 shape complexity (low, medium, high) × 2 semantic complexity (single semantic, multi-semantic) × 2 semantic matching relationships (match, mismatch). Hypotheses were proposed before the experiment. Based on the analysis of response time, correct rate, ERP waveform characteristics and average amplitude, the hypotheses were discussed. The ERP experiment results show that N400 is more obvious in semantic inconsistencies but has a shorter latency period, which can be used as an objective evaluation basis for icon cognition; both shape complexity and semantic complexity have significant effect on semantic cognition; icons with more complex shapes and less complex semantics are more efficient in cognition. According to the experimental conclusion, influence factors of icon shape complexity are summarized from several calculation models of shape complexity, the ways to improve icon shape complexity are analyzed, and a method is proposed for icons optimization design by improving the complexity of icon shapes. The method is applied in an example, the improvement of complexity and the optimization of icon design scheme are verified by questionnaires, and the result shows that the method is effective.
Access options
Buy single article
Instant access to the full article PDF.
US$ 39.95
Tax calculation will be finalised during checkout.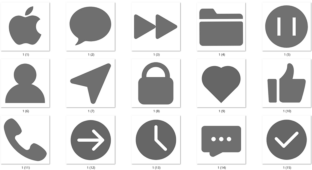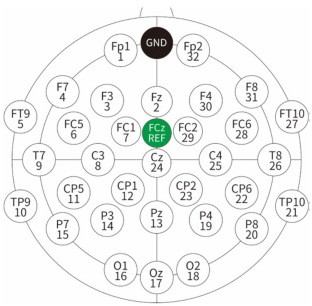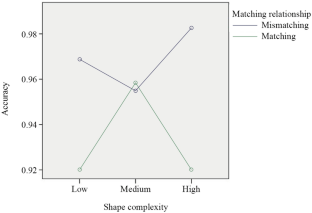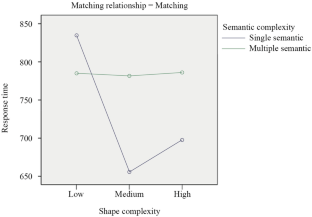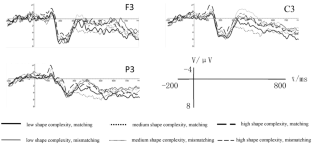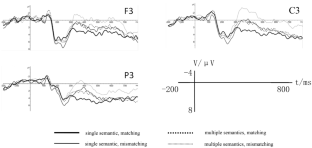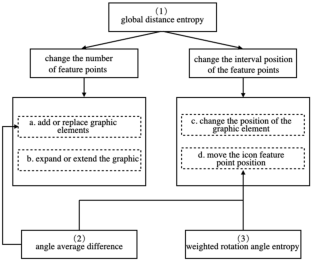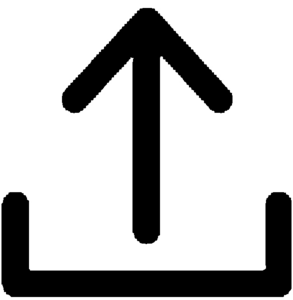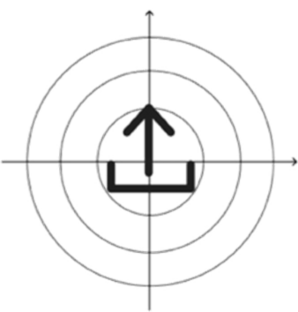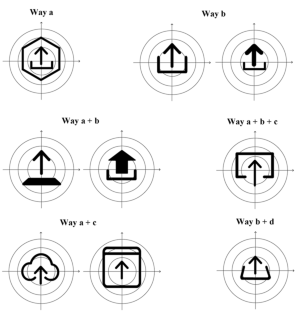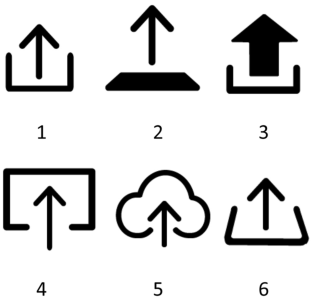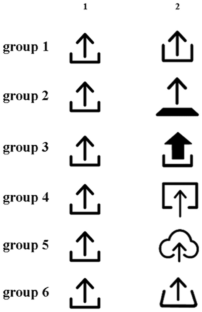 References
Attneave, F.: Physical determinations of the judged complexity of shapes. J. Exp. Psychol. 53(4), 221–227 (1957)

Bühler, D., Hemmert, F., Hurtienne, J.: Universal and intuitive: scientific guidelines for icon design. In: Proceedings of the Conference on Mensch und Computer, pp. 91–103. Madgeburg (2020)

Cecotti, H., Graser, A.: Convolutional neural networks for P300 detection with application to brain-computer interfaces. IEEE. Trans. Pattern Anal. Mach. Intell. 33(3), 433–445 (2011)

Chen, Y., Sundaram, H.: Estimating complexity of 2D shapes. In: Proceedings of the 7th IEEE Workshop on Multimedia Signal Processing, pp. 1–4. Los Alamitos, IEEE Computer Society Press (2005)

Dai, L., Zhang, J., Peng, R., Wang, J., Yu, J.: Computational Evaluation of Logo Shape Complexities. Chin. J. Comput. Aided Des. Comput. Graph. 29(10), 1786–1793 (2017)

DeLong, K.A., Kutas, M.: Comprehending surprising sentences: sensitivity of post-N400 positivities to contextual congruity and semantic relatedness. Lang. Cognit. Neurosci. 35(8), 1044–1063 (2020)

Donderi, D.C.: Visual complexity: a review [J]. Psychol. Bull. 132(1), 73–97 (2006)

Fan, R., Shi, H., Huang, X., Duan, Y., Yan, H., Chang, J.: Role of working memory in lexical access: an event-related potential study based on word-picture matchin tasks. Chin. J. Rehabil. Theory Pract. 25(01), 70–75 (2019)

Feldman, J., Singh, M.: Information along contours and object boundaries [J]. Psychol. Rev. 112(1), 243–252 (2005)

Guoying, L., Guanhua, H.: Effects of semantic congruence on sign identification: an ERP study. Hum. Factors 6, 1–12 (2019)

Heim, S.: The Resonant Interface-HCI Foundations for Interaction Design. Publishing House of Electronics Industry, Beijing (2008)

Henderson, P.W., Cote, J.A.: Guidelines for selecting or modifying logos [J]. J. Mark. 62(2), 14–30 (1998)

Hou, G., Lu, G.: Event related potential of semantic cognition in sign design. Chin. J. Tongji Univ. 46(11), 1582–1588 (2018)

Jin, T., Lang, X., Niu, Y., Zhou, S., Ming, C.: Effect of the color and graphic coding combination on cognitive performance. Chin. J. Southeast Univ. 50(04), 721–727 (2020)

Kutas, M., Hillyard, S.A.: Reading senseless sentences: brain potentials reflect semantic incongruity. Science 207(4427), 203–205 (1980)

Li, J., Yu, S., Wu, X.: Effects of shape character encodings in the human-computer interface on visual cognitive performance. Chin. J. Comput. Aided Des. Comput. Graph. 30(01), 163 (2018)

Li, X., Wang, H., Shao, J.: Event-related potential study on military icon based on composition-semantic relationship. In: Ahram, T., Karwowski, W., Vergnano, A., Leali, F., Taiar, R. (eds.) Intelligent Human Systems Integration, pp. 248–253. Springer, Berlin (2020)

Liusheng, W., Qian, C., Yan, C., et al.: The effect of sweet taste on romantic semantic processing: an ERP study. Front. Psychol. 10, 1573 (2019)

McDougall, S.J., de Bruijn, O., Curry, M.B.: Exploring the effects of icon characteristics on user performance: the role of icon concreteness, complexity, and distinctiveness. Exp. Psychol. 6(4), 291–306 (2000)

Niu, Y., Xue, C., Li, X.: Icon memory research under different time pressures and icon quantities based on event-related potential. J. Southeast Univ. 30(1), 45–50 (2014)

Osterhout, L., Holcomb, P.J.: Event-related potentials and language comprehension. In: Rugg, M.D., Coles, M.G.H. (eds.) Electro-Physiology of Mind, pp. 171–215. Oxford University Press, New York (1997)

Page, D.L., Koschan, A.F., Sukumar, S.R., et al: Shape analysis algorithm based on information theory. In: Proceedings of International Conference on Image Processing, 1, pp. 229–232.IEEE Computer Society Press, Los Alamitos (2003)

Psarra, S., Grajewski, T.: Describing shape and shape com-plexity using local properties. In: Proceedings of the 3rd International Space Syntax Symposium, Georgia Institute of Technology Press, Atlanta (2001)

Qian, X., Yang, Y., Sun, S.: Exploring the effects of icon concreteness on the recognition process: an event—related potential study. Chin. J. Psychol. Sci. 37(01), 27–33 (2014)

Satcharoen, K.: The effect of icon entropy, icon concreteness and time on human selection accuracy. In: 2019 IEEE 4th International Conference on Computer and Communication Systems (ICCCS), pp. 379–382. Singapore (2019)

Shen, Z., Zhang, L., Li, R., Liang, R.: The effects of icon internal characteristics on complex cognition. Int. J. Ind. Ergon (2020). https://doi.org/10.1016/j.ergon.2020.102990

Sun, J.: An introduction to brain science. Peking University Press, Beijing (2001).. (in Chinese)

Wang, C.Y., Chung, Y.J.: Detecting the semantic differences of congruence, ambiguity, and incongruence in the picture-word matching task using the event-related potential [J]. J. Des. 22, 25–45 (2017)

Xie, J., Unnikrishnan, D., Williams, L., Oropesa, A.E., Mutnuri, S., Sharma, N., Jeffrey, P., Zhu, B., Lighterness, P.: Influence of domain experience on icon recognition and preferences. Behav. Inf. Technol (2020). https://doi.org/10.1080/0144929X.2020.1795260

Yang, W.: Event-related potential. Chin. J. New Med. 5, 298–300 (1999)

Yeh, Y.Y., Lee, D.S., Ko, Y.H.: Color combination and exposure time on legibility and EEG response of icon presented on visual display terminal. Display. 34, 33–38 (2013)

Zhang, J., et al.: Study on the effects of semantic memory on icon complexity in cognitive domain. In: Harris, Don (ed.) Engineering Psychology and Cognitive Ergonomics, pp. 147–157. Springer, Berlin (2016)
Funding
This research was supported by the National Natural Science Fund of China (No. 62002321), and Zhejiang Provincial Natural Science Foundation of China (No.Y18E050014).
About this article
Cite this article
Yang, C., Peng, Y. & Zeng, J. Research on cognition and application of icon complexity based on EEG. CCF Trans. Pervasive Comp. Interact. 3, 170–185 (2021). https://doi.org/10.1007/s42486-021-00058-2
Received:

Accepted:

Published:

Issue Date:
Keywords
Icon complexity

Semantic cognition

Event-related potential (ERP)

Icon design