Abstract
The Subtropolis Mine is a room-and-pillar mine extracting the Vanport limestone near Petersburg, Ohio, at a depth of approximately 59.4 m (190 ft). In February of 2018, mine management began implementing a new layout to better control the negative effects of excessive levels of horizontal stress. Almost immediately, the conditions in the headings improved. Conversely, and as expected, stress-related damage concentrated within crosscuts. Over the last 18 months, the mine operator has diligently experimented with different techniques/methods to lessen the impact of the instabilities in the outby crosscuts. The range of controls used by the mine operator include angled crosscuts, crosscut offsets, increase distance between crosscuts, arched crosscuts, cable bolted crosscuts, altered blasting pattern, and windows. A window is used to resist roof deformation by leaving a strong brow of roof rock within the crosscuts. A window reduces the crosscut dimensions vertically and, in some applications, horizontally. With each application of engineering controls, conditions were monitored and analyzed using observational and measurement techniques. In every case, the advantages in ground conditions were weighed against its impacts to haulage, ventilation, and other mining considerations. This paper examines how each engineering control was implemented and assessed. All these controls are based on well-established geomechanics principles, but experience has shown that local modifications are needed to deal with the unique local conditions such as geology, mining method, mine equipment, and in situ stress conditions.
Access options
Buy single article
Instant access to the full article PDF.
USD 39.95
Price excludes VAT (USA)
Tax calculation will be finalised during checkout.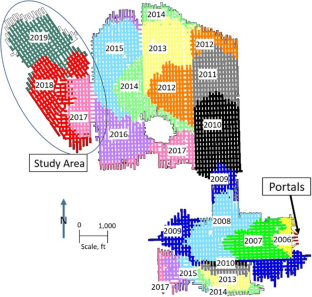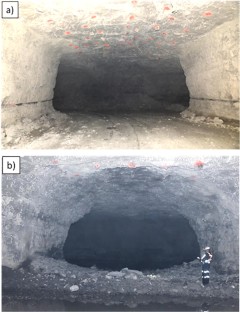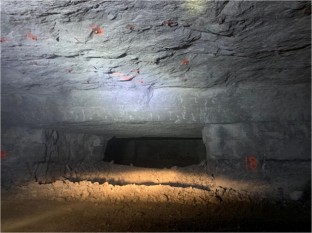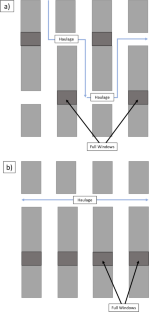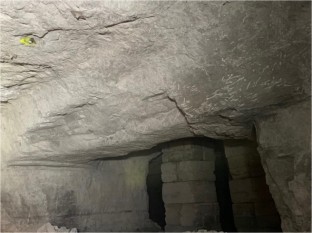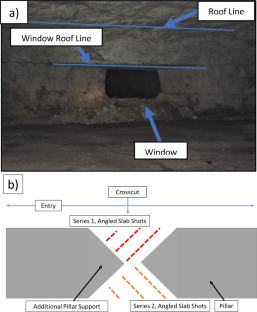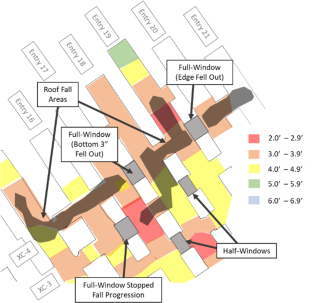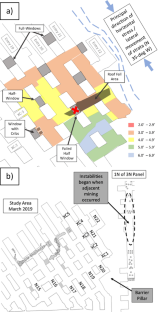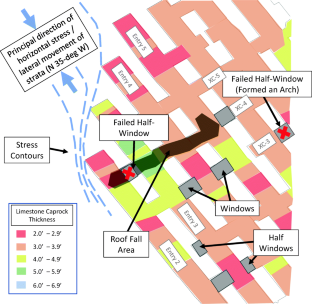 References
Iannacchione A, Miller T, Esterhuizen G, Slaker B, Murphy M, Cope N, Thayer S (2019) Evaluation of stress control layout at the Subtropolis Mine, Petersburg, OH. Proceedings of the 38th International Conference on Ground Control in Mining, Society of Mining, Metallurgy, and Exploration, Morgantown, WV

Iannacchione A, Marshall T, Burke L, Melville R, Litsenberger J (2003) Safer mine layouts for underground stone mines subjected to excessive levels of horizontal stress. Mining Engineering Official Publication of the Society of Mining Metallurgy and Exploration, April 2003, pp. 25-31

Mucho T, Mark C (1994) Determining horizontal stress direction using the stress mapping technique, 13th Conference on Ground Control in Mining, Morgantown, WV, pp. 277-289

Parker J (1966) Mining in a lateral stress field at white pine. Rock Mechanics Session, Annual General Meeting, Quebec City, April 1966, Canadian Mining and Metallurgical Bulletin, October 1966, Transactions Vol. LXIX, pp. 375-383

Parker J (1973) How to design better mine openings. Eng Min J 1973:76–80

Esterhuizen G, Iannacchione A (2004) Investigation of pillar-roof contact failure in Northern Appalachian stone mine workings. Proceeding of the 23rd International Conference on Ground Control in Mining, West Virginia University, Morgantown, WV
Ethics declarations
Conflict of Interest
The authors declare that they have no conflict of interest.
Disclaimer
The findings and conclusions in this report are those of the author(s) and do not necessarily represent the official position of the National Institute for Occupational Safety and Health, Centers for Disease Control and Prevention. Mention of any company or product does not constitute endorsement by NIOSH.
Statement of Informed Consent
This study was conducted with the collaboration of, and consent to publish from, East Fairfield Coal Company.
Additional information
Publisher's Note
Springer Nature remains neutral with regard to jurisdictional claims in published maps and institutional affiliations.
About this article
Cite this article
Evanek, N., Iannacchione, A. & Miller, T. Controlling Crosscut Damage in Response to Excessive Levels of Horizontal Stress: Case Study at the Subtropolis Mine, Petersburg, OH. Mining, Metallurgy & Exploration 38, 645–653 (2021). https://doi.org/10.1007/s42461-020-00357-9
Received:

Accepted:

Published:

Issue Date:

DOI: https://doi.org/10.1007/s42461-020-00357-9
Keywords
Ground control

Limestone

Horizontal stress

Stress control layout

Crosscut

Windows