Abstract
Physical and chemical characterization and solid/liquid separation of turbid waters from a river affected by an iron tailing rupture disaster (Gualaxo do Norte River, Brazil) were studied at bench scale. Parameters such as turbidity, pH, surface tension, electrical conductivity, total suspended solids (TSS), particle size distribution (micro- and nanoparticles), and zeta potential were analyzed from samples collected at three different river depths. The results in all samples showed the presence of micro- and nanoparticles, ranging in diameters from 100 nm to 200 μm. Best results for flocculation and settling were obtained at pH 7.5, through an innovative combination of eco-friendly reagents: (i) ferric hydroxide precipitates (10 mg L−1 Fe3+) to sweep (enmesh) the dispersed solids and (ii) gelatinized starch (5 mg L−1) to form large flocs. The results showed removals between 90 and 100% of total suspended solids (micro- and nanoparticles), resulting in clear water with residual turbidity < 7 NTU. It is believed that this innovative alternative has a high potential for flocculating and treating the turbid water at Gualaxo do Norte River, assisting the water treatment stations.
This is a preview of subscription content, log in to check access.
Access options
Buy single article
Instant access to the full article PDF.
US$ 39.95
Price includes VAT for USA
Subscribe to journal
Immediate online access to all issues from 2019. Subscription will auto renew annually.
US$ 148
This is the net price. Taxes to be calculated in checkout.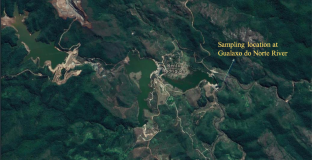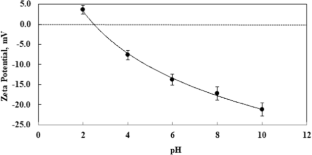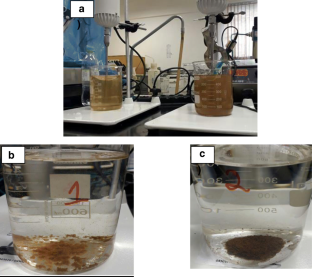 References
1.

National Department of Mineral Production – DNPM (in Portuguese), 2016. Sumário Mineral. Vol. 35. Available at: http://www.dnpm.gov.br/dnpm/sumarios/sumario-mineral-2015. Accessed on April 2019

2.

Kossoff D, Dubbin WE, Alfredsson M, Edwards SJ, Macklin MG, Hudson-Edwards KA (2014) Mine tailings dams: characteristics, failure, environmental impacts, and remediation. Appl Geochem 51:229–245. https://doi.org/10.1016/J.APGEOCHEM.2014.09.010

3.

Carmo FF et al (2017) Fundão tailings dam failure: the environment tragedy of the largest technological disaster of Brazilian mining in global context. Perspect Ecol Conserv 15(3):145–151. https://doi.org/10.1016/j.pecon.2017.06.002

4.

Fuerstenau MC, Yoon RH, Jameson GJ, 2007; Froth flotation: a century of innovation. Society for Mining, Metallurgy, and Exploration-SME, ISBN: 978-0873352529, 891

5.

Mudd GM (2007) Global trends in gold mining: towards quantifying environmental and resource sustainability. Res Policy 32(1–2):42–56. https://doi.org/10.1016/j.resourpol.2007.05.002

6.

Adiansyah JS, Rosano M, Vink S, Keir G (2015) A framework for a sustainable approach to mine tailings management: disposal strategies. J Clean Prod 108(A):1050–1062. https://doi.org/10.1016/j.jclepro.2015.07.139

7.

Water National Agency - ANA (in Portuguese), 2017. Encarte especial sobre a qualidade das águas do Rio Doce após 2 anos do rompimento da barragem de Fundão 2015–2017. Available at http://www3.ana.gov.br/portal/ANA/sala-de-situacao/rio-doce/documentos-relacionados/encarte-qualidade-da-gua-do-rio-doce-dois-anos-apos-rompimento-de-barragem-de-fundao-1.pdf. Accessed on August 2018

8.

Golder Associates, Brasil Consultoria e Projetos Ltda. Programa de Caracterização Geoquímica de Rejeitos, Solos e Sedimentos, 2007. Available at https://www.fundacaorenova.org/arquivos-e-relatorios/. In Portuguese. Accessed on August, 2018

9.

Water National Agency – ANA (in Portuguese), 2016. Conjuntura dos Recursos Hídricos no Brasil Informe 2015. Available at: http://www3.snirh.gov.br/portal/snirh/centrais-de-conteudos/conjuntura-dos-recursos-hidricos/encarteriodoce_22_03_2016v2.pdf. Accessed on August, 2018

10.

European Chemicals Bureau, 2002. European Union Risk Assessment Report: acrylamide. Vol. 24. CAS No: 79-06-1. EINECS No: 201-173-7. Available at: https://echa.europa.eu/documents/10162/50218bf9-ba0f-4254-a0d9-d577a5504ca7. Accessed on August 2018

11.

Weisseborn PK, Warren LJ, Dunna JG (1995) Selective flocculation of ultrafine iron ore. 1. Mechanism of adsorption of starch onto hematite. Colloids Surf A Physicochem Eng Asp 10:11–27. https://doi.org/10.1016/0927-7757(95)03111-P

12.

Shrimali K, Atluri V, Wang Y, Bacchuwar S, Wang X, Miller JD (2018) The nature of hematite depression with corn starch in the reverse flotation of iron ore. J Colloid Interface Sci 524:337–349. https://doi.org/10.1016/j.jcis.2018.04.002

13.

Etchepare R, Azevedo A, Calgaroto S, Rubio J (2017) Removal of ferric hydroxide by flotation with micro and nanobubbles. Sep Purif Technol 184:347–353. https://doi.org/10.1016/j.seppur.2017.05.014

14.

Pavlovic S, Brandao PRG (2003) Adsorption of starch, amylose, amylopectin and glucose monomer and their effect on the flotation of hematite and quartz. Miner Eng 16:1117–1122. https://doi.org/10.1016/j.mineng.2003.06.011

15.

Rao KH, Forssberg KSE. (2007) Chemistry of iron oxide flotation. In: Fuerstenau MC, Jameson GJ, Yoon R-H, editors. Froth flotation: a century of innovation. Littleton, Colorado: Society for Mining, Metallurgy, and Exploration - SME. p. 498–513

16.

Peres AEC, Correa MI (1996) Depression of iron oxides with corn starches. Miner Eng 9(12):1227–1234. https://doi.org/10.1016/S0892-6875(96)00118-5

17.

Sengil A, Ozdemir A (2012) Simultaneous decolorization of binary mixture of blue disperse and yellow basic dyes by electrocoagulation. Desalin Water Treat 46(1–3):1–12. https://doi.org/10.1080/19443994.2012.677554

18.

Xiao F, Zhang X, Ma J (2009) Indecisiveness of electrophoretic mobility determination in evaluating Fe(III) coagulation performance. Sep Purif Technol 68(2):273–278. https://doi.org/10.1016/j.seppur.2009.06.001

19.

Hendricks DW 2006. Water treatment unit processes: physical and chemical. 1st Ed., CRC Press, ISBN 9780824706951, Chapter 3, page 310

20.

Filippov LO, Severov VV, Filippov IV (2013) Mechanism of starch adsorption on Fe–Mg–Al-bearing amphiboles. Int J Miner Process 123:120–128. https://doi.org/10.1016/j.minpro.2013.05.010
Acknowledgments
The authors thank the Brazilian Institutes, namely, CNPq, CAPES, and Renova Foundation, for supporting our research. Special thanks to our University—UFRGS—and to all students for their collaboration.
Ethics declarations
Conflict of Interest
The authors declare that there is no conflict of interest.
Additional information
Publisher's Note
Springer Nature remains neutral with regard to jurisdictional claims in published maps and institutional affiliations.
About this article
Cite this article
Oliveira, H.A., Azevedo, A. & Rubio, J. Innovative Precipitation-Flocculation Process for Treating Turbid Waters from Gualaxo do Norte River, Brazil. Mining, Metallurgy & Exploration 36, 851–856 (2019). https://doi.org/10.1007/s42461-019-0081-7
Received:

Accepted:

Published:

Issue Date:
Keywords
Polluted rivers

Turbid water

Flocculation

Corn starch