Abstract
The mining industry faces many difficult challenges, for example, lower ore grades, smaller and deeper deposits, and longer transportation distances. In the past, there have been remarkable innovations in both equipment and the types of mining methods for which it is used, which have resulted in economies of scale. This has led to an increased use of bulk mining methods, like sublevel and block caving, which has increased productivity and reduced costs. Haulage alone plays a major role. Current haulage techniques are a significant cost driver, which account for between 15 and 30% of the overall capital investment (capex) in a mine and are an increasingly part of the operating costs (opex). The paper introduces a simulation tool of main haulage system in underground mining. Therefore, performances and the costs of the three most common underground main haulage systems, rail, truck, and conveyor, are calculated using a developed modeling tool. The tool was applied and validated in a case study carried out with the LKAB Kiruna Mine in northern Sweden.
This is a preview of subscription content, log in to check access.
Access options
Buy single article
Instant access to the full article PDF.
US$ 39.95
Price includes VAT for USA
Subscribe to journal
Immediate online access to all issues from 2019. Subscription will auto renew annually.
US$ 148
This is the net price. Taxes to be calculated in checkout.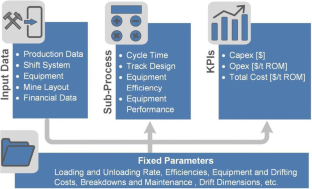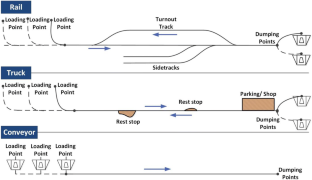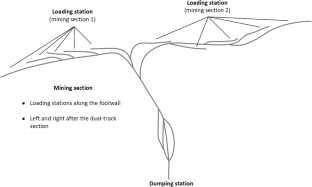 References
1.

AMC Consultants Pty Ltd (2015) Underground Haulage Benchmark: Study on underground haulage systems for Schalker Eisenhuette Maschinenfabrik GmbH. AMC Consultants Pty Ltd, Melbourne

2.

Bailey M, Olsson B, Glassock C (2005) "Underground Ore Handling Systems," Hoist and haul 2005, Australasian Institute of Mining and Metallurgy, ed., Perth

3.

Bergstroem R, Sterner T, Nordstroem T (2011) "Heavy haul 1365 meter underground," IHHA 2011, International Heavy Haul Association, ed.,, Calgary

4.

Bloss M (2013) Increasing throughput at Olympic Dam by effective management of the mine bottleneck. Min Technol 118(1):33–46

5.

Bloss M, Harvey P, Grant D, Routley C (2011) "Underground ore movement," SME Mining Engineering Handbook, P. Darling, ed., Englewood, SME, pp. 1271–1294

6.

Goldratt EM, Cox J (2004) The goal: a process of ongoing improvement. Routledge, New York

7.

InfoMine Inc. (2012) Mine and mill equipment costs: an estimator's guide. In: Spokane Valley. CostMine, Washington

8.

Moore P (2012) Mine locomotion. IM 8(3):88–96

9.

Pratt AGL (2008) "Mine haulage - options and the process of choice," Proceedings of the 10th Underground Operators Conference, Australasian Institute of Mining and Metallurgy, ed., Melbourne

10.

Pratt AGL, Ellen PJ (2005) "Selection of an Ore Haulage System for Telfer Deeps," Hoist and haul 2005, Australasian Institute of Mining and Metallurgy, ed., Perth

11.

Schalke Eisenhütte Maschinenfabrik GmbH (2017) "Internal rail equipment data: production and cost figures,"

12.

Smith GP, Taylor J, Anderson DC, Marsh AML (2007) Project valuation, capital investment and strategic alignment - tools and techniques at Anglo Platinum. J South Afr Inst Min Metall 107(1):67–74
Acknowledgements
The study was completed by the Institute of Mineral Resources Engineering (MRE) of RWTH Aachen University in cooperation with Schalker Eisenhütte GmbH and LKAB. Their approval to publish this work is gratefully acknowledged.
Ethics declarations
On behalf of all authors, the corresponding author states that there is no conflict of interest.
Additional information
Publisher's Note
Springer Nature remains neutral with regard to jurisdictional claims in published maps and institutional affiliations.
About this article
Cite this article
Dammers, M., Barnewold, L., Merchiers, A. et al. Development of an Underground Haulage System Evaluation Tool for Feasibility Studies. Mining, Metallurgy & Exploration 36, 487–494 (2019). https://doi.org/10.1007/s42461-019-0055-9
Received:

Accepted:

Published:

Issue Date:
Keywords
Project evaluation

Underground rail haulage systems

Deterministic simulation