Abstract
Complete isolation of chromium (III) from the reference material (SARM 131), Upper Group 2 (UG2) chromite ore, and Merensky Reef mineral ore was achieved using ammonium phosphate salt as flux. Optimum pH (3.2–3.8) conditions and sample to flux ratios (1:25) were some of the factors that were critical for the complete isolation of chromium. Increasing the sample to flux ratio (1:50 excess) however resulted in the conversion of all the elements in the melt into a green solution (pH, 5.8–6.7). A different chromium compound was subsequently isolated from the green solution by allowing this solution to stand in an open vessel in a cupboard for a month during which time the pH decreased to pH 3.5–4.2. Quantitative analyses of chromium from the isolated precipitates of SARM 131, UG2 chromite ore, and Merensky Reef mineral ore indicated chromium contents of 41.87, 60.41, and 23.93% respectively which were very close to the chromium content in the original samples. Analysis of the chromium precipitates using IR indicated the presence of phosphates (1100–1200 cm−1) while SEM-EDX analysis showed the presence of microscopic crystalline particles with Cr, P, and O as the major elements. Further characterization of the chromium precipitates using XRD and Raman successfully identified the product as chromium (III) metaphosphate C-type (Cr(PO3)3, JCPDS no. 01-077-0672), in the isolated chromium precipitates.
We're sorry, something doesn't seem to be working properly.
Please try refreshing the page. If that doesn't work, please contact support so we can address the problem.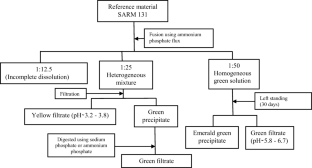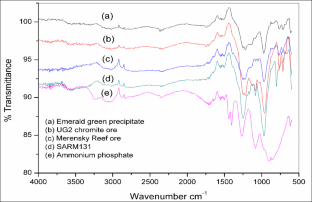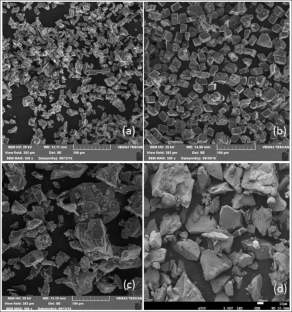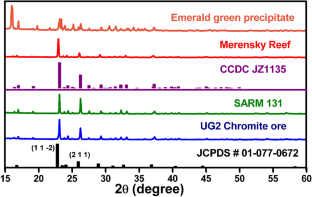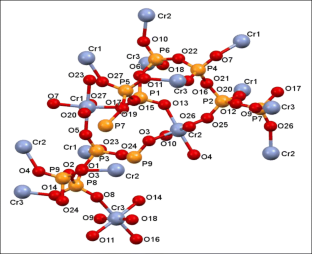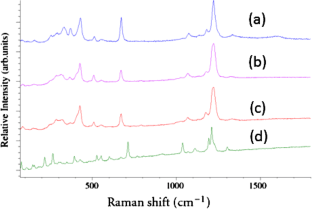 References
1.

Bagieu-Beucher M, Guitel JC (1977) Structure cristalline de l'hexamétaphosphate de chrome: Cr2P6O18. Acta Crystallogr Sect B 33:2529–2539

2.

Banach M, Makara A (2011) Thermal decomposition of sodium phosphates. J Chem Eng Data 56:3095–3099

3.

Barnes AR, Newall AF (2006) Spinel removal from PGM smelting furnaces.. Southern African Pyrometallurgy, pp 77–88

4.

Bosacka M, Jakubus P, Himmel IR (2007) Obtaining of chromium(III) phosphates(V) in the solid-state and their thermal stability. J Therm Anal Calorim 88(1):133–137

5.

Chiweshe TT, Purcell W (2017) Chromium isolation from different mineral ores. Conference proceeding of EMC, pp. 1–15

6.

Chiweshe TT, Purcell W, Venter JA (2016) Evaluation of PGE liberation and chromium isolation in a solid UG2 chromitite concentrates at moderate temperatures using ICP-OES. J Miner, Met Mater Soc 68(6):1691–1700

7.

Creamer M (2017) Ferrochrome and chrome ore prices recovered from rock bottom in the first quarter of last year to levels twice and four times higher respectively in 2017, a year in which a shortage of electricity supply has ceased to be a constraining factor, ferrochrome company Merafe reports. (Available at http://www.polity.org.za/article/strong-outlook-for-recovering-ferrochrome-industry-merafe-accessed on 2017-03-08)

8.

Elbouaanani LK, Malaman B, Gerardin R (1999) Structure refinement and magnetic properties of C-Fe(PO3)3 studied by neutron diffraction and Mossbauer techniques. J. Solid State Chem 148:455–463

9.

Fuks H, Kaczmarek SM, Bosacka M (2010) EPR and IR investigations of some chromium (III) phosphate (V) compounds. Rev Adv Mater Sci 23:57–63

10.

Godlewska P, Matraszek A, Kaczmanek SM, Fuks H, Skibinski T, Hermanowicz K, Ptak M, Szczygiel I, Macalik R, Lisiecki L, Ryba-Romanowski W, Hanuza J (2014) Structural, optical and EPR studies of NaCe(PO3)4 metaphosphate doped with Cr3+. J Lumin 146:342–350

11.

Gruss M, Glaum R (1996) Refinement of the superstructure of C-type chromium(Ill) tris(metaphosphate), Cr(PO3)3. Acta Cystallogr Sect C 52:2647

12.

Jones RT, Curr TR (2006) "Pyrometallurgy at Mintek,". Southern African Pyrometallurgy, pp. 127–150

13.

Kinnaird JA, Kruger FJ, Nex PAM, Cawthorn RG (2002) Chromitite formation—a key to understanding processes of platinum enrichment. Appl Earth Sci Trans Inst Min Metall Sect B 111(1):23–25

14.

Nadine J (2016) South Africa's chrome industry well placed to grow and prosper, online mining weekly report, (available at http://www.miningweekly.com/article/south-africas-chrome-industry-well-placed-to-grow-and-prosper accessed on 2016-10-21)

15.

Racon L (2015) 2014 a record year for ferrochrome only. Miner Met Rev:48–49

16.

Rojo JM, Mesa JL, Lezama L, Rojo T (1997) Spectroscopic and magnetic properties of three M(PO3)3 (M=Cr and Mo) metaphosphates. J Mater Chem 7(11):2243–2248

17.

Schurmann LW, Grabe PJ, Steenkamp CJ (1998a) Chromium In the mineral resources of South Africa; Council for Geoscience Handbook, 6th edition, 16, pp. 90–105

18.

Stuart B (2004) Infrared spectroscopy: fundamentals and applications. John Wiley & Sons, Ltd, p 84

19.

Yakubovich OV, Dimitrova OV, Savina GV (1991) Crystal structure of Cr (P O3)3. Kristallografiya 36:486–489
Funding
This paper is financially supported by the Research Fund of the University of the Free State and the National Research Fund of South Africa.
Ethics declarations
Conflict of Interest
The authors declare that they have no conflict of interest.
About this article
Cite this article
Chiweshe, T.T., Potgieter-Vermaak, S. & Purcell, W. Characterization of Chromium (III) Compounds Isolated from Different Mineral Ores Using Ammonium Phosphate as Flux. Mining, Metallurgy & Exploration 36, 441–450 (2019). https://doi.org/10.1007/s42461-018-0010-1
Received:

Accepted:

Published:

Issue Date:
Keywords
Ammonium phosphate

Chromium metaphosphate

UG2 chromite

Merensky Reef

XRD

Raman