Abstract
This article examines the contradictory proposed connections between compact urban form and small housing and human well-being. Whereas planners have argued the merits of smart growth and more compact urban form, compared to the traditional North American sprawling suburb, since at least the 1990s, other researchers and the global urban development community have more recently added their own evidence and argument in order to understand how not just the land use dimensions but also the transportation infrastructure design, greenhouse gas emissions profile, and social and personality characteristics may be more favourable in a compact, infill urban context than in a suburban or sprawling context. At the same time, the connection between compact urban living and well-being is not clear to many, as suburban style development expands at a faster rate than compact urban development in much of the world. Moreover, compact urban form is increasingly criticized for exerting downward pressure on liveability and well-being by exacerbating unaffordability. Taking a case based focus on the Metro Vancouver region in British Columbia, well-known for its liveability advantage and compact urban form, we present the results of survey research on resident attitudes toward and perceptions of moderate density housing being added within existing neighbourhoods. We find evidence of a tipping point, at which attitudes about new compact housing may hinge on the possibility for existing residents to have a voice in new developments and on the rate of change as much as on design or structural characteristics of the development. Perceptions of the contribution of more compact urban form and housing options to well-being should be considered central to efforts to advance such housing forms and types in cities, if these efforts are to pass the test of public opinion.
This is a preview of subscription content, log in to check access.
Access options
Buy single article
Instant access to the full article PDF.
US$ 39.95
Tax calculation will be finalised during checkout.
Subscribe to journal
Immediate online access to all issues from 2019. Subscription will auto renew annually.
US$ 79
Tax calculation will be finalised during checkout.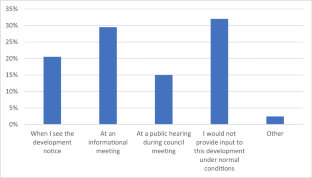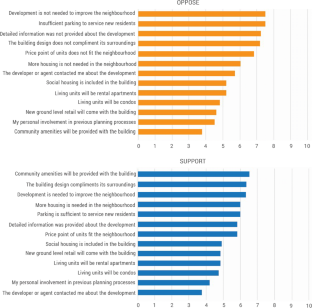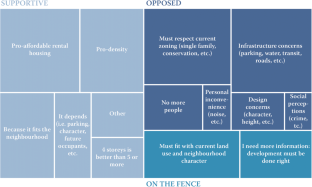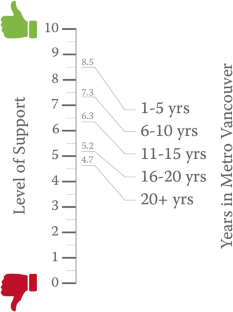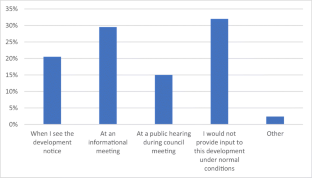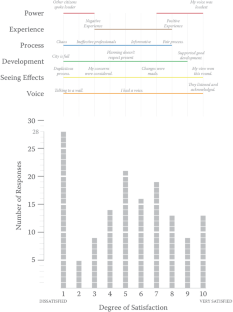 References
Badger, E. (2016). The next big fight over housing could happen, literally, in your backyard. The Washington Post. https://www.washingtonpost.com/news/wonk/wp/2016/08/07/why-building-a-home-on-your-own-land-has-become-so-controversial

Berelowitz, L. (2005). Dream City: Vancouver and the global imagination. Vancouver: Douglas & MacIntyre.

Bertolet, D. (2015). Why Vancouver trounces the rest of Cascadia in building ADUs. Seattle: Seattle Sightline Institute.

Burda, C. et al. (2012). Live Where You Go: Encouraging location-efficient development in Ontario. The Pembina Institute.

Chamberlain, L. (2005). Trying to build the Grand Central of the West. New York: New York Times.

Downs, A. (2005). Smart Growth: Why We Discuss It More than We Do It. Journal of the American Planning Association, 71(4), 367–378.

Fragkias, M., Seto, K. (2012). The rise and rise of urban expansion. IGBP Global Change 78.

Gallagher, L. (2013). The End of the Suburbs: Where the American Dream is Moving. New York: Portfolio.

Gordon, D., Shirokoff, I. (2014). Suburban nation? Population growth in Canadian suburbs, 2006–2011. Council for Canadian Urbanism. Working Paper #1.

Hoornweg, D., Sugar, L., & Lorena Trejos Gomez, C. (2011). Cities and greenhouse gas emissions: moving forward. Environment and Urbanization, 23(1), 207–227.

Jokela, M., Bleidorn, W., Lamb, M., Gosling, S., & Rentfrow, P. (2015). Geographically-varying associations between personality and life satisfaction in the London metropolitan area. Proceedings of the National Academy of Sciences, 112(3), 725–730.

Lee, M., Villagomez, E., Gurstein, P., Eby, D., & Wyly, E. (2008). Affordable EcoDensity: Making Affordable Housing a Core Principle of Vancouver's EcoDensity Charter. Vancouver: Canadian Centre for Policy Alternatives.

Marshall, A. (2000). How Cities Work: Suburbs, sprawl, and roads not taken. Austin, TX: University of Texas Press. Chapter, 1, 6–17.

Novaco, R. W. & Gonzalez, O. (2009). Commuting and well-being. In Y. Amichai-Hamburger (ed.), Technology and well-being (pp. 174–205). Cambridge: Cambridge University Press.

Nelson, A. C. (2013). Reshaping Metropolitan America: Development trends and opportunities to 2030. Washington, DC: Island press.

Obrinsky, M., & Stein, D. (2007). Overcoming Opposition to Multifamily Rental Housing. Joint Center for Housing Studies, Harvard University. Retrieved from: http://www.jchs.harvard.edu/sites/jchs.harvard.edu/files/rr07-14_obrinsky_stein.pdf

Phelps, N. (2015). Sequel to Suburbia: Glimpses of America's post-suburban future. Cambridge: The MIT Press.

Punter, J. (2003). The Vancouver Achievement: Urban Planning and Design. Vancouver: UBC Press.

Quastel, N., Moos, M., & Lynch, N. (2012). Sustainability-as-density and the return of the social the case of Vancouver, British Columbia. Urban Geography, 33(7), 1055–1084.

Real Estate Foundation of BC and McAllister Opinion Research. (2016). Public Views on Sustainability and the Built Environment. Vancouver: REFBC.

Small Housing BC. 2015. Small Houses: Innovations in small scale living from North America. Vancouver.

Soule, D. C. (2006). The Cost of Sprawl. Urban Sprawl: A Comprehensive Reference Guide. Westport: Greenwood Press.

Toronto. (2016). Growing up planning for children in new vertical communities. Chief planners Roundtable.

Turcotte, M. (2008). Life in metropolitan areas. Canadian Social Trends. Statistics Canada online catalogue 11–008-XWE o. 85 2008001.

United Nations Department of Economic and Social Affairs, population division. (2014). World Urbanization prospects 2014 revision. In New York.

United Nations Habitat. (2016).The New Urban Agenda. Revised Zero Draft. Nairobi.

VandeWeghe, J. R., & Kennedy, C. (2007). A spatial analysis of residential greenhouse gas emissions in the Toronto census metropolitan area. Journal of Industrial Ecology, 11(2), 133–144.
Additional information
Publisher's Note
Springer Nature remains neutral with regard to jurisdictional claims in published maps and institutional affiliations.
Meg Holden is Professor of Urban Studies and Geography at Simon Fraser University in Vancouver, Canada.
About this article
Cite this article
Holden, M. Bringing the Neighbourhood Into Urban Infill Development in the Interest of Well-Being. Int. Journal of Com. WB 1, 137–155 (2019). https://doi.org/10.1007/s42413-018-0010-4
Received:

Accepted:

Published:

Issue Date:
Keywords
Urban infill

Infill development

NIMBY

Vancouver

Canada

Affordable housing

Urban liveability