Abstract
Morel-Lavallée lesion is a hemolymphatic collection in between muscular fascia that can be caused by the separation of soft tissue and muscular fascia in degloving fashion. Morel-Lavallée lesion is an infrequent lesion and can be mortal. It is a rare presentation that can cause life-threatening septic and hemorrhagic shock. Our patient, a 47-year-old male, arrived at the emergency department with an ambulance 1 h after a major road traffic accident. Apart from a right hemopneumothorax with multiple rib fractures, grade 2 laceration in the spleen and bilateral kidneys, and zone 2 fracture of sacrum, computer tomography (CT) revealed a closed, degloving injury of the pelvis, also known as a Morel-Lavallée lesion. On CT, the Morel-Lavallée lesion appeared as well-defined, encapsulated fluid collections that occasionally showed air-fluid levels. A heavy fluid collection was detected in the second CT, which was actually a collection of infected hematoma in the operative setting. The patient was diagnosed in the first 12 h and necrotic tissues were debrided. The patient was considered deceased after 15 days without any improvement in his GCS score. There is one report that describes mortality after the Morel-Lavallée lesion in the autopsy setting. Early diagnosis and treatment are essential to decreasing the severity of necrosis and sepsis though our patient has deceased due to the complications of sepsis.
Access options
Buy single article
Instant access to the full article PDF.
USD 39.95
Price excludes VAT (USA)
Tax calculation will be finalised during checkout.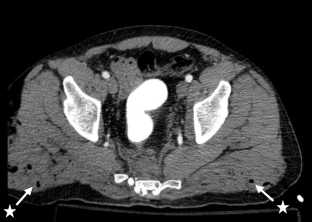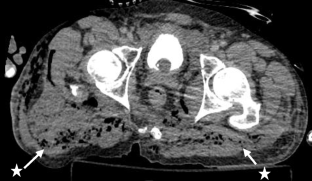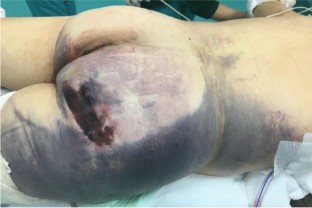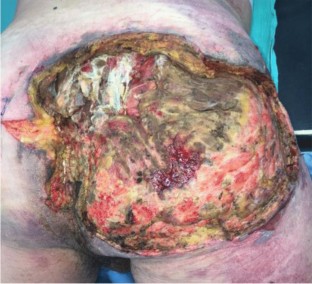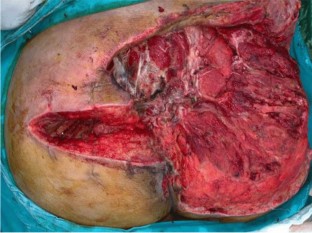 References
Phillips TJ, Jeffcote B, Collopy D. Bilateral Morel-Lavallée lesions after complex pelvic trauma: a case report. J Trauma. 2008;65(3):708–11.

Claassen L, Franssen MA, de Loos ER. A rare case of hemorrhagic shock: Morel-Lavallée lesion. Clin Pract Cases Emerg Med. 2019;3(4):417–20.

Morel-Lavallée M. Decollements traumatiques de la peau et des couches sous-jacentes. Arch Gen Med. 1863;1:20–38, 172–200, 300–332.

Anakwenze OA, Trivedi V, Goodman AM, et al. Concealed degloving injury (the Morel-Lavallée lesion) in childhood sports: a case report. J Bone Joint Surg Am. 2011;93(24): e148.

Zairi F, Wang Z, Shedid D, et al. Lumbar Morel-Lavallée lesion: case report and review of the literature. Orthop Traumatol Surg Res. 2016;102(4):525–7.

Buyukkaya A, Güneş H, Özel MA, Buyukkaya R, Onbas Ö, Sarıtas A. Lumbar Morel-Lavallée lesion after trauma: a report of 2 cases Am J Emerg Med. 2015;33:8-1116.e5 6.

Hudson DA, Knottenbelt JD, Krige JE. Closed degloving injuries: results following conservative surgery. Plast Reconstr Surg. 1992;89(5):853–5.

Van Vugt JLA, Beks SBJC, Borghans RAP, et al. The Morel-Lavallée-lesion: delayed symptoms after trauma [Dutch]. Ned Tijdschr Geneeskd. 2013;157(23):A5914.

McKenzie GA, Niederhauser BD, Collins MS, Howe BM. CT characteristics of Morel-Lavallée lesions: an under-recognized but significant finding in acute trauma imaging. Skeletal Radiol. 2016;45(8):1053–60.

Parra JA, Fernandez MA, Encinas B, et al. Morel-Lavallée effusions in the thigh. Skeletal Radiol. 1997;26(4):239–41.

Kataoka Y, Minehara H, Shimada K, Nishimaki H, Soma K, Maekawa K. Sepsis caused by peripelvic soft tissue infections in critically injured patients with multiple injuries and unstable pelvic fracture. J Trauma. 2009;66(6):1548–54.

Scanvion Q, Le Garff E, Gosset D, Hédouin V, Mesli V. Medico-legal considerations for Morel-Lavallée lesions. Forensic Sci Med Pathol. 2019;15(4):612–5.

Rashid A, Singh MK, Feng SS, Yatim NM, Sahak MY, Mahmud R. Lethal Morel-Lavallée lesion: a forensic radiology-pathology correlation. Radiol Case Rep. 2020;15(8):1280–4.
Ethics declarations
Ethics Approval
Not applicable.
Consent to Participate
Written informed consent to participate in this case report was obtained from the patient.
Consent for Publication
Written informed consent for the publication of this case report was obtained from the patient.
Conflict of Interest
The authors declare no competing interests.
Additional information
Publisher's Note
Springer Nature remains neutral with regard to jurisdictional claims in published maps and institutional affiliations.
This article is part of the Topical Collection on Surgery
Supplementary Information
Below is the link to the electronic supplementary material.
Rights and permissions
Springer Nature or its licensor holds exclusive rights to this article under a publishing agreement with the author(s) or other rightsholder(s); author self-archiving of the accepted manuscript version of this article is solely governed by the terms of such publishing agreement and applicable law.
About this article
Cite this article
Gunay, M., Mollavelıoglu, B., Gok, A.F.K. et al. A Rare Cause of Septic Shock Secondary to Trauma: Morel-Lavallée Lesion—Case Report. SN Compr. Clin. Med. 4, 227 (2022). https://doi.org/10.1007/s42399-022-01314-x
Accepted:

Published:

DOI: https://doi.org/10.1007/s42399-022-01314-x
Keywords
Morel-Lavallée

Degloving

Trauma

Septic shock

Case report