Abstract
Peripheral intravenous cannulation (PIVC) in children is one of the most common procedures in acute care paediatrics. This can be difficult for experienced clinicians and daunting for those with limited paediatric experience. We aimed to evaluate the level of confidence of non-consultant hospital doctors (NCHDs) in PIVC and identify factors that impact on their level of confidence. This was a cross-sectional nationwide survey of NCHDs on the level of confidence in paediatric PIVC. Self-reported questionnaires explored clinical experience with PIVC, level of confidence, and potential factors impacting on confidence. Primary outcome was the level of confidence in PIVC. A survey response rate of 45% (202/450) was received from 12 Irish hospitals. Despite 89% (180/202) of NCHDs self-reporting average or above average success rates and 76% (155/202) having inserted ≥10 cannula within the preceding 3 months, self-reported confidence was low across the entire cohort. Only 48% (97/202) of NCHDs reported confidence scores >3 on 5-point scale and 37% (75/202) reported significant anxiety proceeding with PIVC. Level of confidence was increased with previous paediatric experience (p = 0.00004) and seniority of the doctor (p < 0.00001), whilst previous unsuccessful attempts by colleagues were strongly associated with decreased confidence (p = 0.009). Our study described the levels of confidence of NCHDs in PIVC. Although the experienced paediatric NCHDs are confident in PIVC, there still exists some degree of anxiety. These have implications for workforce educational planning and training to improve level of confidence which may lead to better patient care.
Access options
Buy single article
Instant access to the full article PDF.
USD 39.95
Price excludes VAT (USA)
Tax calculation will be finalised during checkout.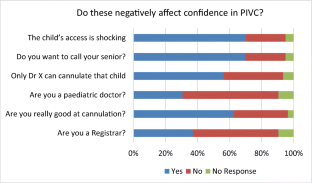 Availability of data and material
References
Alexandrou E, Ray-Barruel G, Carr PJ, Frost S, Inwood S, Higgins N, et al. International prevalence of the use of peripheral intravenous catheters. J Hosp Med. 2015;10(8):530–3.

Vinograd AM, Zorc JJ, Dean AJ, et al. First-attempt success, longevity, and complication rates of ultrasound-guided peripheral intravenous catheters in children. Pediatr Emerg Care. 2018;34(6):376–80.

Yen K, Riegert A, Gorelick MH. Derivation of the DIVA score: a clinical prediction rule for the identification of children with difficult intravenous access. Pediatr Emerg Care. 2008;24(3):143–7.

de Negri DC, Avelar AFM, Andreoni S, et al. Predisposing factors for peripheral intravenous puncture failure in children. Rev Latam Enfermagem. 2012;20(6):1072–80.

Nafiu OO, Burke C, Cowan A, et al. Comparing peripheral venous access between obese and normal weight children. Pediatr Anaesthesia. 2010;20:172–6.

Petroski A, Frisch A, Joseph N, Carlson JN. Predictors of difficult pediatric intravenous access in a community emergency department. J Vasc Access. 2015;16(6):521–6.

Selman L, Robinson V, Klass L, Khan S, George R, Shepherd K, et al. Improving confidence and competence of healthcare professionals in end-of-life care: an evaluation of the 'Transforming End of Life Care' course at an acute hospital trust. BMJ Support Palliat Care. 2016;6(2):231–6.

Larsen P, Eldridge D, Brinkley J, Newton D, Goff D, Hartzog T, et al. Pediatric peripheral intravenous access: does nursing experience and competence really make a difference? J Infus Nurs. 2010;33(4):226–35.

Monasor-Ortolá D, Cortés-Castell E, Martínez-Pascual C, Esteve-Ríos A, Rizo-Baeza MM. Factors influencing the success of peripheral venous access in neonates. J Pediatr Nurs. 2019;47:e30–5.

Kessler DO, Arteaga G, Ching K, Haubner L, Kamdar G, Krantz A, et al. Interns' success with clinical procedures in infants after simulation training. Pediatrics. 2013;131(3):e811–20.

Valizadeh L, Valizadeh L, Amini A, et al. The effect of simulation teaching on baccalaureate nursing students' self-confidence related to peripheral venous catheterization in children: a randomized trial. J Caring Sci. 2013;2(2):157–64.

Rauch D, Dowd D, Eldridge D, Mace S, Schears G, Yen K. Peripheral difficult venous access in children. Clin Pediatr. 2009;48(9):895–901.

Sou V, McManus C, Mifflin N, Frost SA, Ale J, Alexandrou E. A clinical pathway for the management of difficult venous access. BMC Nurs. 2017;16:64.

Vinograd AM, Chen AE, Woodford AL, Fesnak S, Gaines S, Elci OU, et al. Ultrasonographic guidance to improve first-attempt success in children with predicted difficult intravenous access in the emergency department: a randomized controlled trial. Ann Emerg Med. 2019;74(1):19–27.

Stein J, George B, River G, Hebig A, McDermott D. Ultrasonographically guided peripheral intravenous cannulation in emergency department patients with difficult intravenous access: a randomized trial. Ann Emerg Med. 2009;54(1):33–40.

Bauman M, Braude D, Crandall C. Ultrasound-guidance vs. standard technique in difficult vascular access patients by ED technicians. Am J Emerg Med. 2009;27(2):135–40.

Jacobson AF, Winslow EH. Variables influencing intravenous catheter insertion difficulty and failure: an analysis of 339 intravenous catheter insertions. Heart Lung. 2005;34(5):345–59.

Sabri A, Szalas J, Holmes KS, Labib L, Mussivand T. Failed attempts, and improvement strategies in peripheral intravenous catheterization. Biomed Mater Eng. 2013;23(1-2):93–108.

Schreiber S, Ronfani L, Chiaffoni GP, Matarazzo L, Minute M, Panontin E, et al. Does EMLA cream application interfere with the success of venipuncture or venous cannulation? A prospective multicentre observational study. Eur J Pediatr. 2013;172(2):265–8.
Acknowledgements
We thank the NCHDs who distributed the questionnaires in the various hospitals. We also thank all NCHDs who participated in the survey.
Ethics declarations
Ethics approval
Not required
Consent to participate
Participants consented before questionnaire completion
Consent for publication
Not applicable
Competing interests
The authors declare no competing interests.
Additional information
Publisher's Note
Springer Nature remains neutral with regard to jurisdictional claims in published maps and institutional affiliations.
This article is part of the Topical Collection on Medicine
Supplementary Information
About this article
Cite this article
Maduemem, K., Umana, E., Adedokun, C. et al. Challenges Faced by Non-consultant Hospital Doctors in Paediatric Peripheral Intravenous Cannulation in Ireland. SN Compr. Clin. Med. 3, 1301–1306 (2021). https://doi.org/10.1007/s42399-021-00881-9
Accepted:

Published:

Issue Date:

DOI: https://doi.org/10.1007/s42399-021-00881-9
Keywords