Abstract
Background
Lambl's excrescence (LE) is a rare thin, mobile, filiform frond on the endocardial surface of cardiac valves responsible for recurrent ischemic strokes due to embolic phenomena. Due to nonspecific symptoms, sometimes the diagnosis is challenging. It can be diagnosed by transesophageal echocardiogram (TEE) with increased sensitivity. Several case reports have been published with a strategy to manage LE but there is lack of consensus. We report a case of a 75-year-old patient with the LE arising from aortic valve resulting in recurrent ischemic strokes within a short period and its management.
Case
A 75-year-old male with multiple vascular risk factors presented with confusion, altered mental status of unknown onset and aphasia. He denied weakness, numbness, or other focal neurological deficits. National Institute of Health Stroke Scale was 5. IV tPA was not given due to the unknown onset of symptoms. The magnetic resonance imaging (MRI) revealed acute/subacute left thalamic lacunar infarct. TEE demonstrated a 7-mm linear fibrinous mass on the valve. The patient was on aspirin which was changed to clopidogrel. After 2 weeks, the patient readmitted with similar presentation. MRI showed subacute right parietal cortical infarct. The patient was advised to proceed with surgical resection of LE. Due to refusal for surgery, he was kept on 30 days cardiac monitor and had given anticoagulant therapy for secondary prevention of stroke.
Conclusion
Although wide range from single or dual antiplatelet therapy to full dose anticoagulation have been tried, surgical intervention should be considered in case of multiple ischemic strokes to mitigate the risk of embolism.
Access options
Buy single article
Instant access to the full article PDF.
USD 39.95
Price excludes VAT (USA)
Tax calculation will be finalised during checkout.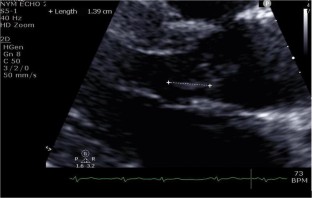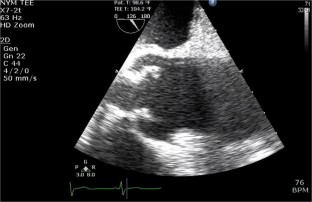 References
Reynen K. Frequency of primary tumors of the heart. Am J Cardiol. 1996;77(1):107. https://doi.org/10.1016/s0002-9149(97)89149-7.

Lambl VD. Papillare excrescenzen an der semilunar-klappe der aorta. Wien Med Wochenschr. 1856;6:244–7.

Kondamareddy D, Masood W. Lambls Excrescences. StatPearls. Treasure Island: StatPearls Publishing, StatPearls Publishing LLC.; 2019.

Roldan CA, Shively BK, Crawford MH. Valve excrescences: prevalence, evolution and risk for cardioembolism. J Am Coll Cardiol. 1997;30(5):1308–14. https://doi.org/10.1016/S0735-1097(97)00315-X.

Kalavakunta JK, Peddi P, Bantu V, Tokala H, Kodenchery M. Lambl's excrescences: a rare cause of stroke. J Heart Valve Dis. 2010;19(5):669–70.

Al-Ansari S, Hindori V, Riezebos RK, Yilmaz A. Multiple Lambl's excrescences with subvalvular extension, a rare cause of cryptogenic stroke: treated by port-access cardiac surgery. BMJ Case Rep. 2013;2013. https://doi.org/10.1136/bcr-2013-201161.

Davogustto G, Fernando RR, Loghin C. Lambl's excrescence, migrainous headaches, and "tiger stripes": puzzling findings in one patient. Tex Heart Inst J. 2015;42(1):70–2. https://doi.org/10.14503/thij-13-3808.

Kamran H, Patel N, Singh G, Pasricha V, Salifu M, McFarlane SI. Lambl's excrescences: a case report and review of the literature. Clin Case Rep Rev. 2016;2(7):486–8. https://doi.org/10.15761/ccrr.1000254.

Aggarwal A, Leavitt BJ. Images in clinical medicine. Giant Lambl's excrescences. N Engl J Med. 2003;349(25):e24. https://doi.org/10.1056/ENEJMicm010900.

Aziz F, Baciewicz FA Jr. Lambl's excrescences: review and recommendations. Tex Heart Inst J. 2007;34(3):366–8.

Chu A, Aung TT, Sahalon H, Choksi V, Feiz H. Lambl's excrescence associated with cryptogenic stroke: a case report and literature review. Am J Case Rep. 2015;16:876–81. https://doi.org/10.12659/ajcr.895456.

Ammannaya GKK. Lambl's excrescences: current diagnosis and management. Cardiol Res. 2019;10(4):207–10. https://doi.org/10.14740/cr892.

Voros S, Nanda NC, Thakur AC, Winokur TS, Samal AK. Lambl's excrescences (valvular strands). Echocardiography. 1999;16(4):399–414. https://doi.org/10.1111/j.1540-8175.1999.tb00833.x.

Liu RZ, Yu SY, Li Y. Migraine-like headache and ischemic strokes in two patients with Lambl's excrescences. Chin Med J. 2012;125(18):3346–8. https://doi.org/10.3760/cma.j.issn.0366-6999.2012.18.028.

Chong-lei R, Sheng-li J, Rong W, Cang-song X, Yao W, Chang-qing G. Diagnosis and treatment of Lambl's excrescence on the aortic valve. HSF [Internet]. 2018;21(3):E148–50. https://doi.org/10.1532/hsf.1687.
Funding
No targeted funding reported.
Ethics declarations
Conflict of Interest
The authors declare that they have no conflict of interest.
Ethical Approval and Informed Consent to Participate
Patient's identity is not disclosed anywhere, and IRB or ethics committee approval was not required to publish this work. All procedures performed in studies involving human participants were in accordance with the ethical standards of the institutional and/or national research committee and with the 1964 Helsinki Declaration and its later amendments or comparable ethical standards.
Consent for Publication
Informed consent was obtained from individual participant included in the study to publish the manuscript.
Additional information
Publisher's Note
Springer Nature remains neutral with regard to jurisdictional claims in published maps and institutional affiliations.
This article is part of the Topical Collection on Medicine
About this article
Cite this article
Patel, U.K., Bhesania, S., Malik, P. et al. Lambl's Excrescence Associated with Recurrent Ischemic Strokes. SN Compr. Clin. Med. 2, 95–98 (2020). https://doi.org/10.1007/s42399-019-00179-x
Accepted:

Published:

Issue Date:

DOI: https://doi.org/10.1007/s42399-019-00179-x
Keywords