Abstract
Biosurfactants (BSs) are amphiphilic compounds produced by microorganisms and have diverse applications in various industries. This study was aimed to identify and characterize BS producing bacteria from three oil-polluted sites from Pune, Maharashtra, India. Out of the total 48 bacterial isolates, 14 BS producing isolates were detected through drop collapse method (DCM) and oil spreading method (OSM), hemolytic activity, cetyl trimethyl ammonium bromide (CTAB) test, emulsification index (E24), and surface tension (SFT) measurement. The BS producing isolates were identified by matrix-assisted laser desorption/ionization time of flight mass spectrophotometry (MALDI-TOF MS) and 16S rRNA gene sequencing. Results indicated that the isolates belonged to six genera, including Bacillus, Agrococcus, Arthrobacter, Kocuria, Dietzia, and Lysinibacillus. We are reporting BS producing Agrococcus terreus for the first time. Out of 14 BS producing bacteria, four isolates showed β hemolysis in blood agar plates, while all isolates showed negative results on CTAB agar plate. A positive correlation was observed between DCM, OSM, and SFT measurements. Bacillus sp. (isolate PR170) presented the maximum diameter of the clear zone (32 mm) in OSM. The E24 was found to be in the range of 15–57%. Four isolates including PR170, PP151, PP168, and PG138 significantly reduced the SFT of the medium by up to 26.79, 27.81, 28.83, and 30.99 mN/m, respectively. Nine isolates were able to grow in media containing various polyaromatic hydrocarbons. Results gathered in this study demonstrated that isolates belonging to four genera from the contaminated sites had an outstanding potential for further application in biotechnological processes such as large-scale BS production or bioremediation of hydrocarbon polluted sites, and will contribute towards environmental sustainability.
Access options
Buy single article
Instant access to the full article PDF.
USD 39.95
Price excludes VAT (USA)
Tax calculation will be finalised during checkout.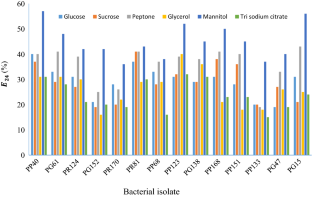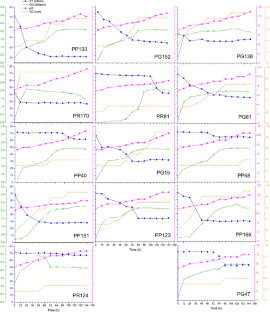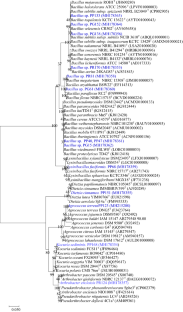 References
Almatawah Q (2017) An indigenous biosurfactant producing Burkholderia cepacia with high emulsification potential towards crude oil. J Environ Anal Toxicol 7(6):528. https://doi.org/10.4172/2161-0525.1000528

Anonymous. New Market Reports (2018) https://www.marketsandmarkets.com/Market-Reports/biosurfactant-market-163644922.html. Accessed 22 Jan 2019

Banat IM, Satpute SK, Cameotra SS, Patil R, Nyayanit NV (2014) Cost effective technologies and renewable substrates for biosurfactant production. Front Microbiol 5:697. https://doi.org/10.3389/fmicb.2014.00697

Cai Q, Zhang B, Chen B, Zhu Z, Lin W, Cao T (2014) Screening of biosurfactant producers from petroleum hydrocarbon contaminated sources in cold marine environments. Mar Pollut Bull 86:402–410. https://doi.org/10.1016/j.marpolbul.2014.06.039

Chen WC, Juang RS, Wei YH (2015) Applications of a lipopeptide biosurfactant, surfactin, produced by microorganisms. Biochem Eng J 103:158–169. https://doi.org/10.1016/j.bej.2015.07.0

Dubey KV, Charde PN, Meshram SU, Shendre LP, Dubey VS, Juwarkard AA (2012) Surface-active potential of biosurfactants produced in curd whey by Pseudomonas aeruginosa strain-PP2 and Kocuria turfanesis strain-J at extreme environmental conditions. Biores Technol 126:368–374. https://doi.org/10.1016/j.biortech.2012.05.024

Durval IJB, Resende AHM, Figueiredo MA, Luna JM, LA RufinoRD Sarubbo (2018) Studies on biosurfactants produced using Bacillus cereus isolated from seawater with biotechnological potential for marine oil-spill bioremediation. J Surf Deterg. https://doi.org/10.1002/jsde.12218

Ellaiah P, Prabhakar T, Shreekant M, Taleb AT, Bhima P, Saisha V (2002) Prodution of glycolipids containing biosurfactant by Psuedomonas species. Indian J Exp Biol 40:1083–1086

Felix AKN, Martins JJL, Almeida JGL, Giro MEA, Cavalcante KF, Melo VM, Pessoa ODL, Rocha MVP, Gonçalves LRB, Aguiara RSS (2019) Purification and characterization of a biosurfactant produced by Bacillus subtilis in cashew apple juice and its application in the remediation of oil-contaminated soil. Colloids Surf B 175:256–263. https://doi.org/10.1016/j.colsurfb.2018.11.062

Gomes MB, Gonzales-Limache EE, Sousa STP, Dellagnezze BM, Sartoratto A, Silva LCF, Gieg LM, Valoni E, Souza RS, Torres APR, Sousa MP, De Paula SO, Silva CC, Oliveira VM (2018) Exploring the potential of halophilic bacteria from oil terminal environments for biosurfactant production and hydrocarbon degradation under high-salinity conditions. Int Biodeterior Biodegrad 126:231–242. https://doi.org/10.1016/j.ibiod.2016.08.014

Gudina EJ, Teixeira JA, Rodrigues LR (2011) Biosurfactant producing Lactobacilli: screening, production profiles, and effect of medium composition. Appl Environ Soil Sci. https://doi.org/10.1155/2011/201254

Gulati A, Rahi P, Vyas P (2008) Characterization of phosphate-solubilizing fluorescent pseudomonads from the rhizosphere of sea buckthorn growing in the cold deserts of Himalayas. Curr Microbiol 56:73–79. https://doi.org/10.1007/s00284-007-9042-3

Jain DK, Collins-Thompson DL, Lee H, Trevors JT (1991) A drop collapsing test for screening surfactant-producing microorganisms. J Microbiol Methods 13:271–279

Kurli R, Chaudhari D, Pansare AN, Khairnar M, Shouche YS, Rahi P (2018) Cultivable microbial diversity associated with cellular phones. Front Microbiol 9:1229. https://doi.org/10.3389/fmicb.2018.01229

Mehetre GT, Dastager SG, Mahesh SD (2019) Biodegradation of mixed polycyclic aromatic hydrocarbons by pure and mixed cultures of biosurfactant producing thermophilic and thermo-tolerant bacteria. Sci Total Environ 679:52–60. https://doi.org/10.1016/j.scitotenv.2019.04.376

Montagnolli RN, Lopes PRM, Bidoia ED (2015) Assessing Bacillus subtilis biosurfactant effects on the biodegradation of petroleum products. Environ Monit Assess 187:4116. https://doi.org/10.1007/s10661-014-4116-8

Morikawa M, Hirata Y, Imanaka T (2000) A study on the structure-function relationship of lipopeptide biosurfactants. Biochem Biophys Acta 1488(3):211–218

Oso S, Walters M, Schlechter RO, Remus-Emsermann MNP (2019) Utilisation of hydrocarbons and production of surfactants by bacteria isolated from plant leaf surfaces. FEMS Microbiol Lett 366:fnz061. https://doi.org/10.1093/femsle/fnz061

Pradhan AK, Pradhan N, Sukla LB (2014) Inhibition of pathogenic bacterial biofilm by biosurfactant produced by Lysinibacillus fusiformis S9. Bioprocess Biosyst Eng 37:139. https://doi.org/10.1007/s00449-013-0976-5

Rahi P, Sharma OP, Shouche YS (2016) Matrix-assisted laserdesorption/ionization time-of-flight mass-spectrometry (MALDI-TOF MS) based microbial identifications: challenges and scopes for microbial ecologists. Front Microbiol 7:1359. https://doi.org/10.3389/fmicb.2016.01359

Rodrigues LR, Teixeira JA, van der Mei HC, Oliveira R (2006) Isolation and partial characterization of a biosurfactant produced by Streptococcus thermophilus A. Colloids Surf B Biointerfaces 53:105–112

Saimmai A, Onlamool T, Sobhon V, Maneerat S (2013) An efficient biosurfactant-producing bacterium Selenomonas ruminantium CT2, isolated from mangrove sediment in south of Thailand. World J Microbiol Biotechnol. 29:87–102. https://doi.org/10.1007/s11274-012-1161-8

Saitou N, Nei M (1987) The neighbor-joining method: a new method for reconstructing phylogenetic trees. Mol Biol Evol 4:406–425. https://doi.org/10.1093/oxfordjournals.molbev.a040454

Sambrook J (2006) The condensed protocols from molecular cloning: a laboratory manual. Cold Spring Harbor Laboratory Press, New York, p 700

Satpute SK, Banpurkar AG, Banat IM, Sangshetti JN, Patil RR, Gade WN (2016a) Multiple roles of biosurfactants in biofilms. Curr Pharm Des 22:1429–1448

Satpute SK, Kulkarni GR, Banpurkar AG, Banat IM, Mone MS, Patil RH, Cameotra SS (2016b) Biosurfactant/s from Lactobacilli species: properties, challenges and potential biomedical applications. J Basic Microbiol 56:1–20

Satpute SK, Płaza GA, Banpurkar AG (2017) Biosurfactants' production from renewable natural resources: example of innovative and smart technology in circular bioeconomy. Mgmt Sys Prod Eng 25:46–54

Satpute SK, Mone NS, Das P, Banpurkar AG, Banat IM (2018) Lactobacillus acidophilus derived biosurfactant as a biofilm inhibitor: a promising investigation using microfluidic approach. Appl Sci 8(9):1555

Siegmund I, Wagner F (1991) New method for detecting rhamnolipids excreted by Pseudomonas species during growth on mineral agar. Biotechnol Technol 5(4):265–268

Soltanighias T, Singh AE, Rahi P (2017) Mining bacterial diversity for biosurfactants. In: Kalia VC, Shouche Y, Purohit HJ, Rahi P (eds) Mining of microbial wealth and metagenomics. Springer Nature Singapore Pte Ltd, Singapore, pp 443–461. https://doi.org/10.1007/978-981-10-5708-3-24

Souza EC, Vessoni-Penna TC, de Souza Oliveira RP (2014) Biosurfactant-enhanced hydrocarbon bioremediation: an overview. Int Biodeterior Biodegrad 89:88–94. https://doi.org/10.1016/j.ibiod.2014.01.007

Talaiekhozani A, Jafarzadeh N, Fulazzaky MA, Talaie MR, Beheshti M (2015) Kinetics of substrate utilization and bacterial growth of crude oil degraded by Pseudomonas aeruginosa. J Environ Health Sci Eng 13:64. https://doi.org/10.1186/s40201-015-0221-z

Tamura K, Stecher G, Peterson D, Filipski A, Kumar S (2013) MEGA6: molecular evolutionary genetics analysis version 6.0. Mol Biol Evol 30:2725–2729. https://doi.org/10.1093/molbev/mst197

Thavasi R, Sharma S, Jayalakshmi S (2011) Evaluation of screening methods for the isolation of biosurfactant producing marine bacteria. J Phylogenet Evol Biol S 1:001. https://doi.org/10.4172/2157-7463.S1-001

Uzoigwe C, Burgess JG, Ennis CJ, Rahman PKSM (2015) Bioemulsifiers are not biosurfactants and require different screening approaches. Front Microbiol 6:245. https://doi.org/10.3389/fmicb.2015.00245

Varjani SJ, Upasani VN (2016) Core flood study for enhanced oil recovery through ex situ bioaugmentation with thermo- and halo-tolerant rhamnolipid produced by Pseudomonas aeruginosa NCIM 5514. Bioresour Technol 220:175–182

Wu Y, Xu M, Xue J, Shi K, Gu M (2019) Characterization and enhanced degradation potentials of biosurfactant-producing bacteria isolated from a marine environment. ACS Omega 4:1645–1651. https://doi.org/10.1021/acsomega.8b02653

Xia M, Fu D, ChakrabortyR Singh RP, Terry N (2019) Enhanced crude oil depletion by constructed bacterial consortium comprising bioemulsifier producer and petroleum hydrocarbon degraders. Bioresour Technol 282:456–463. https://doi.org/10.1016/j.biortech.2019.01.131

Yalaoui-Guellal D, Brahmi F, Touati A, De Champs C, Banat IM, Madani K (2017) Production of biosurfactants by Hydrocarbons degrading bacteria isolated from Soummam watershed sediments of Bejaia in Algeria. Environ Prog Sustain Energy 37:189–195. https://doi.org/10.1002/ep.12653

Yoon SH, Ha SM, Kwon S, Lim J, Kim Y, Seo H, Chun J (2017) Introducing EzBio Cloud: a taxonomically united database of 16S rRNA gene sequences and whole-genome assemblies. Int J Syst Evol Microbiol 67(5):1613–1617. https://doi.org/10.1099/ijsem.0.001755

Youssef NH, Duncan KE, Nagle DP, Savager KN, Knapp RM (2004) McInerney MJ (2004) Comparison of methods to detect biosurfactant production by diverse microorganisms. J Microbiol Methods 56:339–346
Acknowledgements
We acknowledge the financial support by the Department of Biotechnology (DBT; grant no BT/Coord. II/01/03/2016), Government of India. Dr. Surekha K. Satpute expresses special thanks to the Department research and development programs (DRDP), Savitribai Phule Pune University (SPPU), Pune, Maharashtra for financial support.
Ethics declarations
Conflict of interest
Authors declare that they have no conflict of interest.
Human and animal rights
This study does not contain any experiment with human participants or animals performed by any of the authors.
Additional information
Publisher's Note
Springer Nature remains neutral with regard to jurisdictional claims in published maps and institutional affiliations.
About this article
Cite this article
Soltanighias, T., Singh, A.E.A., Satpute, S.K. et al. Assessment of biosurfactant-producing bacteria from oil contaminated soils and their hydrocarbon degradation potential. Environmental Sustainability 2, 285–296 (2019). https://doi.org/10.1007/s42398-019-00074-0
Received:

Revised:

Accepted:

Published:

Issue Date:

DOI: https://doi.org/10.1007/s42398-019-00074-0
Keywords