Abstract
Plants interact with many different bacteria at various stages of their life. A mutualistic relationship between a plant and an endophytic bacterium occurs when a plant provides a safe habitat and a secure food supply to the microbe and it, in return, benefits the plants' capacity to function in its environment. In this study, corn sap was screened for the diversity and functionality of culturable bacterial endophytes, and a total of 437 bacterial endophytes were isolated, identified, and characterized for their possible role as biofertilizers and biocontrol agents. The growth promoting traits that were characterized included siderophore production, phosphate and zinc solubilization, nitrogen fixation, indole acetic acid production, and antifungal activity against several plant pathogens. Most isolates (71.8%) were found to fix nitrogen and solubilize phosphate (66.8%), close to half (42.5%) could solubilize zinc, and 28.3% of the corn bacterial endophytes could sequester iron. Most isolates (77.3%) displayed antifungal activity, and 186 of the 437 isolates tested were found to promote plant growth in a gnotobiotic assay. These results suggest that growth promotion from these bacterial endophytes is the outcome of multiple biochemical and microbiological mechanisms.
Access options
Buy single article
Instant access to the full article PDF.
US$ 39.95
Tax calculation will be finalised during checkout.
Subscribe to journal
Immediate online access to all issues from 2019. Subscription will auto renew annually.
US$ 79
Tax calculation will be finalised during checkout.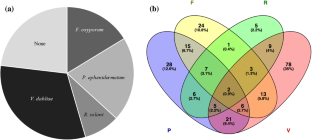 References
Alexander DB, Zuberer DA (1989) 15N2 fixation by bacteria associated with maize roots at a low partial O2 pressure. Appl Environ Microbiol 55:1748–1753

Ali S (2013) Plant growth-promoting bacterial endophytes that contain ACC deaminase: isolation, characterization, and use. Ph.D. thesis

Apine OA, Jadhav JP (2011) Optimization of medium for indole-3-acetic acid production using Pantoea agglomerans strain PVM. J Appl Microbiol 110:1235–1244

Bacon CW, White JF (2000) Microbial endophytes. Marcel Dekker Inc., New York

Correa-Galeote D, Bedmar EJ, Arone GJ (2018) Maize endophytic bacterial diversity as affected by soil cultivation history. Front Microbiol 9:484

Costacurta A, Vanderleyden J (1995) Synthesis of phytohormones by plant-associated bacteria. Crit Rev Microbiol 21:1–18

Davies PJ (1995) Plant hormones: physiology, biochemistry, and molecular biology. Kluwer Academic, Boston

Dias ACF, Costa FEC, Andreote FD, Lacava PT, Teixeira MA, Assumpção LC, Araújo WL, Azevedo JL, Melo IS (2009) Isolation of micropropagated strawberry endophytic bacteria and assessment of their potential for plant growth promotion. World J Microbiol Biotechnol 25:189–195

Doty SL, Oakley B, Xin G, Kang JW, Singleton G, Khan Z, Vajzovic A, Staley JT (2009) Diazotrophic endophytes of native black cottonwood and willow. Symbiosis 47:23–33

Duca D, Lorv J, Patten CL, Rose D, Glick BR (2014) Indole-3-acetic acid in plant-microbe interactions. Antonie Van Leeuwenhoek Int J Gen Mol Microbiol 106:85–125

Elias F, Woyessa D, Muleta D (2016) Phosphate solubilization potential of rhizosphere fungi isolated from plants in Jimma Zone, Southwest Ethiopia. Int J, Microbiol, p 2016

Estrada P, Mavingui P, Cournoyer B, Fontaine F, Balandreau J, Caballero-Mellado J (2002) A N2-fixing endophytic Burkholderia sp. associated with maize plants cultivated in Mexico. Can J Microbiol 48:285–294

Finkel OM, Castillo G, Paredes SH, González IS, Dangl JL (2017) Understanding and exploiting plant beneficial microbes. Curr Opin Plant Biol 38:155–163

Fisher PJ, Petrini O, Scott HML (1992) The distribution of some fungal and bacterial endophytes in maize (Zea mays L.). New Phytol 122:299–305

Forchetti G, Masciarelli O, Alemano S, Alvarez D, Abdala G (2007) Endophytic bacteria in sunflower (Helianthus annuus L.): isolation, characterization, and production of jasmonates and abscisic acid in culture medium. Appl Microbiol Biotechnol 76:1145–1152

Gaby JC, Buckley DH (2012) A comprehensive evaluation of PCR primers to amplify the nifH gene of nitrogenase. PLoS One 7:e42149

Gordon SA, Weber RP (1951) Colorimetric estimation of indoleacetic acid. Plant Physiol 26:192–195

Goteti PK, Emmanuel LDA, Desai S, Shaik MHA (2013) Prospective zinc solubilising bacteria for enhanced nutrient uptake and growth promotion in maize (Zea mays L.). Int J Microbiol. https://doi.org/10.1155/2013/869697

Hardoim PR, van Overbeek LS, Van Elsas JD (2008) Properties of bacterial endophytes and their proposed role in plant growth. Trends Microbiol 16:463–471

Haspel T (2015) In defense of corn, the world's most important food crop. The Washington Post, July 12, 2015

Ikeda AC, Bassani LL, Adamoski D, Stringari D, Cordeiro VK, Glienke C, Steffens MBR, Hungria M, Galli-Terasawa LV (2013) Morphological and genetic characterization of endophytic bacteria isolated from roots of different maize genotypes. Microb Ecol 65:154–160

Johnston-Monje D, Raizada MN (2011) Conservation and diversity of seed associated endophytes in Zea across boundaries of evolution, ethnography and ecology. PLoS One 6:e20396

Johnston-Monje D, Lundberg DS, Lazarovits G, Reis VM, Raizada MN (2016) Bacterial populations in juvenile maize rhizospheres originate from both seed and soil. Plant Soil 405:337–355

Kloepper JW, Leong J, Teintze M, Schroth MN (1980) Enhanced plant growth by siderophores produced by plant growth-promoting rhizobacteria. Nature 286:885–886

Kpomblekou-A K, Tabatabai MA (1994) Effect of organic acids on release of phosphorus from phosphate rocks. Soil Sci 158:442–453

Kuklinsky-Sobral J, Araújo WL, Mendes R, Geraldi IO, Pizzirani-Kleiner AA, Azevedo JL (2004) Isolation and characterization of soybean-associated bacteria and their potential for plant growth promotion. Environ Microbiol 6:1244–1251

Kunkel BN, Chen Z (2006) Virulence strategies of plant pathogenic bacteria. In: Dworkin M (ed) The prokaryotes. A handbook on biology of bacteria, ecophysiology and biochemistry. Springer, New York, pp 421–440

Lacava PT, Azevedo JL (2013) Endophytic bacteria: a biotechnological potential in agrobiology system. In: Maheshwari D, Saraf M, Aeron A (eds) Bacteria in agrobiology: crop productivity. Springer, Berlin, Heidelberg, pp 1–44

Li CH, Zhao MW, Tang CM, Li SP (2009) Population dynamics and identification of endophytic bacteria antagonistic toward plant-pathogenic fungi in cotton root. Microb Ecol 59:344–356

Loaces I, Ferrando L, Scavino AF (2011) Dynamics, diversity and function of endophytic siderophore-producing bacteria in rice. Microb Ecol 61:606–618

Loper JE, Henkels MD (1999) Utilization of heterologous siderophores enhances levels of iron available to Pseudomonas putida in the rhizosphere. Appl Environ Microbiol 65:5357–5363

Maheshwari DK, Aeron A, Saraf M (2013) Bacteria in agrobiology: crop productivity. In: Bacteria in agrobiology: crop productivity, pp 1–507

McInroy JA, Kloepper JW (1995) Population dynamics of endophytic bacteria in field grown sweet corn and cotton. Can J Microbiol 41:895–901

Miller WG, Leveau JHJ, Lindow SE (2000) Improved gfp and inaZ broad-host-range promoter-probe vectors. Mol Plant Microbe Interact 13:1243–1250

Montañez A, Blanco AR, Barlocco C, Beracochea M, Sicardi M (2012) Characterization of cultivable putative endophytic plant growth promoting bacteria associated with maize cultivars (Zea mays L.) and their inoculation effects in vitro. Appl Soil Ecol 58:21–28

Mousa WK, Shearer CR, Limay-Rios V, Zhou T, Raizada MN (2015) Bacterial endophytes from wild maize suppress Fusarium graminearum in modern maize and inhibit mycotoxin accumulation. Front Plant Sci 6:805

O'Sullivan DJ, O'Gara F (1992) Traits of fluorescent Pseudomonas spp. involved in suppression of plant root pathogens. Microbiol Rev 56:662–676

Palaniappan A, Goh WH, Tey JN, Wijaya IPM, Moochhala SM, Liedberg B, Mhaisalkar SG (2010) Aligned carbon nanotubes on quartz substrate for liquid gated biosensing. Biosens Bioelectron 25:1989–1993

Patten CL, Glick BR (2002) Regulation of indoleacetic acid production in Pseudomonas putida GR12-2 by tryptophan and the stationary-phase sigma factor RpoS. Can J Microbiol 48:635–642

Pereira SIA, Castro PML (2014) Diversity and characterization of culturable bacterial endophytes from Zea mays and their potential as plant growth-promoting agents in metal-degraded soils. Environ Sci Pollut Res 21:14110–14123

Pereira P, Ibáñez F, Rosenblueth M, Etcheverry M, Martínez-Romero E (2011) Analysis of the bacterial diversity associated with the roots of maize (Zea mays L.) through culture-dependent and culture-independent methods. ISRN Ecol. https://doi.org/10.5402/2011/938546

Poly F, Monrozier LJ, Bally R (2001) Improvement in the RFLP procedure for studying the diversity of nifH genes in communities of nitrogen fixers in soil. Res Microbiol 152:95–103

Puente ME, Li CY, Bashan Y (2009) Rock-degrading endophytic bacteria in cacti. Environ Exp Bot 66:389–401

Rai R, Dash PK, Prasanna BM, Singh A (2007) Endophytic bacterial flora in the stem tissue of a tropical maize (Zea mays L.) genotype: Isolation, identification and enumeration. World J Microbiol Biotechnol 23:853–858

Rajkumar M, Ae N, Freitas H (2009) Endophytic bacteria and their potential to enhance heavy metal phytoextraction. Chemosphere 77:153–160

Rashid S, Charles TC, Glick BR (2012) Isolation and characterization of new plant growth-promoting bacterial endophytes. Appl Soil Ecol 61:217–224

Reiter B, Sessitsch A (2006) Bacterial endophytes of the wildflower Crocus albiflorus analyzed by characterization of isolates and by a cultivation-independent approach. Can J Microbiol 52:140–149

Sandhya V, Shrivastava M, Ali SZ, Prasad VSSK (2017) Endophytes from maize with plant growth promotion and biocontrol activity under drought stress. Russ Agric Sci 43:22–34

Saravanan VS, Kalaiarasan P, Madhaiyan M, Thangaraju M (2007) Solubilization of insoluble zinc compounds by Gluconacetobacter diazotrophicus and the detrimental action of zinc ion (Zn2+) and zinc chelates on root knot nematode Meloidogyne incognita. Lett Appl Microbiol 44:235–241

Schwyn B, Neilands JB (1987) Universal chemical assay for the detection and determination of siderophores. Anal Biochem 160:47–56

Shehata HR, Lyons EM, Jordan KS, Raizada MN (2016) Bacterial endophytes from wild and ancient maize are able to suppress the fungal pathogen Sclerotinia homoeocarpa. J Appl Microbiol 120:756–769

Szilagyi-Zecchin VJ, Ikeda AC, Hungria M, Adamoski D, Kava-Cordeiro V, Glienke C, Galli-Terasawa LV (2014) Identification and characterization of endophytic bacteria from corn (Zea mays L.) roots with biotechnological potential in agriculture. AMB Express 4:26

Vendan RT, Yu YJ, Lee SH, Rhee YH (2010) Diversity of endophytic bacteria in ginseng and their potential for plant growth promotion. J Microbiol 48:559–565

Walitang DI, Kim K, Madhaiyan M, Kim YK, Kang Y, Sa T (2017) Characterizing endophytic competence and plant growth promotion of bacterial endophytes inhabiting the seed endosphere of rice. BMC Microbiol 17:209

Weisburg WG, Barns SM, Pelletier DA, Lane DJ (1991) 16S ribosomal DNA amplification for phylogenetic study. J Bacteriol 173:697–703

Wright SF, Weaver RW (1981) Enumeration and identification of nitrogen-fixing bacteria from forage grass roots. Appl Environ Microbiol 42:97–101

Wu SC, Luo YM, Cheung KC, Wong MH (2006) Influence of bacteria on Pb and Zn speciation, mobility and bioavailability in soil: a laboratory study. Environ Pollut 144:765–773

Xin G, Zhang G, Kang JW, Staley JT, Doty SL (2009) A diazotrophic, indole-3-acetic acid-producing endophyte from wild cottonwood. Biol Fertil Soils 45:669–674

Yoon SH, Ha SM, Kwon S, Lim J, Kim Y, Seo H, Chun J (2017) Introducing EzBioCloud: a taxonomically united database of 16S rRNA and whole genome assemblies. Int J Syst Evol Microbiol 67:1613–1617

Zhao S, Wei H, Lin C-Y, Zeng Y, Tucker MP, Himmel ME, Ding S (2016) Burkholderia phytofirmans inoculation-induced changes on the shoot cell anatomy and iron accumulation reveal novel components of Arabidopsis-endophyte interaction that can benefit downstream biomass deconstruction. Front Plant Sci 7:12
Acknowledgements
We highly appreciate the assistance of all the participating farmers for allowing us to sample their farms. We would also like to extend our sincere thanks to Kristen Delaney and Jae Min Park for sampling corn farms. We appreciate the help of the A & L Biologicals staff and coop students, especially, Perry Ryersee, Christopher Chiasson, Gabriëlle Zieleman, Stephanie Kerkvliet, Nickolas Werry, and Danika Brook on this project. Finally, the financial assistance provided by Natural Sciences and Engineering Research Council through an Industrial fellowship is highly appreciated. Funding provided by AAFC-Growing Forward was crucial to the successful completion of this project and is greatly appreciated.
Electronic supplementary material
Below is the link to the electronic supplementary material.
Supplementary material 1 (DOCX 190 kb)
About this article
Cite this article
Ali, S., Isaacson, J., Kroner, Y. et al. Corn sap bacterial endophytes and their potential in plant growth-promotion. Environmental Sustainability 1, 341–355 (2018). https://doi.org/10.1007/s42398-018-00030-4
Received:

Revised:

Accepted:

Published:

Issue Date:
Keywords
Corn sap

Bacterial endophytes

Plant growth promotion

Biofertilizer

Biocontrol agent